ARTS & ENTERTAINMENT
Valley Fiesta Is Back for 2021 with More Than 150 Acts Taking Over 23 Venues
Fortitude Valley's annual music fest returns with a jam-packed three-day lineup, featuring DZ Deathrays, Butterfingers, Beddy Rays, Nerve and more.
On most days of the year, a Brisbanite can wander into a Fortitude Valley venue and listen to live tunes. In most years, too, the inner-city suburb celebrates that fact in a huge way. We've all been to a Valley Fiesta. We've all been to several, in fact, because they've been filling the Brunswick Street Mall and surrounding bars with music for 24 years now — and the suburb-specific festival is back in full swing in 2021.
Running from Thursday, October 28–Saturday, October 30, this year's three-day Valley Fiesta is hitting up 23 locations with oh-so-much live music. Get ready to hop between Black Bear Lodge, The Brightside and its outdoor area, Cloudland, Greaser, Netherworld, The Tivoli, The Triffid, The Wickham and The Zoo. You'll also be heading to Backdock Arts, Birdees, EC Venue, Kings, La La Land, O'Skulligans, Press Club, Queens, Suzie Wongs Good Time Bar, The Prince Consort and Woolly Mammoth as well.
As for who you'll be listening to, the list of acts includes more than 150 artists and bands, so you can get ready to check out Blonde on Blonde, Butterfingers, Beddy Rays, Nerve, DVNA, Jesswar, VOIID and SixFtHick — plus DZ Deathrays doing a DJ set — among a heap of other names.
Prices vary and tickets for each event are sold separately — and, obviously, it'll be a COVID-safe affair with the applicable capacity restrictions.
And, if you're wondering why this year's Fiesta kicks off on a Thursday, that's because Friday, October 29 is the rescheduled Ekka public holiday. So, your long weekend itinerary can including hitting up a Brisbane favourite — and also heading into the mall on the Saturday for a huge music marketplace that'll span record swaps, vintage clothing and pop-up DJs.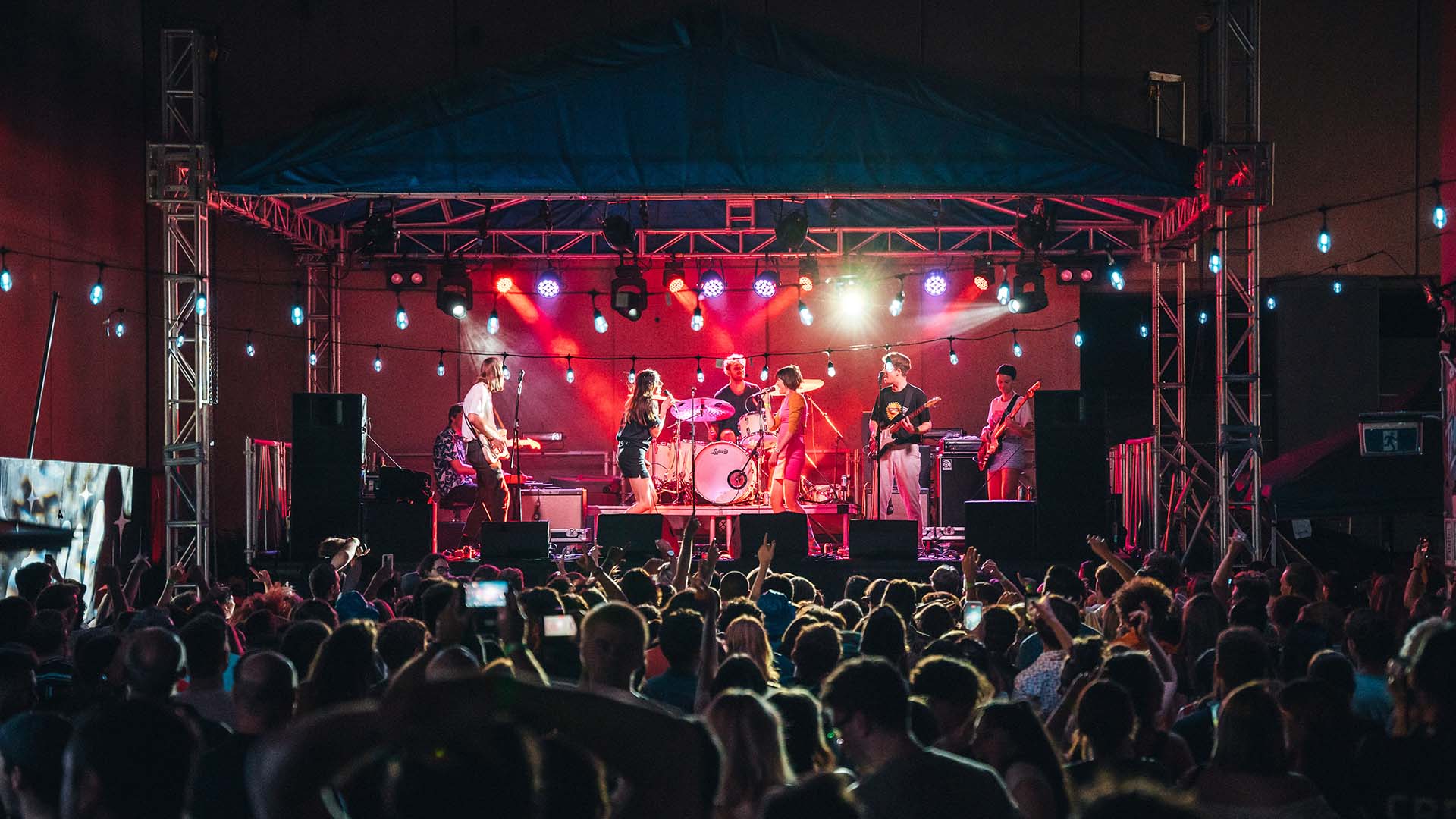 VALLEY FIESTA 2021 LINEUP
A Love Supreme
Alivian Blu
Allora
Amarri
Amy L
Annoying Neighbours
Asphyxia
B-boy Cielo
B-girl Tinylocks
Bad Neighbour
Band 42
BBTK
Beddy Rays
Being Jane Lane
Betty Taylor
Big Dinner
Birdman Randy & The Ivory Street Preachers
Blonde on Blonde
Blussh
Bombshell Academy
Breakfast at Nans
BRIA
Brief Habits
Brixton Alley
Buttered
Butterfingers
Callin Malley Big Band
Carmouflage Rose
Charlesworth
Chelsea Drive
Chukale
Clarence Kent
Colourblind
Cooper Riley
Creed Tha Kid
Curtis Sciliba (DJ)
Dahlia Dyer
Dahlia Gunn
David Carberry
Day of Embers
De La Vinx
DJ Bacon
DJ Fukhed
DJ Lil J
Don Rual
Dream Coast
Dumb Things
DVNA
DZ Deathrays (DJ)
Ebony Ruth
Echowave
Ella Fence
Eloelo
Ethan Enoch
Feelsclub
First Beige (DJ)
Flamingo Blonde
FOMI
Foul Face
Frenchie Darling
Friends of Friends
General Press: GP001
Halfway
Haliday
Hive Mind
Hope D
Hot Reno
J-Funk
Jack Davies and The Bush Chooks
Jacob Tompkins
Jesswar
Kessin
King Stingray
Kweir
La bOum
Lacy Pop
Late November
Lazy Leis
Lila Lux
Lilith Revere
LO'99
Local Safari
Loiter
Lotus Ship
Lunchtime
Madeline Glasseater
Malibu Stacey
Margeaux Le Gogo
Melaleuca
Mellow
Miranda vs Arizona
Mou
MoZza
Nerve
Nice Biscuit
Nicole McKinney
Oh Bailey
Parachute Youth
Passionfruit
People Mover
Phatnug
Phil Smart
Pocketlove
Pure Milk
Pvcker Up
Radolescent
Ramjet
Rose Rogers
Ruckus Slam
S*A*S*H Halloween
Sachem
Saint Lane
Sametime
Selfish Sons
Sellma Soul
Set The Record
Shifting Sands
Siala
Sid The Entertainer
SixFtHick
Skanalosos
Skies Collide
Skrub
Sleeping
Slowrip
Slurpee Jerks
Smak
Soviet X-Ray Record Club
Start Together
Stone & Wood Garden Sessions
Strictly Classics
Sunsets
syrup, go on
Teen Sensations
The Buzzing Towers
The Double Happiness
The Lonesomes
The Mangroves
The New Black
The Sleepyheads
The Unknowns
The Wolston Butchers
Toby Hobart
TOWNS
Trilla D
VERUM
VOIID
Waxflower
Wet Season
Wetlands
Wharves
White Light Station
Yellowcatredcat
Yr Familiar
Zed Charles
Valley Fiesta 2021 takes place from Thursday, October 28–Saturday, October 30. For further information and to buy tickets, head to the festival's website.
Images: Dave Kan.
Published on September 21, 2021 by Sarah Ward