Purple Palm
This Palm Springs-inspired garden bar in Woolloongabba features a ten-foot wall of gin.
Thanks to The Talisman Group, getting a bite to eat or a drink at Woolloongabba's South City Square comes with options, including the hospitality company's neighbourhood-style Italian joint Sasso and its Chinese Peruvian bar and eatery Casa Chow. Since late October, Brisbanites can add another choice to the list, as themed around a different part of the world: California-inspired gin-pouring garden bar Purple Palm.
As its name makes plain, this 60-seat newcomer to Logan Road takes its cues from Palm Springs, complete with an openair oasis setup — and, yes, palm trees providing some greenery. The look and mood is relaxed but glam, and also glowing thanks to lights in the bar's eponymous colour illuminating its palms at night.
That said, seating spans both indoor and outdoor spaces, with skylights letting in some brightness inside. Patrons can kick back on cushion-covered couches and get comfy beside a gazebo of plants, and ideally feel like they're on the other side of the planet.
Perfecting the vibe is clearly a big part of this new watering hole — and, naturally, so is the drinks menu. Expect to see plenty of its beverage choices while you're deciding what to sip, all thanks to Purple Palm's eye-catching ten-foot wall of gin by South Australia's 78 Degrees Distillery.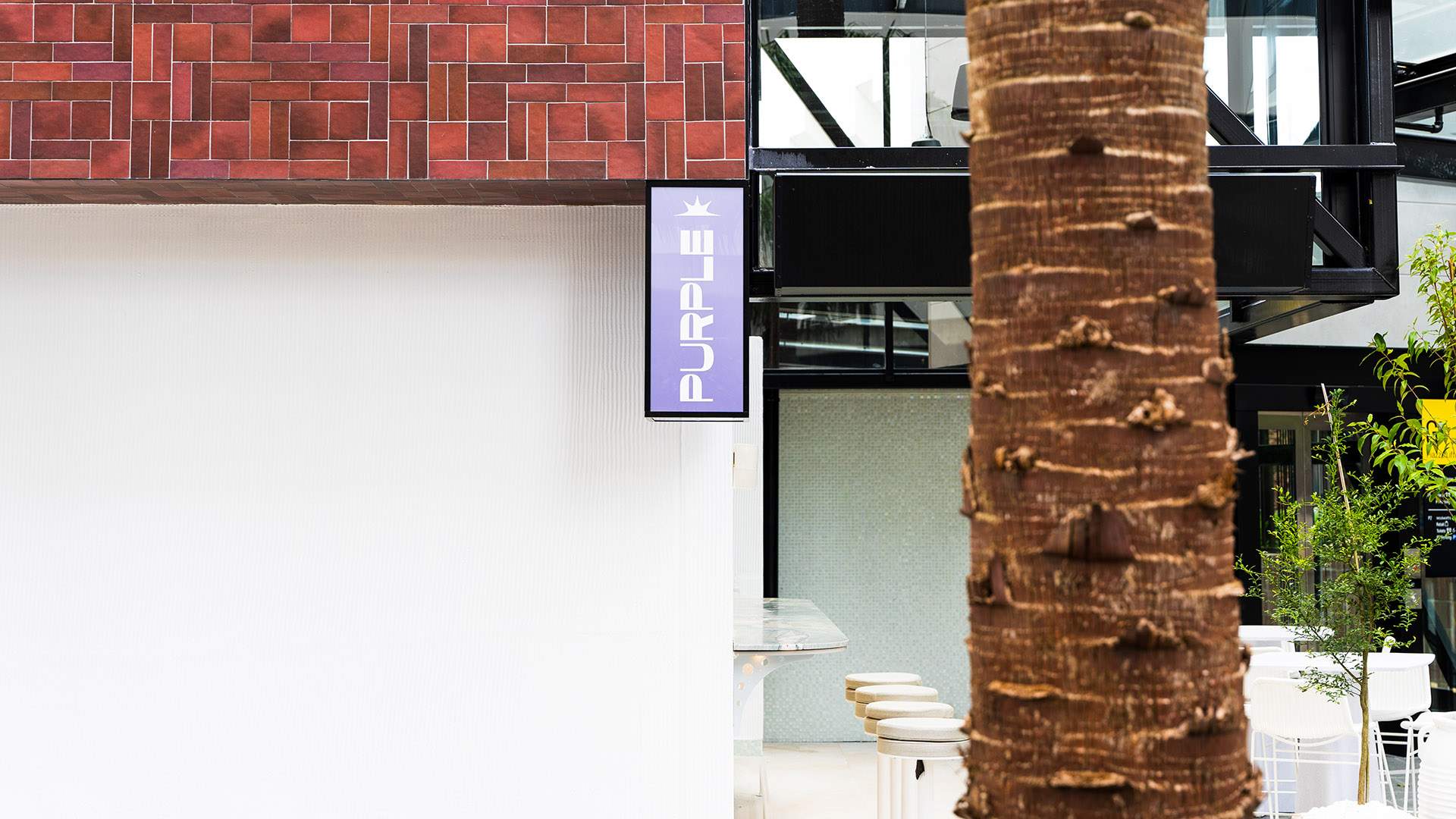 Whether you choose a cocktail on tap, one made fresh to order or the bar's shared option for four-to-six people, we hope you like downing Australian spirits and pairing them with homegrown produce, because that's exclusively on Purple Palm's lineup. That includes a bespoke Sunshine State Gin, as well as an exclusive tonic from StrangeLove.
Cocktail highlights span The Palm Sour, as made with blueberries, aquafaba and matcha; the Qld Red Snapper, which features tomato juice, house-made chilli, garlic and olive brine, Tabasco, Worcestershire sauce and more; six types of gin and tonics, including one made with green ant gin with extra green ants; and six kinds of martinis, complete with a jaffa and coffee number. Three non-boozy concoctions also sit on the drinks list, alongside beers from locals such as Slipstream, Aether and Ballistic, and a small wine selection.
Purple Palm doesn't do food in-house; however, you can order share plates from Casa Chow or fellow newcomer South City Wine — another fresh venture from The Talisman Group.