TGI Fridays Surfers Paradise
Surfers Paradise is now home to the American bar and grill chain's first-ever beachside venue.
Thank goodness it's any day of the week you like at southeast Queensland's newest eatery: the latest local outpost for TGI Fridays. Three years after launching its first venue in the region on the Gold Coast, the American brand has opened another venue in the city, and notched up another first. Now serving up its bar and grill-style fare in Surfers Paradise, this latest addition to the chain is its debut beachside spot.
If you're familiar with the TGI Fridays name, you'll know what's on offer: tucking into the chain's array of steaks, ribs, wings and burgers while sipping a hefty array of cocktails, just this time with ocean views. Those waves will be visible from the eatery's level-one location — and this isn't just the first beachside TGI Fridays in Queensland or Australia, but worldwide.
The venue is also the chain's Australasian flagship store, so it's clearly a big deal.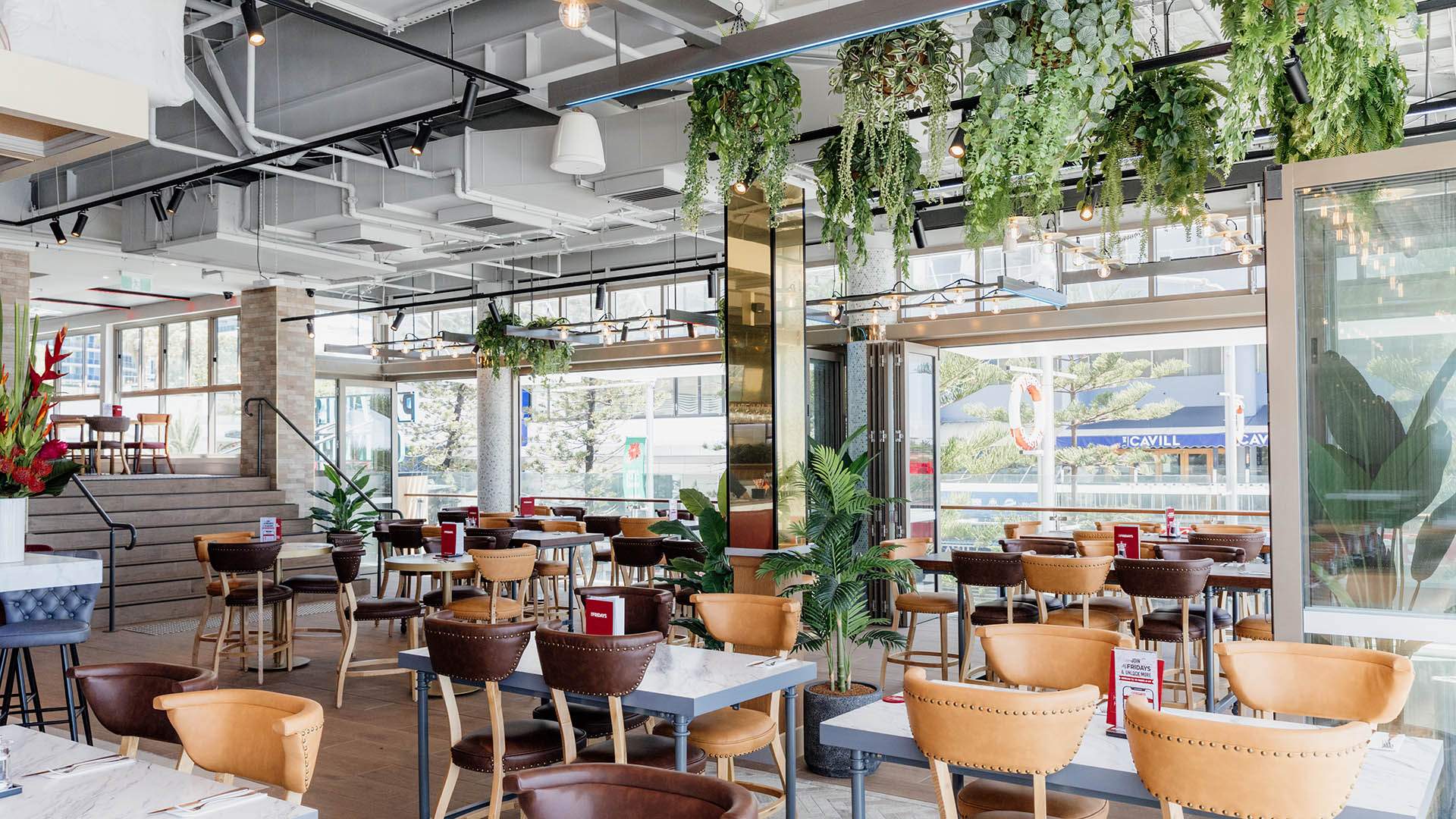 If it's TGI Fridays menu rather than the location that's piqued your interest, it falls in line with the company's other Aussie eateries. The general range includes wraps, salads, starters such as mozzarella sticks and mac 'n' cheese-loaded potato twisters, and mains that span chicken tenders, salt and pepper calamari with fries, whisky-glazed salmon and bruschetta pasta. The dessert selection goes heavy on American favourites; think brownies, sundaes and strawberry cheesecakes.
As for drinks, TGI Fridays takes its beverages seriously, with its standard menu serving up over 30 types of cocktails and 11 kinds of low- and no-alcohol concoctions. Wine, plus beer by the bottle and on tap, is also on offer. And, TGI Friday's famed daily happy hour runs from 4–6pm daily, with $6 bites, $6 house wines and schooners, and cocktails for between $7—15.
Seating 180 in timber booths, at stools at the central island bar and at high tables, the Surfers Paradise store also features neon lighting — including a sign stating 'Paradise is only one cocktail away' when you walk in — plus huge windows to make the most of that seaside vista.
And, it combines the signature TGI Fridays look, which includes timber accents and industrial-style lighting installations, with coastal furniture and a heap of greenery.
When it comes to the venue's vibe, TGI Fridays pitches itself as part-way between a restaurant and a hangout spot. Back when the brand launched in the 60s, it was actually a singles bar; but these days it's focused on casual, novelty-based American dining.