DESIGN & STYLE
Brisbane Is Set to Sweat Through an Early Autumn Heatwave
Temperatures will reach 30 degrees every day for the next week, and could even break heat records.
Brisbane Is Set to Sweat Through an Early Autumn Heatwave
Temperatures will reach 30 degrees every day for the next week, and could even break heat records.
Whether you like it or not, summer's balmy weather is hanging around a little longer this year. Most of Australia is forecast to score a hotter-than-average autumn, and although that doesn't sound all that unusual in Queensland, Brisbanites are about to endure a second successive week of 30 degree-plus temperatures.
Tipping a maximum temperature of 36 degrees on Monday, March 11, the Bureau of Meteorology expects the mercury to rise up to eight degrees above average. That's verging into record-breaking territory. Indeed, the organisation is calling the temperature spike a heatwave, with the city also predicted to reach 33 degrees on Sunday, Tuesday and Wednesday, then hover between 31–33 until Saturday.
Ready for some Autumn heat? 🌡️ A severe #HeatWave is forecast for #SEQLD from Sunday with temperatures in southern Qld set to rise up to 8°C above average. 🥵 Heat records may be broken on Monday! ☀️Make sure you have plenty of water and stay in the shade! @qldhealthnews pic.twitter.com/0bJc7IfPSw

— Bureau of Meteorology, Queensland (@BOM_Qld) March 9, 2019
The early autumn warmth will spread across southeast Queensland, affecting Brisbane, Ipswich and the Gold and Sunshine coasts — and if 36 degrees sounds hot, spare a thought for Ipswich residents, who'll swelter through a 39-degree max on Monday. Of course, it hasn't exactly been cool in Brissie for the past week, exceeding 30 degrees every day since Monday, March 4. Showers and storms are possible from Tuesday onwards; however they won't bring a cool change, but an increase in humidity.
The hot spell comes off the back of a record-breaking summer, with January was the hottest month ever recorded in Australia, and the entire season marked the warmest the country has ever experienced. Historically, Brisbane's March average is 29.1 degrees, while the month's hottest temperature came in 2007, courtesy of a 37.9-degree maximum.
When BOM released its climate outlook for the March to May period back in mid-February, it revealed that most of the country is in for warmer days and stickier nights than we usually see at this time of year — so yes, the soupy weather is set to continue.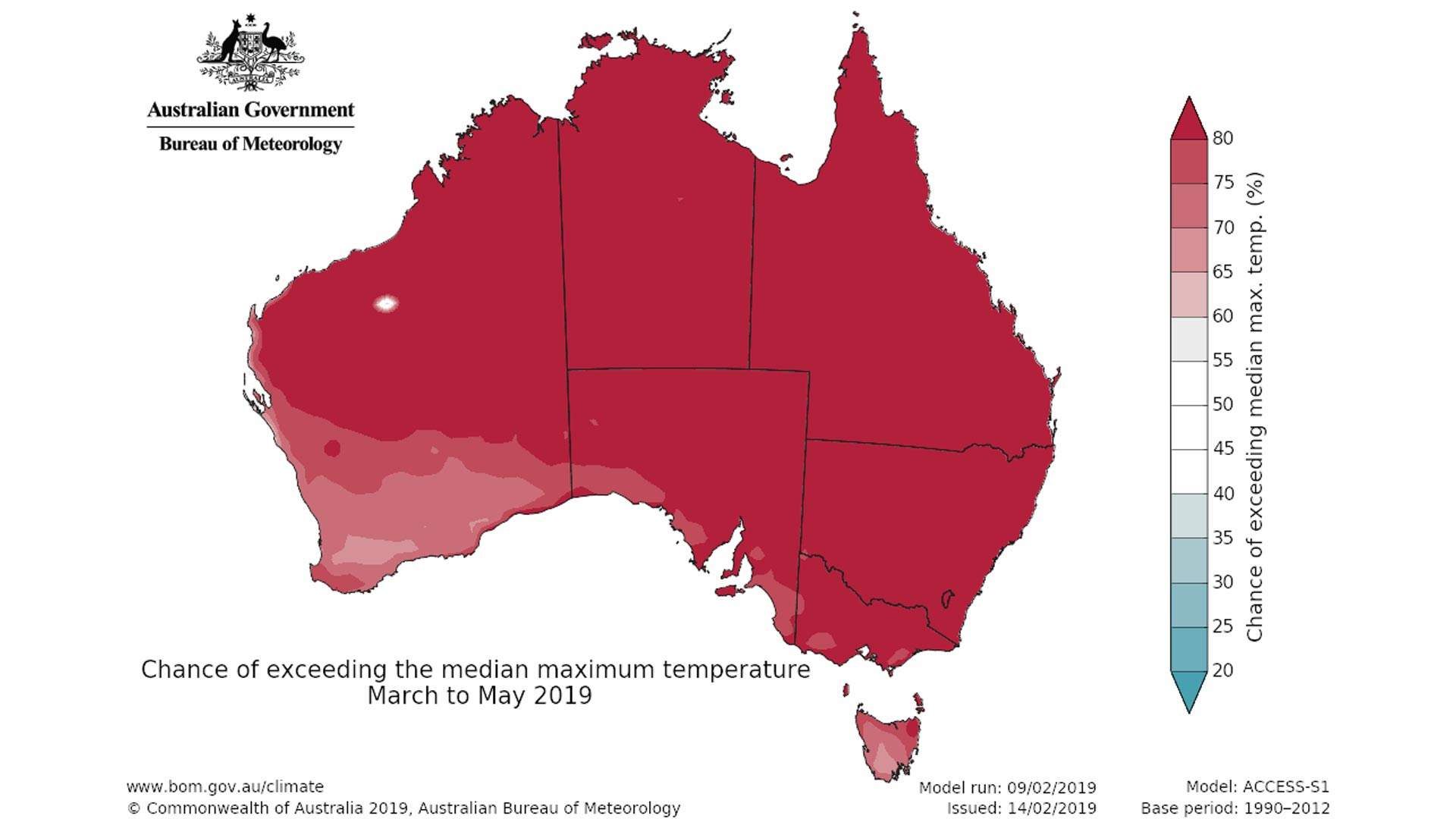 In fact, there's an 80 percent chance that mainland Australian will experience autumn temperatures that are a whole lot warmer than the median. Don't go putting away your pedestal fans or losing your air-con remote just yet.
Image: Kgbo via Wikimedia Commons. 
Published on March 10, 2019 by Sarah Ward