Clay: Collected Ceramics
Museum of Brisbane's latest big (and free) exhibition is all about clay, pottery and ceramics.
After spending the summer focusing on play, Museum of Brisbane has turned its attention to clay, heroing pottery and ceramics in all their forms. Moving from getting active to appreciating earthy objects, the seasonally appropriate switch has arrived courtesy of the site's new Clay: Collected Ceramics exhibition — its latest free excuse to wander around level three of City Hall in King George Square.
Premiering as part of Brisbane Art Design 2023, but gracing the museum's walls and halls until Sunday, October 22, Clay: Collected Ceramics isn't just showing an age-old art form some love (or endeavouring to appeal to fans of Patrick Swayze film Ghost). It's also celebrating Brisbane's clay, pottery and ceramics community, specifically 60 years of clay-based practise in the River City, all via more than 300 pieces.
If that sounds like a lot of clay, it is — and there's a vase by Bonnie Hislop decked out not only in colour, but with the words "a bit much" that irreverently sums up the massive showcase. The Yeerongpilly-based ceramicist's works sit among the exhibition's range of newly commissioned, never-before-seen contemporary pieces from local artists, which also includes contributions by Nicolette Johnson, Jane du Rand, Kenji Uranishi and Steph Woods. A big focus: mould-breaking uses of the medium.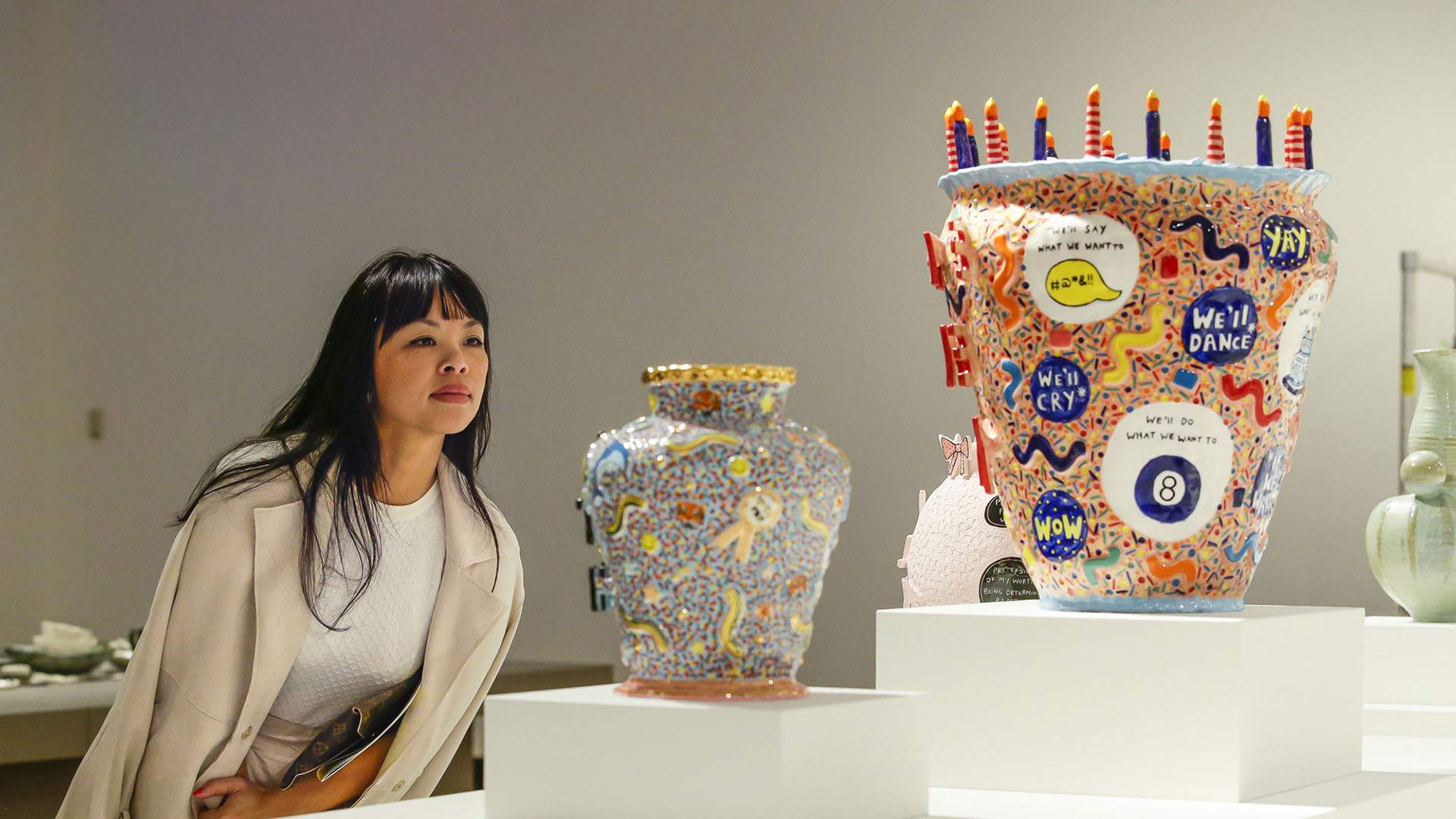 Other highlights include leaning into the colour often associated with clay — brown — by grouping together works by Carl McConnell, Gwyn Hanssen Pigott, Milton Moon, Lyndal Moor, Kevin Grealy and more that showcase the tone in a variety of shades. And, the private collection of author, poet and Paper Boat Press founder Kylie Johnson features heavily, capitalising upon her lifetime love of collecting pottery.
There's also exhibition-within-the-exhibition Commune, with hundreds of memory vessels lent by Brisbane's ceramics community — marking the biggest-ever artist-sourced display in MoB's history, in fact — and an evolving installation by artist-in-residence Jody Rallah.
Clay: Collected Ceramics also spans functional pieces dating back to the 70s, plus items that were only ever going to sit on someone's shelves from a range of talents, encouraging a conversation about the plethora of ways that the tactile material in the spotlight can be used.
Images: Claudia Baxter.
Concrete Playground Trips
Book unique getaways and adventures dreamed up by our editors