Brisbanites are gifted brag-worthy sunshine and clear skies almost all year around, which makes for perfect outdoor gig and picnic weather. So, as the site did back in 2018, 2019 and 2020, the Brisbane City Botanic Gardens is letting everyone make the most of Brissie's ace climate with a Gigs & Picnics series.
Taking place on the last Saturday of each month from March–November — running from 12–4pm on March 27, April 24, May 29, June 26, July 31, August 28, September 25, October 30 and November 27, in fact — the event will rustle up some of the city's best food trucks, put on some free tunes and invite folks to get cosy on their own blanket all afternoon.
Entering through the main gateway at the intersection of Alice and Albert Streets, attendees can expect everything from jazz and modern reggae to dub and gypsy, all in gorgeous greenery-filled surroundings. You can also order a picnic basket in advance, which'll be there for you on the day. Or, if you're bringing your own feast, just remember that the gardens aren't BYO.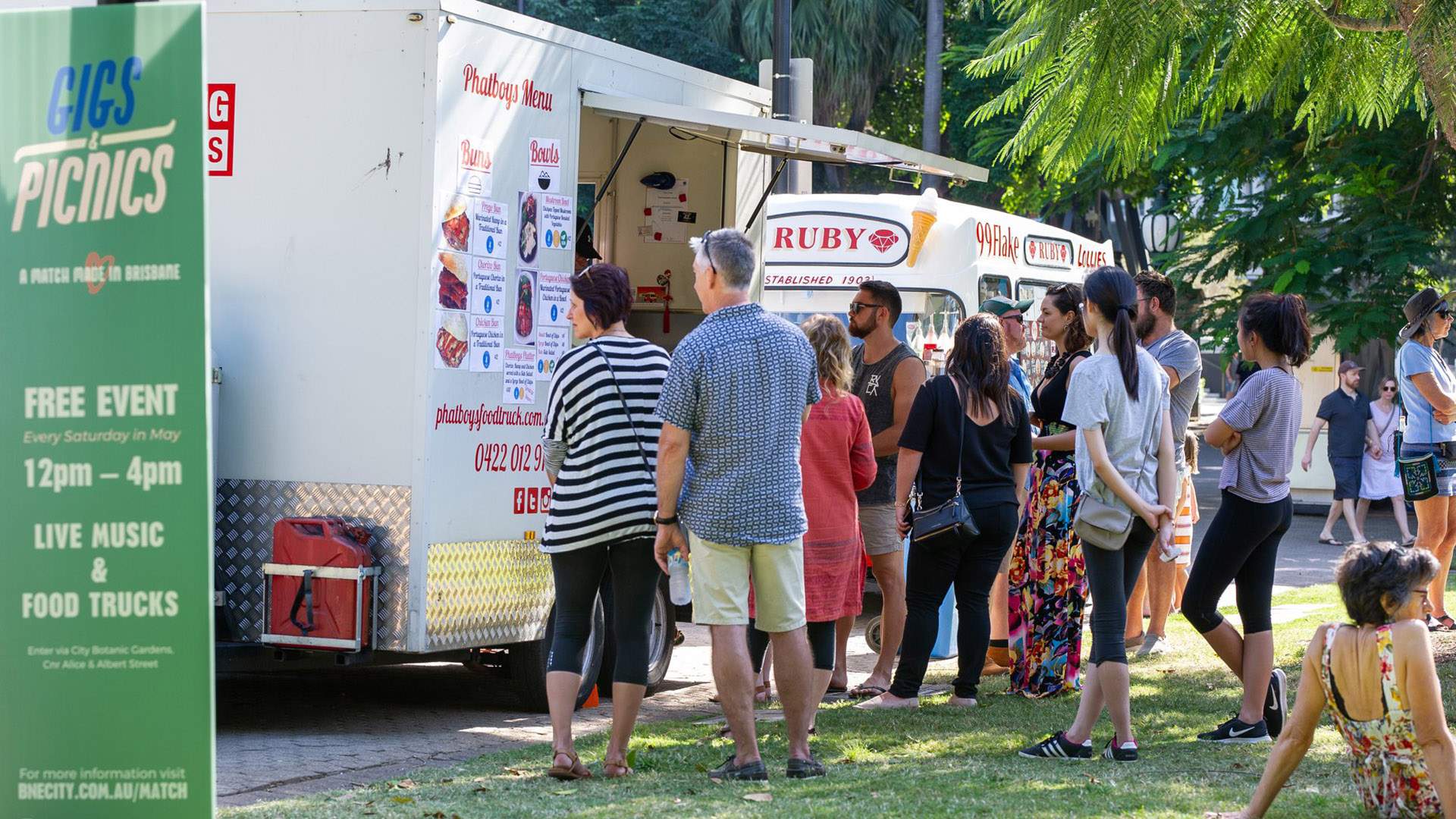 Image: Gigs & Picnics.
Food & Drink

Saturday, January 29 - Saturday, January 29

Westfield Chermside

Food & Drink

Saturday, February 12 - Saturday, February 12

Fish Lane

Travel & Leisure

Thursday, February 10 - Monday, February 14

Victoria Park Golf Complex

Food & Drink

Friday, January 28 - Saturday, January 29

BITE Markets

Food & Drink

Friday, February 11 - Sunday, February 27

Clem Jones Promenade, South Bank Parklands

Food & Drink

Wednesday, December 1 - Monday, February 28

Riverbar & Kitchen
Travel & Leisure

Monday, January 10 - Tuesday, December 27

Brisbane City Botanic Gardens

Food & Drink

Wednesday, December 1 - Monday, February 28

Riverbar & Kitchen

Food & Drink

Sunday, October 31 - Monday, February 28

Friday's Riverside