TRAVEL & LEISURE
GoBoat Kangaroo Point Pop-Up
Before GoBoat launches in Breakfast Creek, it's popping up at Dockside Marina in the city.
Brisbanites, if you like cruising the river, you'll soon will be able to head to Breakfast Creek to hop on an eco-friendly picnic boat — all thanks to Denmark-born outfit GoBoat. But if you're keen to enjoy a meal, a few drinks and the general experience of floating on the river with your mates before then, you can, because the company has popped up in Kangaroo Point first.
You can still look forward to GoBoat's official launch a bit further north of the CBD, or you can jump the gun and jump aboard in the city first. Yes, it's time to start getting excited about cruising along the river in a different way, with the vessels setting sail from Dockside Marina for a limited time.
Aimed at making the whole boating caper more accessible for everyday folk, the Scandinavian-designed vessels are slow-moving, a breeze to operate and don't require a boating licence, making for some fun, fuss-free sailing sessions. In a win for the planet, they also run on silent, pollution-free, electric engines, and are crafted from a mix of reclaimed timber and recycled PET bottles.
Each of the contemporary GoBoats clocks in at 18-feet long, and boasts a central picnic table with room for eight people (and for all the necessary snacks and booze). And despite what you might be thinking, they're even affordable enough to fit your budget — simply BYO food and drinks, find enough eager sailors to jump aboard and a GoBoat session will start at around $15 per person, per hour. That's $119 hourly for the first hour, but the longer you book, the cheaper it gets.
And, in great news for your pooch, the company's vessels are pet-friendly — surely you've got a very good boy who deserves a river jaunt.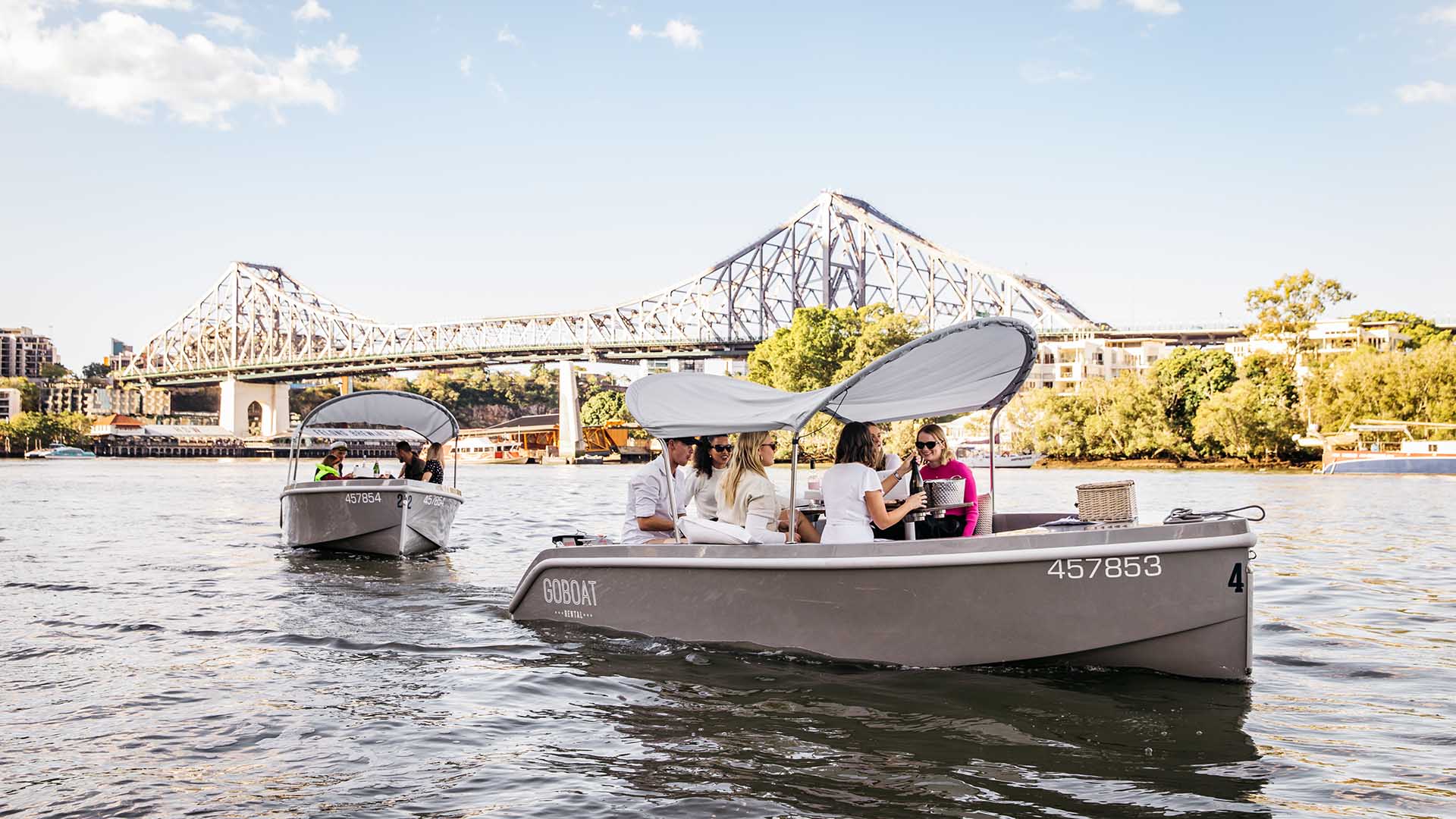 Images: Lean Timms.
Updated August 17.
Travel & Leisure

Saturday, October 23 - Saturday, October 23

Kalbar Sunflower Farm

Food & Drink

Friday, October 15 - Tuesday, November 30

Riverbar & Kitchen

Arts & Entertainment

Saturday, October 23 - Sunday, October 31

Brisbane Convention and Exhibition Centre

Food & Drink

Saturday, November 20 - Saturday, November 20

Various Brisbane venues
Food & Drink

Friday, October 15 - Tuesday, November 30

Riverbar & Kitchen

Travel & Leisure

Monday, October 4 - Saturday, December 4

Various locations across Brisbane