Making Place: 100 Views of Brisbane
With artwork dating back two centuries, this city-focused exhibition surveys pieces that've captured Brisbane and its changes.
Gather a group of people together, then ask them to describe Brisbane as seen their own eyes — and, no matter how many answers you get, it'll be full of wildly varying takes. That's what the Museum of Brisbane's new exhibition Making Place: 100 Views of Brisbane presents, but via pieces of art depicting the city, with works dating back as far as the 1820s.
Obviously, Brissie has undergone a wealth of changes in the past two centuries — and if someone captured it on a canvas, it's likely on display here. As the name makes plain, there are at least 100 different views of the city included in this showcase, all helping to ponder this town of ours as it was, is and might be moving forward.
On display from Saturday, March 26, and running from 10am–5pm Tuesday–Sunday, Making Place: 100 Views of Brisbane features work by an impressive list of talent. Gracing the walls: Judy Watson, Margaret Olley, Vida Lahey, Jane Grealy and Margaret Cilento, as well as Richard Randall, Noel McKenna, William Bustard, Charles Lancaster, Robert Brownhall, Stephen Nothling and Lloyd Rees.
Plus, so that you can hear Brisbane as well as see it, Lawrence English has created an accompanying immersive sound artwork that captures the city's varying soundscapes. And, thanks to Jenna Lee, there's also an installation that specifically explores colonisation.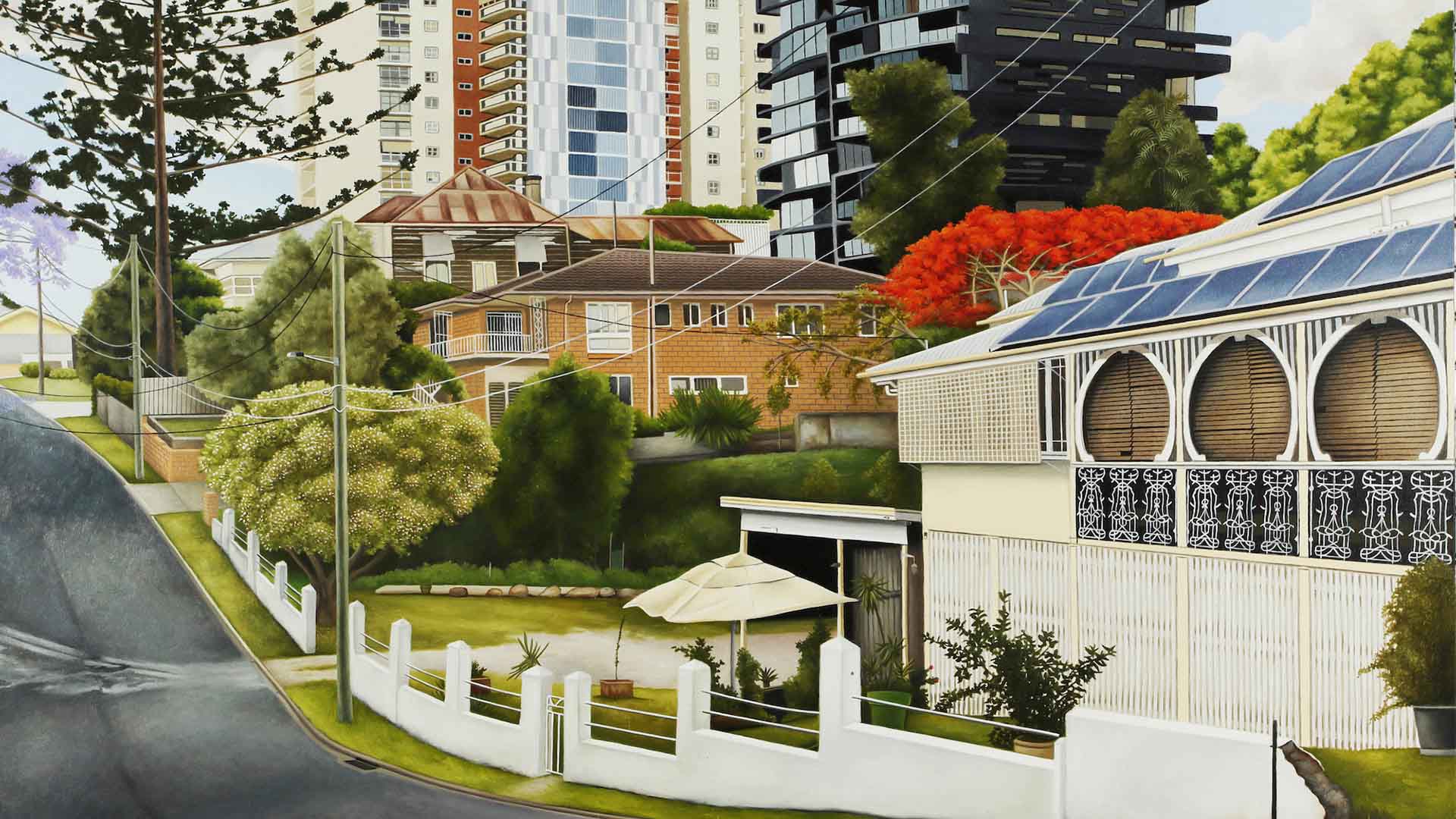 Images: Josh Woning.
Paul Davies, Centenary Pool Brisbane, Yellow/Grey 2008, acrylic on canvas. Photo: Christopher Hagen. Donated through the Australian Government's Cultural Gifts Program, 2021, Museum of Brisbane Collection.
Stephen Nothling, Bellevue View 2020, oil on canvas. Photo: Christopher Hagen. Museum of Brisbane Collection.
Concrete Playground Trips
Book unique getaways and adventures dreamed up by our editors