Not On Your Rider 2023
Brisbane's 'Spicks and Specks'-style IRL music game show is back for another year of quizzes at The Triffid.
If you like music and you like trivia, TV shows such as Spicks and Specks and Never Mind the Buzzcocks likely sit high on your favourites list, with both combining tunes, musicians and questions about them. But in Brisbane, you don't have to confine your music trivia fix to staring at a screen. One of the city's most reliably entertaining evenings out comes in the form of Not On Your Rider, the IRL quiz show that's also filled with well-known faces — but staged live in the River City, with Brisbanites invited not only to watch but to also play along.
This pop-culture delight has been doing the rounds for a few years now — and testing its contestants via rounds of questions — and it's back again in 2023. From the end of March, Brisbanites can look forward to monthly shows at The Triffid. Yes, given there's an October 26 date on the list, you can probably expect another Halloween celebration. And, come December 14, a Christmas show as well.
If you're not already acquainted with Not On Your Rider, it takes something that everyone loves — showing off their music trivia knowledge — and dials it up a few notches.
Here's how it works: the event is hosted by The Creases' Aimon Clark, and features Velociraptor's Jeremy Neale and The Grates' Patience Hodgson as team captains. Also, while the two on-stage teams are always filled with musos, comedians, drag queens and other guests, anyone can buy a ticket, sit at a table and answer questions along with them.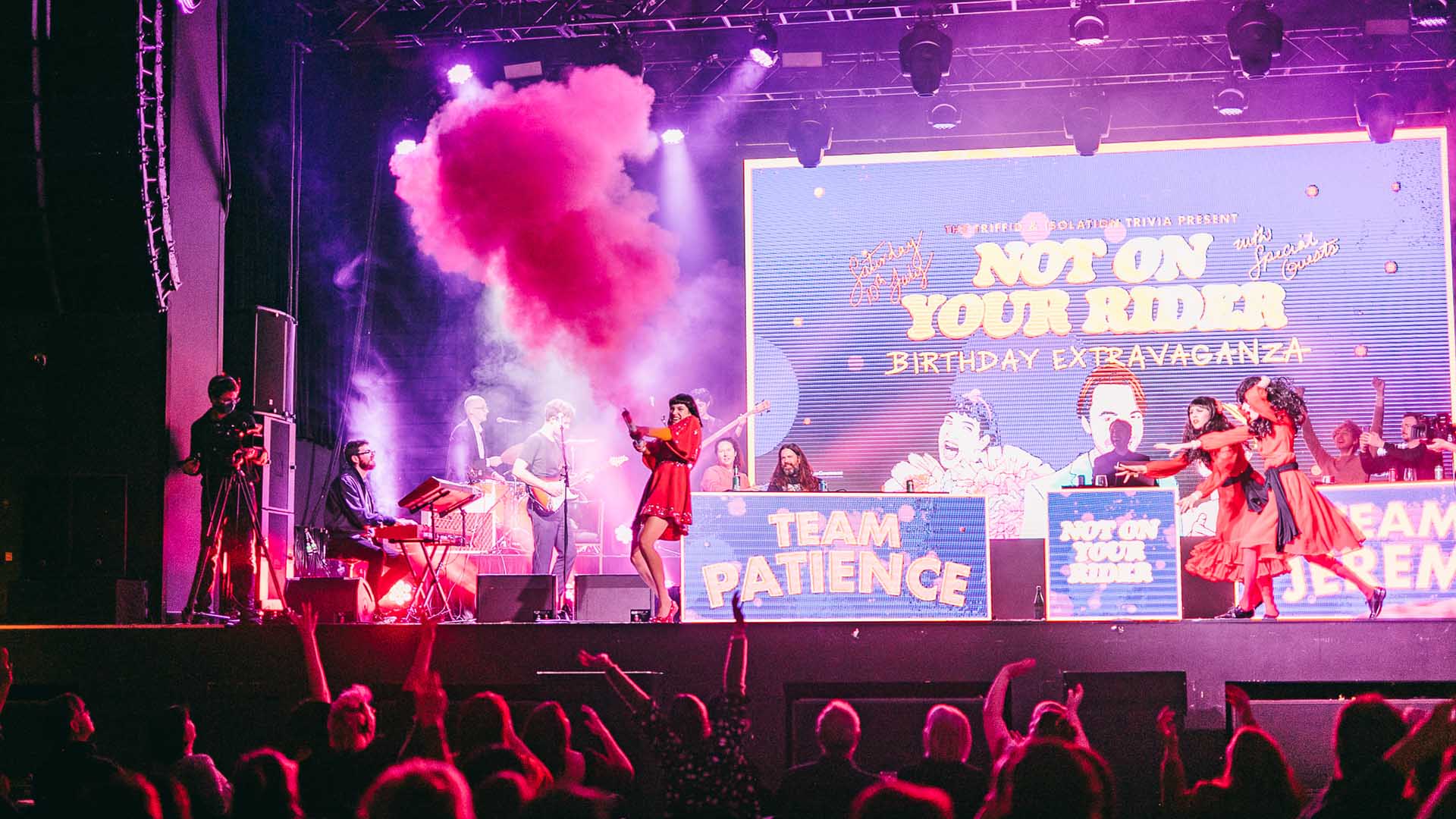 Previous events have boasted folks from Powderfinger, Ball Park Music, The Jungle Giants, The GoBetweens, Dune Rats, DZ Deathrays, The Kite String Tangle, Butterfingers, Last Dinosaurs, The Chats and more, because you never know which music figures might be involved on the night.
Guests change each show, but the past lineup has also spanned Robert Irwin, Kate Miller-Heidke, Ben Lee and Steven Bradbury, as well as Trent Dalton, Ranger Stacey, Mel Buttle and Ian 'Dicko' Dickson.
And as for the quiz itself, it's accompanied by chats about the music industry, plus other mini games involving attendees.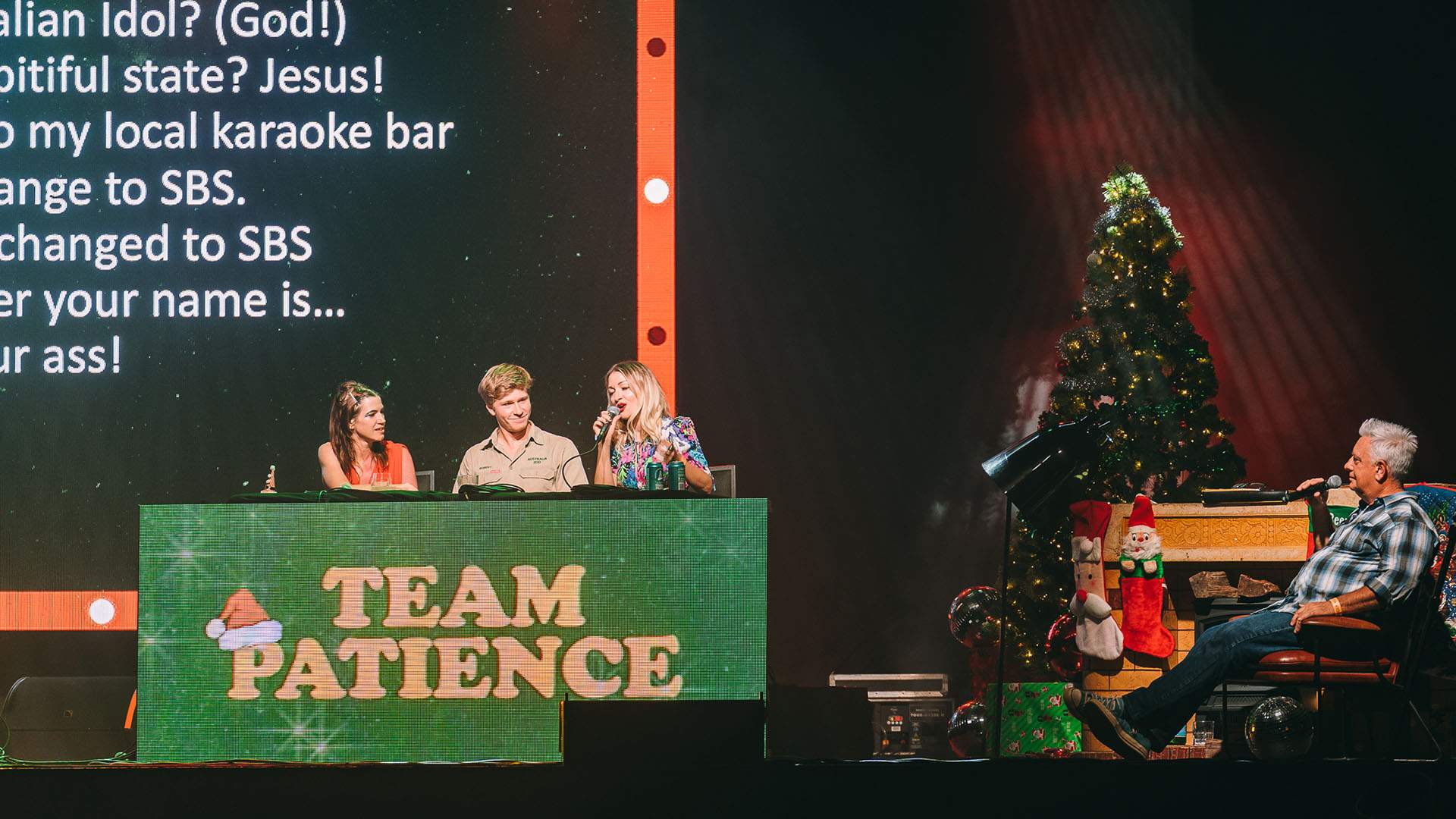 NOT ON YOUR RIDER 2023 DATES:
Thursday, March 30 — The Triffid
Thursday, April 27 — The Triffid
Thursday, May 25 — The Triffid
Thursday, June 29 — The Triffid
Thursday, July 27 — The Triffid
Thursday, August 31 — The Triffid
Thursday, September 28 — The Triffid
Thursday, October 26 — The Triffid
Thursday, November 23 — The Triffid
Thursday, December 14 — The Triffid
Concrete Playground Trips
Book unique getaways and adventures dreamed up by our editors