ARTS & ENTERTAINMENT
Sunny Side Up Treasure Hunt
Roam around this citywide outdoor exhibition, find augmented reality treasures and win prizes.
Brisbanites, if you've been seeing this fair town of ours in a completely different light over the past year, that's to be expected. After spending so much time at home and indoors during the city's multiple lockdowns, even the most familiar spots around the place look a little different. So, you're probably paying them more attention than usual.
While you're peering around the place with fresh eyes (or what feels like them, at least), you might just spy some great art. Brisbane City Council runs a free outdoor gallery program, with Sunny Side Up currently brightening up a heap of public spaces — and pondering Brissie's sunny and subtropical identity in the process.
Also part of the exhibition, which runs until Sunday, April 18: the Sunny Side Up Treasure Hunt. It takes place from 2–5pm on Saturday, April 10 and it's exactly what it sounds like, with Brisbanites asked to race around town on an augmented reality scavenger quest. You'll roam around the city, find six AR works via the Eye Jack app, and even discover your final treasure hunt location there, too. Once you've hit the end, if you're one of the first 100 people, you'll win a limited-edition artwork by Jordan Azcune. Everyone enters the draw for a $150 Museum of Brisbane shop voucher as well.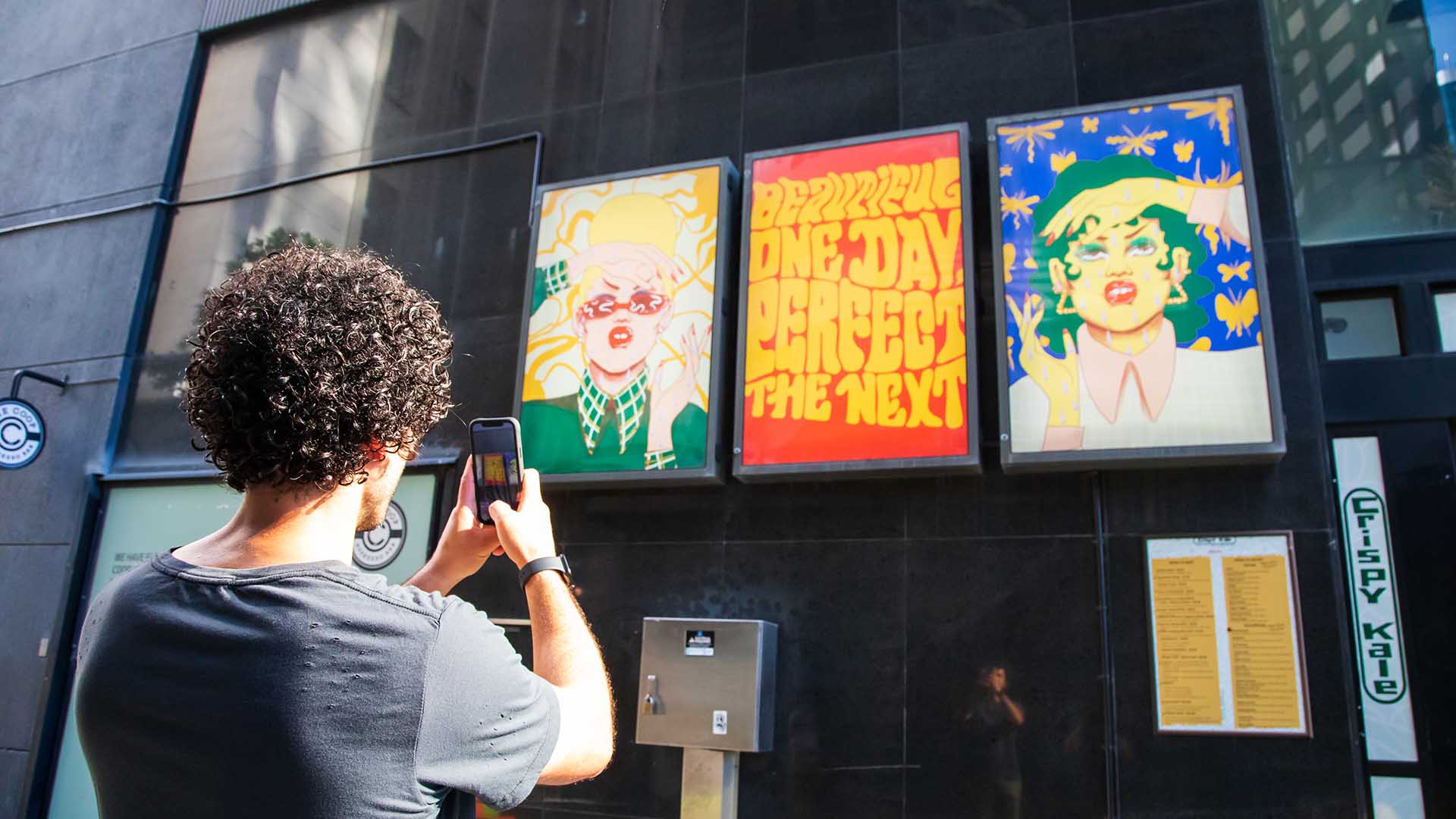 As you're jumping from place to place across the city, you'll be seeing pieces by Azcune, as well as by Monica Rohan, Charlie Hillhouse, Julia Scott Green, Parallel Park, Phoebe Paradise, Holly Anderson, Kinly Grey, Amelia Hine and Hailey Atkins. They're all emerging Brisbane artists under the age of 35, and the whole show has been curated by fellow up-and-comers Alex Holt and Sarah Thomson.
It's all free, obviously, and includes everything from photography, sculpture and video to animation and illustration. Fish Lane, Edward Street, Irish Lane, Queen Street — they're just some of the places to head to.