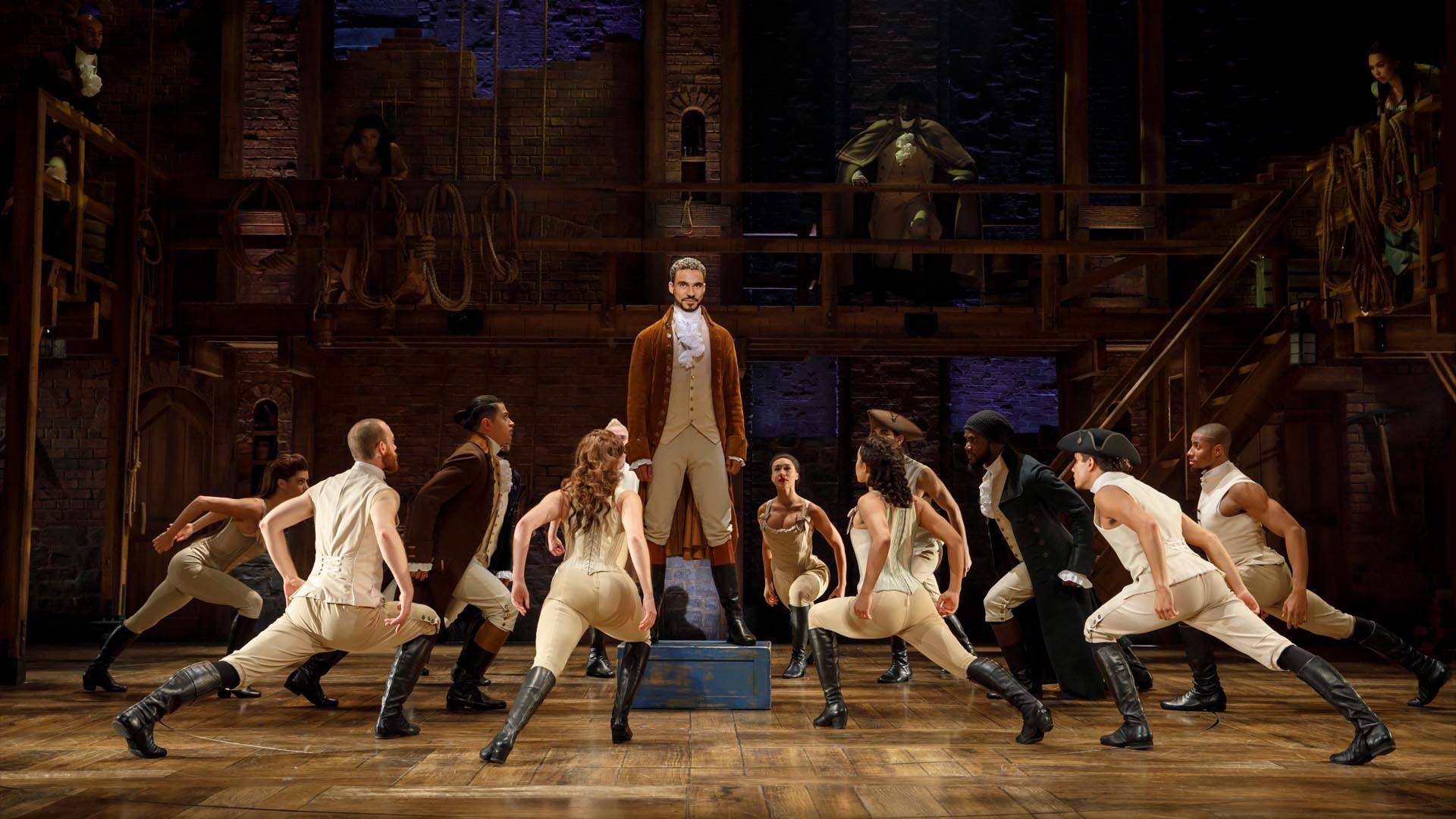 "
A Bluffer's Guide to 'Hamilton' If Your Plus-One Is Already a Super Fan
There aren't many people that haven't been caught up in the cultural phenomenon that is 'Hamilton' in some way or other — whether personally or a loved one becoming a die-hard fan.
Thanks to the filmed version with the original Broadway cast delivering at-home magic on Disney+ and Sydneysiders being captivated by the Broadway hit for almost all of 2021, the blockbuster show has swathes of Aussie fans. Melburnians are the latest population to be treated to the historical hip hop musical in their locality.
Whether you know a new super fan or a musical buff that's been riding the Hamilton hype train since the musical premiered on Broadway in 2015, buying them a ticket to see the show at Melbourne's Her Majesty's Theatre is a surefire way to get in their good books. Head to Ticketek's booking page to secure your theatre trip.
If you're going to tag along to see what all the fuss is about, we've put together a handy bluffer's guide to the show. You may even be able to "blow them all away" with some fun facts they didn't even know.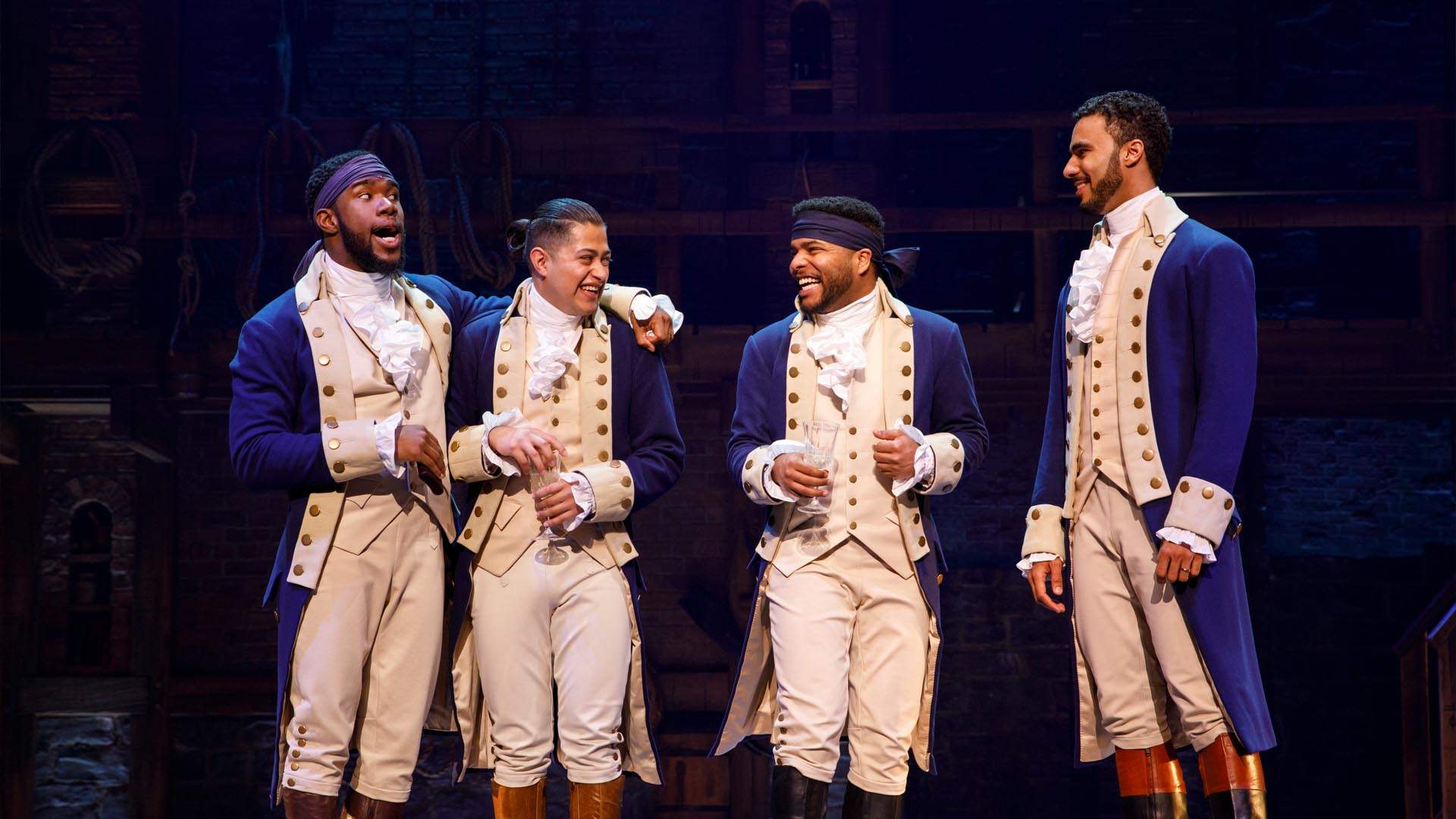 "
The Plot
Hamilton depicts the rise of Alexander Hamilton, who became one of the Founding Fathers of America. Act One begins by charting his turbulent childhood and immigration to New York City in 1776. Here, he fatefully meets Aaron Burr, and befriends John Laurens, Marquis de Lafayette and Hercules Mulligan. They join the revolution and Hamilton is appointed George Washington's right hand man in the Continental Army — a position Burr was vying for. Hamilton also meets and marries Eliza Schuyler, who is unaware her older sister Angelica is also in love with him. Eventually, they win the war and the British retreat. Washington is appointed President of the United States and offers Hamilton the position of Secretary of the Treasury.
Act Two begins with Thomas Jefferson returning from France to become Secretary of State. He and his pal James Madison immediately butt heads with Hamilton. What follows is a series of unfortunate events involving adultery, blackmail, and jealousy.
Throughout, the show deals with the concept of identity and asks audiences to consider how history is shaped by who is telling the story. The events leading up to Hamilton's death overshadowed the financial legacy that he left for the United States and resulted in him being the least-celebrated Founding Father in US history — until now, of course.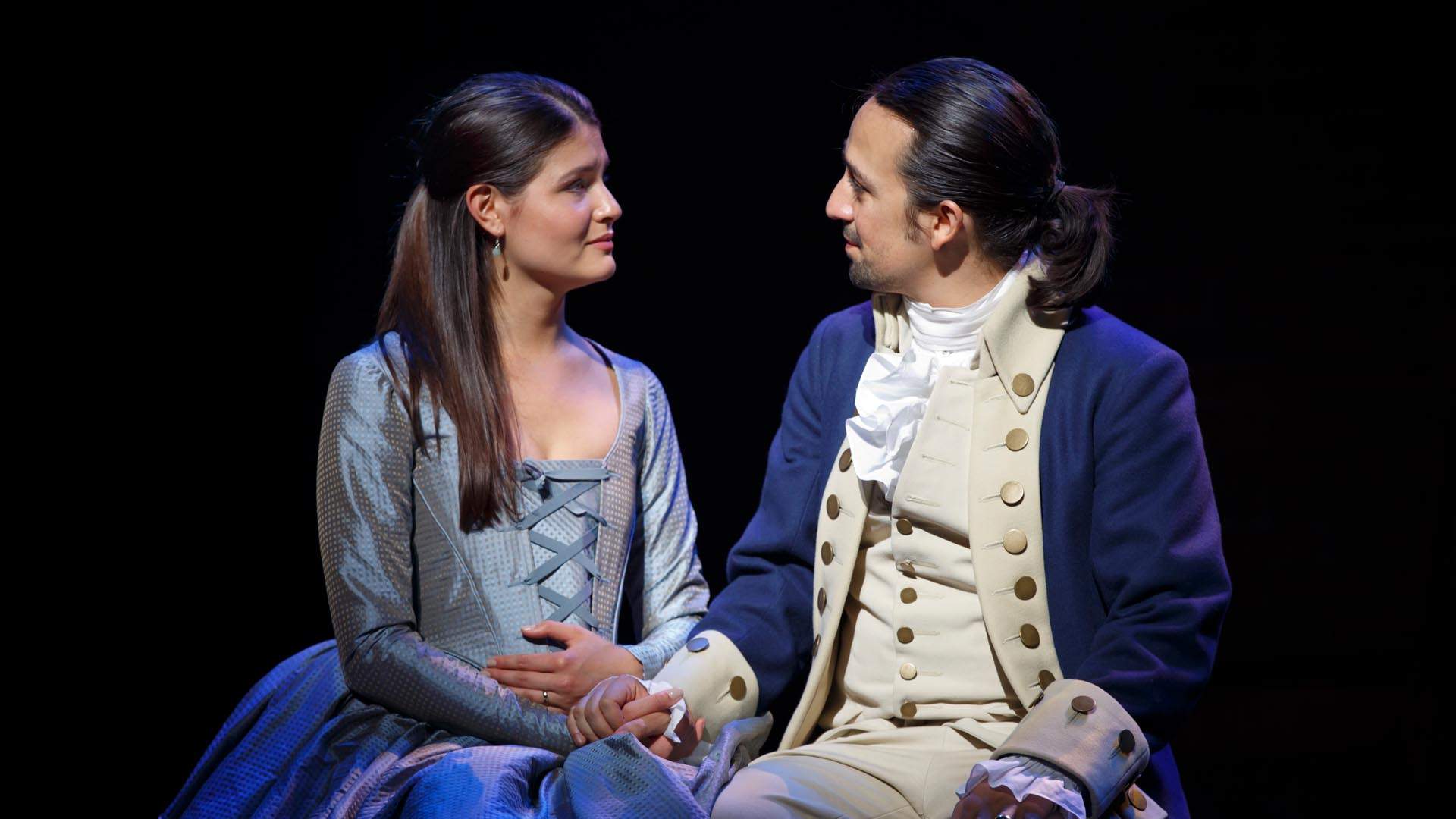 "
THE CREATOR
It's not often that reading a book can completely change your life, but it's true of Lin-Manuel Miranda. After reading just a few chapters of Ron Chernow's 2004 biography Alexander Hamilton, Miranda shared his idea of a hip hop concept album based on the American Founding Father to his friend Jeremy McCarter (with whom he went on to write Hamilton: The Revolution).
As Miranda continued to read the book on holidays in Mexico, the idea of what he was calling The Hamilton Mixtape took form in his imagination. That was in mid-2008. In May 2009, Miranda performed what would become the musical's opening song, 'Alexander Hamilton', for the very first time in public — in front of President Obama and Michelle Obama at the White House.
This wasn't some guerilla performance art. Miranda, who was already making a name for himself in the arts and culture scene, had been invited. His first musical In the Heights, which he had written early drafts of in college, had premiered on Broadway earlier that year to much acclaim — it would go on to win four Tony Awards, including Best Musical, and a Grammy Award.
Over the next few years, Miranda worked on other projects (including adapting teen flick Bring It On for Broadway), but The Hamilton Mixtape kept bubbling away in the background. Thomas Kail, who had developed and directed In the Heights with Miranda, got involved, and they brought Chernow in as a historical consultant. In time, the focus shifted to it becoming a stage production.
With Miranda in the titular role, previews of the off-Broadway production at The Public Theater began in January 2015 and by that July it had moved to the Richard Rogers Theatre on Broadway. It went on to win 11 Tony Awards (including Best Musical), six Laurence Olivier Awards, a Grammy Award and a Pulitzer Prize. Since then, Miranda's star power has rocketed. He wrote and performed the music for Disney musical Moana (2016), starred in Mary Poppins Returns (2018) and is now writing the songs for the live-action remake of The Little Mermaid.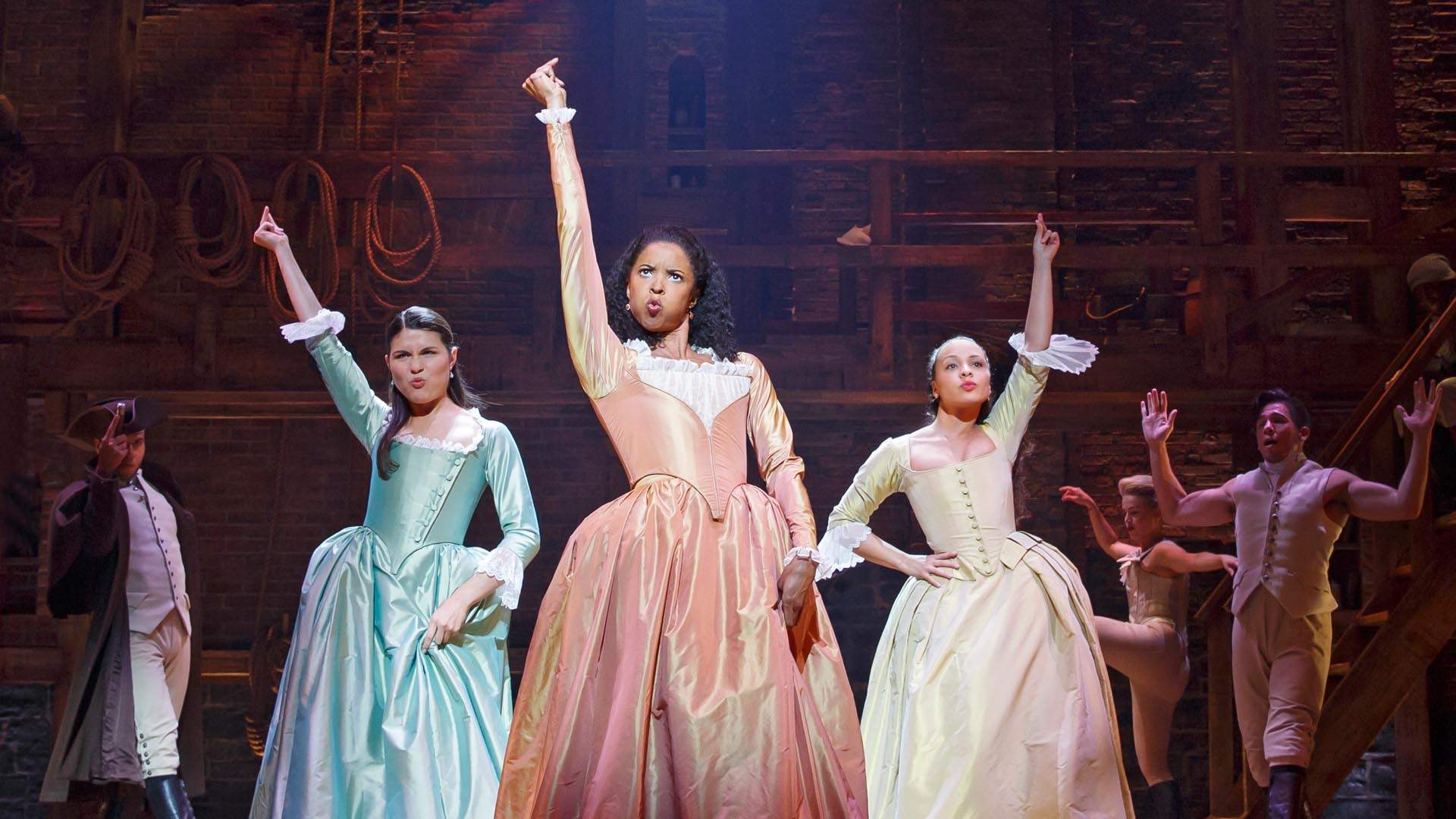 "
The Cast
In the Melbourne production, Jason Arrow (Aladdin) is taking on the lead role of Alexander Hamilton opposite Lyndon Watts (Aladdin, West Side Story) as his counterpart Aaron Burr and Chloé Zuel (Six The Musical, Beautiful: The Carole King Musical) as Eliza.
One of the hallmark features of Hamilton is casting people of colour in the roles of white historical figures. It was, from the beginning, intentional. The show depicts Hamilton, an immigrant, as a key figure in a fledgling government trying to work on the ideals of a new nation. It heroes another immigrant, Lafayette, for his role in the war. And it touches, albeit briefly, on issues of slavery. As both Kail and Miranda have stated on numerous occasions: "This is a story of America then, told by America now."
This casting tradition has continued Down Under, with backgrounds including Samoan, Maori, Filipino, Jamaican and Nigerian represented in the Australian cast. There are also three Indigenous actors taking the stage, including Shaka Cook from Pilbara taking on the dual roles of Hercules Mulligan and James Madison.
This touches on the other casting tradition: multiple actors playing dual roles. In Hamilton: The Revolution, McCarter writes, "Lin and Tommy liked the idea of having Hamilton's enemies in the second half of the show be played by his friends in the first half." This is referring to the actors playing Marquis de Lafayette and Hercules Mulligan in Act One — in this case, Victory Ndukwe and Shaka Cook — returning as Thomas Jefferson and James Madison in Act Two. See also: Marty Alix, who is taking on the roles of John Laurens and Phillip Hamilton, and Elandrah Eramiha, as Peggy Schuyler and Maria Reynolds.
And there's another lesser-known role to keep an eye on: The Bullet. In every production, a member of the ensemble cast takes on this role, which is present in all the big moments yet unnoticed by the rest of the characters. The Bullet signifies and foreshadows death. In the Disney+ recording, The Bullet, played by Ariana DeBose, shakes hands with Laurens in 'Yorktown' and he dies shortly after. She whizzes past Hamilton in 'Stay Alive', and finally in 'The World Was Wide Enough' she lands Burr's fatal blow on Hamilton in slow motion.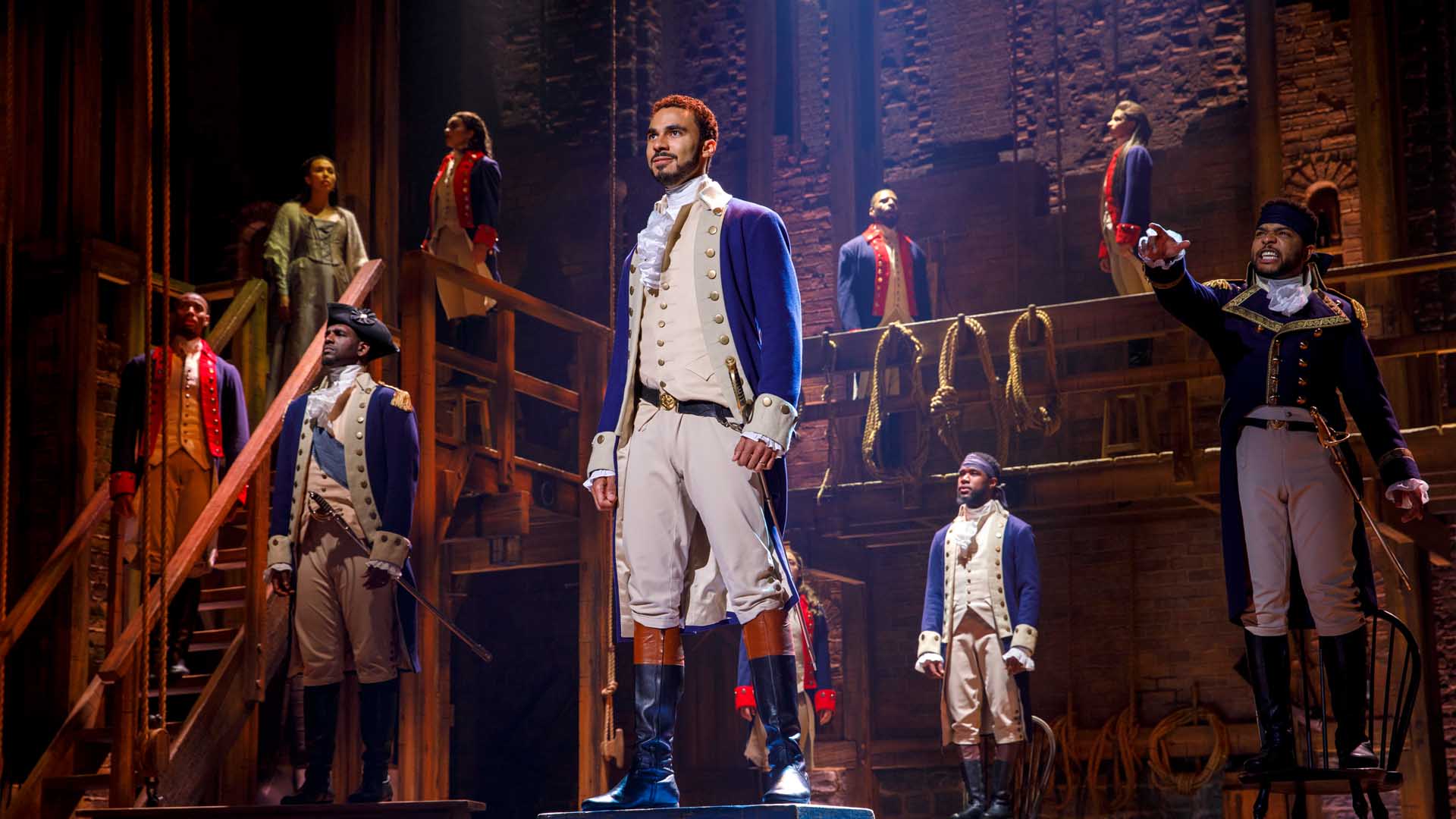 "
The Production
In Hamilton, Miranda grew the legacy he had begun with In the Heights to make hip hop an acceptable tool in the musical theatre kit. With such a complex story to work with (and many history buffs looking over his shoulder), Miranda needed to burn through a lot of exposition quickly — and hip hop enabled him to do so.
Nods to Miranda's influences are peppered throughout the lyrics. In 'My Shot' (which took him almost a year to write), he lifts a Mobb Deep line almost verbatim: "I'm only 19, but my mind is old." The ensemble's repetitious chanting of "Meet 'im inside! Meet 'im inside!" in 'Meet Me Inside' echoes a similar chant in DMX's 'Party Up! (Up in Here)'.
His influences extended beyond these hip hop and rap legends though. He leveraged the talents of his original cast and friends. In 'Guns and Ships', Lafayette raps 19 words in three seconds. In 'Satisfied', Angelica Schuyler sings an average rate of five words per second.
Musical theatre icon Stephen Sondheim also deserves credit after giving Miranda feedback on early demos. "Sondheim knew the rat-a-tat power of hip hop, but he warned Lin of its limitations," writes McCarter in Hamilton: The Revolution. And so came songs like 'Say No to This', which blends soulful tunes with rap, the lively Broadway tune 'What Did I Miss?' and ballads like 'Burn' and 'Hurricane'.
But, of course, the music is only one part of the production puzzle. Set designer David Korins' challenge was to create a set for the sing-through show model where each scene needed to transition seamlessly. The result is a construction theme — a nod to the idea that these characters are 'building' a new nation — with plenty of beams, scaffolding and coiled ropes. He also implemented a two-part turntable on the stage, the effects of which are best seen during 'Satisfied'. To portray the 'rewinding' of time and seeing the same events from a different character's perspective, the turntable spins counterclockwise while the cast precisely reenact Andy Blankenbuehler's choreography from the prior scene, 'Helpless', in reverse.
One thing is for sure: Hamilton is a production rich with talent, history and fun facts. It is packed with punchy lyrics, heart-wrenching moments, mind-boggling movement and quite a few laughs. Fair warning: you'll want to see it more than once.
Hamilton opens at Melbourne's Her Majesty's Theatre on Tuesday, March 15,  and is currently booking through to August. Tickets can be purchased here.
All images courtesy of Destination NSW