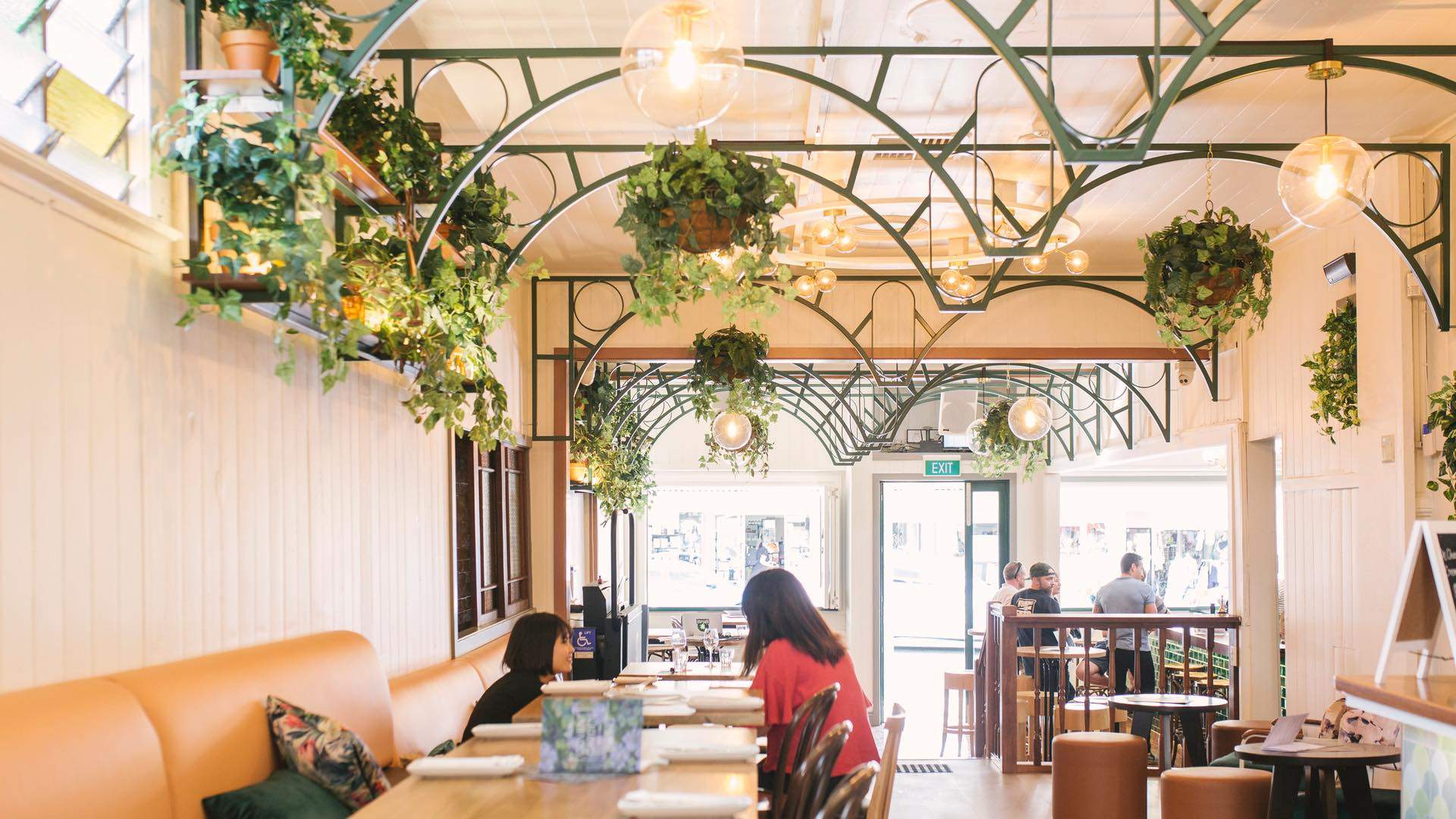 Discover West End's new two-level garden oasis — it houses 100 craft gins, two courtyards and plenty of leafy spots to sit.
If your perfect summer day involves sipping on gin in a lush inner-city garden, make tracks to Covent Garden. The climate may be far from that of its London namesake, but its green urban charm has brought a little of the British capital to Brisbane's West End.
To step into Covent Garden is to step into a world of gin. Previously a pharmacy, the space is now dishing out syrups, tinctures and shots of the most delicious kind. Although gin is no longer dispensed medicinally as it was centuries ago, it's sure become a lot easier to swallow — the offering at this bar goes beyond juniper to explore Australian native botanicals and exotic distillations.
Covent Garden opened its doors last week, and we've got a first look. In partnership with Zantac we're uncovering the best new restaurants and bars around Australia as they open. We've got the lowdown on the team, the design and — most importantly — the menu so that you can head in educated, excited and ready to take it all in — with a few dishes recommended by the chef, no less.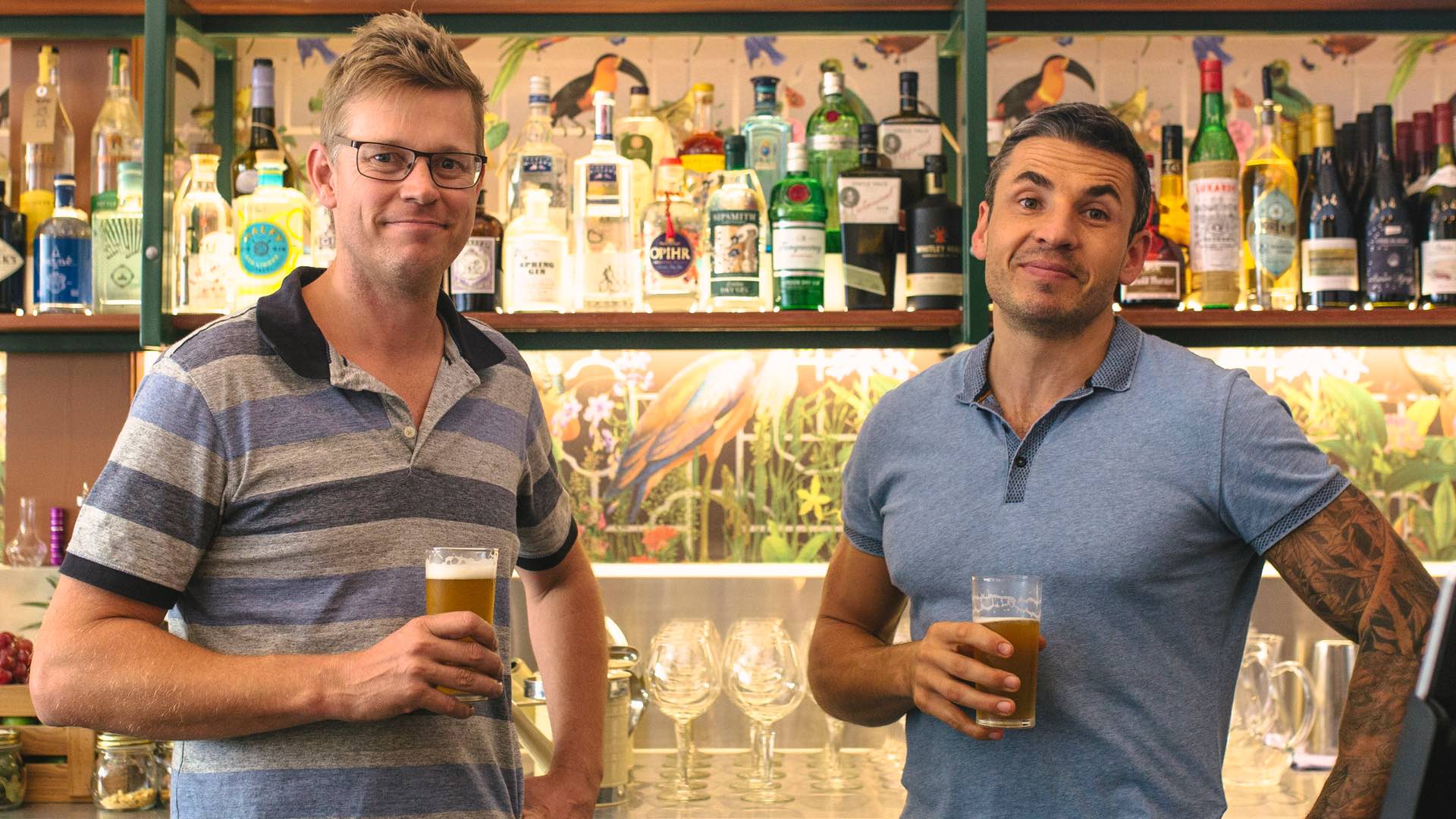 The Team
Inspired by their time living in London, brothers Lachlan and Duncan Bird — along with partners Sue and Andrea — decided to bring a bit of it back to Brisbane. The pair are far from new to the hospitality game, having owned the site's former venue, Lock 'n' Load, for 11 years. Over that time, they've seen this part of the city change; after development left the West End in the doldrums, it's recently come back into its own, and is now brimming with new hospo haunts. 
Deciding to once again transform the space, which was originally built in 1887, the team worked with Brand + Slater Architects to create an oasis of greenery and botanicals. They hope the space will reflect the area's arts and theatre scene, and to cater to the neighbourhood's future residents.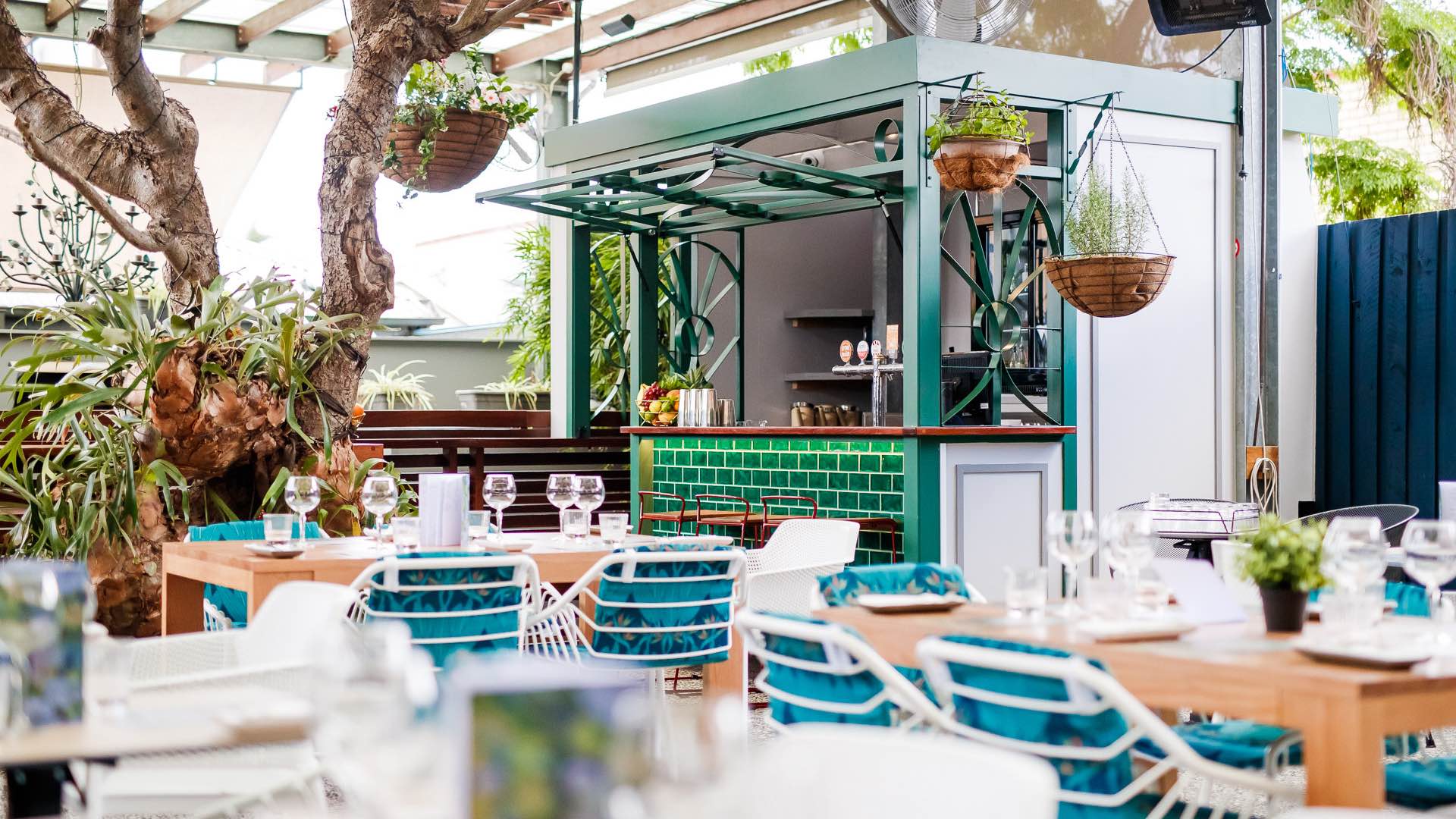 The Design
To bring together a lush, luxurious setting befitting of a sophisticated tipple, the team turned to Brand + Slater Architects. Interiors specialist Luis Nheu oversaw the design process, framing and dividing the space with steel arches — a reference to the soaring ceilings of London's famous Covent Garden Market.
The Birds' brief was to bring the garden to the forefront and Nheu has done just that: the spectacular greenery covers the two-tiered space, which spans an upper and lower courtyard, and a balcony overlooking Boundary Street. The atrium-like vibe is completed by a huge stained glass dome that takes pride of place above patrons.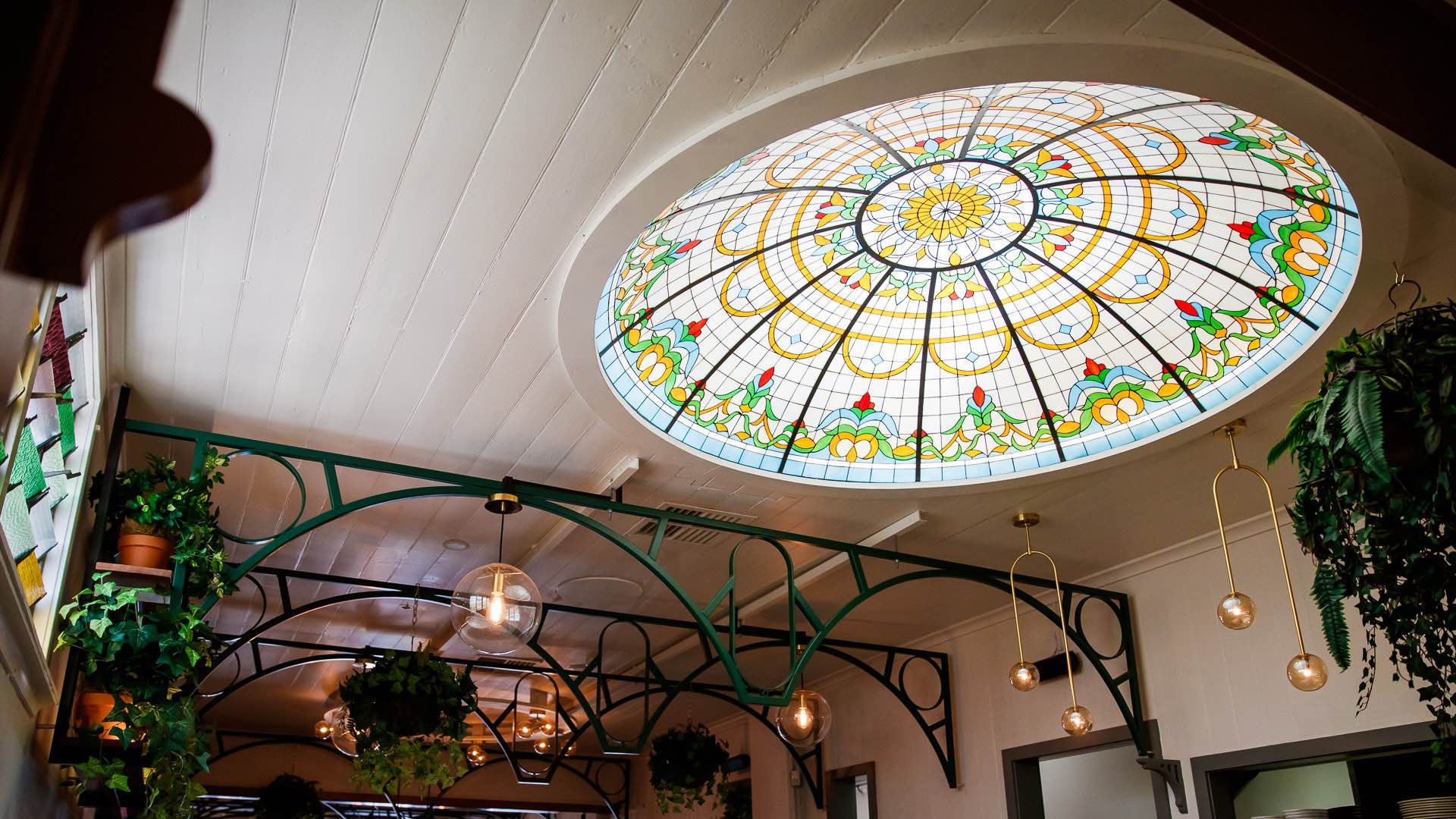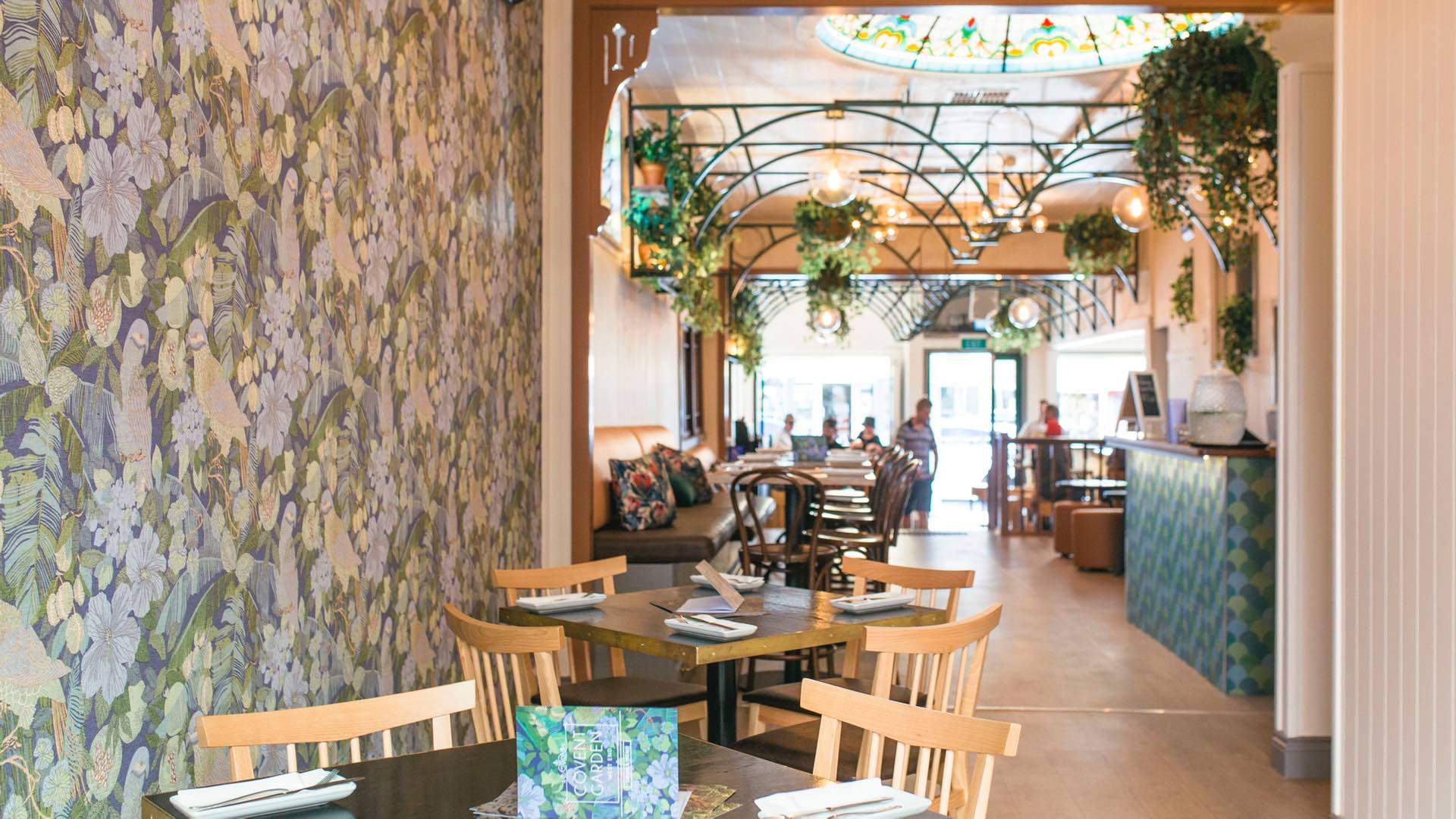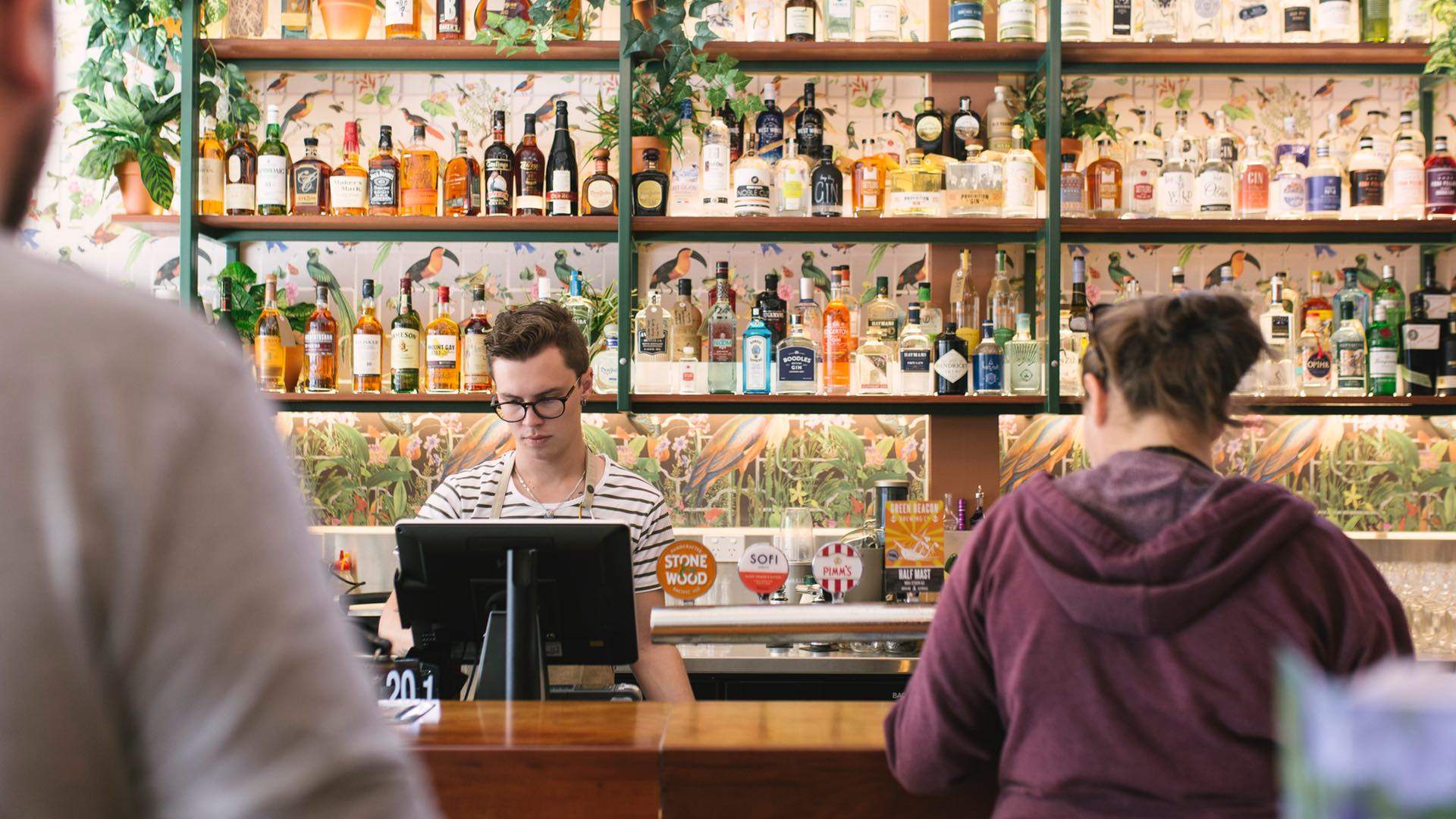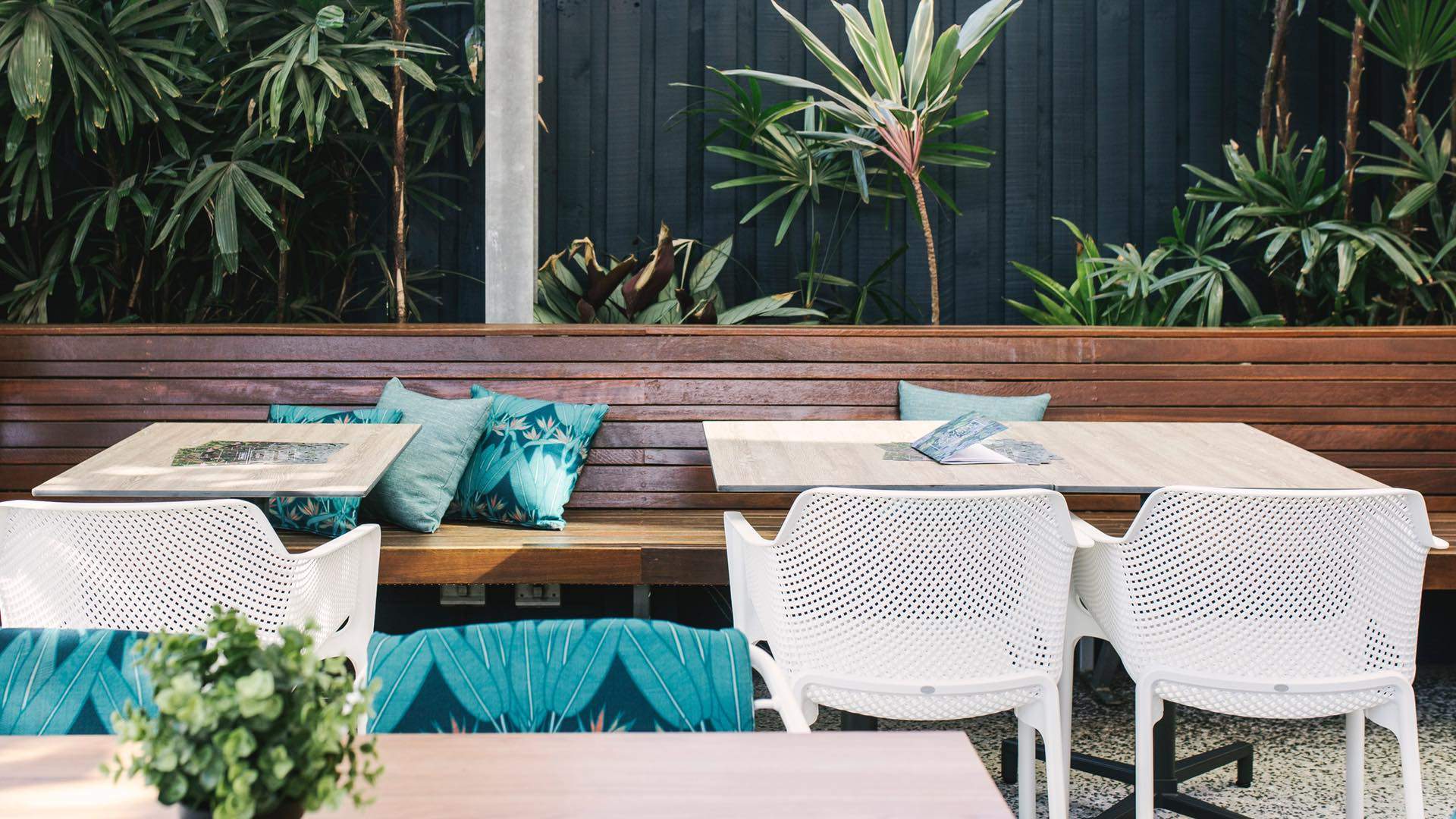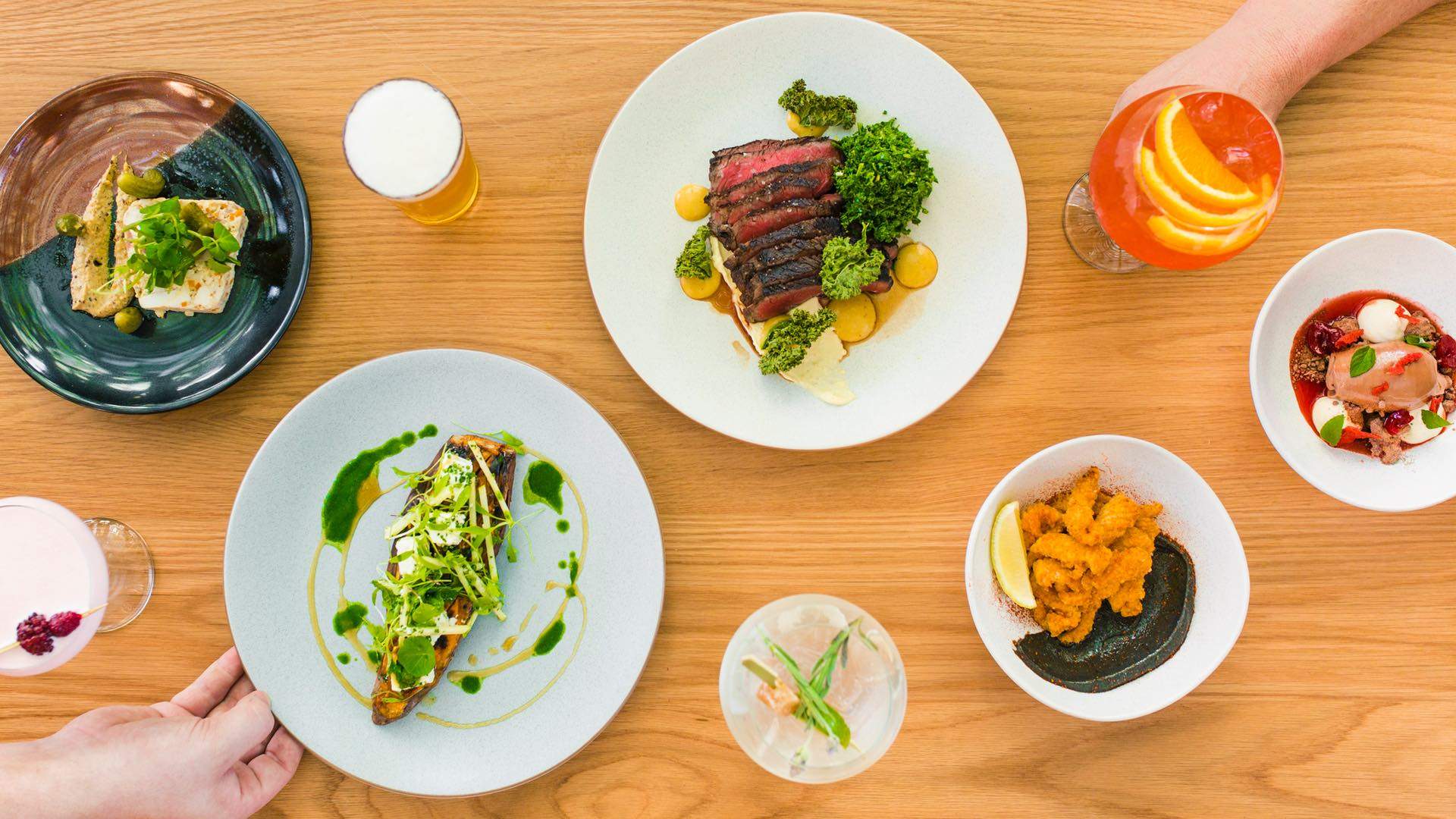 The Menu
The verdant garden may catch your eye at first but, really, it's really about the gin at Covent Garden. The back bar holds 100 varieties, curated by bar manager Mathew Fearnley, who spent many long hours researching and tasting different tipples to develop an epic list of local-leaning spirits. "It's my favourite spirit and I just love working with it," he said.
One of the elements of this spirit Fearnley finds most fascinating is that it's easily created in small batches and not climate-dependent, so it lends itself to being made by small boutique producers. "It's so diverse," he explains. "They're really using what they have in their own backyards. It's truly remarkable."
So get adventurous. Go beyond the classic G&T and you'll be rewarded by cocktails that take cues from the botanicals of gin and old school herbal remedies, such as cardamom, rosemary and white pepper. All the syrups and tinctures are made in house, so it's worth sampling more than one. You'll also find your favourite cocktails on tap — think Aperol Spritzes and Pimms.
The beer selection treads the balance between crafty and easy-drinking, with beers on-tap from the folks at Green Beacon and Kaiju. Look across to the wine list and you'll find a wide range of local and international drops, chosen to bring out the European flavours of the fare on offer. 
The menu seamlessly caters to all, offering day-to-night casual dining, led by chef Graeme McKinnon and manager Cuba Krzyzanowski. Commuters will find an array of fresh salads, sandwiches and desserts that are far better than the average desk lunch. Post-work drinks can be accompanied by impressive cheese boards, or perhaps some manchego croquettes with Romesco sauce.
Those in for a substantial meal won't want to miss the lamb shoulder served with panzanella salad, yoghurt and lemon myrtle. Don't skip dessert either — the house-made ice-cream sundae served with berries, caramel and pistachio is a highlight.
Whether you're planning a sunlit Sunday session or looking for a cozy corner for date night, the venue shifts easily from day to night, making it a welcome addition to the West End scene. It may be half a world away from its namesake, but this sleek new venue transports a touch of British style (and more than a few bottles of gin) to Brissy.
CHEF'S PICK: FOUR DISHES TO ORDER
So what should you order? McKinnon has formulated the menu to match the drinks, so we thought he'd be the best person to ask. Here's four of his favourite dishes on the menu at Covent Garden.
Covent Garden is now open at 142 Boundary Street, West End. For more info, visit coventgarden.com.au.
Keen to check out more newbies? Have a sift through the newest crop of Brisbane openings.
To find out more about Zantac, visit the website. Zantac relieves heartburn. Always read the label. Use only as directed. If symptoms persist consult your health professional. 
Words: Tula Wynyard. Images: Anwyn Howarth/supplied.