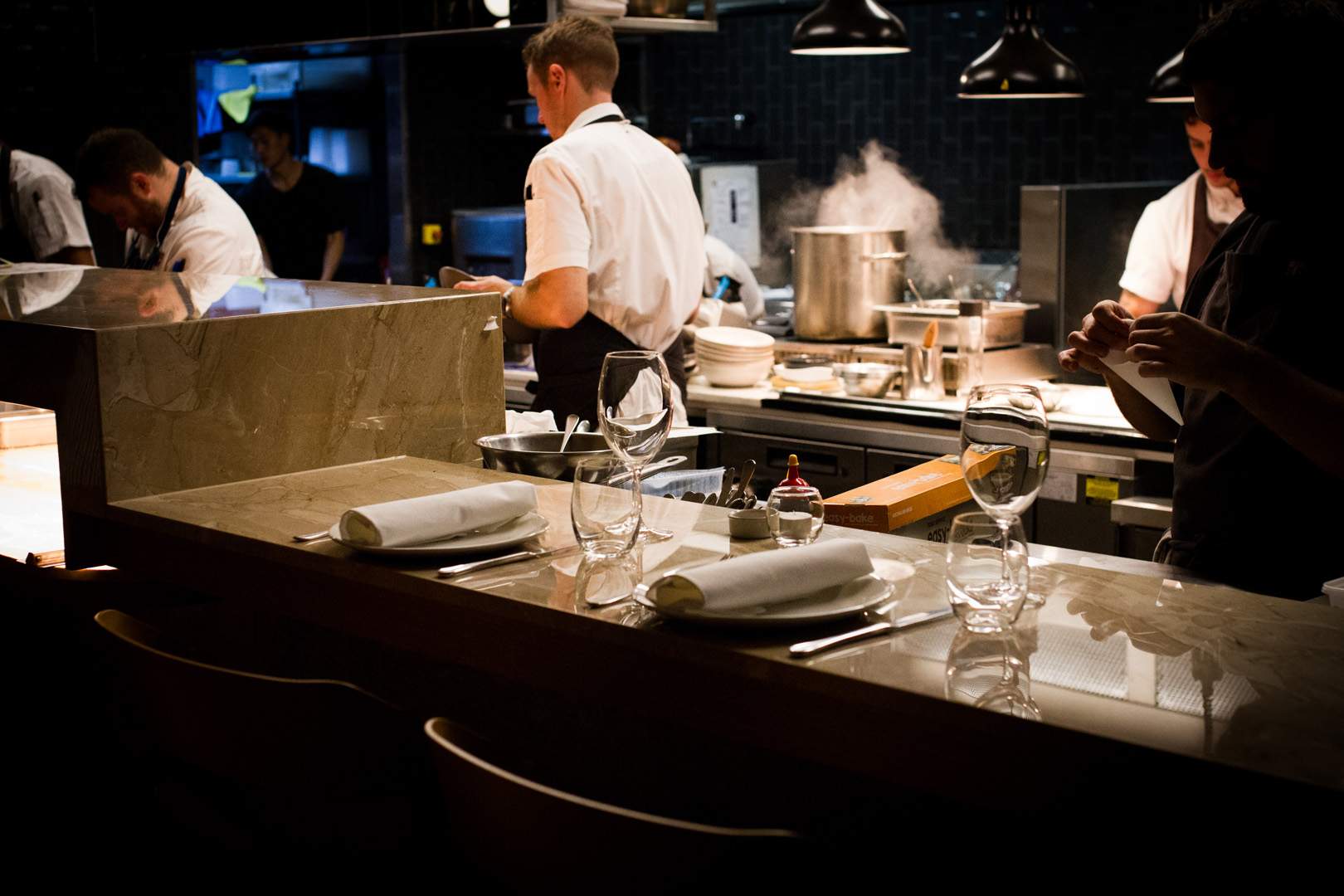 "
After 22 years on Boundary Street, this Brisbane dining institution has moved to Newstead — and it's picked up a new look, a new menu and a new Brazilian charcoal grill.
This month, a true Brisbane institution is reborn. After 22 years on Boundary Street, E'cco Bistro has reemerged in Newstead with a progressive menu, more casual fit-out, extensive functions space and a Brazilian charcoal grill to boot.
As a successful restaurateur, Philip Johnson knew it was time for a change, snapping up the last tenancy in Gasworks' new Haven food precinct. Also heading up the venture is the E'cco core three, including head chef Simon Palmer, restaurant manager Mia McIntyre and functions manager James Burton. A lot has changed in the industry since 1995 and this team plans to get ahead of the game, bringing E'cco into the next era while keeping all the elements of the institution you know and love.
E'cco opens its doors this week, and we've got a first look. In partnership with Zantac we're uncovering the best new restaurants and bars around Australia as they open. We've got the lowdown on the team, the design and — most importantly — the menu so that you can head in educated, excited and ready to take it all in — with a few dishes recommended by the chef, no less.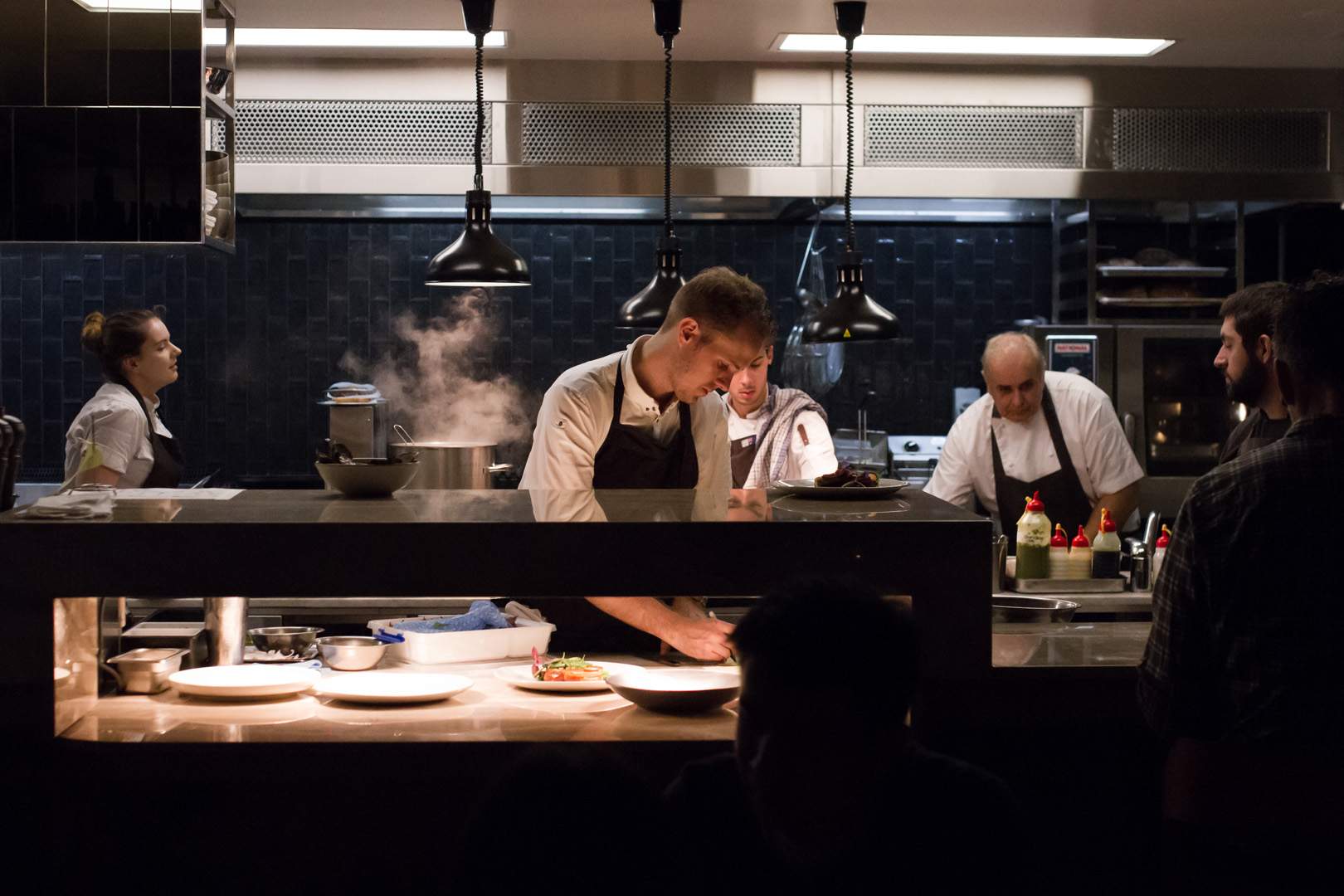 "
The Team
"You'll be made or broke in the first three months," says Johnson. The renowned restaurateur has spent decades in the business and knows how important it is to get everything just right before opening. This ethos is especially true for E'cco's relocation, having been an institution on Boundary Street for over two decades. The move was a necessary step forward for the business to remain relevant, according to Johnson.
"The knack is to not stand still or you'll get run over," says Johnson. "These days you have to be ahead of the game and have a little point of difference. We'd been open 22 years and it was a great site with a lot of nostalgia, but it was time to move E'cco forward."
To this end, Johnson snapped up the last tenancy in Newstead's Haven precinct, which is shaping up to be quite the foodie district with neighbours Betty's Burgers, Salts Meats Cheese and Cheeky Poke Bar. Johnson believes this move will bring E'cco into the next era, while elevating its status as an institution. The award-winning restaurant will be transformed into a more casual offering that brings it all back to basics.
"E'cco started off in 1995 as a 'what you see is what you get' kind of place — no tablecloths, the risotto was plated with no real fuss and so on," says Johnson. "Over the years we have become way more than a bistro and we ended up miles from where we started. Now we just want to go back to a beautiful piece of fish or meat or vegetable, and focus on how the food is cooked. But simple food like that can very much fall over if all the elements are not correct."
To ensure those elements stand the test, Johnson has of course looked to head chef Simon Palmer (ex-Urbane, Gerard's Bistro), who has been at the helm of E'cco for the last three years. The chef is especially keen on the move to Newstead and all the possibilities this opens up for the restaurant.
"I think it's probably one of the smartest moves Phil has made," says Palmer. "He's been around for nearly 30 years and people like him are smart enough to know that you need to move in the direction the food is going. This precinct is becoming the new end of town and I think it's only going to get bigger. We're trying to avoid being stagnant and want to make people interested to come every day rather then just on special occasions."
Joining Palmer in the kitchen is a team of new young guns. Existing restaurant manager Mia McIntyre and functions manager James Burton round out the integral opening team.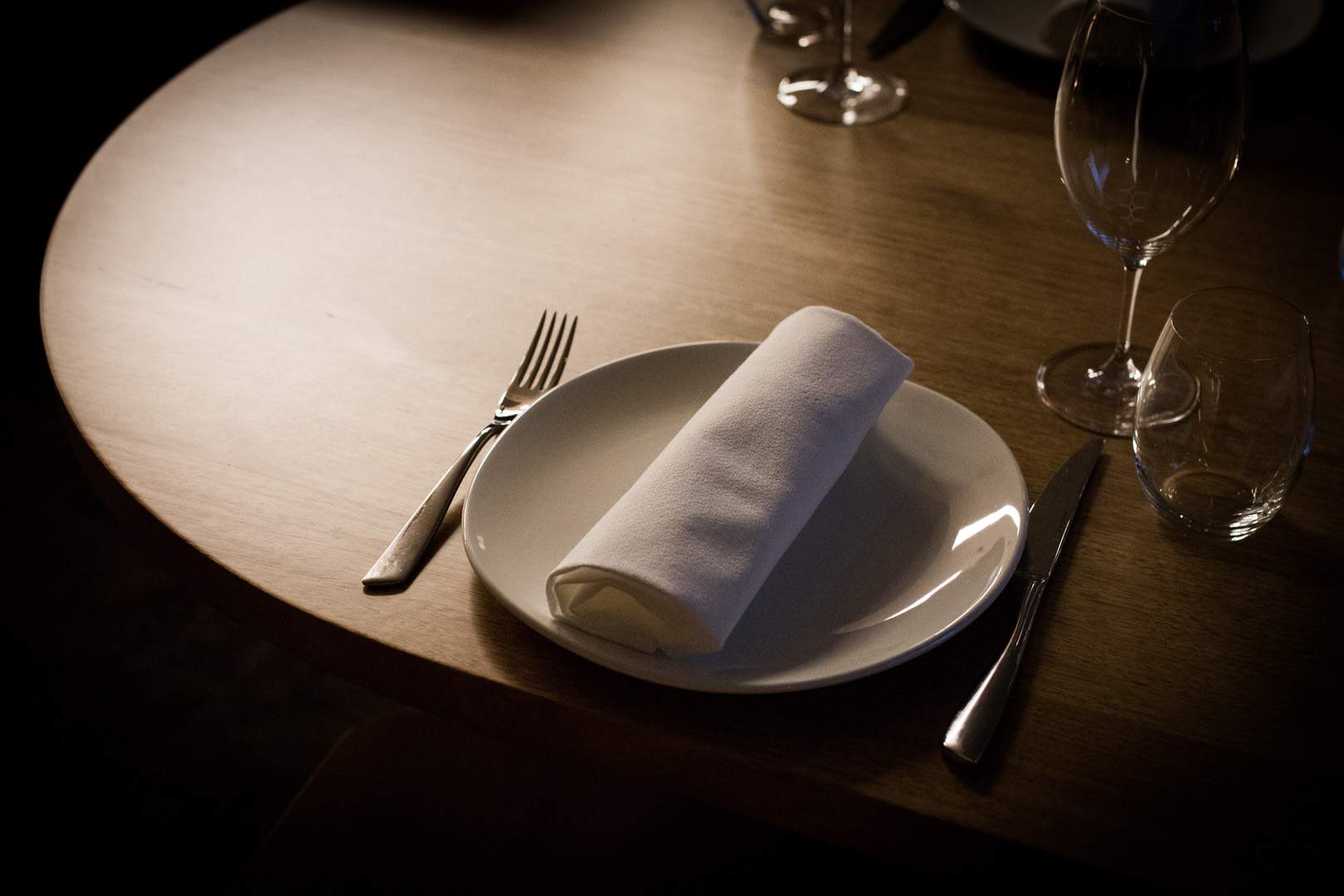 "
The Design
A new space means a new fit-out. Think limestone and brick floors, a marble bar and kitchen benchtop, American oak detailing and subtle patterns. If you look closely, you'll glimpse elements of the original E'cco too, like the new banquette seats that have details from the old circular seat-backs.
The venue boasts a substantial kitchen and centres on a big charcoal grill, which Johnson had to airfreight from Brazil. "My wife Mary kept saying the kitchen is half the size of the restaurant — and it is," jokes Johnson. "I put a lot of thought into the design and I'm fairly confident that it will be obvious the kitchen was designed by a chef."
Apart from the char grill, the kitchen also boasts a large, walk-in cold storage, a central island bench with easy access from both sides, sinks and induction cookers at each end and a marble-topped kitchen pass. Apart from your standard seating arrangements, guests can also dine casually in front of the kitchen and at the bar, or opt for the semi-private, sunken dining room.
"One of the advantages of going with a new development is that we started with just a concrete shell and two great big pits on either side," says Johnson. "In one we put the kitchen of course, and in the other we've created a sunken dining room which fits 12, has a little curtain around it for privacy and has its own dedicated waiter." Talk about a point of difference.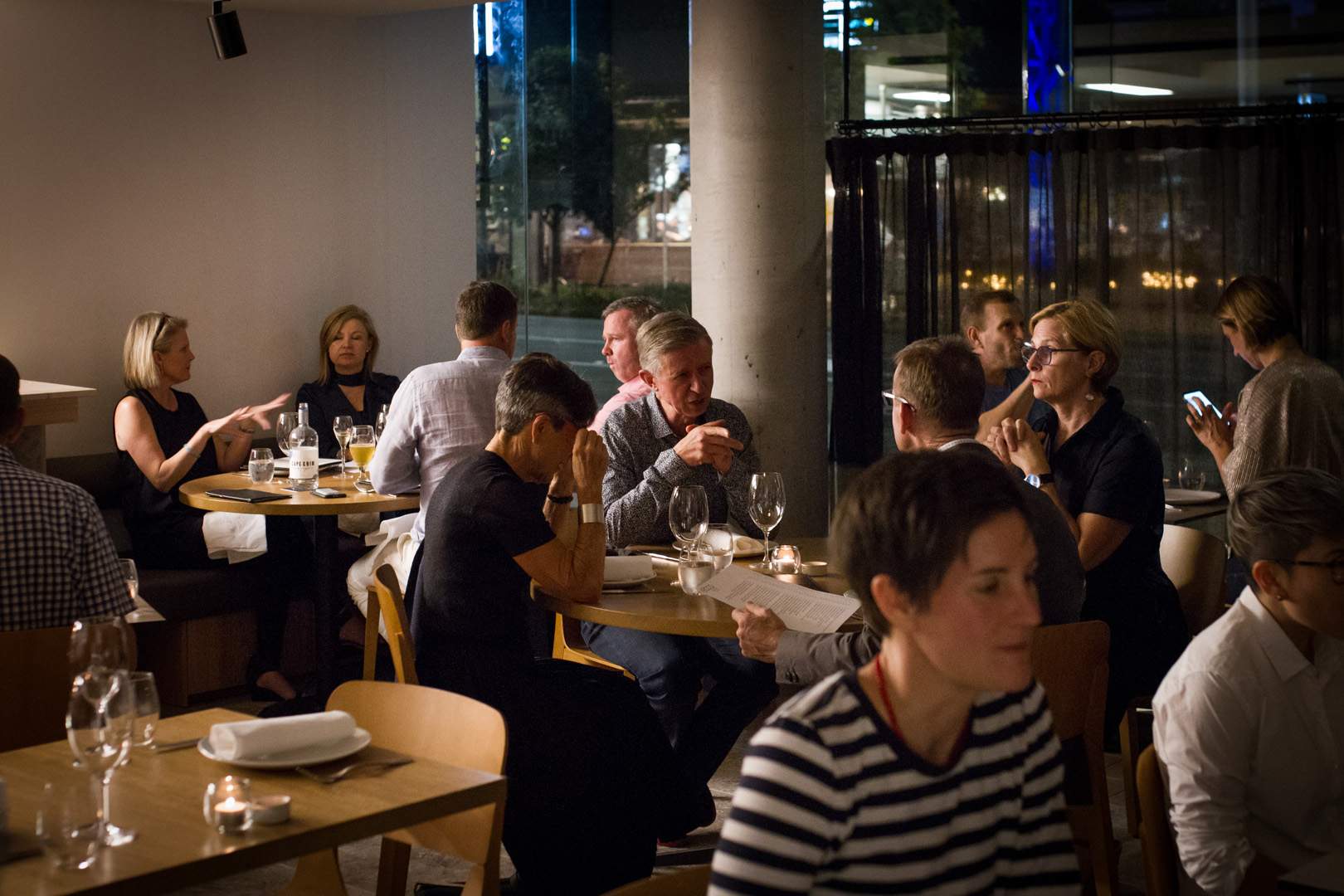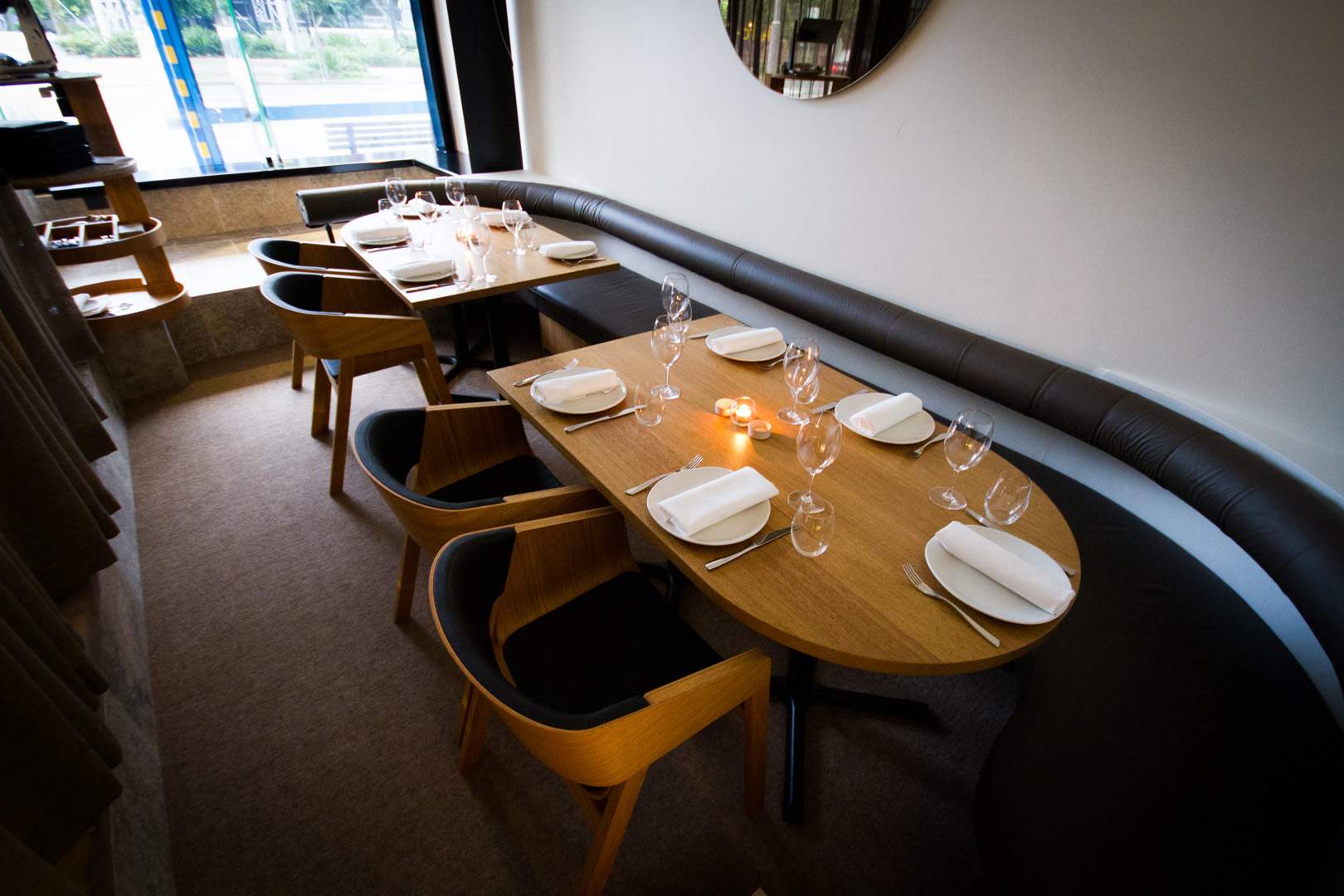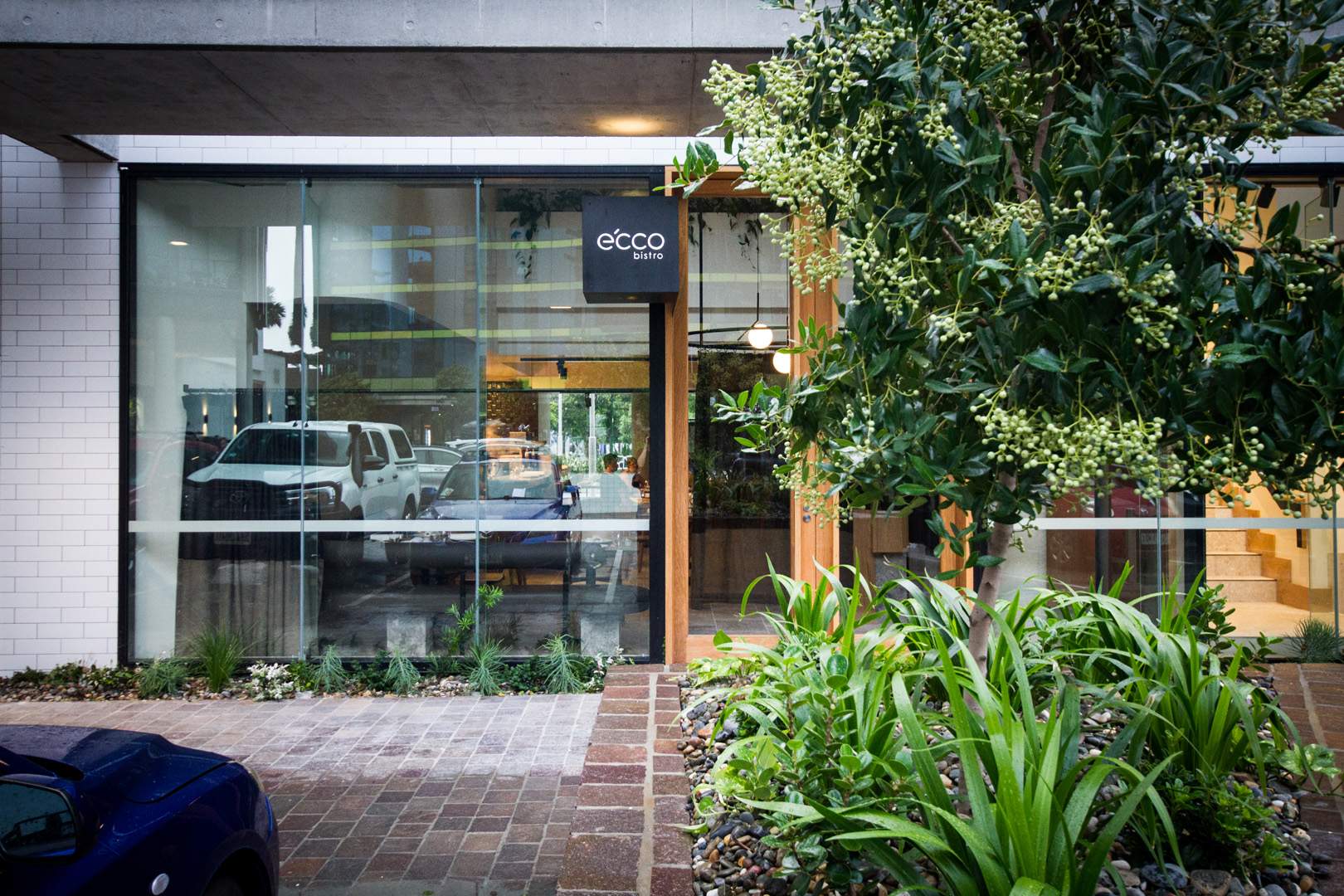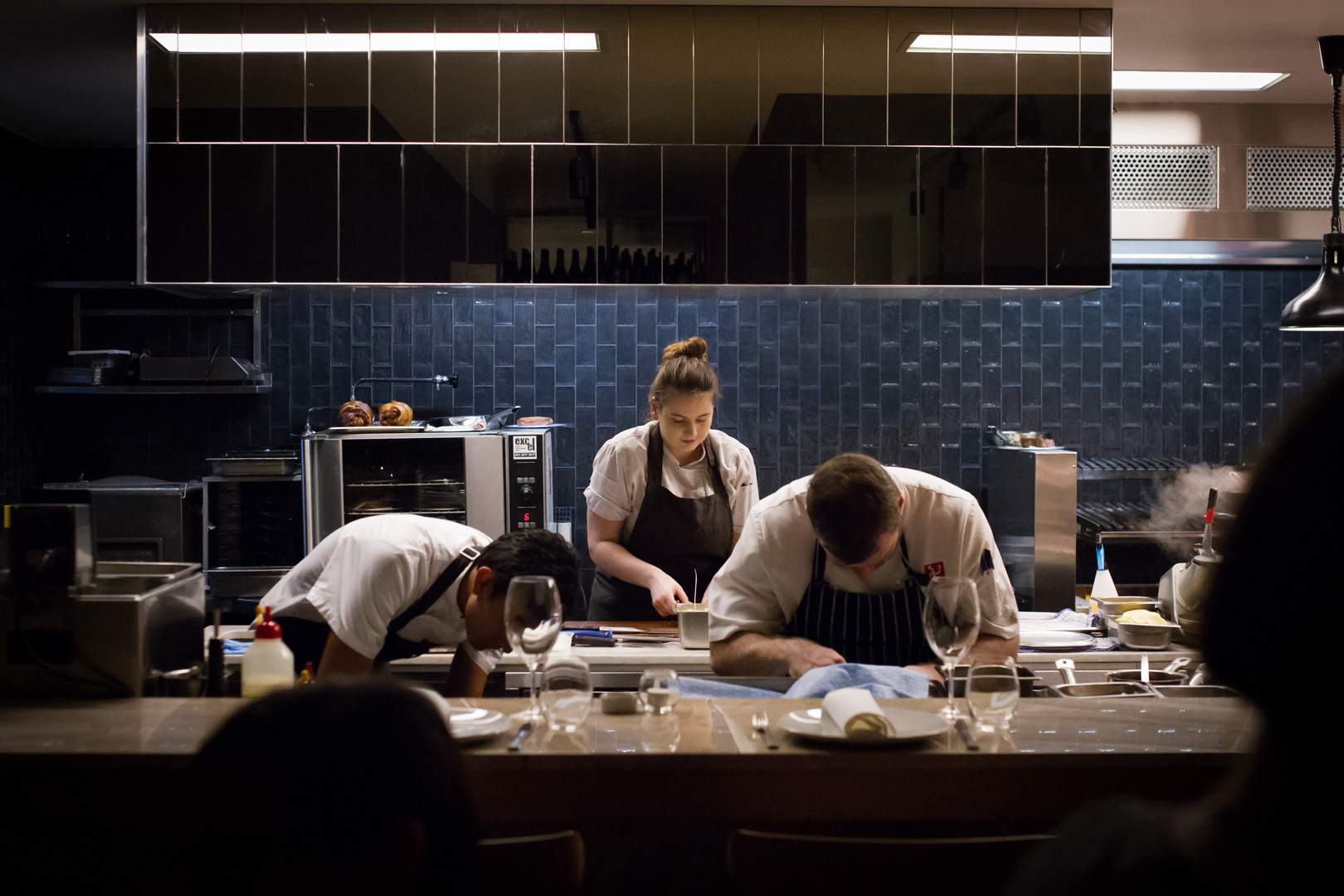 To make Johnson's vision become reality, Twohill & James Architects ran the design show, co-directed by David Twohill and Emma James. Their job was to modernise the restaurant while still maintaining the vibe of its namesake.
"E'cco had operated out of their city tenancy for a long time and had a long established culinary and aesthetic identity," says Twohill. "The Boundary Street building was a heritage space and as such provided much of the character and charm of the fit-out, [while] the Newstead space is a new commercial building with a completely blank concrete interior. It was pitched to us as an opportunity to design an interior that offered a new, yet familiar experience. An interior that was timeless in its use of materials and arrangement of spaces."
"The old E'cco had a wonderful dark interior that worked really well in the building," says James. "The new space is lighter and it is definitely a very new feel. You enter into a double height vestibule surrounded by a suspended circular curtain, greeted and shown to one of the many dining spaces on offer, [like] the central dining area with views to the open kitchen or bar, the quieter window seat in the corner [or] the tables overlooking the Gasometer."
The new space will have more room for private functions as well, which has become a major piece of the E'cco business. Apart from the sunken dining room, the space boasts a 35-person private room upstairs, with the main dining area fitting 65 and an upcoming outdoor kiosk in the works that will hold another 60.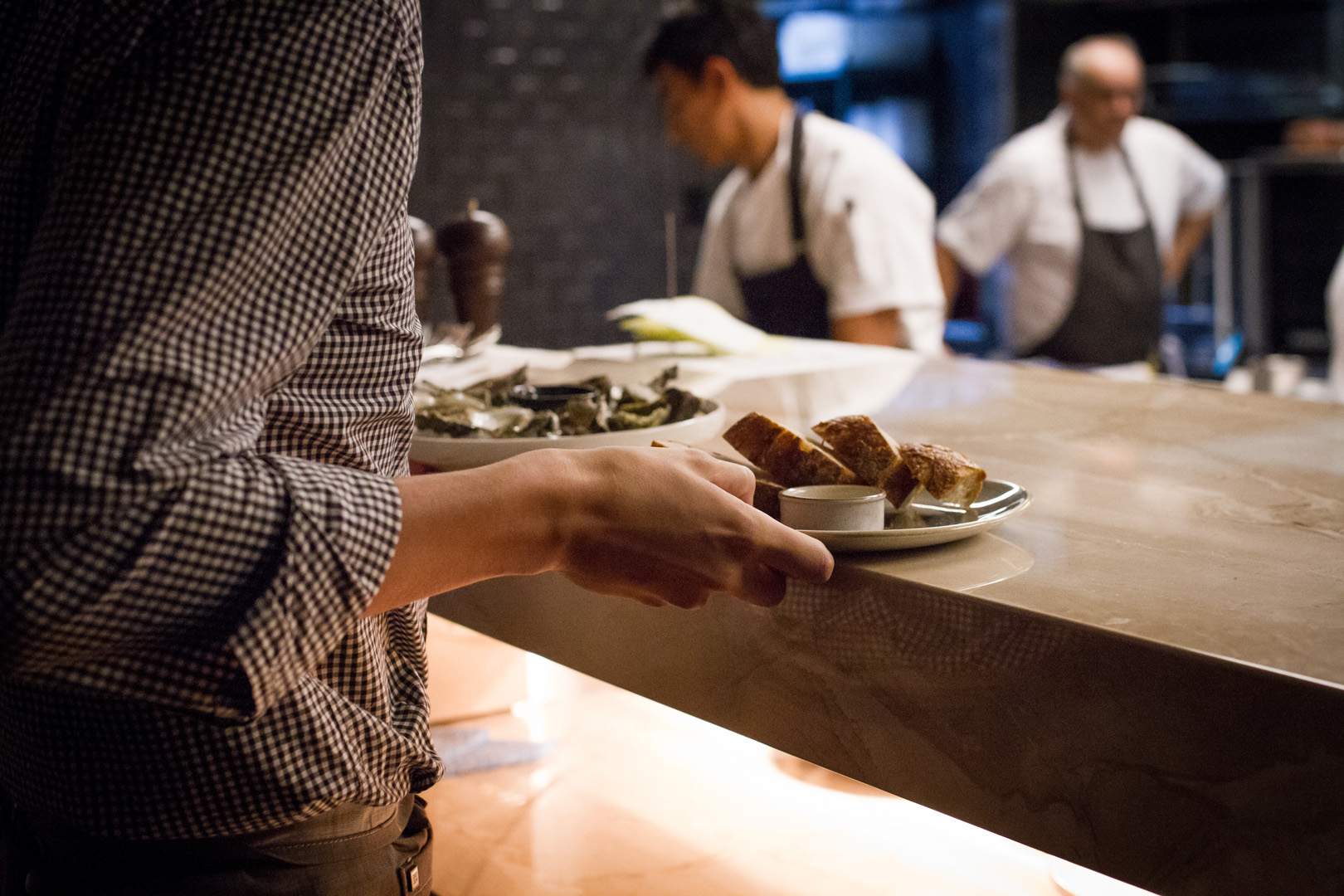 "
The Menu
Now on to the best bit: the food. The menu is no longer segmented by entrees and mains, but is instead divided into four food-based sections: vegetables, seafood, meat and desserts. Palmer's focus is to keep the elements fresh and simple, while minimising on accompaniments. In turn, the plating will also be casual and the dishes can be easily shared or mixed-and-matched, allowing diners to customise their dining experience.
"We were looking for a bit of a change from the old format and want to modernise and use different techniques," says Palmer. "All of the dishes are a kind of a progression of what we've done over time but we want to refine and execute them better."
Think a simpler version of their longstanding strawberry and raspberry cheesecake, or the new pastrami brisket, which is an update of the pork belly version. The brisket is point-end wagyu from AAco, the local supplier that E'cco sources most of its meat from. It's brined for five days with a house-made spice rub, then hot-smoked on the kitchen's new Brazilian charcoal grill.
Much of the revamped menu centres around this impressive char grill, most notably the dry-aged wagyu from the prestigious Darling Downs region. "We've gone through the right channels and are getting our supply directly from AAco, exclusively using Darling Downs beef," says Palmer. "A certain number of cows are allocated to us per year, all within a region just two hours outside of Brisbane."
The award-winning beef contains the finely distributed marbling that is renowned by chefs around the world. Palmer has specifically sourced porterhouse and bone-in rib-eye, both of which have already been ageing for three months, a process that creates real depth of flavour.
But the menu isn't all about the meat, either, with vegetables given their time to shine. "I almost think I could be a vegetarian if people always cooked for me," says Johnson. "It's a lot of effort but when veggies are done properly, especially with the char grill, it's surprising what you can do."
"These days people want a lot more vegetables, are more conscious of what they eat and want more quality rather than quantity," says Palmer. "Instead of as sides, we wanted to really showcase the veggies and give them their own thought-out dish."
An example of this is the sugarloaf cabbage, which Palmer brines in miso kelp stock and finishes over charcoal and wood. It's glazed with honey, miso and light mirin, then served with sheets of pickled daikon and pickled ginger. Palmer's Asian influences really shine through in this dish, with the chef preferring Korean and Japanese food when he's not in kitchen. His experiences working under Urbane's Alejandro Cancino and Gerard's Bistro's Ben Williamson have given Palmer his confidence in melding flavours and techniques.
"To watch how Alejandro blends Asian flavours with his South American background, it kind of shows you that you don't have to pigeon-hole yourself into one kind of cuisine," says Palmer. "If the flavours are there and it adds to the dish, you can influence it any way you like. Then I worked with Ben at Gerard's for years and I saw a lot of Middle Eastern flavours there. Once you've tasted those spice mixes it really makes you think about layering flavours in a dish."
To get new inspiration for the opening, Palmer spent time down in Sydney at Firedoor and sustainable seafood restaurant Saint Peter. This has translated onto the menu, with the poached octopus his standout dish — it's poached in-house, the octopus is paired with local stracciatella cheese curds, fermented chilli sauce and ripe plums.
For drinks, they've pared back the wine list to 75 bottles, with a focus on Australian producers and funkier boutique wineries, with some big name imports on there as well. "Standouts by the glass include a beautiful Albariño from Spain that goes perfectly with our seafood ceviche," says McIntyre. "In the red section, the pinot noir from Payten and Jones in the Yarra Valley is a very cool, funky winery that is really taking the Australian market by storm. We're just keeping it fresh and exciting, and will update the list frequently."
When the outside kiosk opens in three months time, patrons can expect a much simpler menu at a more accessible price point. Expect dishes like lamb ribs, chicken wings and salt and pepper squid, along with some throwbacks to the E'cco of old, like the mushrooms on toast from the original '95 menu.
CHEF'S PICK: FOUR THINGS TO ORDER
So what should you order? Palmer and Johnson have spent months on the menu, so we thought they'd be the best people to ask. Here are four of their favourite dishes on the menu at E'cco.
E'cco Bistro is now open at 63 Skyring Terrace, Newstead. For more info, visit eccobistro.com.au.
Keen to check out more newbies? Have a sift through the newest crop of Brisbane openings.
To find out more about Zantac, visit the website. Zantac relieves heartburn. Always read the label. Use only as directed. If symptoms persist consult your health professional. 
Words: Marissa Ciampi. Images: Atlanta Bell.