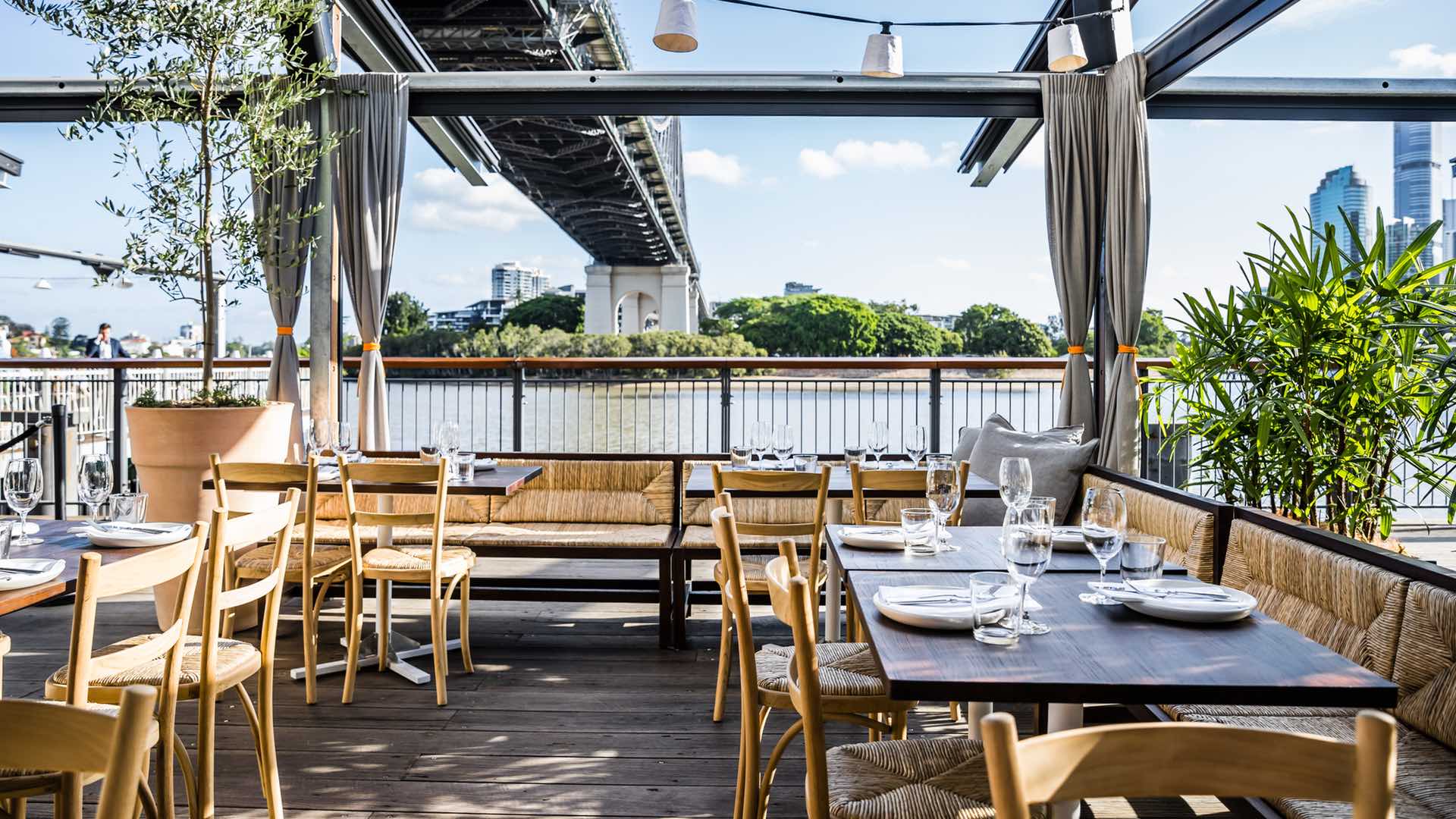 Brisbane's new Howard Smith Wharves precinct has birthed a new Greek taverna from restaurateur Jonathan Barthelmess.
For a city that loves its central waterway, Brisbane has long ignored the Howard Smith Wharves. Since the 60s, the once-thriving spot along the Fortitude Valley stretch of the Brisbane River has been left to languish — but that's changing. By early 2019, the heritage-listed riverside site will boast 3.4 hectares of public space, complete with a hotel, a bevy of bars and a range of restaurants. Some venues are already leading the charge, including one of 2018's most anticipated openings: Greca.
The first Brisbane venture from restaurateur Jonathan Barthelmess, Greca is a Greek taverna with an old-meets-new atmosphere. That suits both the Howard Smith Wharves precinct and Greca's place in Barthelmess' overall portfolio. While the Sydney-based chef has two other Greek eateries to his name — both called The Apollo, with locations in Sydney and Tokyo — Greca carves out its own niche. It shares a heritage with its predecessors, and a selection of menu items as well, and yet remains its own creation.
Nestled into one of the best spots in the city, every aspect of Greca has been designed to capitalise upon the restaurant's scenic location and Brisbane's sultry climate. Settle in for a shared dinner, duck in for a casual lunch or pop by for an after-work drink — and whichever you choose, a relaxed Mediterranean-inspired space, river views, a seafood-heavy menu, and both indoor and outdoor seating all await.
Greca opened its doors last week, and we've got a first look. In partnership with Zantac we're uncovering the best new restaurants and bars around Australia as they open. We've got the lowdown on the team, the design and — most importantly — the menu so that you can head in educated, excited and ready to take it all in — with a few dishes recommended by the chef, no less.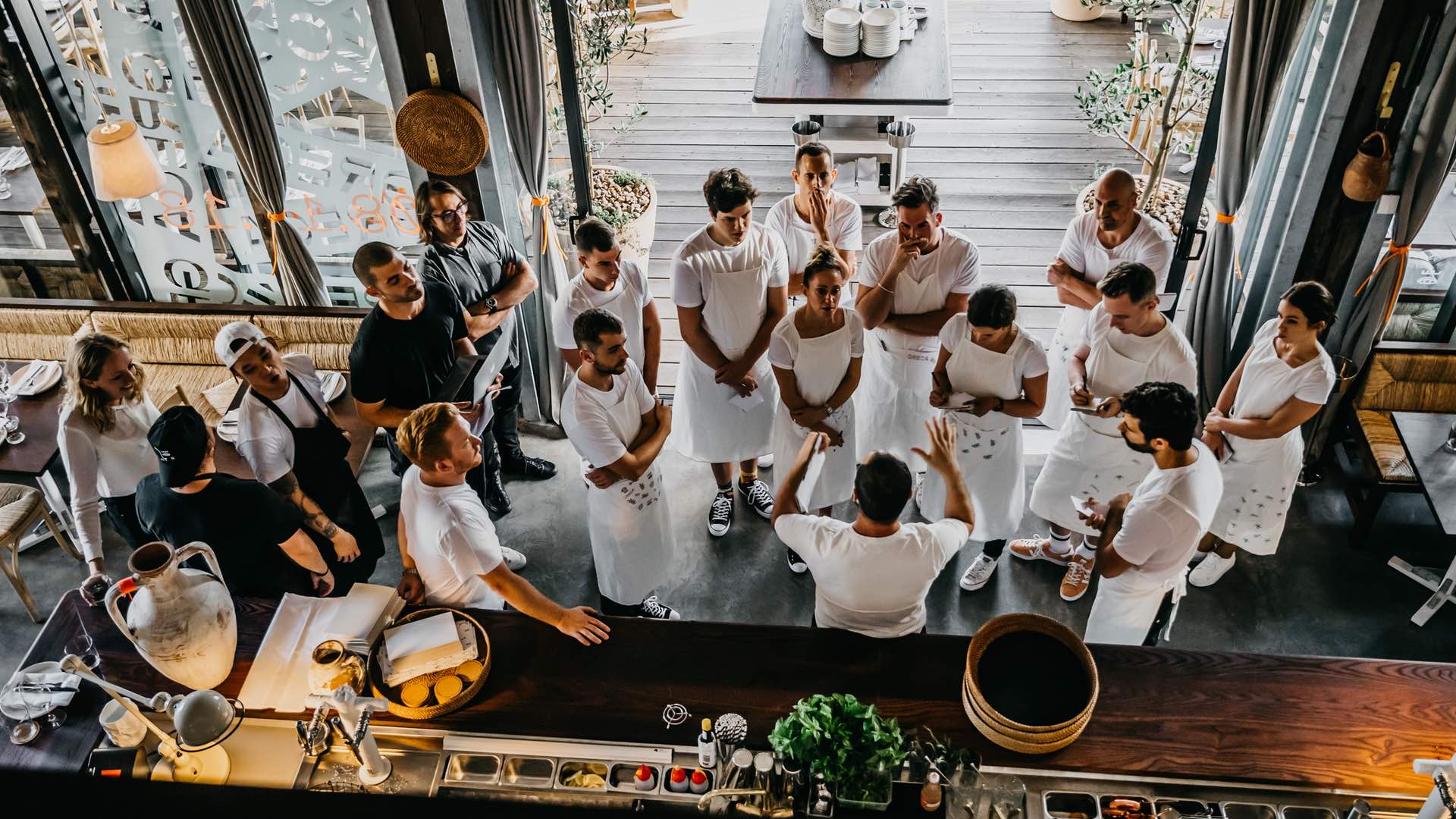 The Team
While Barthelmess' first Brisbane opening is cause for celebration, it's also a homecoming of sorts — he grew up on the Gold Coast, and had been looking for the right project to return to Queensland. That came via a friend, Adam Flaskas, who happens to be both a good customer of the restaurateur's in Sydney and the driving force behind the Howard Smith Wharves revitalisation. When Flaskas suggested that Barthelmess should check out the riverside precinct, it was an easy decision from there. "I got a really good vibe from Brisbane, and from the energy of the city," he says.
It was "the site, and the heritage building, and being on the waterfront" that inspired the chef to do something different — to retain a Mediterranean focus, but to come up with something unique. Of course, he's no stranger to blazing a trail. When he opened Sydney's Cho Cho San  in 2014, he helped bring an Asian focus to the inner-city suburb of Potts Point. And when he took The Apollo to Tokyo, setting up shop in the city's foodie-centric Ginza district, it became the first Australian Greek restaurant to open in that region.
In deciding not to simply expand The Apollo to the banks of the Brisbane River, Barthelmess also aimed to flout a trend that the city's residents have become very familiar with. "I wanted to do a restaurant that's a Brisbane restaurant, and that's born in Brisbane — and that maybe Sydney then wants to have, instead of it always being the other way around."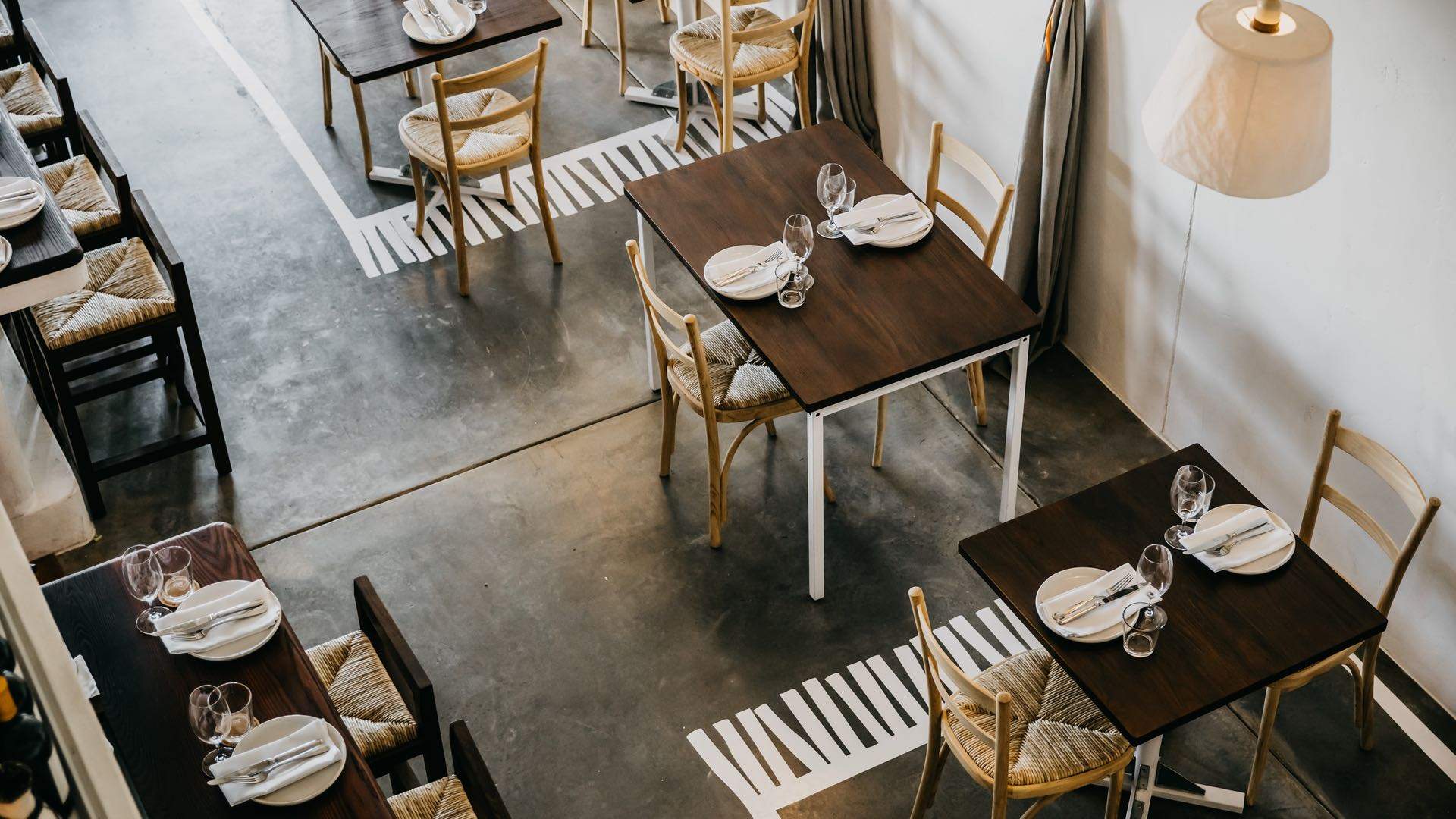 The Design
Barthelmess' desire to create a restaurant not just in Brisbane, but tailored to Brisbane, also comes through in Greca's design. With frequent collaborator and interior architect George Livissianis at the helm, the restaurant takes its cues from its abode first and foremost. "With anything that Jonathan and I have done, we let the sites tell us what should go in them," Livissianis notes. "This one in particular was saying that it was more of a taverna style."
Specifically, "it's a big timber wharf, and it's just got a different energy. It's almost got more of a homely feeling about it," he explains. "It's an original shed, so we wanted to get as much character out of that as we could."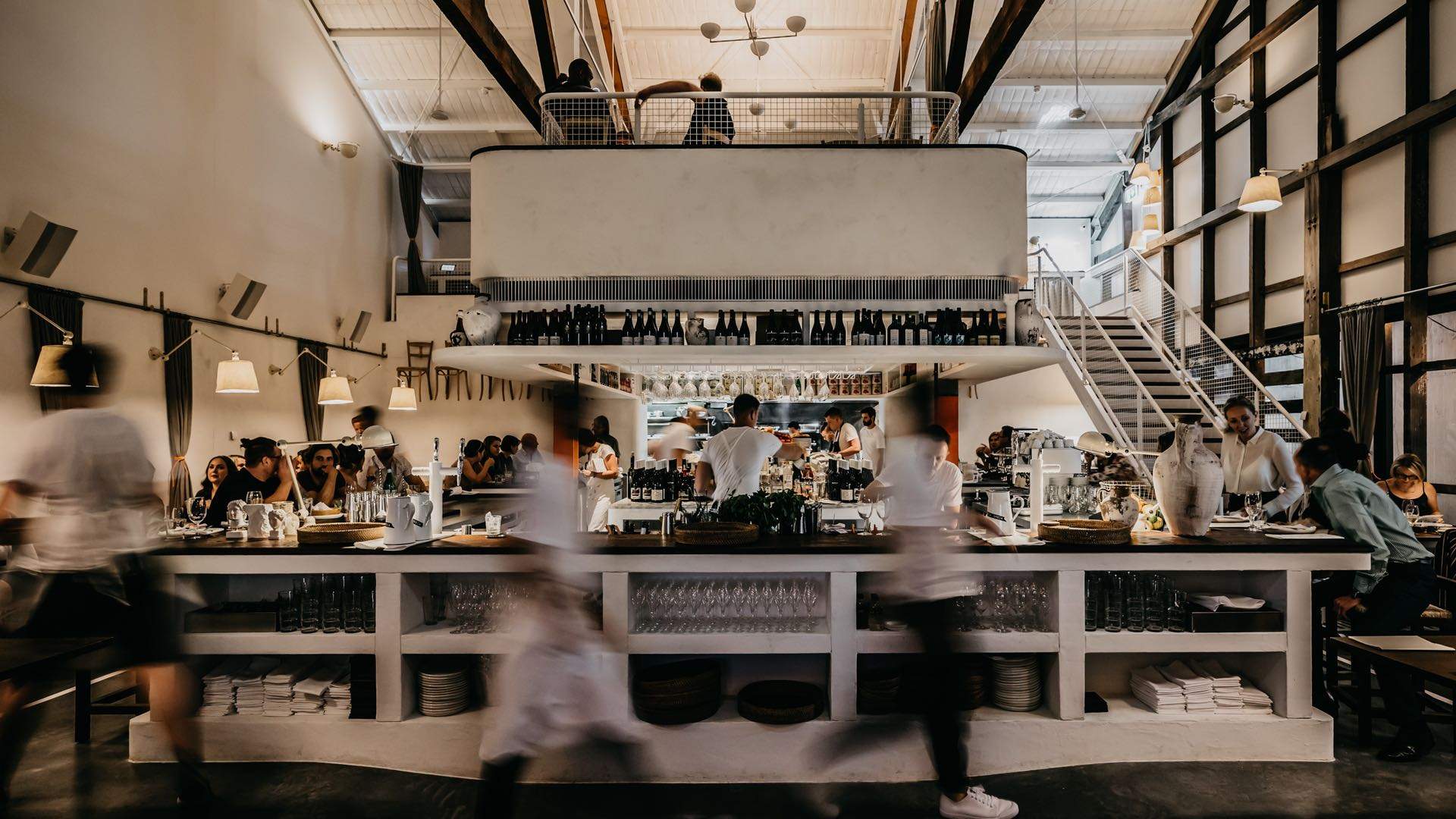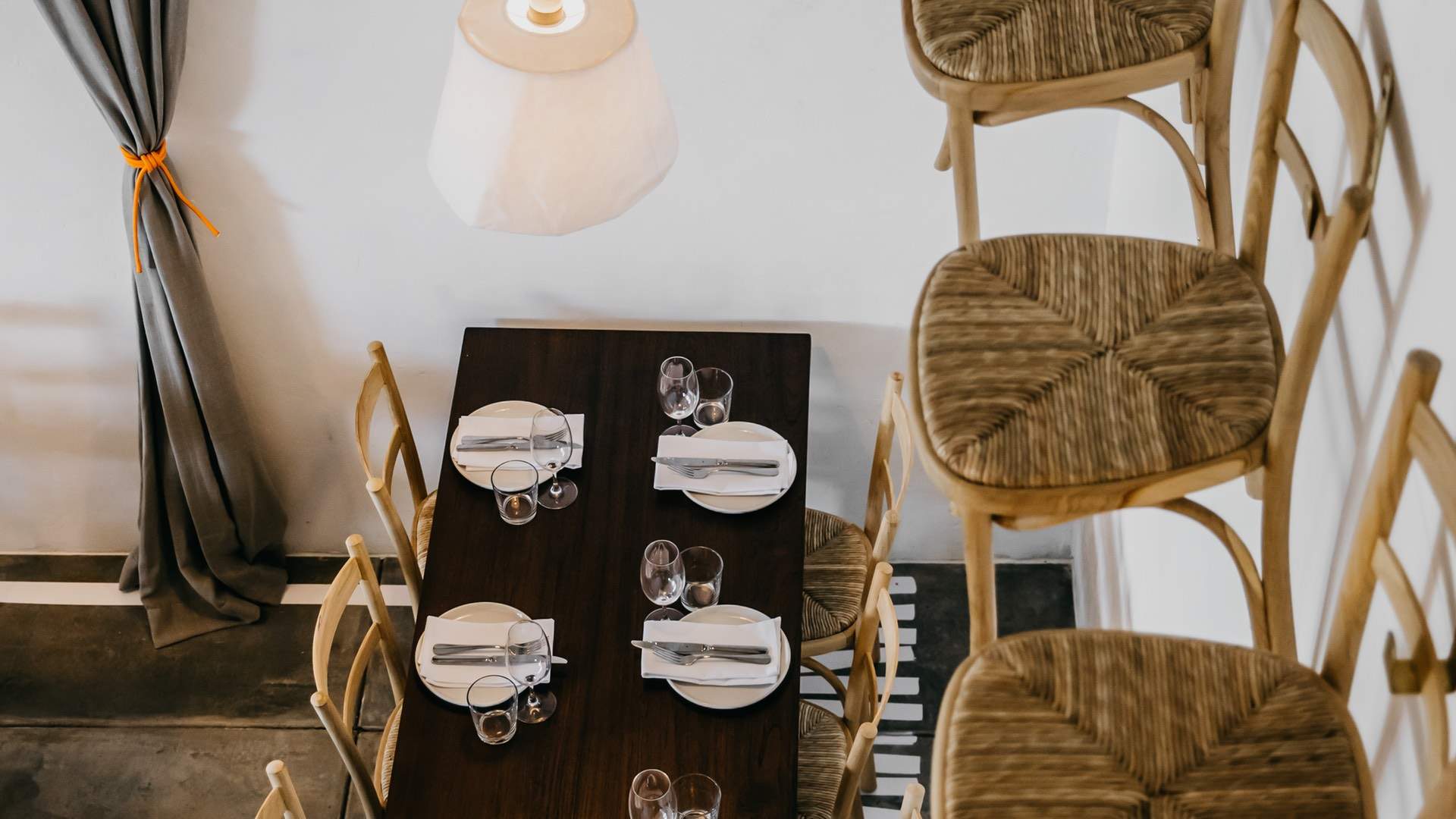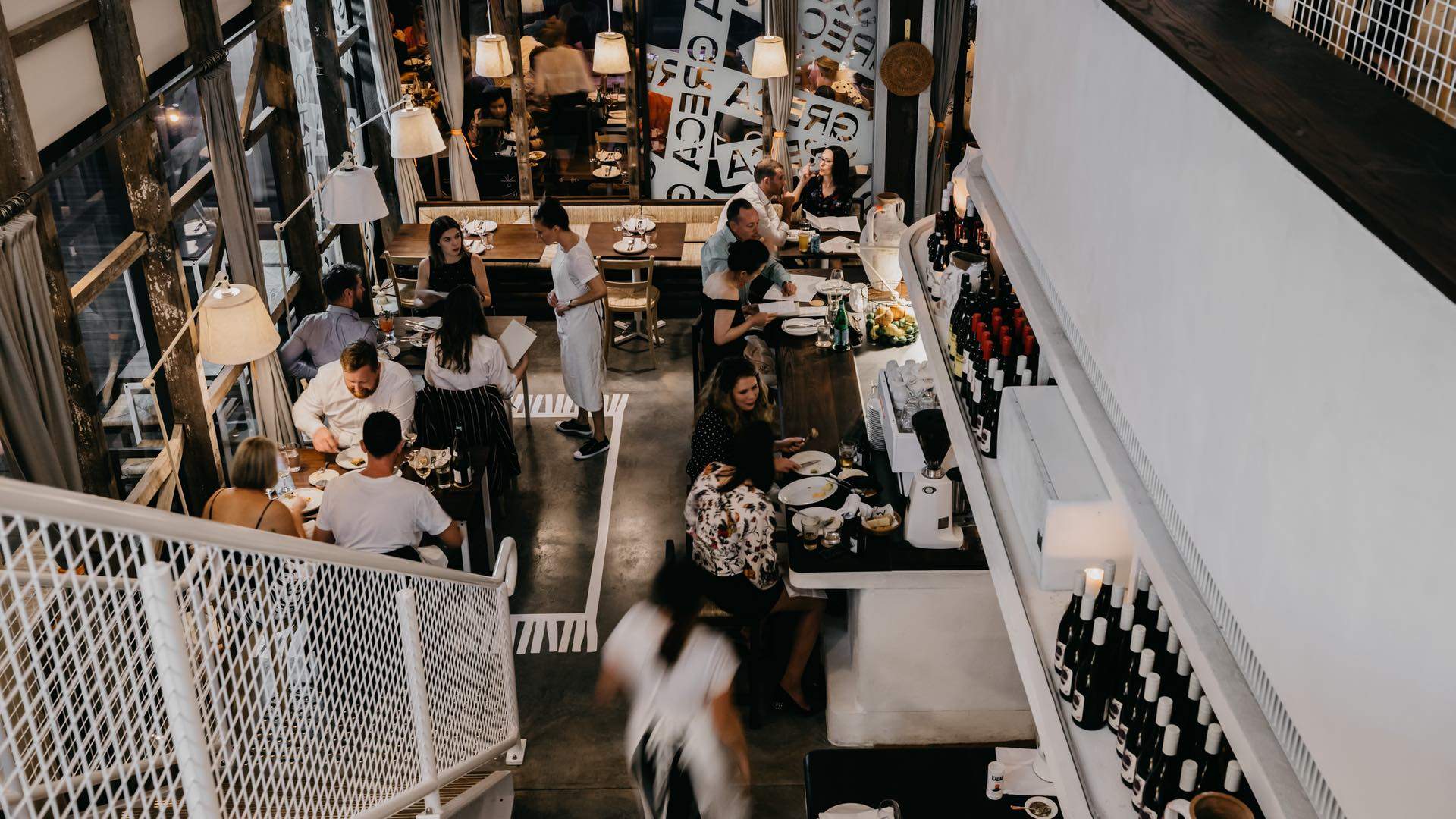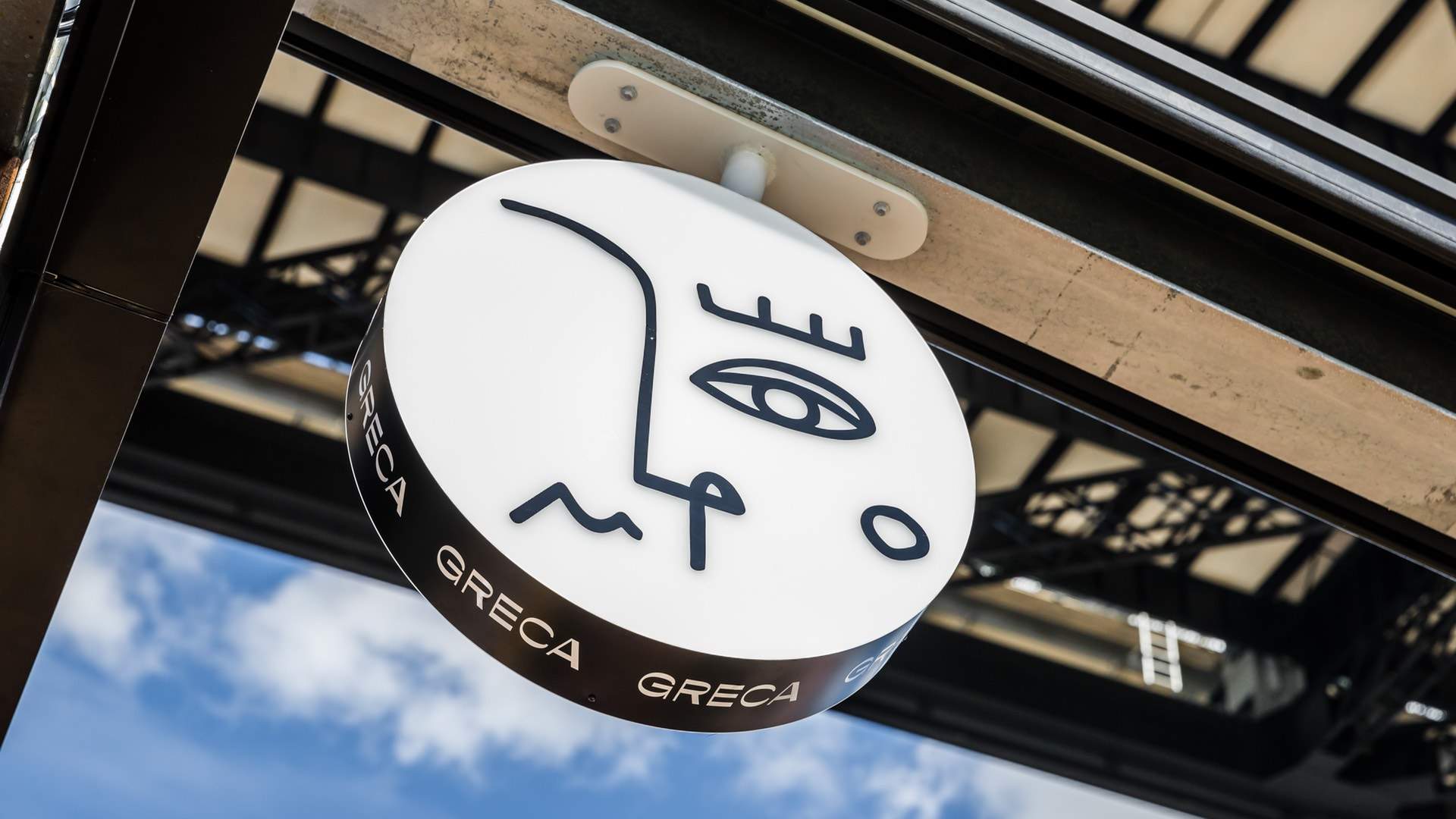 That means an open, airy space with a central kitchen and fire pit taking pride of place — making customers feel like they're sitting around a kitchen table. Livissianis also wanted to connect the kitchen and bar with the outdoor area, so it all feels like one harmonious space.
And while the decor's core elements lean towards the spartan — think white walls, polished concrete floors and classic furnishings — the overall vibe is one of warmth and abundance. That comes through small but crucial touches, like "the way we show all of the plates and cutlery and tableware and objects", Livissianis advises, and also helps link Greca's look and feel to its menu.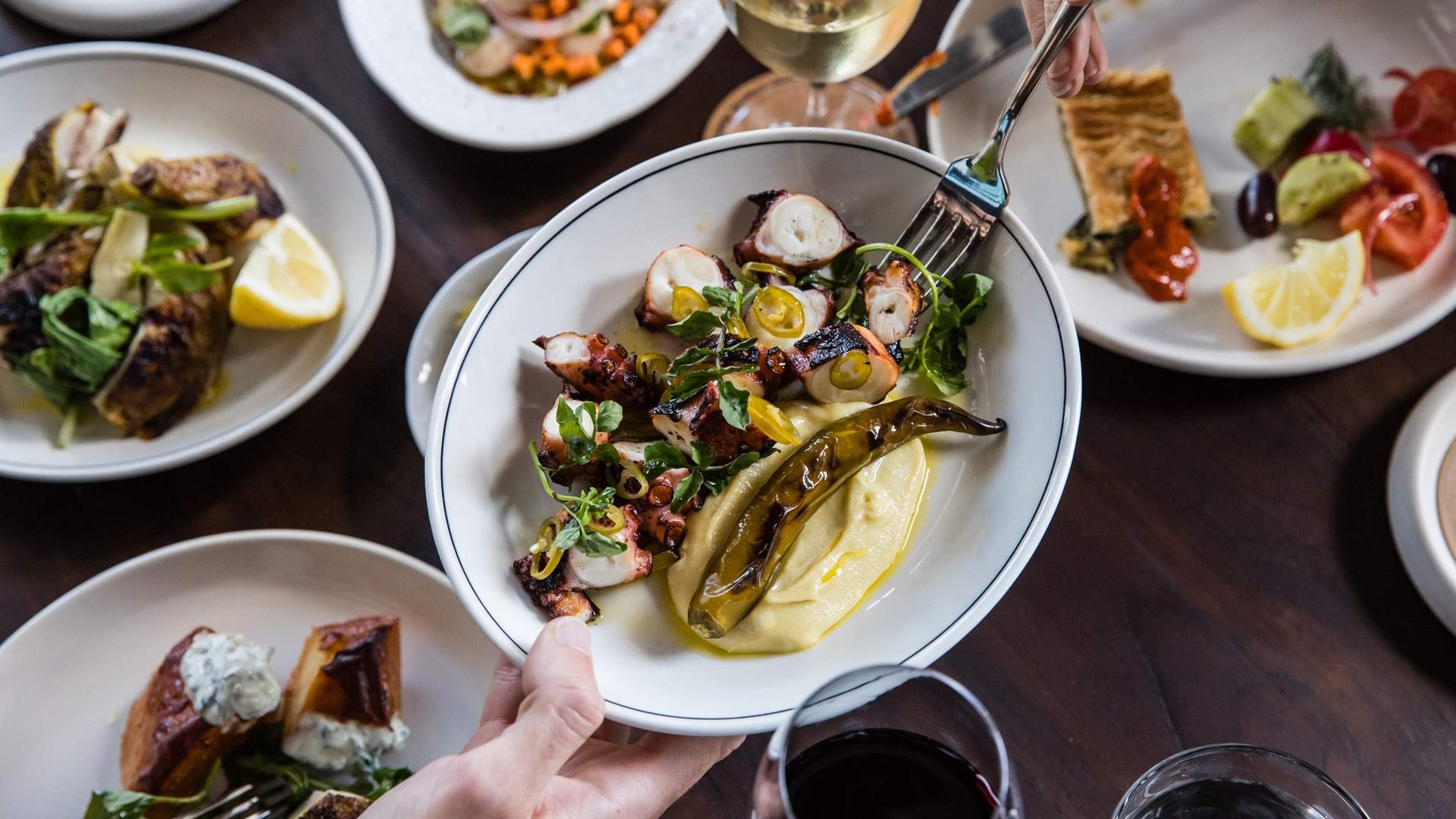 The Menu
River views, a relaxed mood — all that's left is a feast to go with it. That's where the notion of abundance rears its head again, with Barthelmess' philosophy of uncomplicated food, great wine and generosity shining through. Cooked over wood or in a stone oven, the taverna-style mains are served in big portions, for example. For those after a tipple to go with it, Greca also offers a litre of wine for around $40.
Offering an accessible menu is another of Barthelmess' aims. "It's not intimidating — I guess the rules of Greca are that's there are no rules," he notes. "So if you want to come in and have a dip with a glass of wine, we encourage that. If you want to come in and have The Apollo's feast, or the set menu, or order a whole fish with oysters and go the whole hog, you can also do that."
For anyone that's ventured to either of The Apollo's two sites, favourites such as wild weed spanakopita, taramasalata (fish roe dip), baked lamb shoulder and saganaki cheese all feature on Greca's menu — but with a twist. While traditional Greek tastes take centre-stage here, Barthelmess has opted for lighter flavours, as befitting Greca's waterfront location.
And, of course, the chef nods to the restaurant's surroundings in his seafood lineup, which includes bowls of baked clams, whole spiced prawns available by the gram, and grilled whole sardines. Also present is the obligatory Brisbane inclusion, with Greca's Moreton Bay bugs cooked simply in nettle butter.
Drinks and cocktails highlight Mediterranean flavours, with something on offer for all meal styles — including the three types of set menus, ranging from $65–98 per person. And don't forget dessert, which ranges from Greek doughnuts to gelato to chocolate pudding with metaxa cream.
CHEF'S PICK: FIVE THINGS TO ORDER
So what should you order? Barthelmess is behind this menu, so we thought he'd be the best person to ask. Here are his five picks from the Greca culinary spread.
Greca is now open at Howard Smith Wharves, 3/5 Boundary Street, Brisbane. For more info, visit greca.com.au.
Keen to check out more newbies? Have a sift through the newest crop of Brisbane openings.
To find out more about Zantac, visit the website. Zantac relieves heartburn. Always read the label. Use only as directed. If symptoms persist consult your health professional. 
Words: Sarah Ward. Images: Nikki To. 
Concrete Playground Trips
Book unique getaways and adventures dreamed up by our editors