Archie Rose's New Limited-Edition Gins Pay Boozy Tribute to the Sydney Opera House
And you can sip the two tipples at the harbourside landmark's bars and restaurants, too.
Next time you pour yourself a gin and tonic or start sipping a martini, you can say cheers to one of Australia's best-known architectural wonders in the process. With its latest release, Archie Rose Distilling Co is paying tribute to a building that's become an international symbol not only for its city, but for the whole country: the Sydney Opera House.
There's plenty to celebrate when it comes to the Jørn Utzon-designed structure, so Archie Rose has whipped up two gins — or, in terms that suit its inspiration, two acts. Outside Gin nods to the Sydney Opera House's design, coastal location and the contrast of its man-made elements with nature, while Inside Gin is an ode to the acts and all-round creativity that've graced the venue's stages since 1973.
Launching this month to mark the building's 46th birthday, the two tipples hero distinctive flavours. If you're keen on a heavy juniper taste with a mix of salty, sweet and citrus notes (aided by lemon-scented gum, South Australian yuzu, finger limes, white grapefruit, seablite and native seaweed), then you'll find it in the Outside Gin. For those who like their drinks fruity and summery — and with botanicals such as native thyme, Australian apricot, raspberry and strawberry gum — Inside Gin has you covered.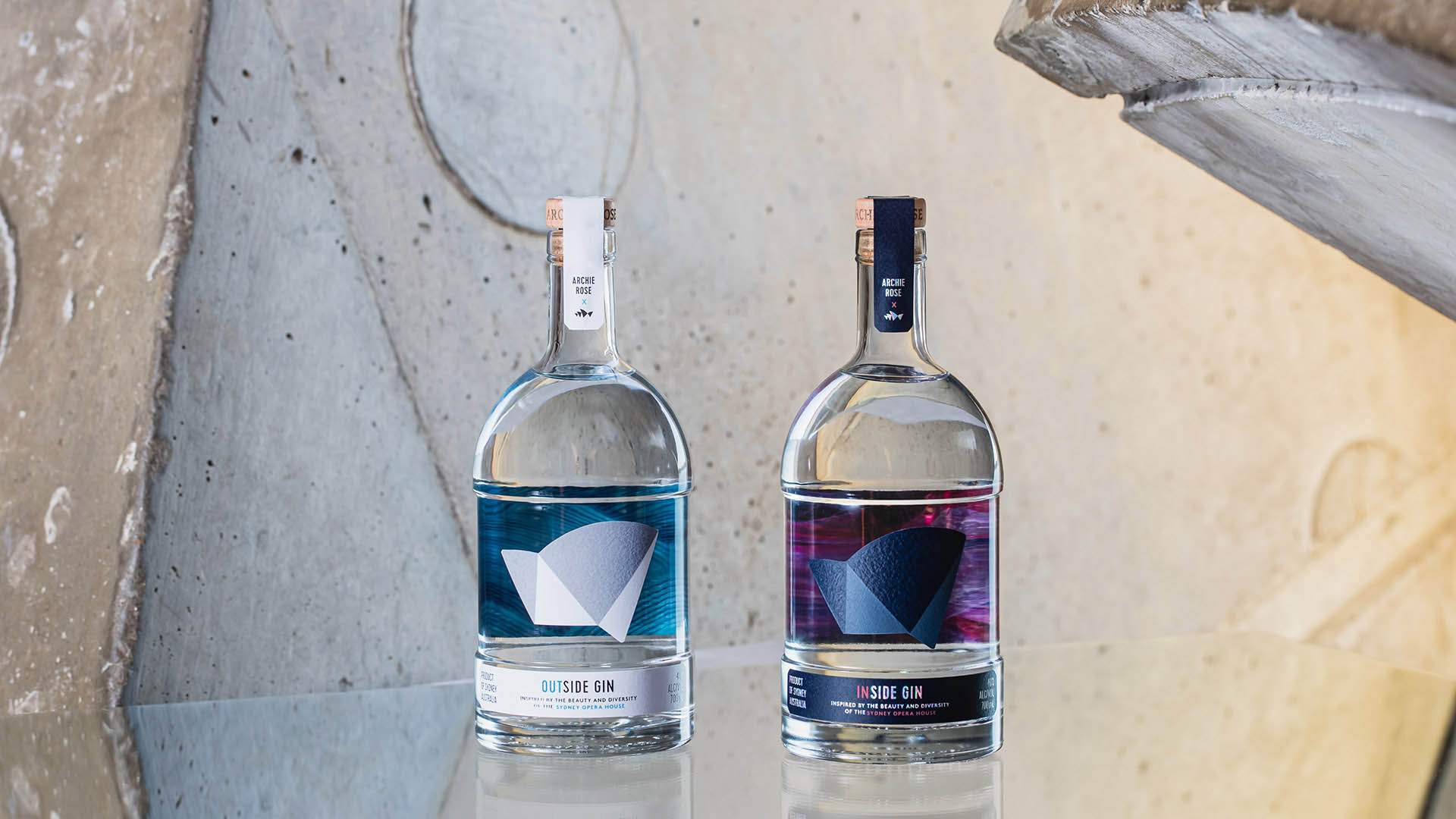 Both are on sale now, individually for $99 each or as a gift-boxed pair for $179. And while their names don't mention the Sydney Opera House, their labels certainly do, with a stylised representation of the structure featuring on each 700ml bottle — against a sea-toned background for the Outside Gin, and contrasting against a dark mix of purple, red and black with the Inside Gin.
Naturally, you'll also be able to sip the two spirits at the Sydney Opera House, with the venue's Opera Kitchen, Portside Sydney and theatre bars all slinging curated seasonal cocktails using both gins. Bennelong Restaurant is also stocking the duo, as are a selection of other bars and restaurants around Circular Quay.
Archie Rose x Sydney Opera House Outside and Inside Gins are currently on sale.