Felons Brewing Co Is Expanding Its Howard Smith Wharves Digs with a Huge New Beer Hall
It has a giant disco ball and film screenings, and will focus on one-of-a-kind barrel-aged beers made in wine barrels onsite.
When Felons Brewing Co set up shop back in 2018, it became Brisbane's first riverside brewery — and the first by the water in the inner city, too. In the two years since, it has proved quite the busy and popular spot, unsurprisingly. So, in the kind of news that hasn't been common in 2020, it's now expanding.
Lovers of beer and great views can rest assured that Felons is staying at Howard Smith Wharves, and in its current sprawling space. From today, Friday, October 9, however, you'll also be able to head to the new Felons Barrel Hall. Taking over the existing Howards Hall on the other side of the always-packed patch of grass known as Felons lawn, it's the brewery's version of a German-style beer hall. And, as the name suggests, the new spot beneath the building's eye-catching zig-zag roof focuses on one-of-a-kind barrel-aged beers made in wine barrels.
Open from 11am–late from Thursday–Sunday each week, Felons Barrel Hall serves up brews aplenty, obviously, although its first range of barrel-aged beers made onsite — in four 6000-litre tanks that sit beside the main bar — won't be available to drink in 2021. For now, its usual selection of tipples are on offer in half-litre and one-litre steins, alongside a number of limited and special-release sips. And if you'd prefer a wine while surrounded by all those wine barrels — which feature prominently in the decor, with French and American oak barrels lining the walls — you can choose from a list of natural drops from Aussie winemakers, too.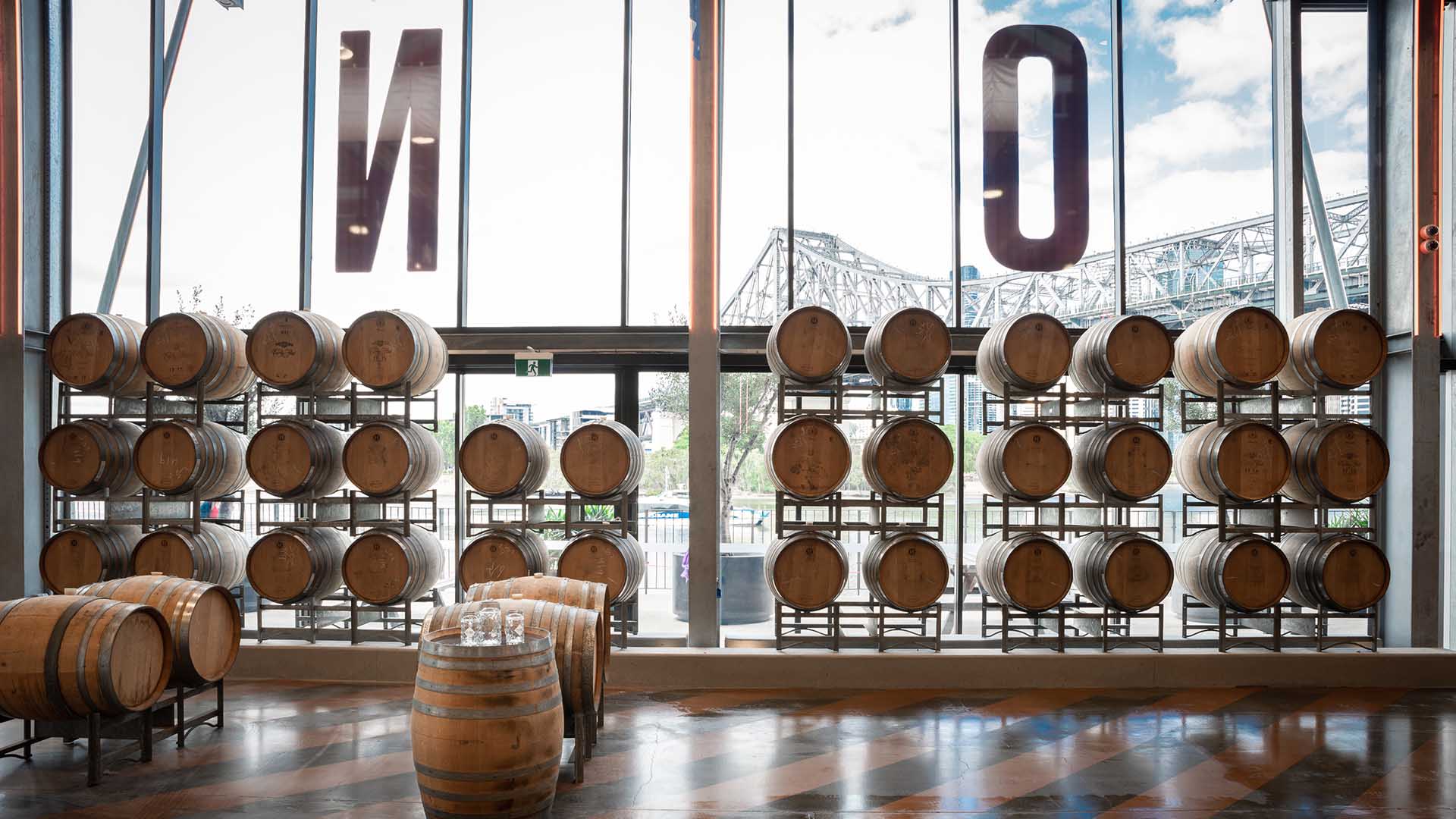 Food-wise, the menu includes everything from Moreton Bay bug-loaded fries to coral trout and crayfish — with both seafood and hot chips clearly featuring heavily. Vegetable and salad dishes are also on offer (because sometimes you need more than just fried potatoes), with Felons heroing Aussie produce.
Felons Barrel Hall is also upping the brewery's entertainment game, not just spanning live tunes — including up-and-comers and big names — but arthouse film screenings and interactive performances. The stage has a giant disco ball, in case you think Felons isn't serious about making some noise, while there is also a kids' area for families.
Come Christmas, Brisbanites will supposedly be able to catch a ferry from HSW to Straddie, too — so consider this your new pre- or post-trip watering hole.
Find Felons Barrel Hall at Howard Smith Wharves, 5 Boundary Street, Brisbane from 11am–late Thursday–Sunday.
Concrete Playground Trips
Book unique getaways and adventures dreamed up by our editors