FOOD & DRINK
Lutwyche Is Getting a 10,000-Square-Metre Market Precinct with a Craft Brewery and Rooftop Farm
The Lamington Markets will feature more than 100 stallholders, as well as a specialty supermarket, a boutique cinema and more than 134 apartments.
Browsing through stalls, sipping a freshly brewed beer, seeing a movie, checking out a rooftop farm: in the near future, all of the above will be possible at one inner-north address. In around 12–18 months, Lutwyche will be home to the Lamington Markets, a 10,000-square-metre food and retail precinct that'll set up shop on Lutwyche Road above the the northern busway over Lutwyche Station. And if you're wondering where all of the above will fit, this new site will spread out vertically.
That means Brisbanites will have multiple levels to explore, which is where the development's 4500-square-metre indoor market halls will reside — and its craft brewery, boutique cinema, restaurants, cafes and 134-plus residential apartments, too. Atop it all will sit the aforementioned rooftop urban farm, which'll take over a 500-square-metre site and feature its own restaurant. Also included: greenery, obviously, as well as views southwards to the CBD and eastwards over to Moreton Island.
If it's the markets side of things that you're now excited about, there'll be more than 100 stalls on offer. Shopping-wise, a speciality supermarket will also feature, as well as boutique retail shops. And, if it's the brewery that's whet your appetite, it'll sprawl over 400 square metres — while the cinema is set to take inspiration from Tasmania's Museum of Old and New Art.
The development will also be built into excavated and exposed rock, which is where the movie theatre will be located — and terraced lawns, influenced by the High Line in New York, will feature as well.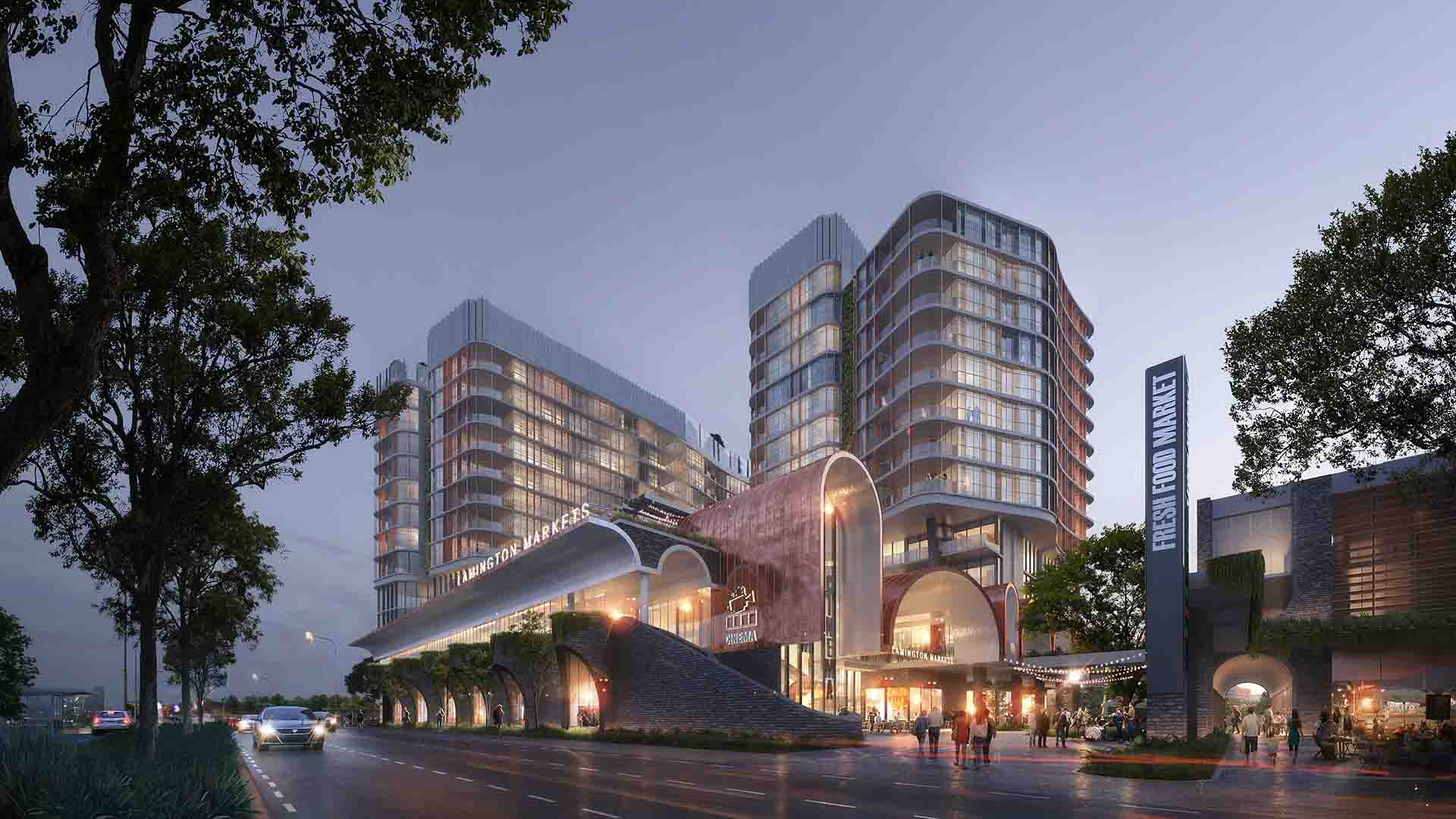 In terms of design and setup, Lamington Markets will also glean a few cues from Adelaide Markets, New York's Chelsea Markets and Barcelona's Santa Caterina Markets, with architecture studio Conrad Gargett doing the honours. Patrons can expect a sculptural look, copper aplenty, a large number of laneways, and areas that merge the indoors with the outdoors. Brisbane's climate has also guided the design, which is where touches such as energy efficient lighting and performance glass will come in.
Just getting the go-ahead from Brisbane City Council last week, the development is expected to start construction towards the end of this year. And, it's just one of two new precincts being built by Marketplace Developments, alongside the soon-to-open Craft'd Grounds, which'll launch in Albion in August.
Lamington Markets is expected to open by early 2023 at 612 Lutwyche Rd, Lutwyche. For further details, head to the architecture studio's website.
Published on July 28, 2021 by Sarah Ward