FOOD & DRINK
The Five Best Hot Cross Buns You Can Get Delivered Across Brisbane
Order a box of spiced, chocolatey or gluten-free buns to your home.
The Five Best Hot Cross Buns You Can Get Delivered Across Brisbane
Order a box of spiced, chocolatey or gluten-free buns to your home.
For many, it's not really Easter unless you've scoffed your bodyweight in hot cross buns in the lead-up. And, thankfully, you don't have to forego that tradition this year, either. A stack of local Brisbane bakeries are here to fix your cravings, self-isolation or otherwise, launching handy hot cross bun home-delivery services all across town.
Jump on the phone or the web to make an order and within hours you'll be tucking into some handcrafted Easter buns, plump with fruit, loaded with spices and slathered with lashings of butter. From the traditional glazed version, to some crafty new-world remixes, here's our pick of hot cross buns you can now get delivered straight to your door.
If you are going out to pick up takeaway, have a look at the latest COVID-19 advice and social-distancing guidelines from the Department of Health.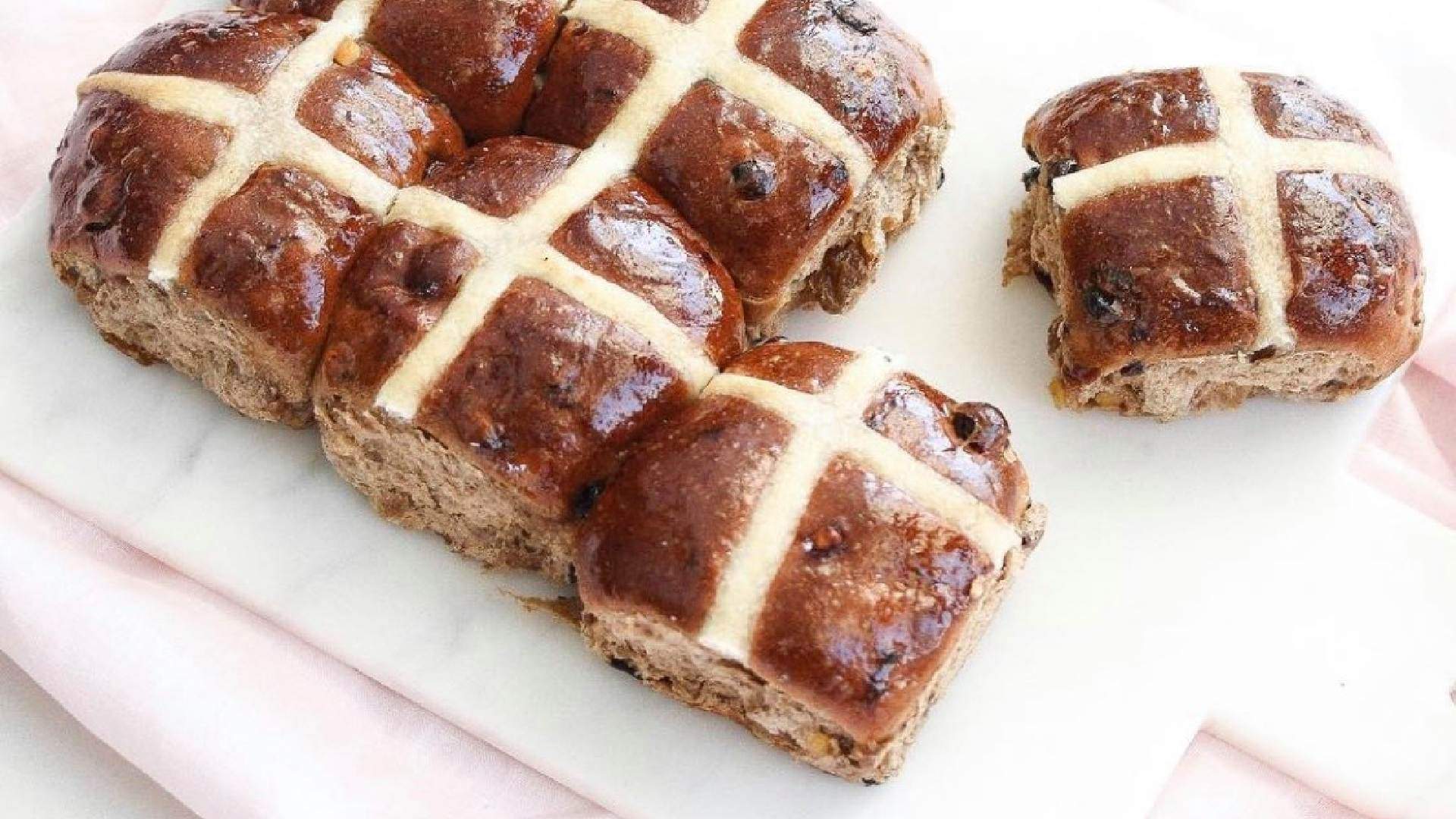 For years, cult-favourite bakery and dessert shop Jocelyn's Provisions has been answering those Easter cravings in style, with handcrafted hot cross buns that pretty much fly out the door. This year, it's whipping up two different varieties of the seasonal staple — a traditional glazed version packed with dried fruit and a blend of spices, and a decadent riff boasting plenty of melty choc chips infused through the dough. Both buns are an easy $12.50 for a six-pack. They're available for delivery to a range of Brisbane suburbs, with a $5 flat-rate fee and a $20 order minimum.
How? Order online for pick up or call (07) 3852 3799 for delivery.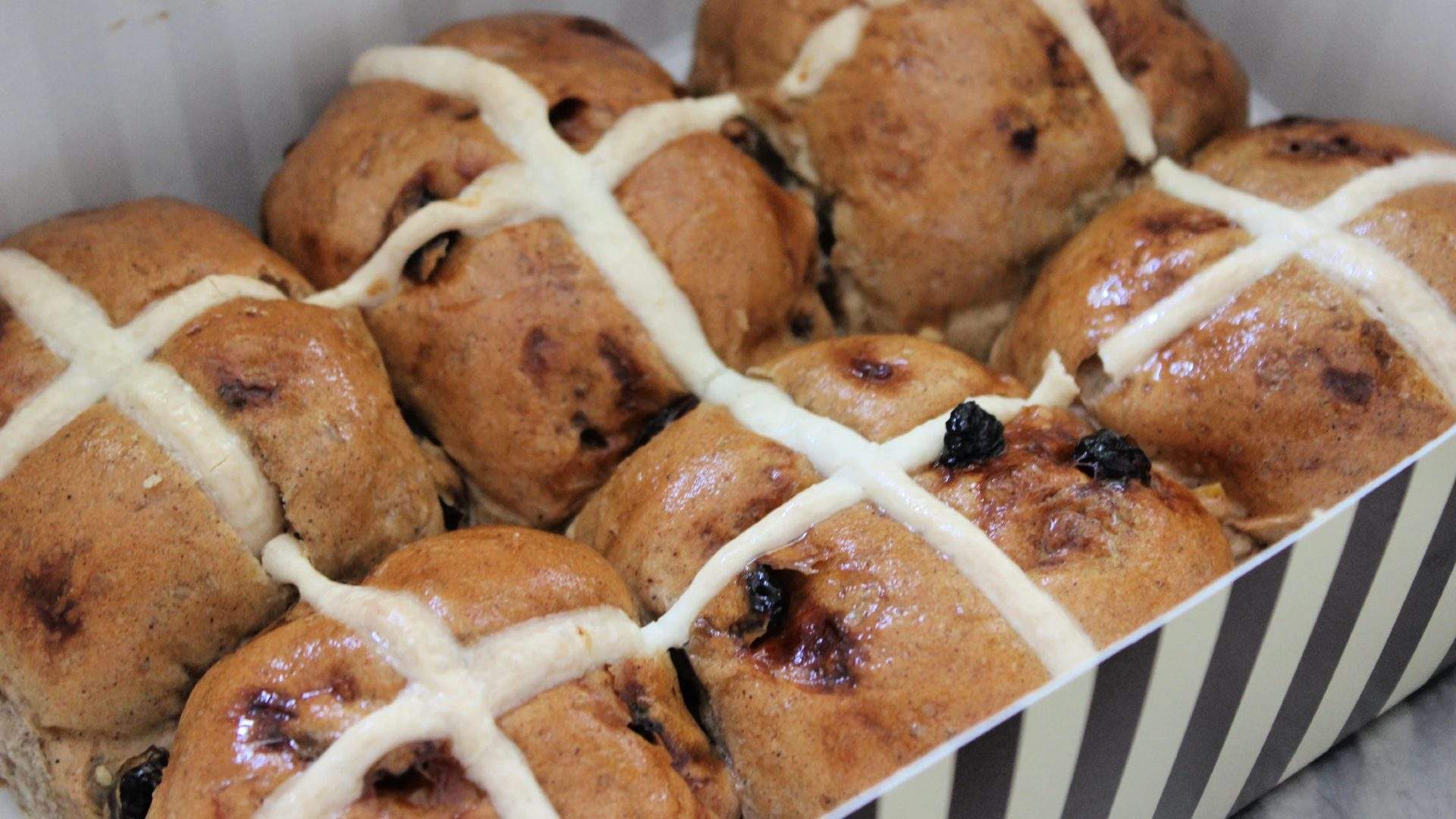 HOT CROSS BROWNIES FROM DELLO MANO
It might be best known for its indulgent chocolate brownies, but this year Dello Mano is having a crack at some hot cross buns as well. These newly debuted treats are the kind that stick with tradition, featuring spiced dough studded with loads of fruit. Or, if you fancy something a little more inventive, there's the long-time seasonal favourite 'Hot Cross Brownies' — rich brownies hand-dipped in Belgian chocolate and finished with a white chocolate cross. Both are available for delivery across Brisbane and you can even score same-day drop-off for orders placed before 11am.
How? Order delivery via the Dello Mano website.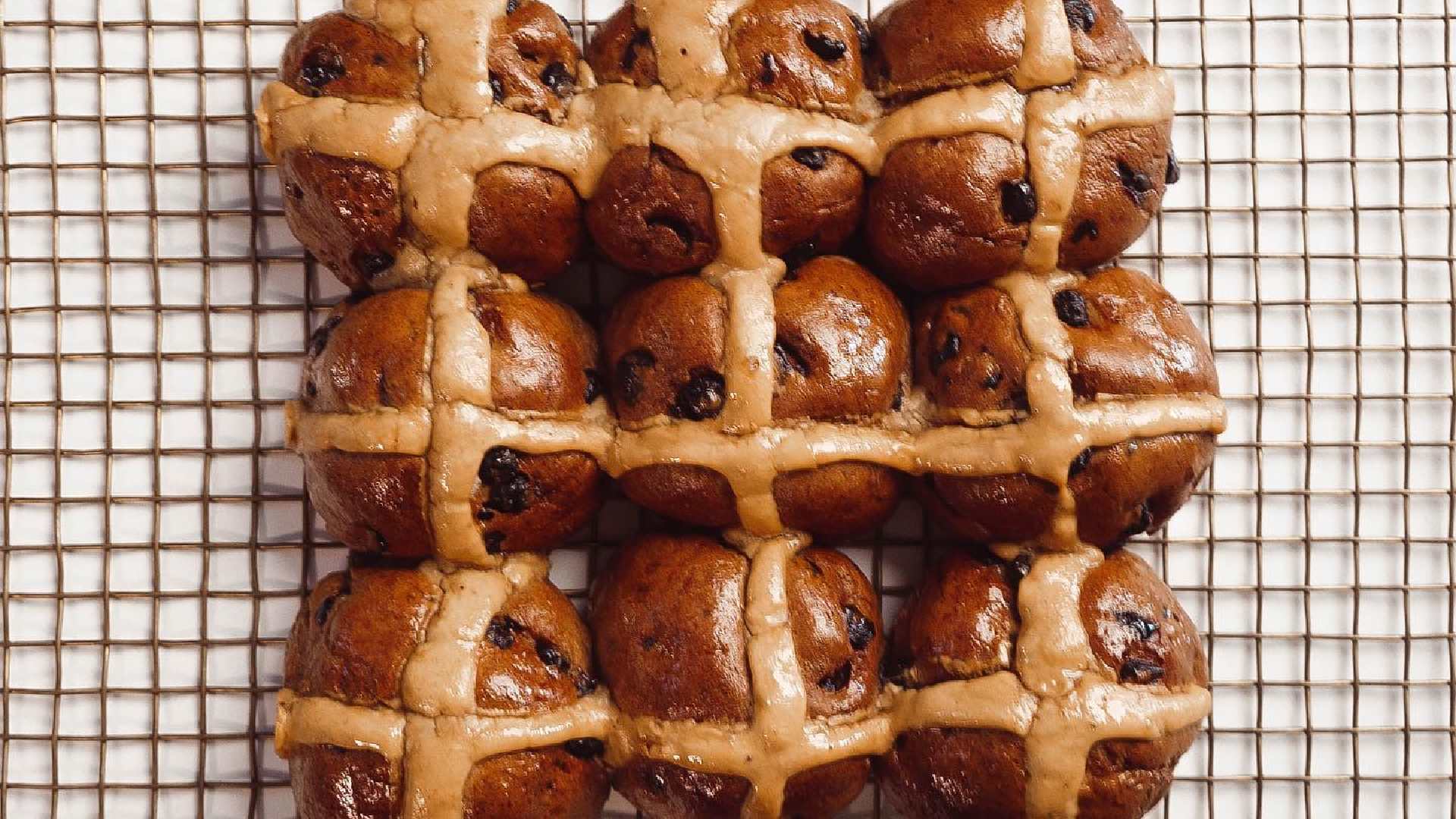 GLUTEN FREE HOT CROSS BUNS FROM NODO
The masters of natural, gluten-free treats at Nodo have created the dietary-friendly Easter bun you've been dreaming of. These glazed hot cross buns feature an assortment of warm spices, dried blueberries and currants, clocking in at $24 for a six-pack. Or for something a little different, try Nodo's 'Hot Cross Donut', infused with dates and Easter spices, and covered in couverture chocolate ($6 each). A contactless delivery service is now available from Nodo's Newstead and Camp Hill stores, with a $50 minimum order and a $5 flat-rate delivery fee. Just give them at least 24 hour's notice and you should score your buns between 9am and 1pm the following day.
How? Nodo's hot cross buns can pre-ordered online and delivered within 24 hours.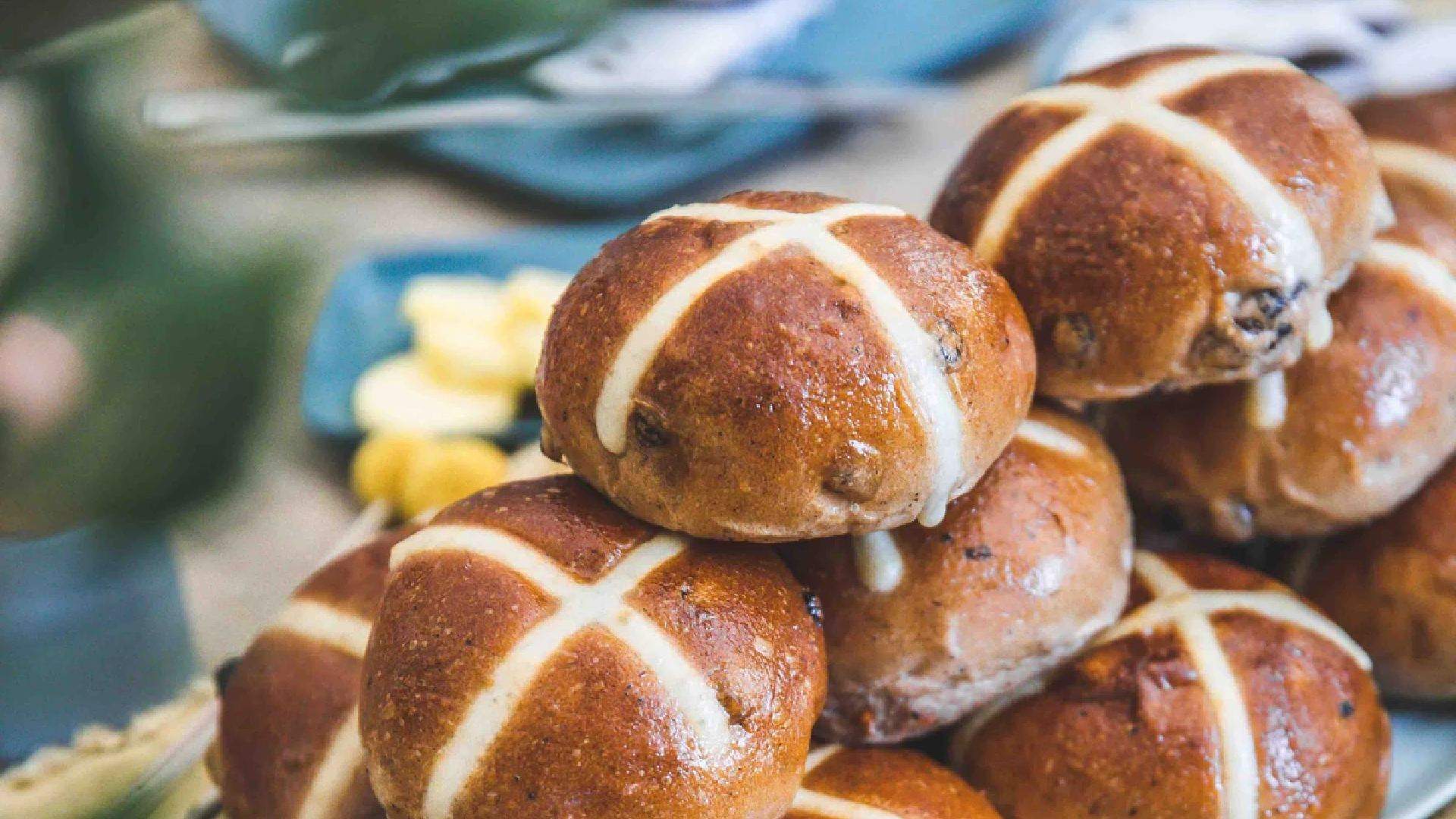 ORGANIC VINE FRUIT HOT CROSS BUNS FROM PHILLIPPA'S
Long-running bakery Phillippa's is here to ensure all your hot cross bun cravings are fulfilled this Easter, even if you're stuck at home. Its chewy glazed buns are a perennial favourite, crafted with slow-fermented dough, house-made candied peel and loads of organic vine fruit. A box of six will set you back $18, with Australia-wide shipping available for a flat-rate of $9.95. And, if isolation's left you feeling a little creative, jump over to the website to find a couple of crafty recipes to put any extra buns to good use. Toasted hot cross bun ice cream might just be the Easter treat you've been waiting for.
How? Phillippa's hot cross buns can be ordered online and delivered.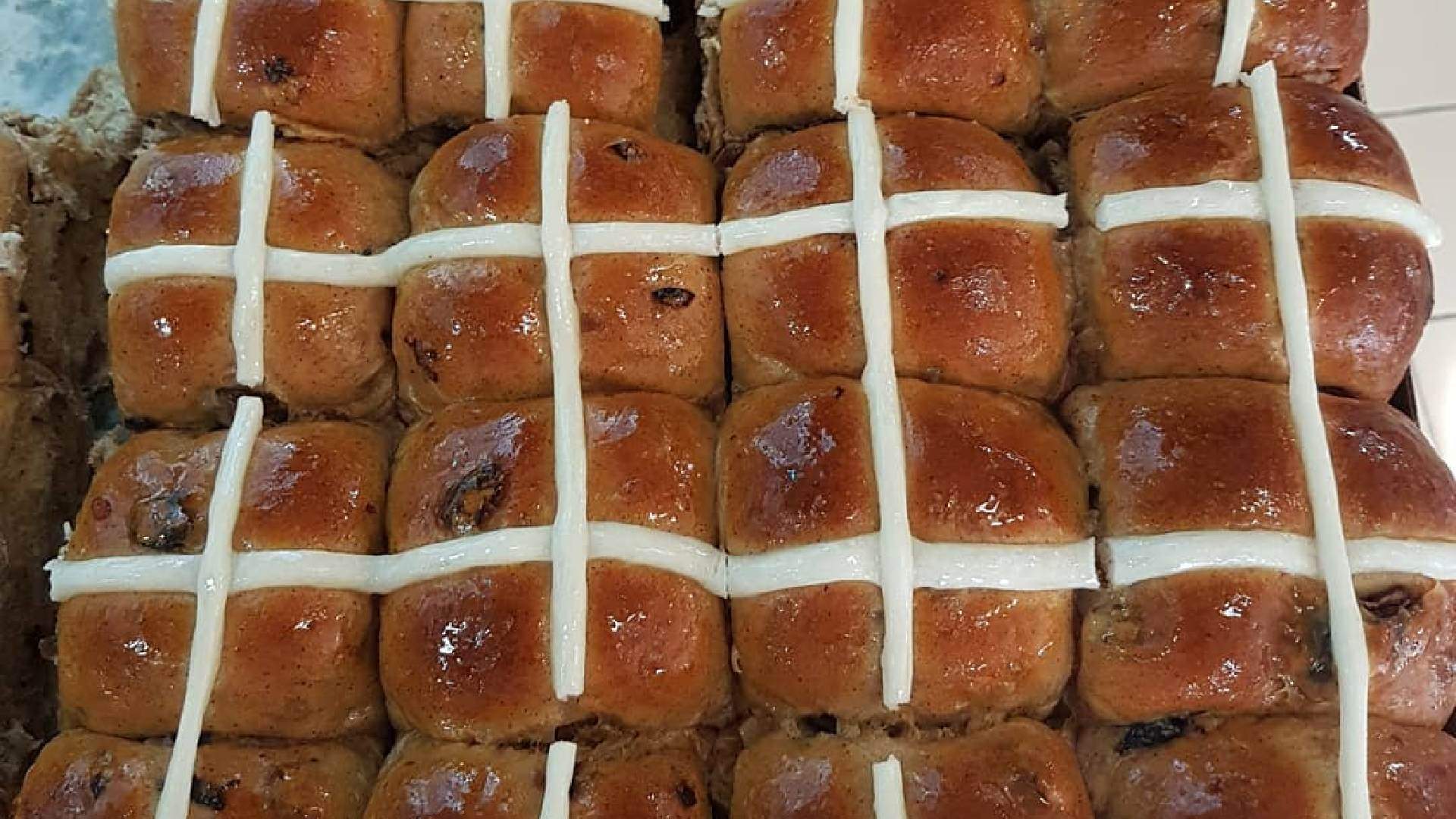 CLASSIC HOT CROSS BUN FROM CRUST & CO
A traditional artisan bakery with both French and Italian roots, Newmarket's Crust & Co has your classic hot cross bun fix sorted. Its signature Easter buns are an annual hit, made on buttery brioche and crammed full of spices, dried fruit and ginger. And this year, it's even easier to get your hands on a serve, with a new $3 home delivery service available to nearby suburbs, Thursday–Sunday. A half dozen buns clocks in at $10 — grab two packs and you've made the $20 minimum order cut-off. Shoot Crust & Co an email with your details and order before 3pm, and you should have it in your hands the next morning.
How? Check out the full menu here Email orders@crustandco.com.au for delivery.

Top image: Nodo Hot Cross Donuts
Published on April 03, 2020 by Libby Curran