Messina Is Turning Andy Bowdy's Peanut Butter Banana Split Into a Decadent Cookie Pie
The Sydney pastry chef's peanut butter and banana sundaes are the stuff of legend — and now they're being reinvented.
With Sydney in lockdown, Gelato Messina has been pumping out new specials with quite the enthusiasm. That's been great news for dessert fiends not only in the city, but wherever the gelato chain has a store. And, while Messina's latest one-off creation has a strong Sydney skew, you definitely don't need to be familiar with a beloved dish made by pastry chef Andy Bowdy of Enmore's Saga to enjoy a mouthful — or several.
Bowdy's peanut butter and banana sundaes have long been considered the stuff of legend in Sydney. Now, Messina is reinventing them as a cookie pie. The gelato brand does like giving other much-loved desserts a twist, as seen with its takes on Iced VoVos, lamingtons, Viennetta, Golden Gaytimes, fairy bread and Cinnabon-style scrolls, so it has plenty of form in this area. Also, Bowdy used to make his cakes in Messina's Rosebery headquarters.
This limited release has been dubbed a 'banana split kit', because there's multiple parts to it. You'll get a peanut butter and banana custard cookie pie, which comes topped with peanut crumble — and you'll also nab a one-litre tub of peanut butter and pretzel cluster gelato, a 350-gram serve of dark chocolate fudge sauce and six maraschino cherries. From there, once you've baked your pie, you can scoop gelato on top, pour the sauce and then add a cherry for maximum pie-meets-sundae fun.
Like all Messina specials, this one can only be ordered online on Monday, August 30. It will set you back $55 for the kit— and, because Messina's specials always prove popular, the brand is staggering the on-sale times. Accordingly, folks in Queensland and the ACT are able to purchase at 9am, Victorians at 9.30am, and New South Wales customers split across three times depending on the store (with pies from Circular Quay, Surry Hills, Bondi, Randwick and Miranda on sale at 10am; Brighton Le Sands, Tramsheds, Parramatta and Darlinghurst at 10.30am; and Darling Square, Newtown, Rosebery and Penrith at 11am).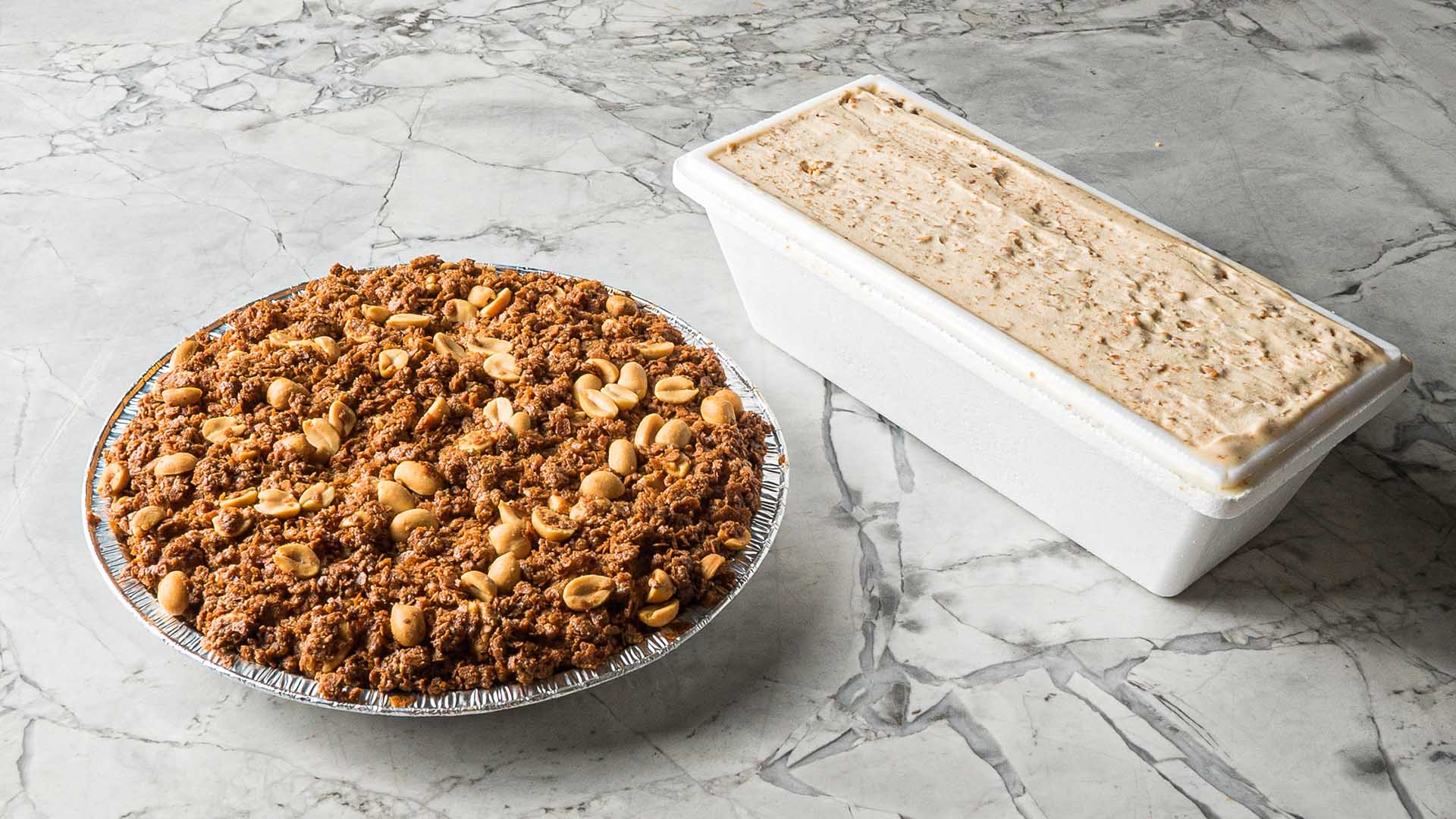 The catch? You'll have to peel yourself off the couch and head to your local Messina store to pick up your order. They'll be available for collection between Friday, September 3–Sunday, September 5.
Sydneysiders, remember to abide by lockdown restrictions when it comes to picking up your pie — with folks in most suburbs required to stick to their Local Government Area, or within five-kilometres from home, and a strict five-kilometre limit in place in LGAs of concern.
Melburnians, if lockdown is extended again until then, you'll also only be permitted to travel within a five-kilometre radius to pick up food.
Then, after you've got the peanut butter and banana custard cookie pie safely home, you just need to whack it in the oven for 25 minutes at 165 degrees and voila!
You can preorder a Messina banana split kit from Monday, August 30, to pick up from Friday, September 3–Sunday, September 5.