Gelato Messina Is Pairing Super-Sticky Bake-at-Home Caramel Scrolls with Cheesecake Gelato Tubs
This time, the gelato chain is pairing two sweet treats into a lockdown snack pack.
Another week, another Gelato Messina special. That's been the dessert chain's contribution to making lockdown a little more bearable over the past 18 months, and it isn't changing that tactic now. So, if you're under stay-at-home conditions in Sydney and Melbourne, you now have another decadent sweet treat to look forward to. For folks in southeast Queensland, you've got an excuse to eat dessert even now that the region's latest lockdown is over.
On the menu this time: the return of the brand's sticky brioche snails, complete with plenty of caramel. Basically, it's Messina's interpretation of a Cinnabon-style scroll, and it's another limited release. It also comes paired with a tub of cheesecake gelato — because Messina always likes to team up its baked goods with the frosty dessert it's known for, obviously
Wondering what exactly Messina's latest sticky snail entails? It comes stuffed with caramel custard and choc chips, and covered in malt caramel — and the latter is oh-so-gooey. As for the accompanying tub, it's filled with layers of vanilla custard gelato and cheesecake mousse, and then topped with cheesecake crumble.
Dubbed a 'lockdown snack pack', this special can only be ordered online on Monday, August 16. It will set you back $69 for both the snail and the tub of gelato — and, because Messina's specials always prove popular, the brand is staggering the on-sale times. Accordingly, folks in Queensland and the ACT are able to purchase at 9am, Victorians at 9.30am, and New South Wales customers split across three times depending on the store (with pies from Circular Quay, Surry Hills, Bondi, Randwick and Miranda on sale at 10am; Brighton Le Sands, Tramsheds, Parramatta and Darlinghurst at 10.30am; and Darling Square, Newtown, Rosebery and Penrith at 11am).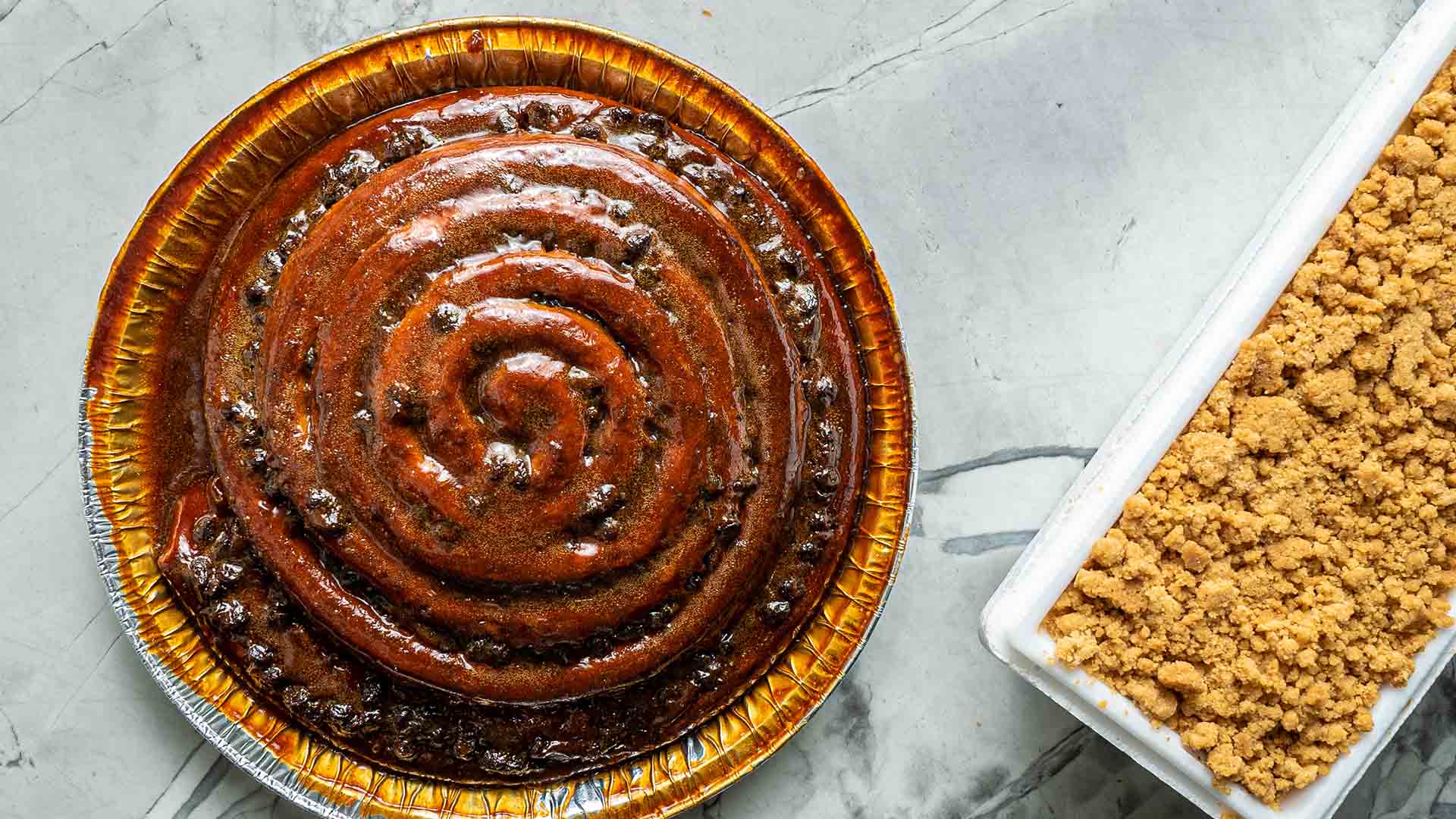 The catch? You'll have to peel yourself off the couch and head to your local Messina store to pick up your order. They'll be available for collection between Friday, August 20–Sunday, August 22.
Sydneysiders, remember to abide by lockdown restrictions when it comes to picking up your pie — with a ten-kilometre limit in place for picking up food in most lockdown areas, and a five-kilometre limit in place in Local Government Areas of concern.
Melburnians, if lockdown is extended again until then, you'll also only be permitted to travel within a five-kilometre radius to pick up food.
Then, after you've got the sticky snail safely home, you just need to whack it in the oven for 20–25 minutes at 160 degrees and voila!
You can preorder a Messina lockdown snack pack from Monday, August 16, to pick up from Friday, August 20–Sunday, August 22.
Introducing Concrete Playground Trips
Book unique getaways and adventures dreamed up by our editors