FOOD & DRINK
Messina Has Turned a Heap of Its Most Popular Gelato Flavours Into Chocolates
The dessert brand is doing pick 'n' mix packs filled with gelato-inspired chocolates, including cone-ception, fairy bread and neapolitan varieties.
Whether they riff on fairy bread or come packed with pretzels, plenty of Gelato Messina's popular desserts turn other foods into a frosty sweet treat. For the chain's next endeavour, it's taking that process a step further. This time, it's transforming a heap of its gelato flavours into a variety of different chocolates.
Nine different types of blocks, bars and other bites are on the menu thanks to Messina's latest special — which means that they'll only be available to order on a set day, as always happens with the brand's limited-edition wares. And, they're being sold pick 'n' mix-style. So, you can choose as many as you like, with discount codes on offer if you're nabbing three, six or nine.
Some of these chocolates will sound familiar, as Messina first broke out a few of them for Father's Day. Back then, it was the first time that Messina had ever made chocolate bars and blocks itself, with the team at its Rosebery headquarters doing the honours. Clearly, it went well.
Loved Messina's recent cone-ception cookie pies? That's where one of these choccies takes its cues, combining sable biscuit, waffle cone spread and cone crunch, then covering it all in caramelised white chocolate. There's neapolitan chocolate blocks, too — and yes, they're made with milk chocolate, white chocolate that features Heilala vanilla, and strawberry chocolate infused with freeze dried strawberries.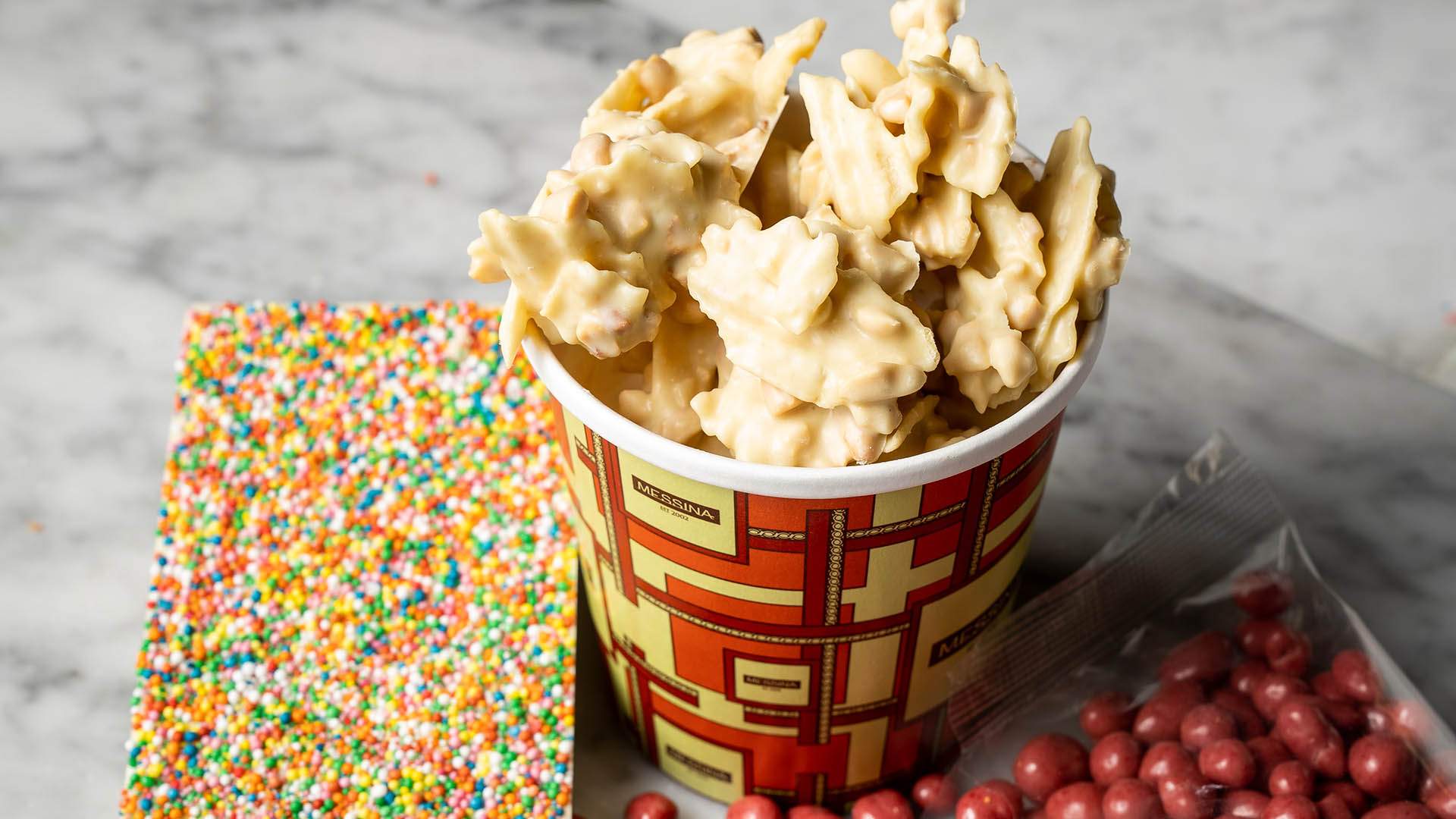 Or, you can opt for fairy bread white chocolate blocks that come mixed with dehydrated toast crumbs and sprinkled with 100s and 1000s, clusters of potato chips and salted peanuts coated in white chocolate, candied pistachios covered in strawberry chocolate, and Messina's own version of chocolate honeycomb. Plus, the range also includes roasted hazelnuts coated in milk chocolate and wafer flakes, pretzel crunch covered in milk chocolate and choc-covered house-made nougat as well.
However many of these choccies you now need to add to your snack rotation, you'll want to place your order at 9am AEDT on Wednesday, October 13. They'll then be shipped within five working days.
Gelato Messina's pick 'n' mix chocolate range will be available to order from 9am AEDT on Wednesday, October 13.
Published on October 11, 2021 by Sarah Ward