FOOD & DRINK
Petrie Terrace Is Now Home to a Huge New Two-Level Bavarian Beer Hall
Serving pork knuckles, schnitzels and steins of beer, the new venue seats 600, including in its string-lit beer garden.
After adding German-themed drinking spots to Chermside, South Bank and Bowen Hills, Rockpool isn't done with its new mission to spread steins and schnitzels across the city. Brisbanites can now enjoy all of the above at The Bavarian The Barracks,  with the hospitality group expanding its footprint and one of its brands.
Situated the top of Petrie Terrace, on the edge of the Barracks complex, the site is no stranger to hearty meals paired with hefty brews — for 26 years, up until April 2018, it was home to the city's most prominent Hog's Breath Cafe. With The Bavarian taking over the premises, the two-level spot is now a huge restaurant and beer hall that can accommodate 600 people. It also features a mix of indoor and outdoor seating, including in its 300-seater, string-lit beer garden.
Visitors to any of Rockpool's other Bavarian joints — on Eagle Street, at Broadbeach and Coomera, and on the Sunshine Coast — will know what they're in for. As well as a range of 20 Australian, German and international brews on tap (and served in one-litre steins), plus a sizeable schnapps selection, the menu spans pretzels, pork knuckles, sausages and platters piled with meat. Picking a particular night of the week to head by is recommended, with different specials offered on various evenings, such as a two-for-one schnitzel deal on Tuesdays.
Fancy stopping by for an afternoon brew and bite? The chain's Royal Snack Hour promotion, which offers up free gourmet sausage rolls, sloppy fries and popcorn chicken with a drink purchase between 4–6pm, also applies here. And if you're in the vicinity for lunch from Monday–Thursdays, there's also a $10 daytime deal.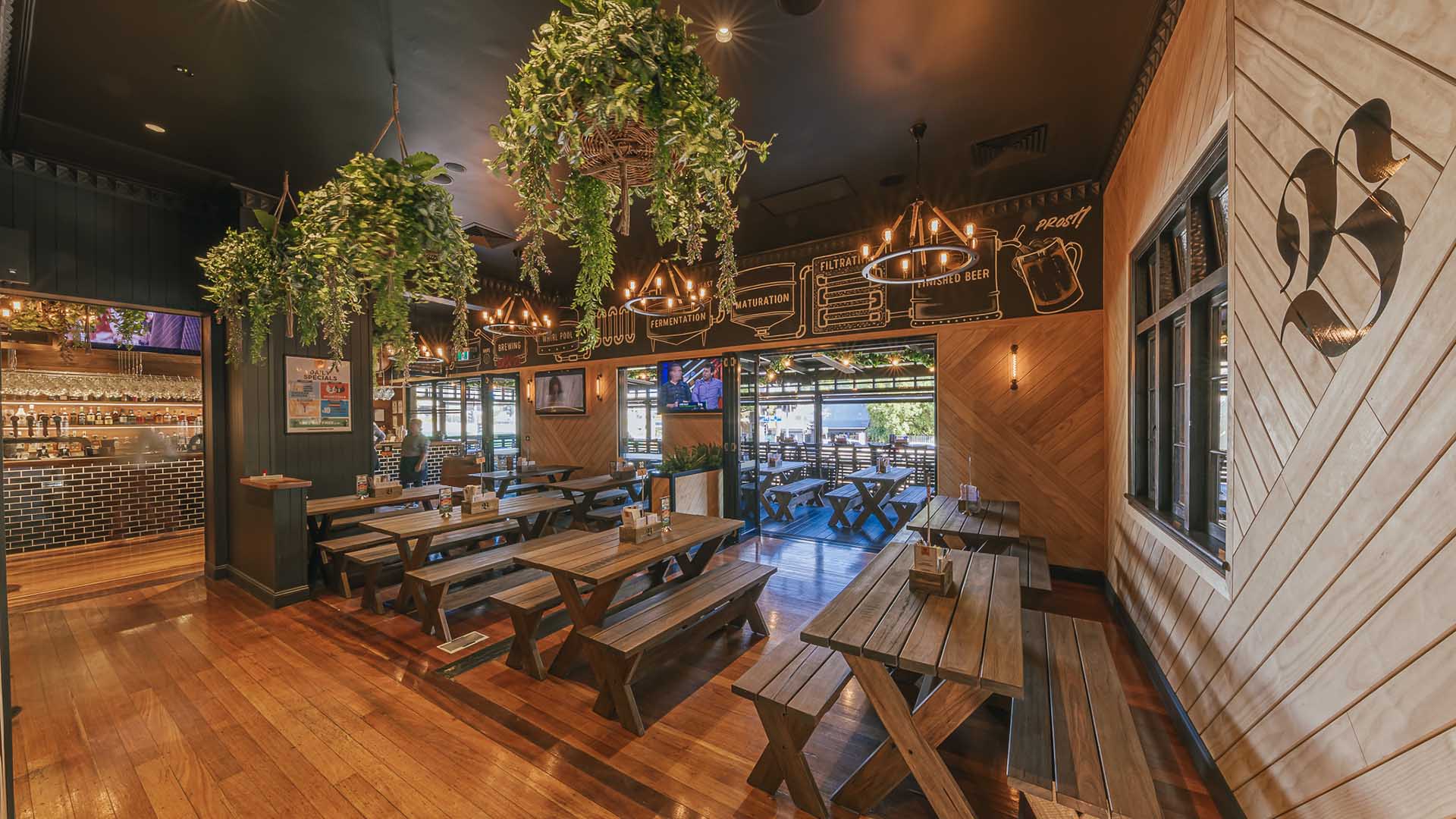 Decor-wise, think bright but rustic, including stone walls with timber finishes, communal wood tables and plenty of noticeable flourishes — including a beer barrel wall, and a chandelier made out of more than 500 steins. Greenery can be seen both inside and out, and, in a nod to the beer hall's location, so can 12 large-screen TVs playing sports.
Indeed, although it might seem as if The Bavarian's latest outpost is rather close to its sibling venues in the CBD and just over the river in South Brisbane, setting up shop on Petrie Terrace is a smart move. The inner-city area is already home to more than a couple of watering holes, with two pubs and a burger brew bar just along Caxton Street; however, the proximity to Suncorp Stadium means that there are always plenty of hungry, thirsty Brisbanites in close range.
Find The Bavarian The Barracks at 5 Petrie Terrace, Brisbane, open from 11am Monday–Sunday.
Published on August 07, 2019 by Sarah Ward