FOOD & DRINK
Six Things to Try at the Boundary Street Night Markets This Winter
The cool air may have moved in, but that doesn't mean you have to resign to spending the rest of winter inside on the covers.
Six Things to Try at the Boundary Street Night Markets This Winter
The cool air may have moved in, but that doesn't mean you have to resign to spending the rest of winter inside on the covers.
---
in partnership with

When the cool air starts to move in and the days get shorter, we know there's really only one thing you want to do: put your slippers on, stay in, order takeout and binge on anything even remotely worth watching. But by staying put, you miss out on all the eats you could be eating, drinks you could be drinking and things you could be thinging, erm, doing right-damn-now. So instead of whiling away your winter nights in front of the TV learning far too much about Call the Midwife (no judgement), we suggest grabbing your jacket, calling up a willing friend or two and setting out for the Boundary Street Markets. In partnership with Samsung, we road-tested the new Galaxy S9 and S9+ and its camera's low light abilities to snap some shots of our favourite dishes being served up every Thursday and Friday night. So, go on, seize the night and eat your way through the markets, documenting all the bites you happen upon for your 'gram without worrying about the lack of bright lights.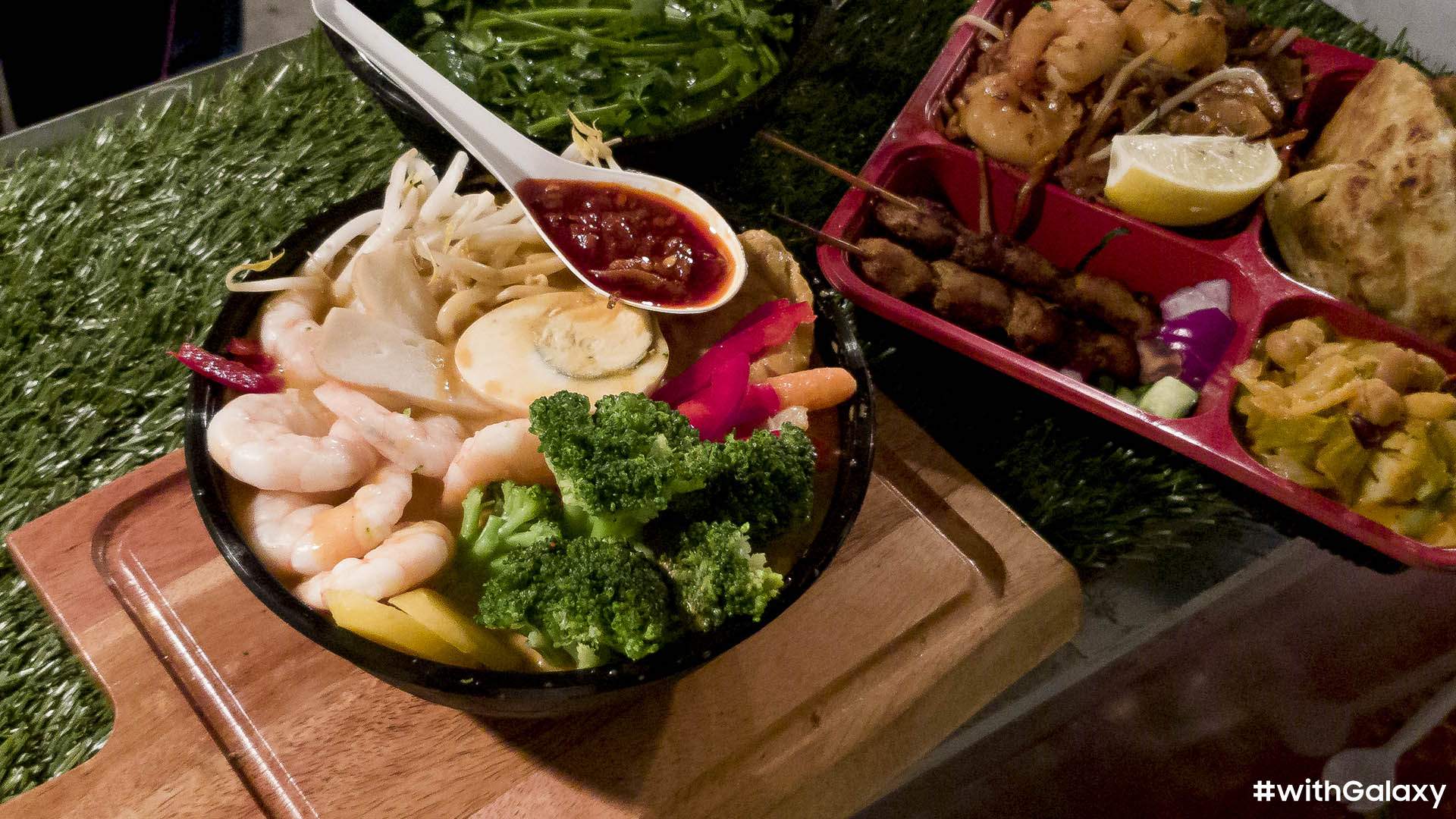 SEAFOOD LAKSA FROM LITTLE NYONYA
Few things say winter comfort food more than a steaming bowl of laksa, and at Little Nyonya, they seem to understand precisely what makes for a magnificently balanced bowl of the fragrant soup. Here, the laksa has a bit of a kick with a lightly spiced broth — but the Little Nyonya crew will be happy to sling some more chilli your way if you're after more of a punch. Along with the warming broth, your bowl will come heaped with prawns, fresh bean shoots, assorted veggies and garnishes. Winter chill, be gone.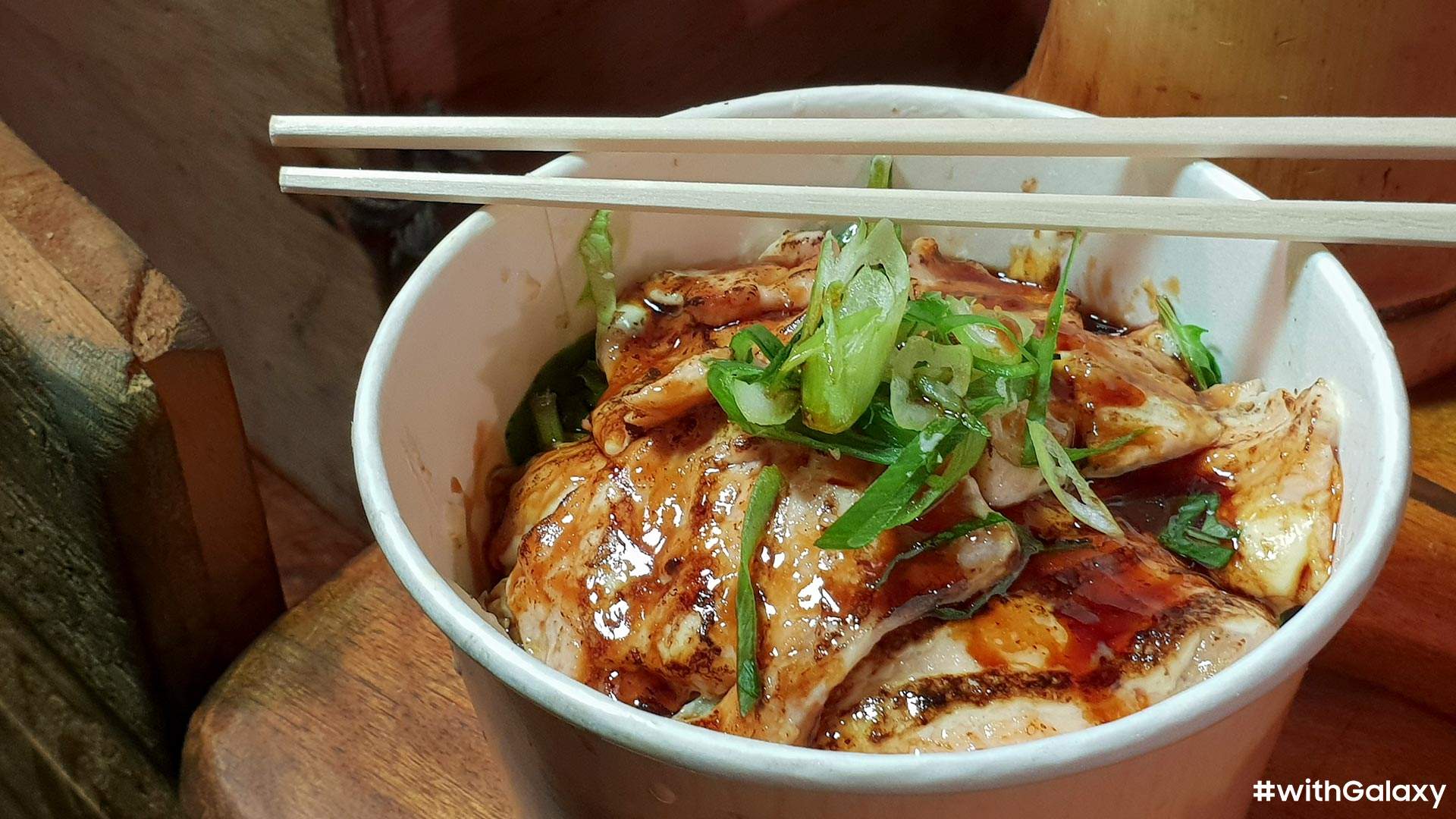 ABURI SALMON BOWL FROM RAIJIN
Make sure your Boundary Street Markets trip doesn't end without a visit Raijin for one of its Aburi Salmon Bowls. Fresh salmon is sliced and fired on site so it gets a nice smoky flavour. It's then served atop a healthy bed of brown rice with some fresh veg to balance out that tasty, tasty sauce slathered on top. Every morsel of salmon is fire blasted and smoked just enough so that it still retains superb ocean freshness. This is a firm favourite of the Boundary Street Markets so be warned, there might be a small queue when you go to order your bowl.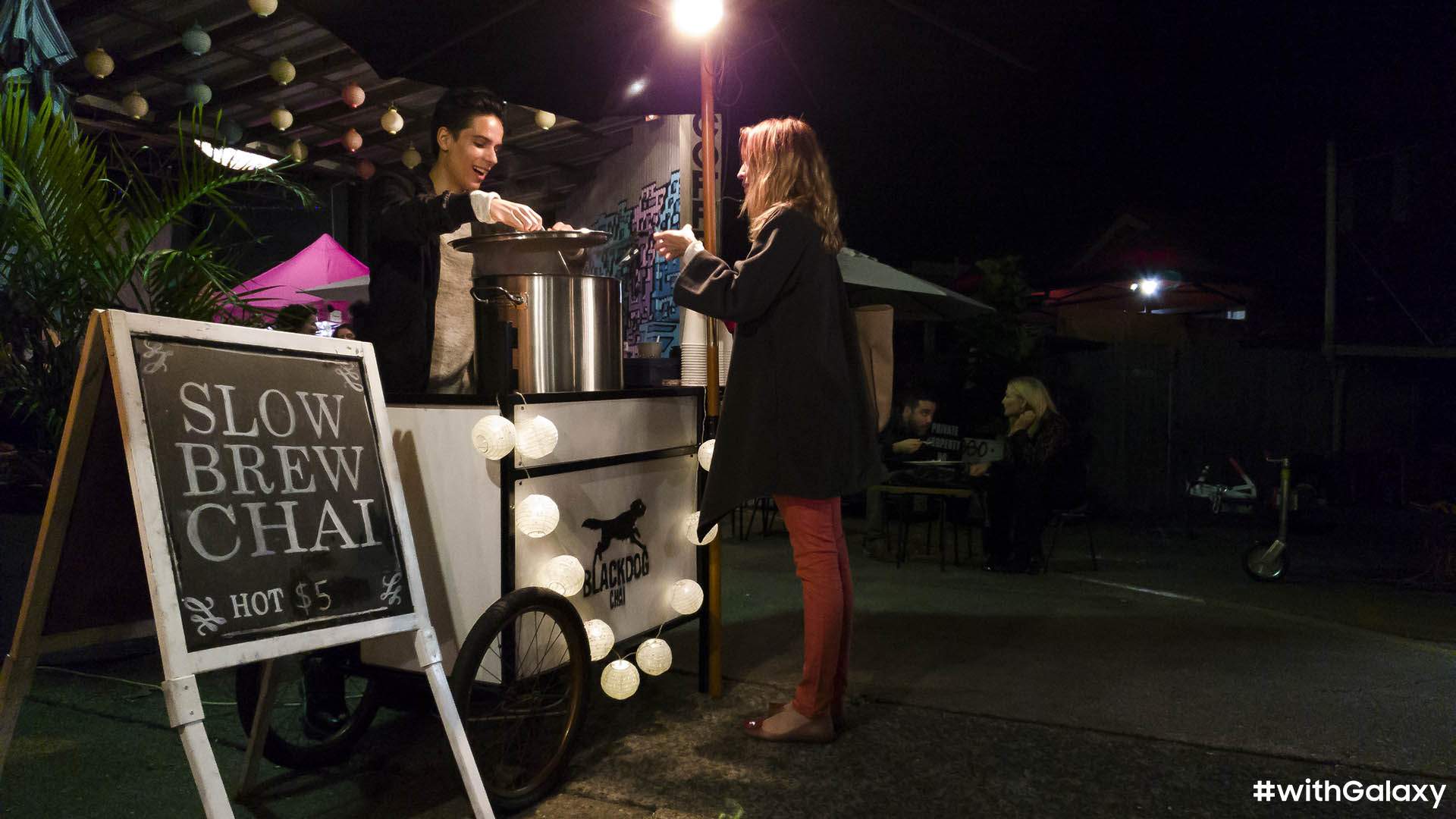 SLOW BREW CHAI
When you've already had a feed but you could still use a little warming from the inside out, wrap your chilly fingers around a warm mug from Slow Brew Chai. As you sip the slow-simmered chai spiced with cinnamon, star anise, black pepper, cardamom and a few other secret spices, kick back and enjoy some of the free nightly music and entertainment. Extra points if you bring your own mug or keep cup.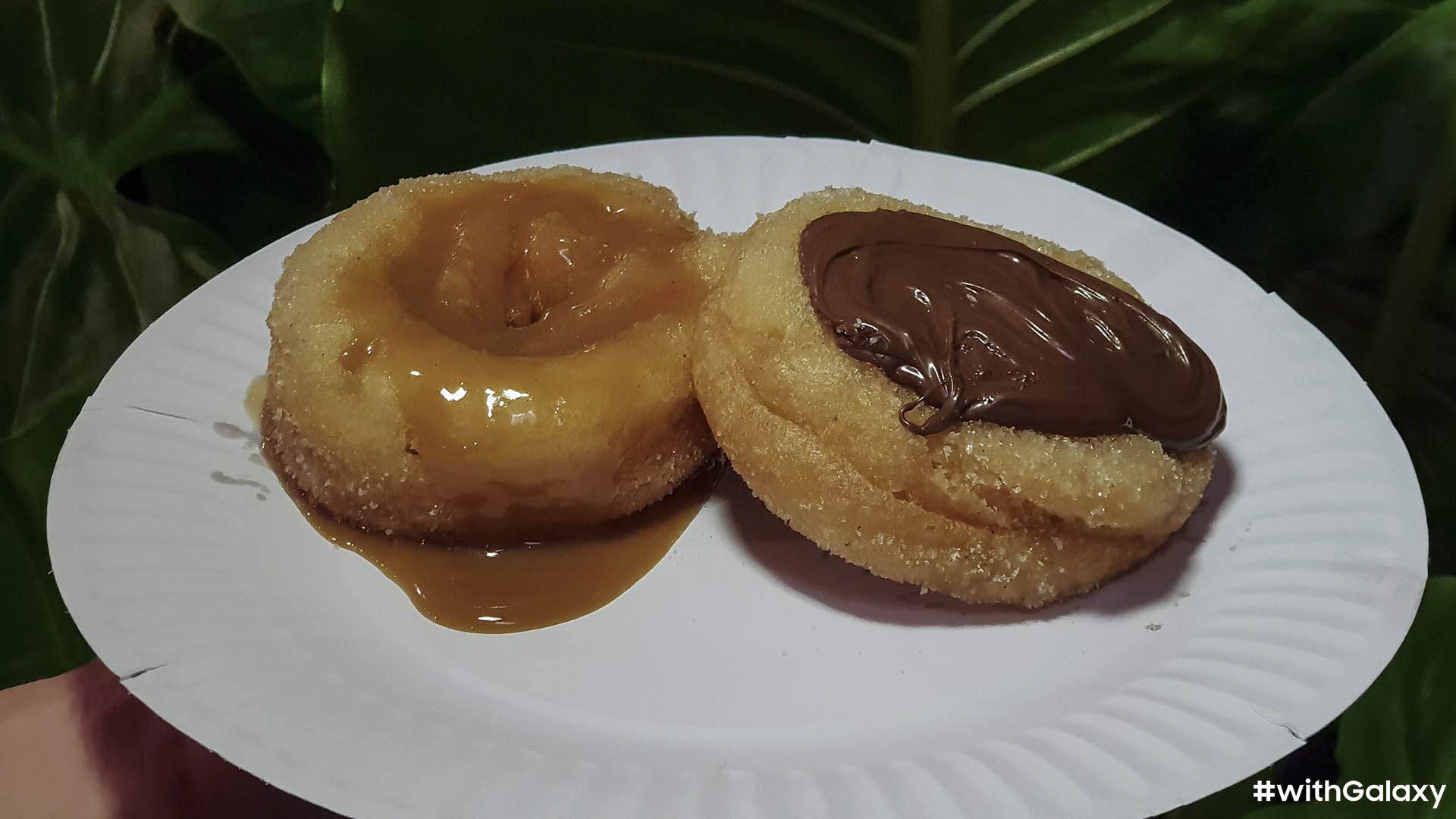 SALTED CARAMEL AND NUTELLA DOUGHNUTS FROM ORGANIC FROG
There's really nothing to say about doughnuts that hasn't already been said — they're warm (obviously), somehow light (at least in texture) and completely delicious. But these here are Frog doughnuts. You could almost say they're a health food seeing as they're gluten free, dairy free, yeast free, egg free and low in sugar. So you know what that means — you can, and should, have two (or more). The stall's plain and cinnamon doughnuts come with toppings like salted caramel, Nutella and organic jam. Grab a half doz to share (or scarf up all by yourself) — just make sure to get a snap for your feed first, if you can.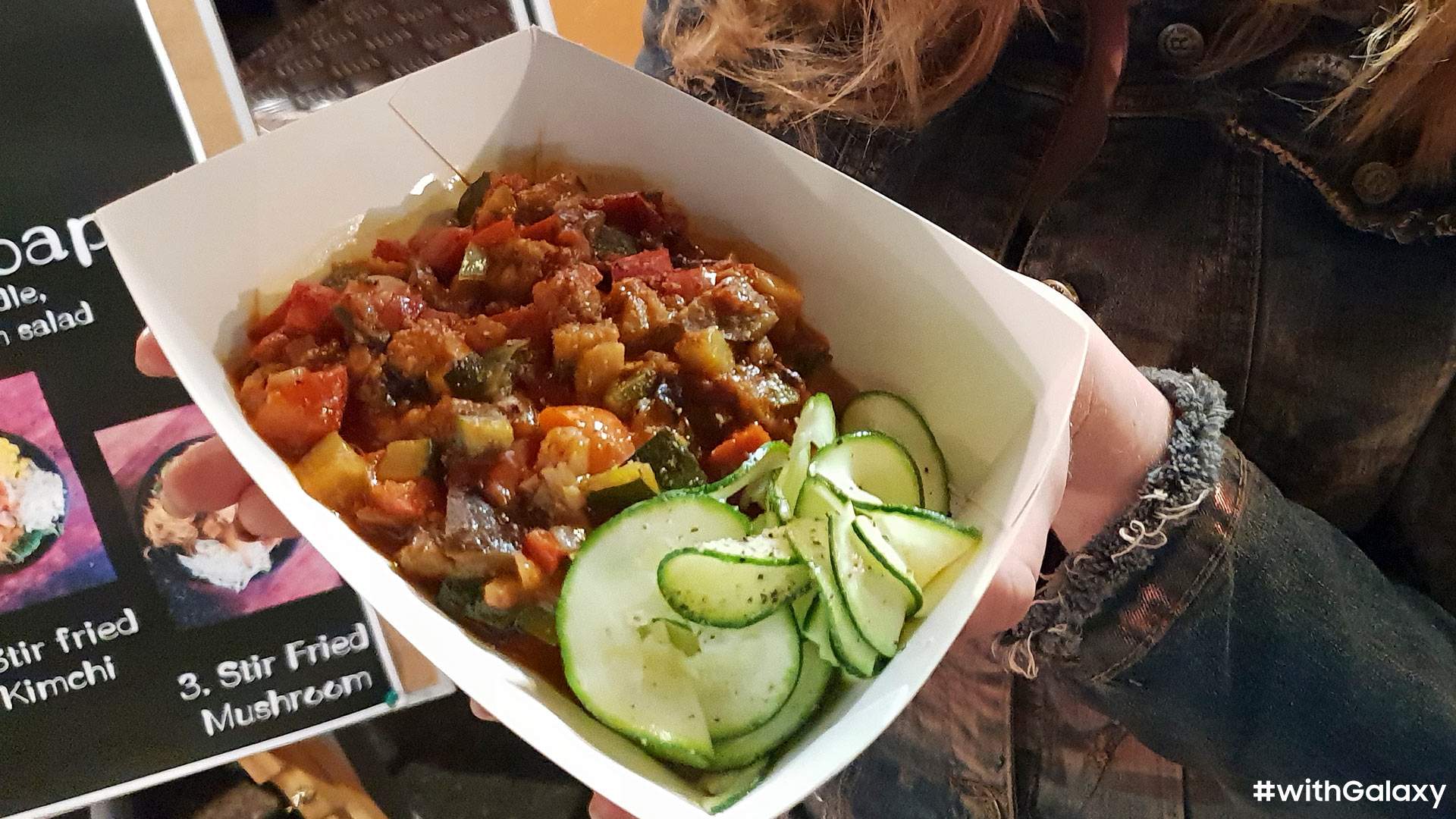 RATATOUILLE FROM MA PETITE
Ma Petite is known for many things, especially its beef bourguignon and light-as-a-cloud crepes. But at this French food stall, we think the real star is the ratatouille. This French Provençal dish has a rich history as a simple yet hearty meal, where vegetables are the hero. Ma Petite's version is no exception. Served alongside fresh cucumber to balance out the tomatoey stew, fresh vegetables like zucchini, capsicum and eggplant are simmered in a mix of tomato and spices until tender. With no cheese or carbs to be found, this one is the epitome of healthy winter comfort food.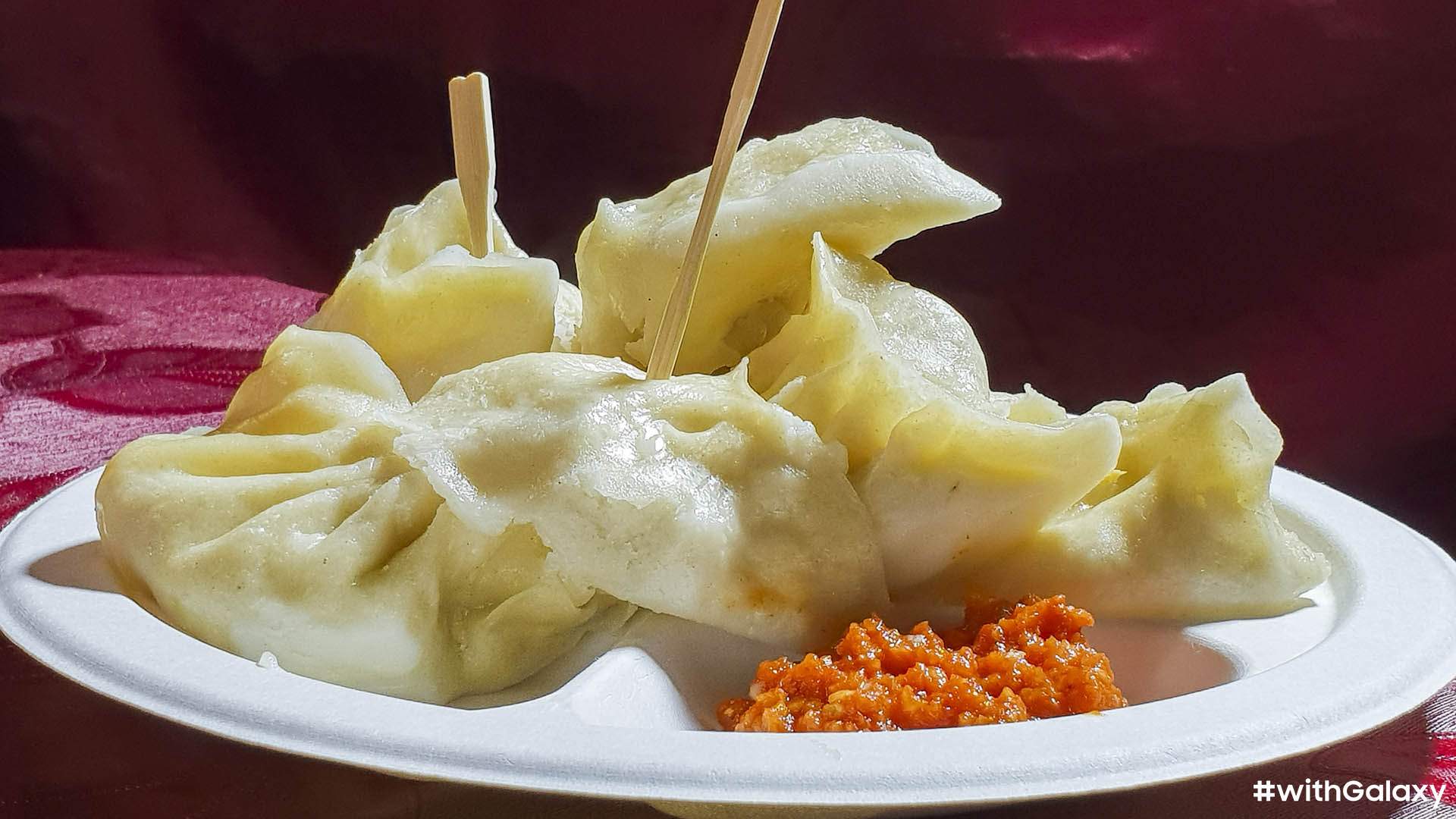 CHICKEN MOMOS FROM TIBETAN MOMO CAFE
Momos are one of Nepal's most popular traditional dishes — and with good reason. These tender parcels are filled with meat (or veg), steamed and served up with tomato pickle (golbheda ko achar) for dipping, smearing and generally enjoying alongside these doughy bites. These South Asian dumplings can be found on almost every street corner in Kathmandu and may remind you of the Chinese dumplings that we all know and love from yum cha. At the Tibetan Momo Cafe stall, you'll find chicken, beef and pork momos, as well as vegan and gluten-free options. Grab a plate of the steaming parcels to share — or to gobble up all on your own.

Instead of spending your winter nights on the couch, discover all the after-dark happenings in your city here — and don't forget to document it all on the new Samsung Galaxy S9 and S9+, designed especially for low light so you can capture your best moments no matter what.
Images: Cole Bennetts.
Published on June 19, 2018 by Laura Dawson