FOOD & DRINK
Sydney's Super-Popular Ramen Bar RaRa Is Opening Its First Queensland Outpost in May
As well as the chain's signature tonkotsu, it'll serve sours from a neon-lit cocktail bar.
Thanks to the soothing tones of waves lapping against the shore, a trip to Burleigh Heads always comes a soundtrack. From May, if you're a fan of Japanese cuisine, it'll also feature slurping noises aplenty. That's when RaRa Ramen is set to open its doors, with the Sydney-based chain making its first trip north — adding a Gold Coast site as a sibling venue to its four NSW stores.
On the menu: tonkotsu ramen, which has proven quite the hit at RaRa Redfern, RaRa Randwick and RaRa Chan in Eveleigh. Taking its cues from the chain's vegan offshoot Lonely Mouth, RaRa Burleigh Heads will be doing meat-free bowls as well. Chicken karaage, cauliflower karaage and corn tempura will also be on offer, covering snack options for both carnivorous and plant-focused diners alike.
While a great bowl of broth and noodles is always a drawcard, RaRa Burleigh Heads will boast another thanks to its neon-lit cocktail bar. Glowing hues are a feature of the company's other sites, too; however, in this case, the vivid lights will be nodding to the area's history. When on the Gold Coast and all that.
Drinks-wise, sours will be a highlight, alongside a lineup of beers that'll include Japanese brews. And, the venue's decor will reflect its beachy setting in other ways, including in the curved lines featured in the fitout.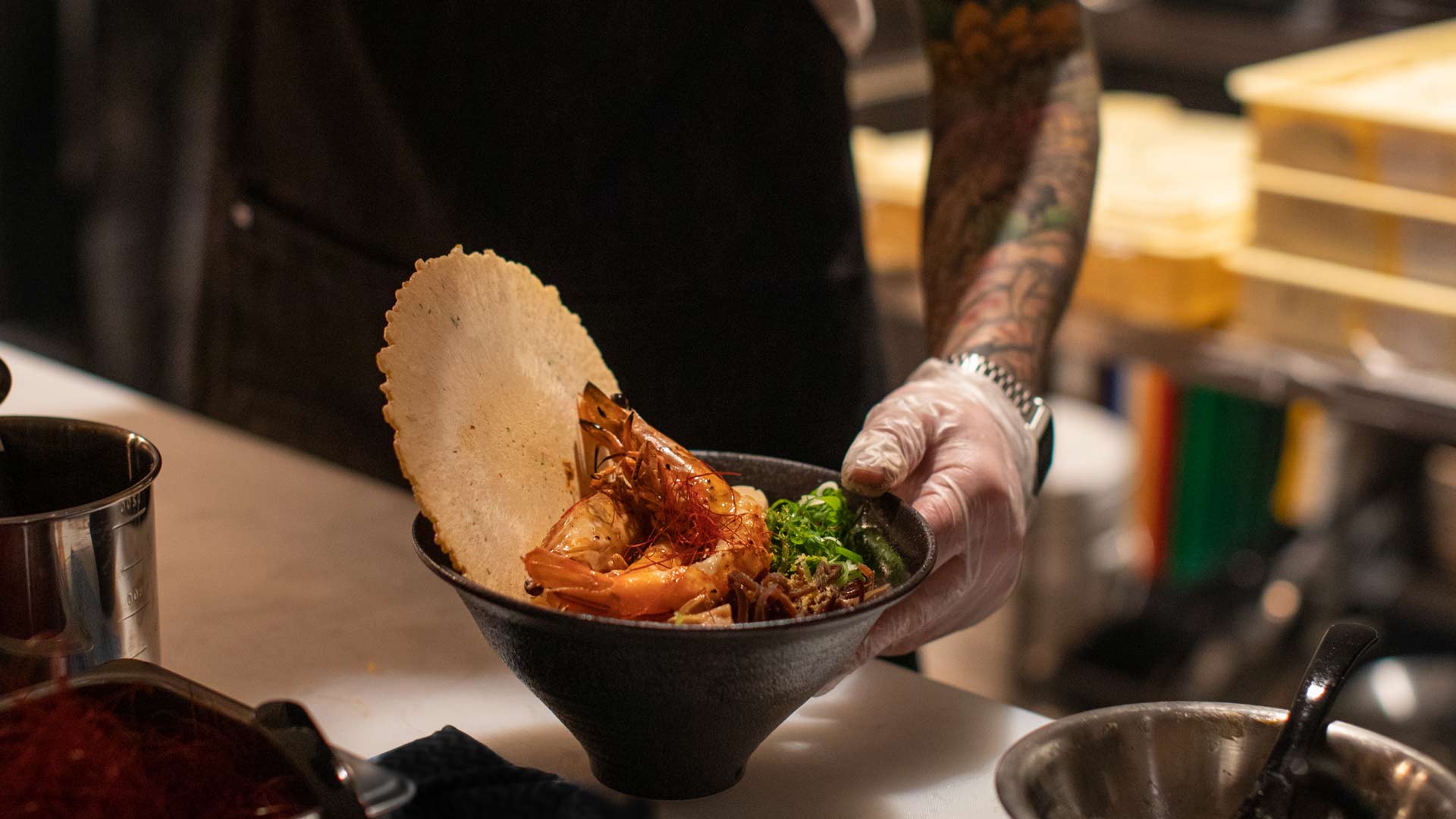 RaRa is expected to open in Burleigh Heads before the middle of May, at the back of an arcade on James Street. If you're wondering why owners Scott Gault and Katie Shortland have decided to make the leap, Gault is originally from Brisbane — and, on a trip this way to see family after navigating border closures and restrictions during the peak of the pandemic, the pair spotted the property. "We let it percolate in our heads, and thought it could be a good opportunity to bring RaRa to the Gold Coast," Gault tells Concrete Playground. "Initially, we didn't have any plans to expand interstate, or to open a new store at the time."
Like most Brisbanites, Gault has fond childhood memories of spending ample time on the coast, and identified Burleigh as an exciting food hub. Also a factor in the decision: the Gold Coast's existing culinary range. Gault notes that the city has boasted "great options for Japanese food over the years, which have informed everyone's palate."
RaRa Ramen will open before mid-May at 21A/50 James Street, Burleigh Heads.
Images: RaRa Ramen Randwick, Kitti Gould.
Published on April 29, 2021 by Sarah Ward