FOOD & DRINK
Boutique Spring Hill Hotel The Inchcolm by Ovolo Has Revamped Its 1920s-Inspired Bar and Bistro
Restaurant Salon de Co has shut up shop, with The Inchcolm Bar taking its place.
It's called a cabinet of curiosities and, once you walk inside The Inchcolm by Ovolo in Spring Hill, the L-shaped glass counter filled with all kinds of knickknacks will definitely pique your interest. Maybe your eyes will be drawn to the Etch A Sketch, the plate with John Lennon's face on it, the bowling pin and the cassette tape. Or, you could instantly scope out the mannequin head, the Polaroid camera or the Elvis Presley box set. Either way, the cabinet is quite the centrepiece — and conversation piece, too.
The gleaming piece of furniture has been part of the The Inchcolm since 2018, when the now century plus-old site was first taken over by the Ovolo hotel chain. Now, it remains after the venue's latest revamp. Visually, not too much has changed, but Ovolo has altered a few names here and there, and also shifted the focus of its entryway bar setup.
The Inchcolm by Ovolo is actually the hotel's new moniker, and it's the first 'by Ovolo' site in Australia. As for the bar, the space formerly known as Salon de Co is now called The Inchcolm Bar. If you're not staying on the premises, it's the latter that's the main drawcard — and it has ditched its sit-down restaurant in favour of a boutique bar and bistro vibe. Its inspiration: Bar Marmont at Los Angeles' Chateau Marmont.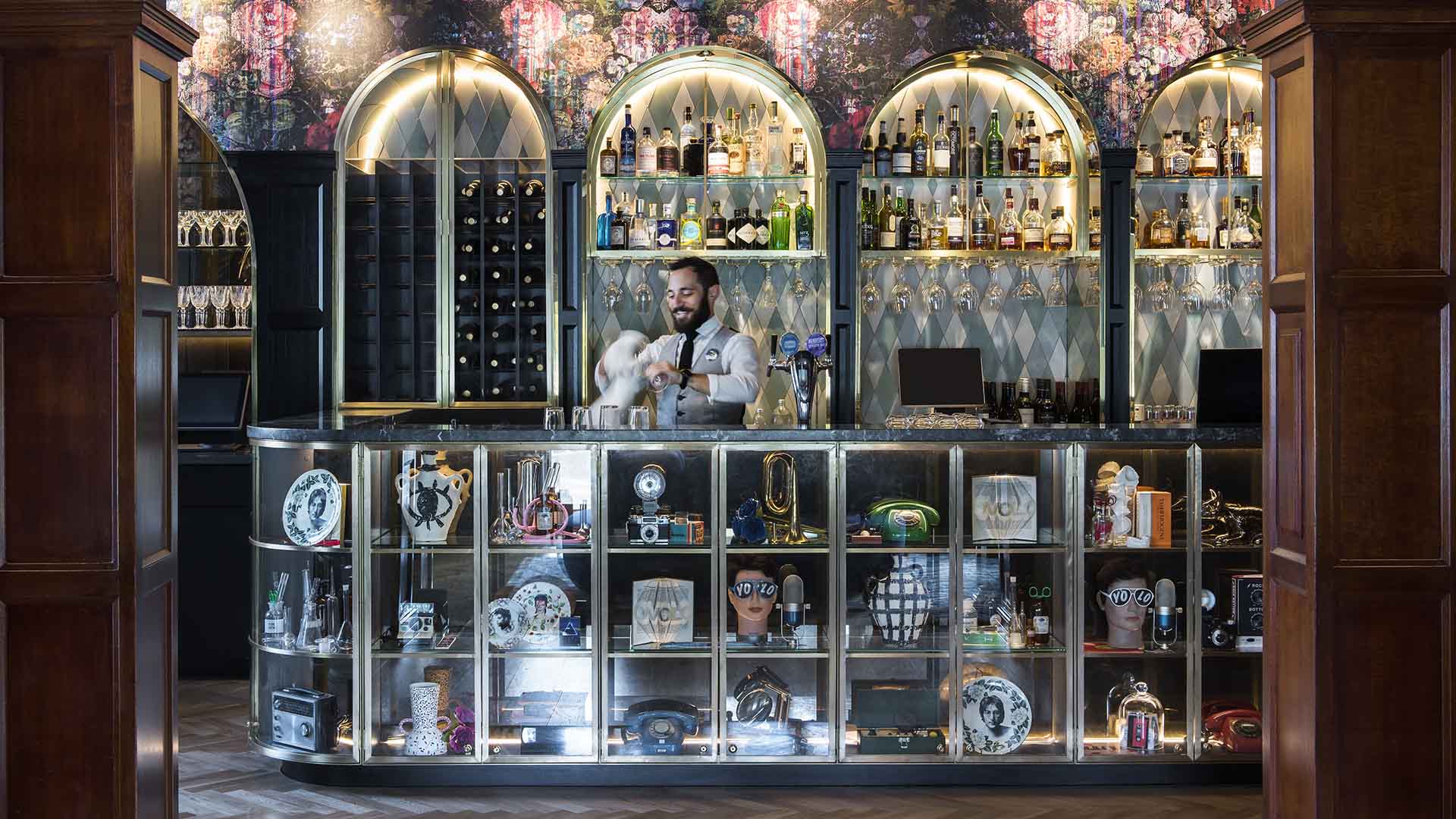 In other words, the theme here is retro glamour, all in keeping with the buildings old-school heritage. Or, as Dave Baswal, Ovolo Group Managing Director ANZ, explains, "think a 1920s Paris salon where Gertrude, Ernest and Pablo would comfortably rub shoulders while sharing trailblazing ideas." Yes, he's talking about Stein, Hemingway and Picasso.
If you visited The Inchcolm before the change of focus, you'll still recognise the velvet furnishings, dark-hued colour scheme, mood lighting and eye-catching floral wallpaper. Now it all adorns a space that's both a bar and a bistro in one. So, you can sit back and sip martinis — there's 11 different types on the menu, and the five signature versions cost just $12 during the daily martini hour from 5.30–6.30pm — or you can choose from an all-day dining lineup between Tuesday–Saturday.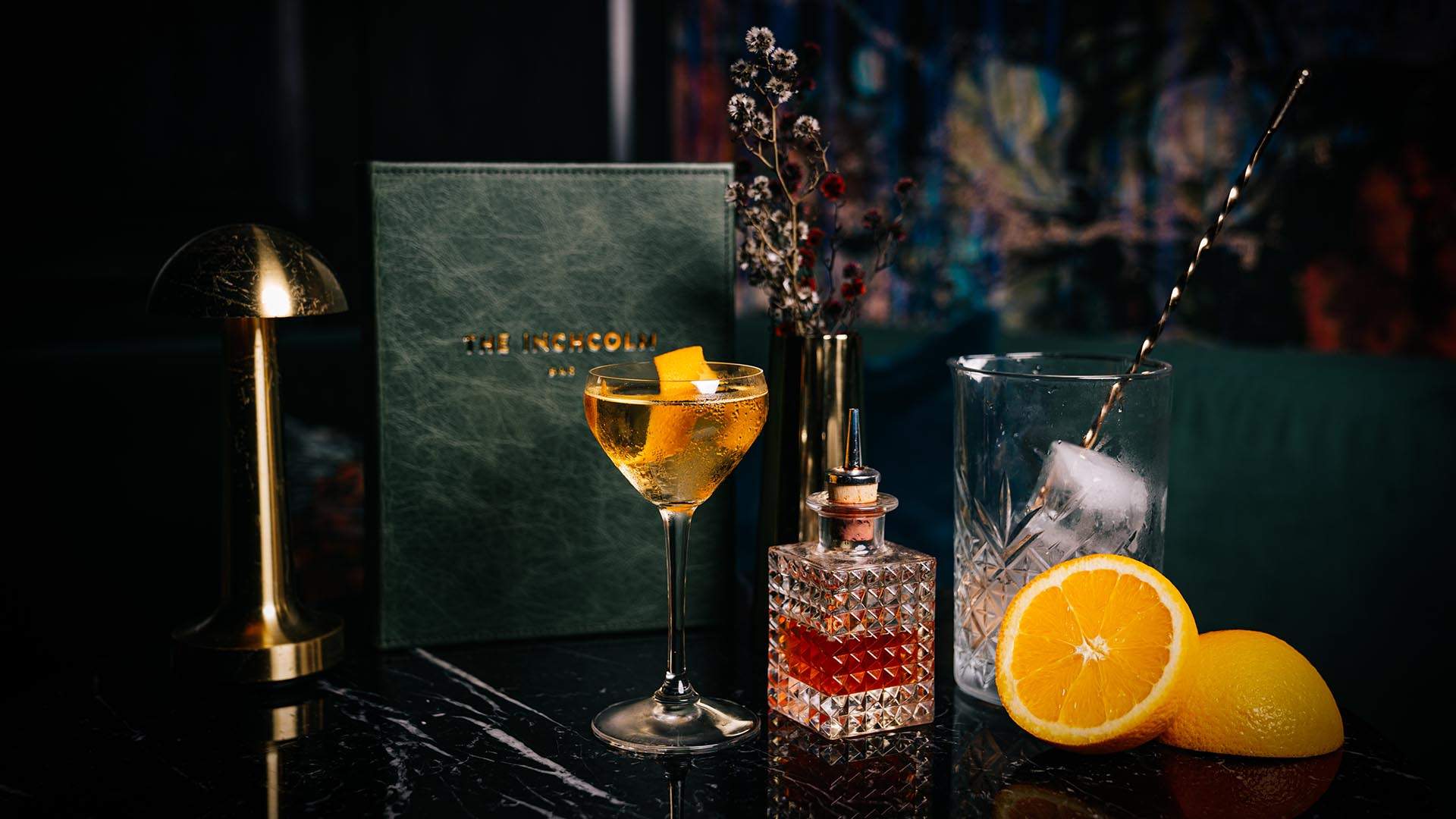 Food options include cheeseboards, charcuterie, escargot, steak tartare, caviar and oysters to nibble on — plus steak frites, gnocchi, southern fried chicken and burgers for something more substantial. Three kinds of toasties, including one with three cheeses, are also on offer, as is tiramisu, mud cake and creme caramel for dessert.
If you're after something to drink other than martinis, the wine list spans seven pages, while the spirits offering runs over five.
And, if you'd like to combine your visit with an overnight stay, The Inchcolm by Ovolo is dog-friendly, and features a complimentary sweets bar.
Published on July 05, 2021 by Sarah Ward