FOOD & DRINK
The Revamped Bonny View Hotel Is Brisbane's New Home of Parmi Hot Dogs
The Bald Hills' pub has had a facelift — as has its menu.
The Revamped Bonny View Hotel Is Brisbane's New Home of Parmi Hot Dogs
The Bald Hills' pub has had a facelift — as has its menu.
The humble parmigiana is a pub staple, and for a very good reason. When you're cooking up crumbed schnitzel, slathering it in a tomato-heavy sauce and topping it with cheese, it's very hard to go wrong. So, as part of its new menu, Bald Hills' Bonny View Hotel serves up classic, Mexican-style (with jalapeños, guacamole, pico de gallo and sour cream) and Aussie (with bacon, beetroot relish and slaw) varieties.
Relaunching after a $1.3 million renovation, the northside site also boasts something else on its food lineup. Parmigiana fans, meet your new must-try mashup: the parmi hot dog. Which is exactly the Frankenstein's monster of a dish that it sounds like. You'll tuck into a crumbed chicken sausage on a hotdog bun, with said banger topped with napoli sauce, bacon and liquid cheese.
Cheeseburger spring rolls, wagyu brisket croquettes, fish pies, chicken kievs, steaks, baked half-shell scallops, pulled chicken tacos and salmon fillets are also on the gastropub-esque menu; however, let's face it, those parmi hot dogs are the main attraction. Australian Venue Co, the hospitality outfit behind Bonny View Hotel, clearly recognise this  — with 150 freebies being given away over the pub's relaunch weekend from Friday, August 21–Sunday, August 23.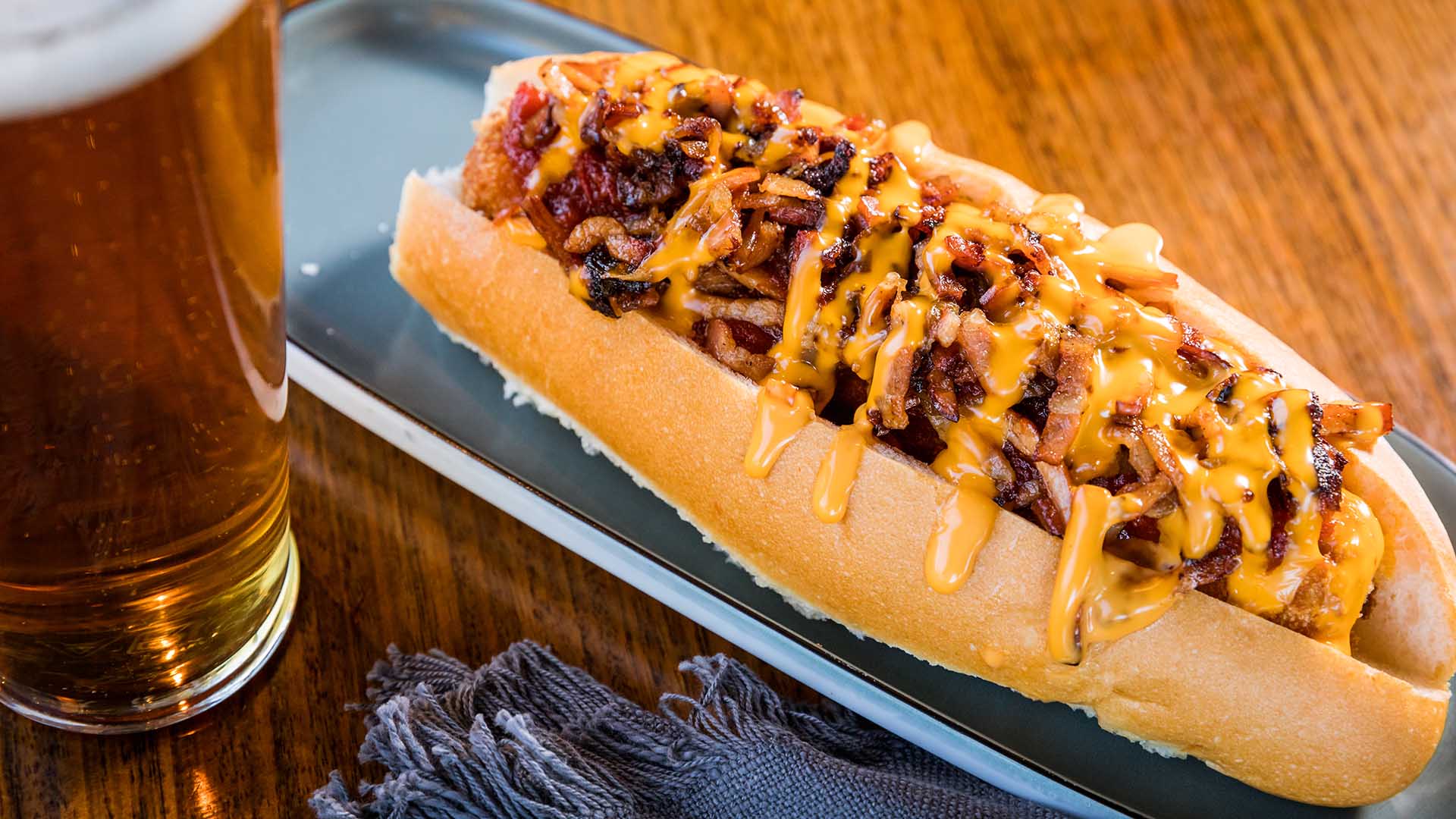 If you're just keen to check out the venue's new look, it'll all be unveiled on Thursday, August 20, with the 85-year-old location undergoing quite the facelift. As overseen by Brisbane architects Push, every space inside and out has had a revamp, from the front bar and indoor dining area to the outside bistro and covered deck.
And, while parmi hot dogs are the big ticket item, they're not the only kind of dogs that Bonny View Hotel is interested in. Bring your pooch along and you'll be able to sit in the woofer-friendly outdoor area and nab them some puppy snacks, too.
Find the Bonny View Hotel at 2077 Gympie Road, Bald Hills, open Monday–Saturday from 10am–4am and Sunday from 10am– 1.30am — and head by from Thursday, August 20 to see its new look and tuck into its new menu.
Images: Cat Thuemling.
Published on August 20, 2020 by Sarah Ward