Beam Is Brisbane's New Purple-Hued E-Bike and E-Scooter Service with Designated Parking Spots
A fleet of 400 e-bikes and 1000 e-scooters are hitting Brisbane's streets from this week.
For more than a decade, hiring a bike in Brisbane meant hopping on a yellow-hued City Cycle, with the golden bicycles easy to spot all throughout the CBD. But that's changing from Thursday, July 22, with Brissie's new e-mobility tenders kicking in.
Brisbanites, get ready to cruise around town on purple and orange vehicles — and do to a little less pedalling. As first announced back in June, two new companies will unleash their own fleets as part of the tenders, including Beam Mobility.
Beam is the latest e-mobility company to set up shop in Brissie, and it's bringing both e-bikes and e-scooters with it. When its fleet starts rolling out this week, it'll include 400 e-bikes and 1000 e-scooters, all with a few features that'll be new to Brisbane. Firstly, while e-bike and e-scooter services are typically dockless, meaning that you can finish your ride wherever you like and just leave your vehicle there, Beam offers designated parking spots. It calls the scheme 'virtual docking', with customers parking the bikes and scooters in predetermined places located by using the company's app.
The aim is to solve a familiar problem. As anyone who has stumbled across an e-bike or e-scooter in an inconvenient location knows, these modes of transport can be left everywhere from roadways to the middle of footpaths. Beam users don't have to park the service's vehicles in its allocated spaces, but it is strongly encouraged — including via a $2 credit for doing the right thing.
When it comes to that other item that's often spotted in weird and awkward places, aka bike helmets, Beam uses bluetooth to lock them down. And, to deal with errant bikes and helmets, it has a team of rangers who are tasked with collecting them.
Beam's Brisbane e-scooter fleet will also be its first with light indicators, so riders can signal to their fellow road and footpath users. The company is also premiering a new 'glide' feature across both its e-scooters and e-bikes, that waives the unlock fee if you take two journeys within 30 minutes.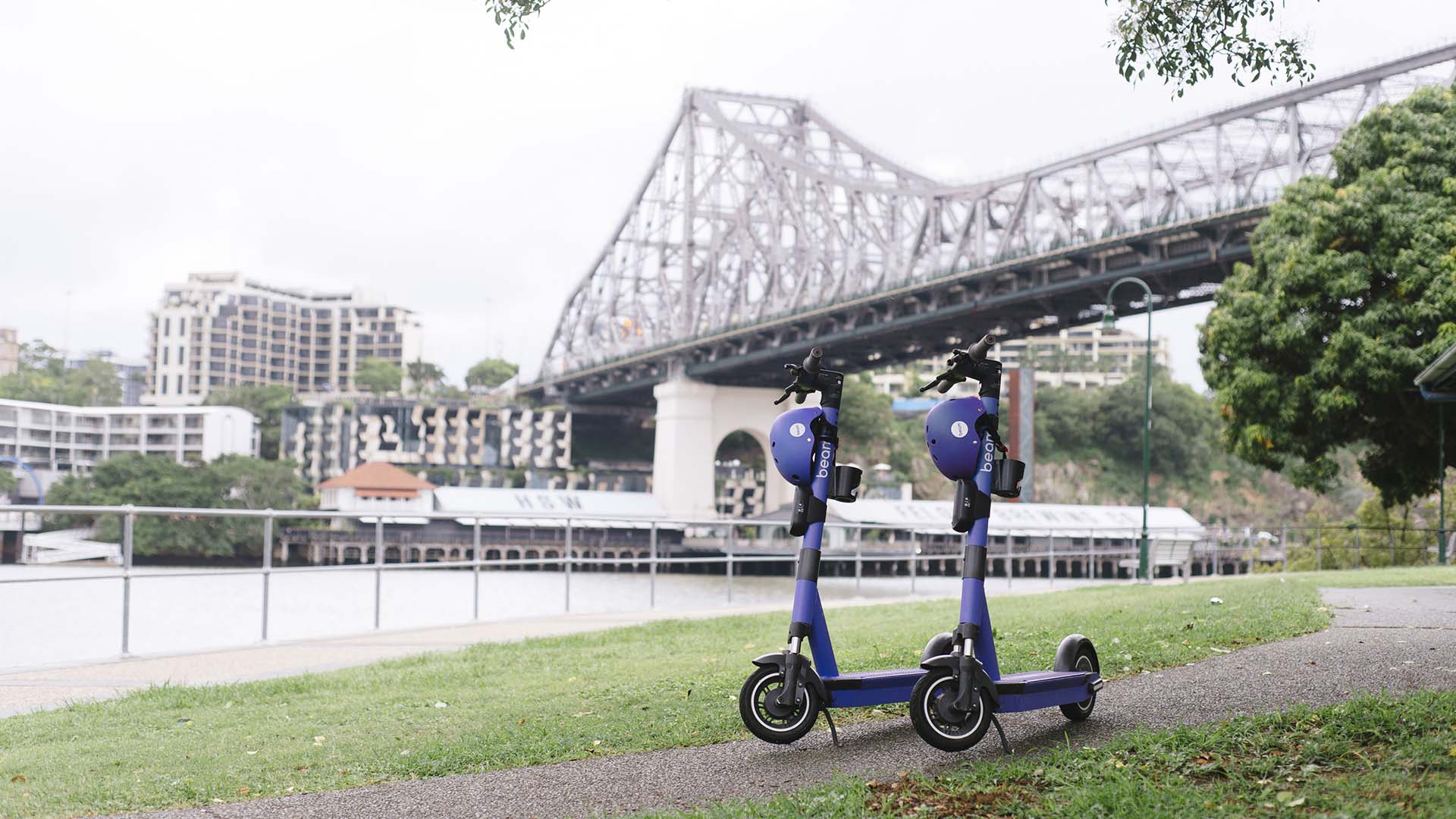 If you're keen to hit the road, Beam will be operating in inner-city Brissie and its surrounding suburbs, so expect to see its vehicles in Fortitude Valley, Bowen Hills, Teneriffe, New Farm, South Bank and St Lucia. They're geofenced to the area, but that still gives you 49 square kilometres of the city to explore via its purple-toned vehicles. And, the company is offering the first 20 minutes of every ride for free for new users, with a $1 unlock fee and a 45-cent per minute rate afterwards.
Beam already operates scooters in Adelaide and Canberra, in Bunbury in Western Australia, and in New Zealand, South Korea and Malaysia as well — and its Apollo e-bikes made their worldwide debut in Sydney in 2020.
It will join Neuron Mobility on Brisbane's streets, with the latter expanding its existing operations by increasing its e-scooter fleet and launching its own e-bike service.
The two companies were awarded new tenders for both e-bikes and e-scooters by Brisbane City Council, with 800 electric bicycles and 2000 electric scooters set to start zooming around town. That means you'll be seeing purple and orange-coloured vehicles aplenty on the city's streets — but no lime. As part of the new contracts, Lime's existing e-scooters will no longer operate in Brisbane.
Beam's e-bikes and e-scooters will start popping up Brisbane's inner city and surrounding suburbs from Thursday, July 22. For more information, head to the company's website.
Concrete Playground Trips
Book unique getaways and adventures dreamed up by our editors