TRAVEL & LEISURE
Southeast Queensland's Scenic Rim Will Soon Be Home to a New Walking Trail with Eco-Friendly Cabins
The 55-kilometre trail will extend across sub-tropical rainforests, eucalypt forests and mountain heathlands.
Tucked between Brisbane, the Gold Coast and Ipswich, and sprawling around the towns of Beaudesert and Boonah, southeast Queensland's Scenic Rim region is home to scenic sights, national parks, mountains and plenty of other reasons to head outdoors. Come October, it'll also boast another attraction luring visitors into the area's the natural surroundings — a 55-kilometre walking trail, complete with eco-cabins.
Dubbed Spicers Scenic Rim Trail, just approved by the Queensland Government and expected to take six months to complete, the new route will start at the existing Spicers Hidden Vale Retreat and venture through Mt Mistake, up to Spicers Peak Nature Reserve and through parts of Main Range National Park. Extending existing walking tracks, it'll trek through sub-tropical rainforests, eucalypt forests and mountain heathlands over five days. And if the frequent name-dropping didn't give it away, the venture is being spearheaded by the Turner family, who founded the Spicers Retreats chain, to the tune of $10 million.
The Turners are building two new sustainable eco-camps along the path, both within Main Range National Park. The first, Spicers Amphitheatre, will feature light coloured cabins perched above the floor of the forest, surrounded by gum trees, decked out with king-sized beds and adjacent to an observation deck. As for the second site, Timber Getters Eco Cabins, the structures will take on a darker hue. Both will include six sleeping pods, two wash pavilions and impressive views.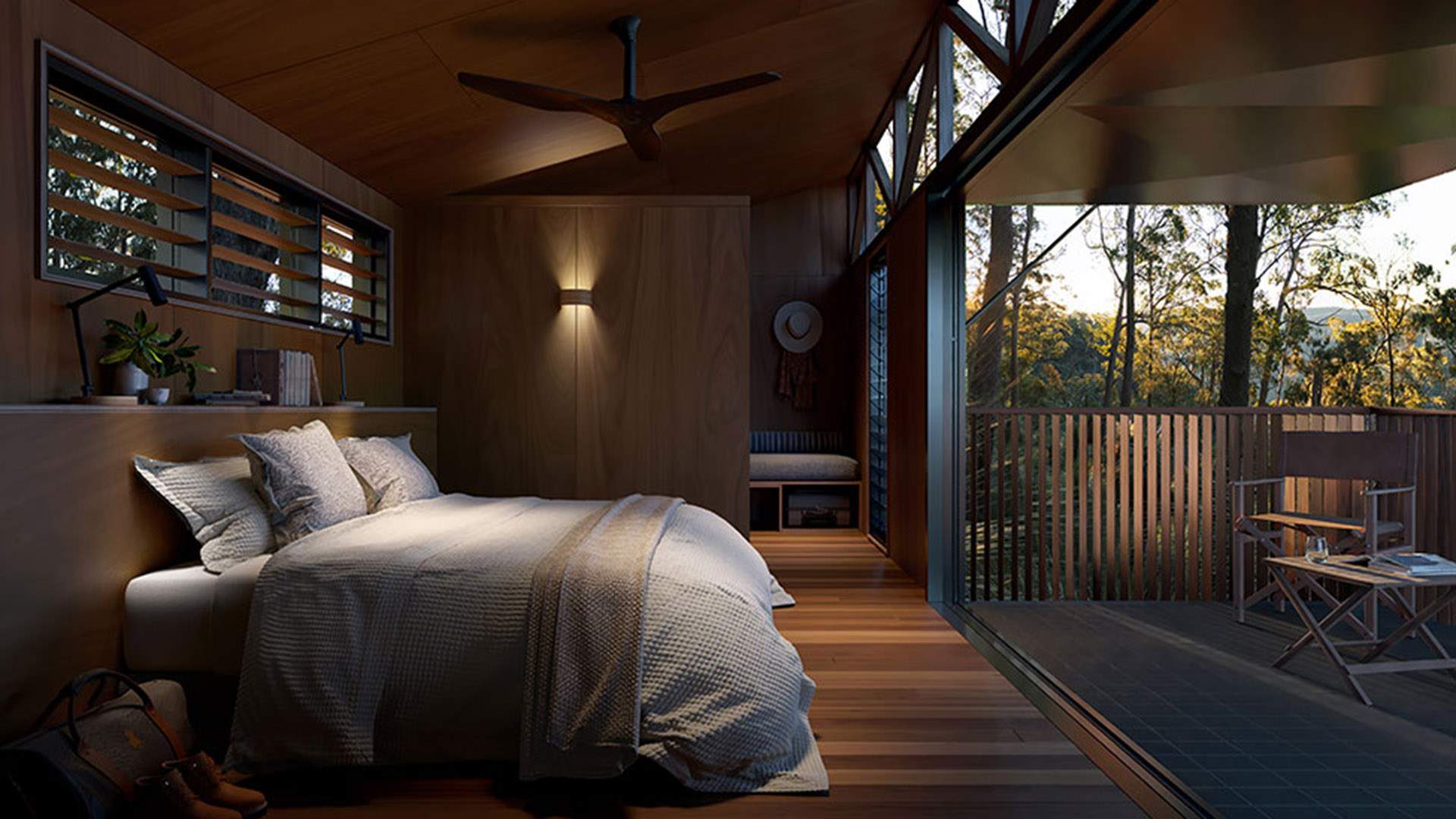 As well as bunking down for the night, the full walk itinerary includes a visit to the Hidden Vale Wildlife Centre, a 4WD trip to a private nature reserve, and hiking along the Scenic Rim's Main Range. Weekly journeys will depart on Sundays from October, costing $3190 per person twin share with all accommodation, meals and beverages included, while the 2020 season will run from March to November.
The venture comes in response to a state initiative to increase ecotourism in Queensland's national parks, with Main Range National Park featuring one of 42 reserves that comprise the Gondwana Rainforests of Australia World Heritage Area (GRAWHA).
For those planning a visit to the area in general, without booking in for the official trail, the project will also include improvements to public camping and hiking facilities.
Spicers Scenic Rim Trail and eco-cabins are slate to open by October, with bookings now open. For more information, visit the trail website.
Images: Spicers Retreats and Spicers Scenic Rim Trail.
Published on February 23, 2019 by Sarah Ward