TRAVEL & LEISURE
The Gold Coast Will Soon Be Home to Australia's Biggest Ocean Park
The 210-hectare space will retain The Spit's existing green space, restore a 4000-square-metre rainforest, and add light rail, improved cycle and walkways, an underwater sculpture garden and a selfie tower.
On the Gold Coast, sun, surf and sand go hand-in-hand with high-rise buildings, busy bars and plenty of theme parks; however one patch of the city still keeps things relatively low-key. While The Spit at Southport is home to Sea World and the Palazzo Versace, it's also filled with parkland, naturally vegetated sand dunes, a huge expanse of beach and the sand spit that gives the area its name — and soon it'll all be part of Australia's biggest ocean park.
Announced by Queensland Premier Annastacia Palaszczuk and expected to take up to a decade to come to fruition, the Gold Coast Ocean Park will span 201 hectares, with 140 hectares earmarked for park activities. The green space north of Sea World is set to retain its current natural splendour while adding other attractions, from a restored 4000-square-metre rainforest by the water to an underwater sculpture garden.
Crucially, existing favourites and features will remain as part of the just-released draft master plan, including the kiosk, marine rescue and boat ramps. As for the extensive sand dunes, they'll benefit from improved cycle and walkways. Splitting the area into seven precincts — the top of The Spit, Wave Break Island, the Federation Walk coastal reserve, Muriel Henchman Park, a village centre, Philip Park and a southern gateway — The Spit is also set to boast light rail through to Sea World, a super yacht marina, a seaside promenade as well as a broadwater boardwalk, an island viewing platform, a waterslide park and a selfie tower.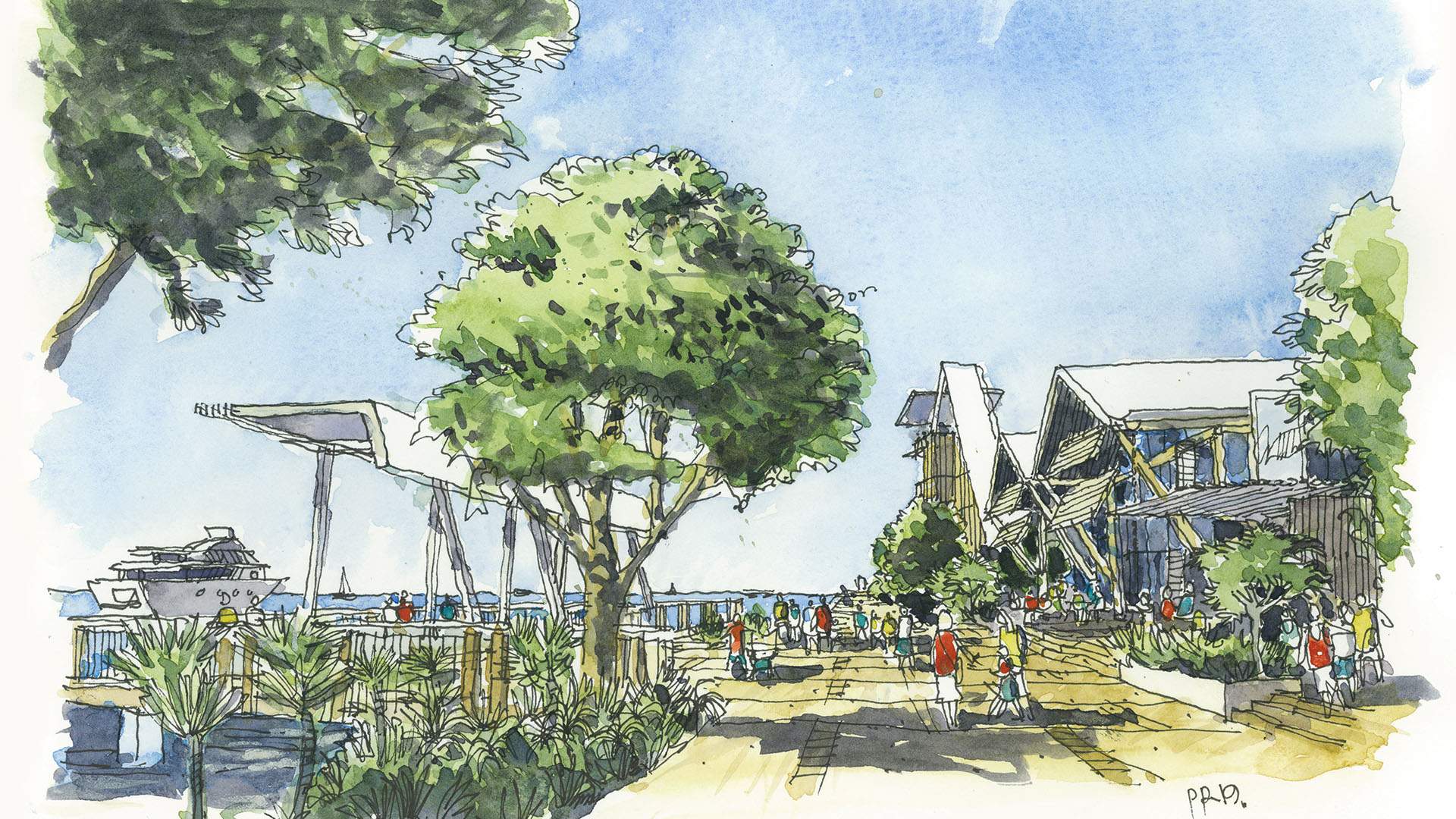 The list of features continues, complete with picnic and event spaces, bird lookouts, an Aboriginal cultural centre, a new resort and a public beach club, with the latter concept floating around in different guises for a while. If that sounds like a lot to fit into one place, that's because the entire space will eclipse Brisbane's South Bank eight times over, the city's Mt Coot-tha Botanic Gardens by two-and-half times, and also prove 12 times bigger than the public areas at Sydney's Barangaroo. On the world front, the Qld Government has its sights set on ranking among global landmarks — with New York's Central Park coming in at 340 hectares and Hyde Park London spanning 142 hectares.
Parts of The Spit — specifically areas around Fisherman's Wharf and Sea — have been earmarked for commercial development, and a cruise ship facility is still a possibility for Philip Park. The potential terminal been long been one of the contentious aspects of The Spit's proposed redevelopment over the years, with the controversial project earning a hefty outcry of opposition.
While the current blueprint is the result of more than 21,100 pieces of feedback and over 2500 folks dropping by consultation sessions according to the government, interested parties can still have their say until 5pm on Sunday, March 31.
For more information about the Gold Coast Ocean Park and the Southport Spit draft master plan can be viewed online.
Published on March 10, 2019 by Sarah Ward