The World's Tallest Indoor Waterfall Is Now Open Inside Singapore's Changi Airport
There's also a five-storey garden, complete with walking trails — and bouncing sky nets, a hedge maze and a mirror maze to come.
Airports are a necessary part of the international travel experience. They're hardly most people's favourite place or anyone's ultimate destination, but you can't fly overseas without visiting them. Next time you're jetting abroad, however, you might want to add a visit to Singapore's Changi Airport to your trip. Nothing breaks up a long-haul journey like a 40-metre tall indoor waterfall, after all.
After hosting a short-term immersive Harry Potter-themed world over the Christmas period, the Asian transit point has now launched a new permanent addition — the 137,000-square-metre Jewel Changi complex, under a glass-and-steel dome, that's jam-packed with shops, dining options, greenery, activities and one massive water feature. Designed by Safdie Architects, it takes over ten storeys, including five above the ground and five below, as part of the airport's terminal one expansion project.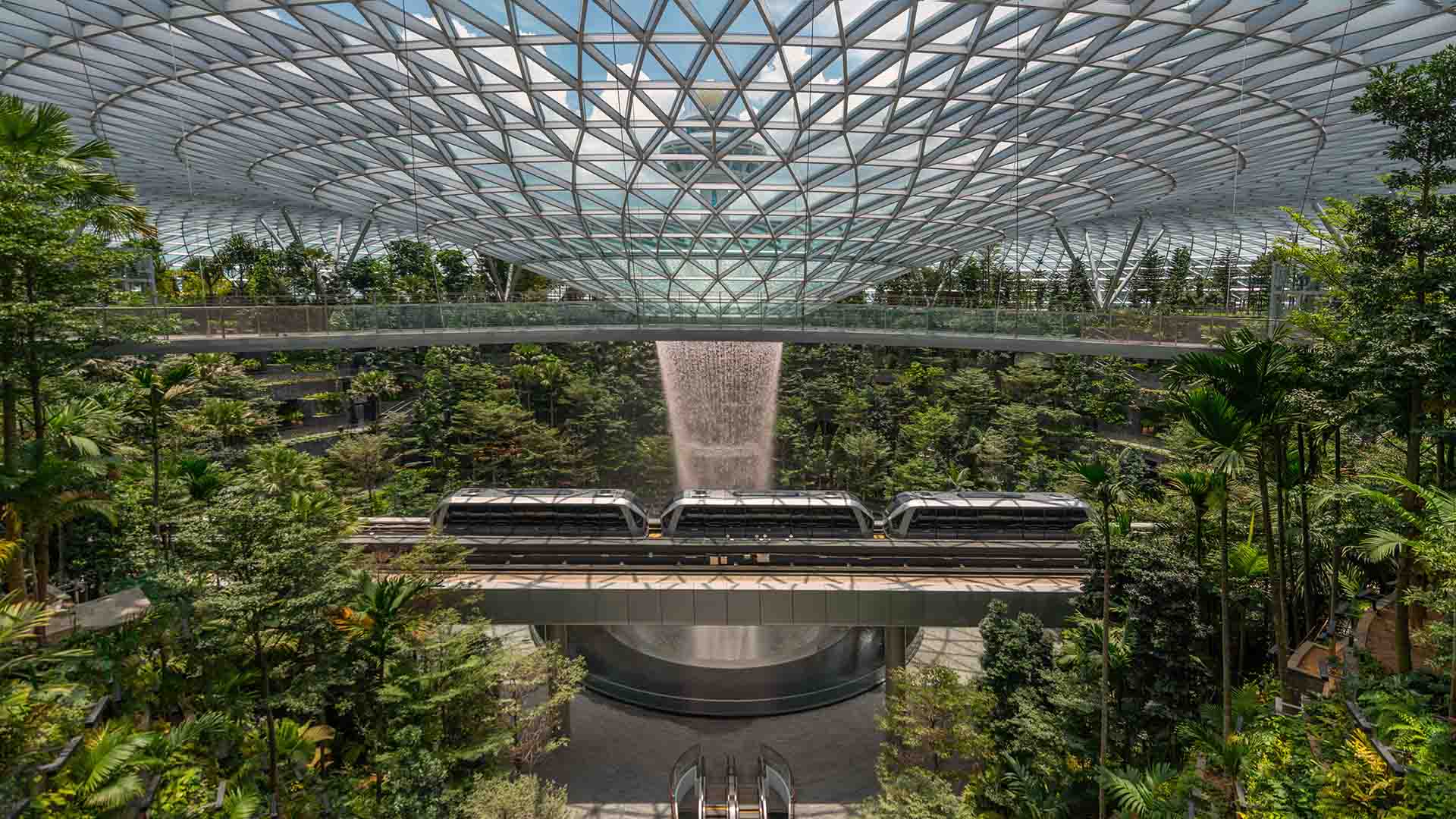 If it's the cascading attraction that you're most interested in, it's called the Rain Vortex. As the name suggests, it uses water collected from above. Running from 8am–12.30am, it's also the world's tallest indoor waterfall, and also provides the backdrop for a light show.
Surrounding the Rain Vortex is the Shiseido Forest Valley, which is home to over 2000 trees and palms, as well as more than 100,000 shrubs, all across five storeys. To allow visitors to really soak in the natural splendour, the manicured garden features a number of walking trails that take around half an hour each to complete — and they're open 24/7.
Although the waterfall and garden have been welcoming travellers since Wednesday, April 17 — as has Jewel Changi in general, its new onsite IMAX theatre and YOTELAIR Hotel, plus Nike, Marks & Spencer, Muji, Zara and Uniqlo stores as part of 280 retailers and eateries overall — there's also more to come. From June 10, the site will mark the opening of its fifth-level Canopy Park, which'll bring with it a heap more adventurous activities.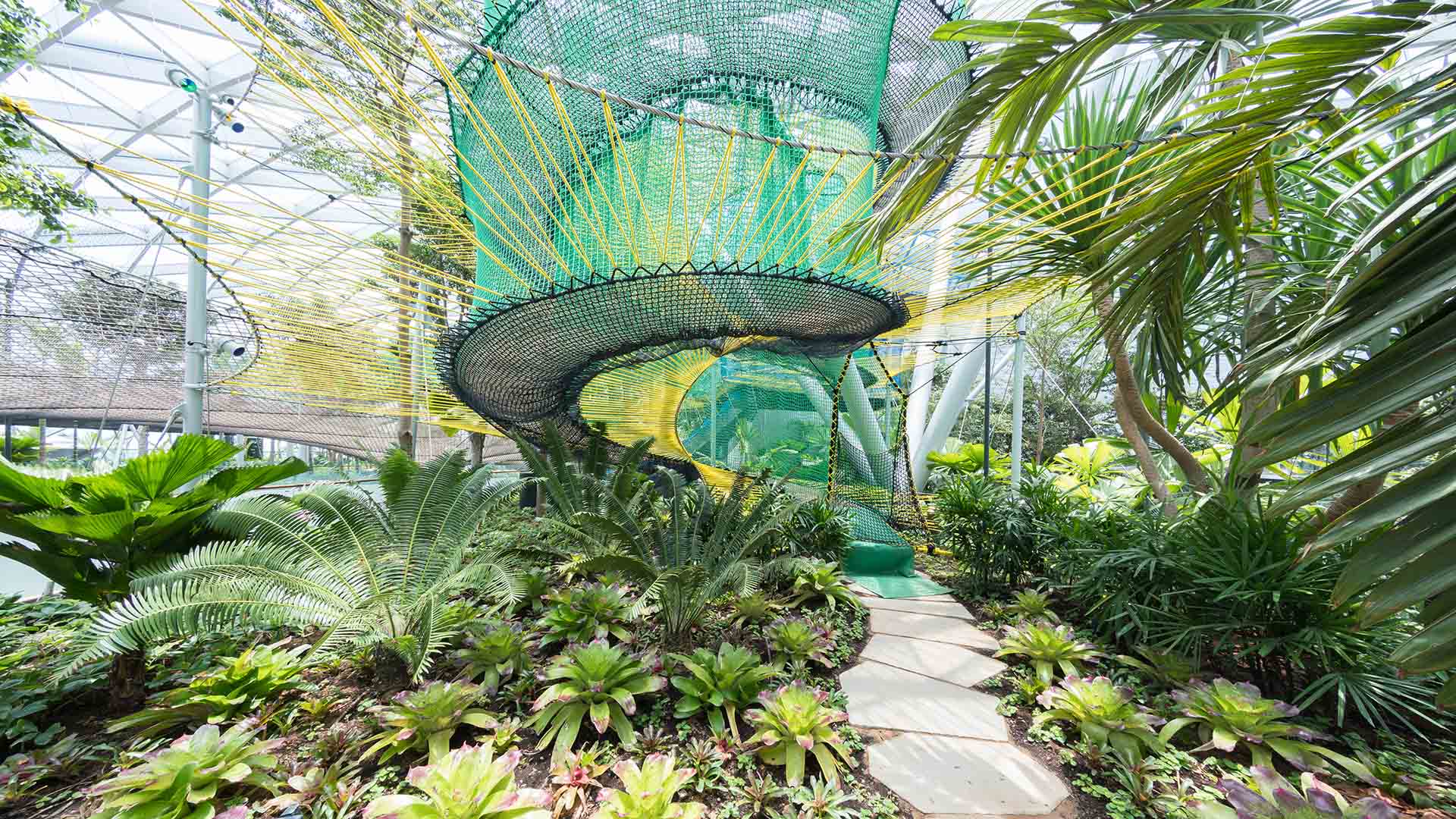 Specifically, visitors will be able to walk along a bridge suspended 23 metres above the ground, and even see through the glass floor to the garden below. You'll also be able to bounce along a 250-metre span of sky nets, wander through both a hedge maze and a mirror maze, and slip down the slide-filled sculptural playground.
Forget just killing time on a layover, searching for a phone charger or suffering in uncomfortable chairs while you're waiting for your flight home. Here, you might have to remind yourself that you're actually at an airport.
For further details, visit the Jewel Changi Airport website.
Concrete Playground Trips
Book unique getaways and adventures dreamed up by our editors