TRAVEL & LEISURE
Undersea Putt & Play Is Redcliffe's New Underwater-Themed 18-Hole Mini Golf Course
Putt your way past sharks, whales and pirates, then hit up the games arcade, cafe or bar.
You've putted your way around Holey Moley's neon-lit themed mini golf greens at its two Brisbane venues. When the most festive time of the year rolls around, you've tap, tap, tapped through Victoria Park's Christmas-adorned site. And, when it stopped by the city, you swung a club at Pixar Putt as well. But one thing even the most enthusiastic Brisbane mini golf fan hasn't done is head to Redcliffe and channel your inner Happy Gilmore on an underwater-inspired 18-hole course — until now.
Open since Thursday, November 12 but officially launching on Saturday, November 14 at Bluewater Shopping Centre, Undersea Putt & Play features everything from sharks and fish hanging above the course to turtles and pirates scattered among the greens. Some holes are decked out in glowing hues, like you're in the deepest parts of the ocean, while others have tropical backdrops. You'll enter through the jaws of a dunkleosteus, an extinct ancient fish that grew up to eight metres long, and you'll also spot squid, jellyfish, whales, turtles, stingrays, mermaids and treasure chests (all fake, of course).
It's all family friendly, so expect to have company of all ages. That's the type of game that mini golf is, after all. The same applies to the arcade that's also part of Undersea Putt & Play — if you've ever wondered what Timezone would be like if gropers and crocodiles were part of the decor.
Open seven days a week, Undersea Putt & Play also has a cafe and bar onsite for pre-golf snacks and post-match celebrations.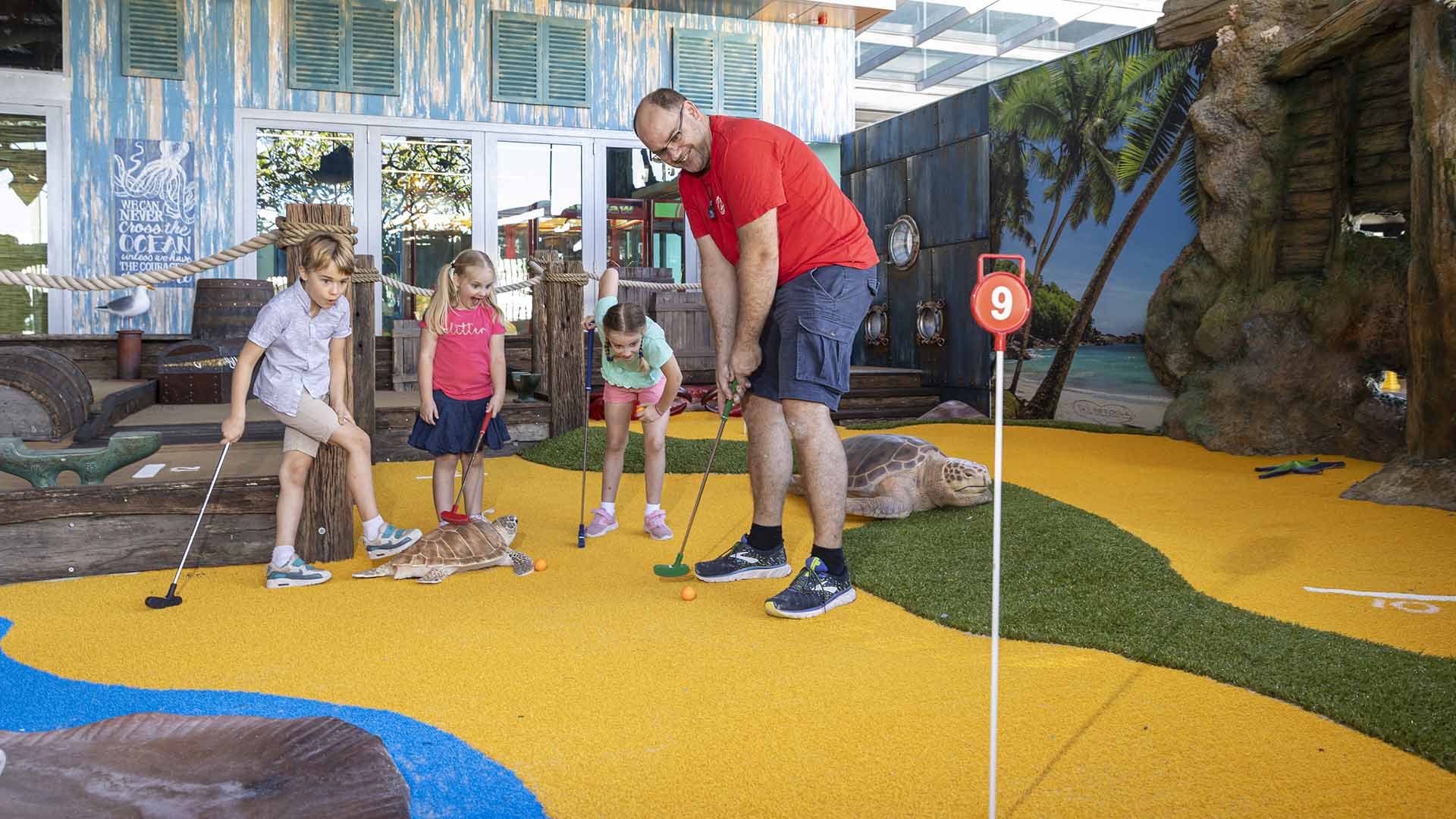 Find Undersea Putt & Play opens at Shops 2-5 Bluewater Square Shopping Centre, 20 Anzac Avenue, Redcliffe — open from 10am–8pm Monday–Saturday and 10am–6pm Sunday.
Published on November 13, 2020 by Sarah Ward