Eleven Fantastically Different Events Calling You to Queensland This Year
These wonderfully weird events are taking over Queensland's outback, coastlines and small regional towns in 2023.
in partnership with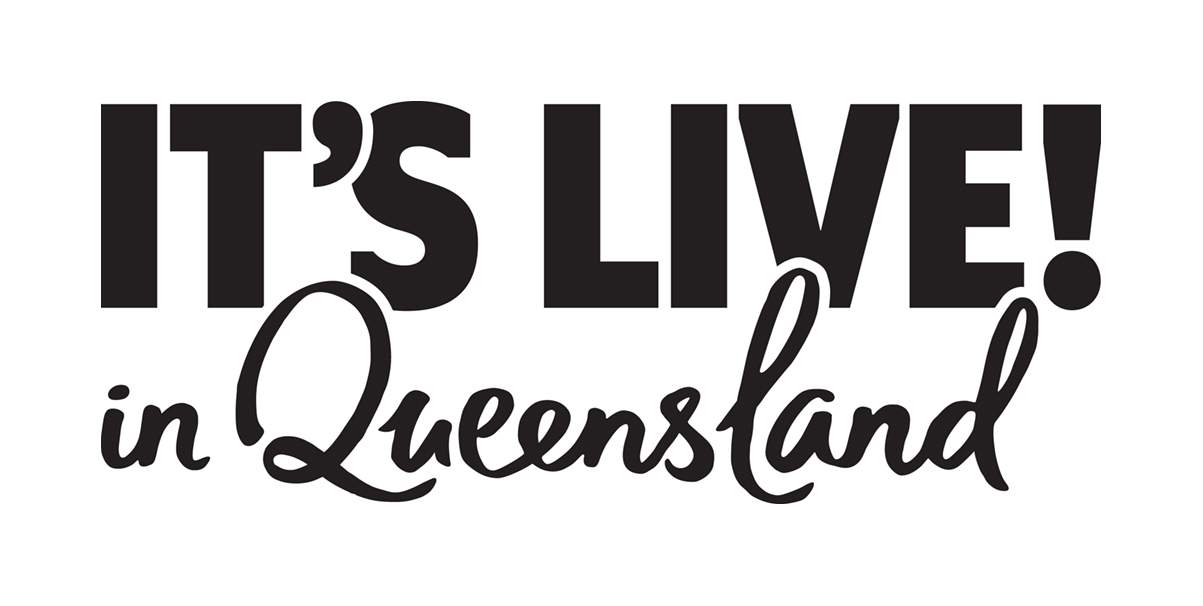 All you holiday-planners, Queensland is calling with a long list of weird and wonderful things to do in 2023 — and it's time you knew about them. Wanting to experience something a little bit different? Longing for events that can't be found anywhere else? Listen up.
In 2023, the Sunshine State is celebrating everything from rock music in the desert to Mary Poppins, Elvis and medieval times — there's even a festival that celebrates both jazz and jumpers (yep, that's a thing).
So, together with Queensland, we've rounded up 11 fantastically different events that need to be added to your 2023 travel diary, stat. Plus, while you're there having a memorable time, make a real trip out of it and explore some of Queensland's regional areas — or scoot back to Brisbane and dive deeper into the thriving arts scene.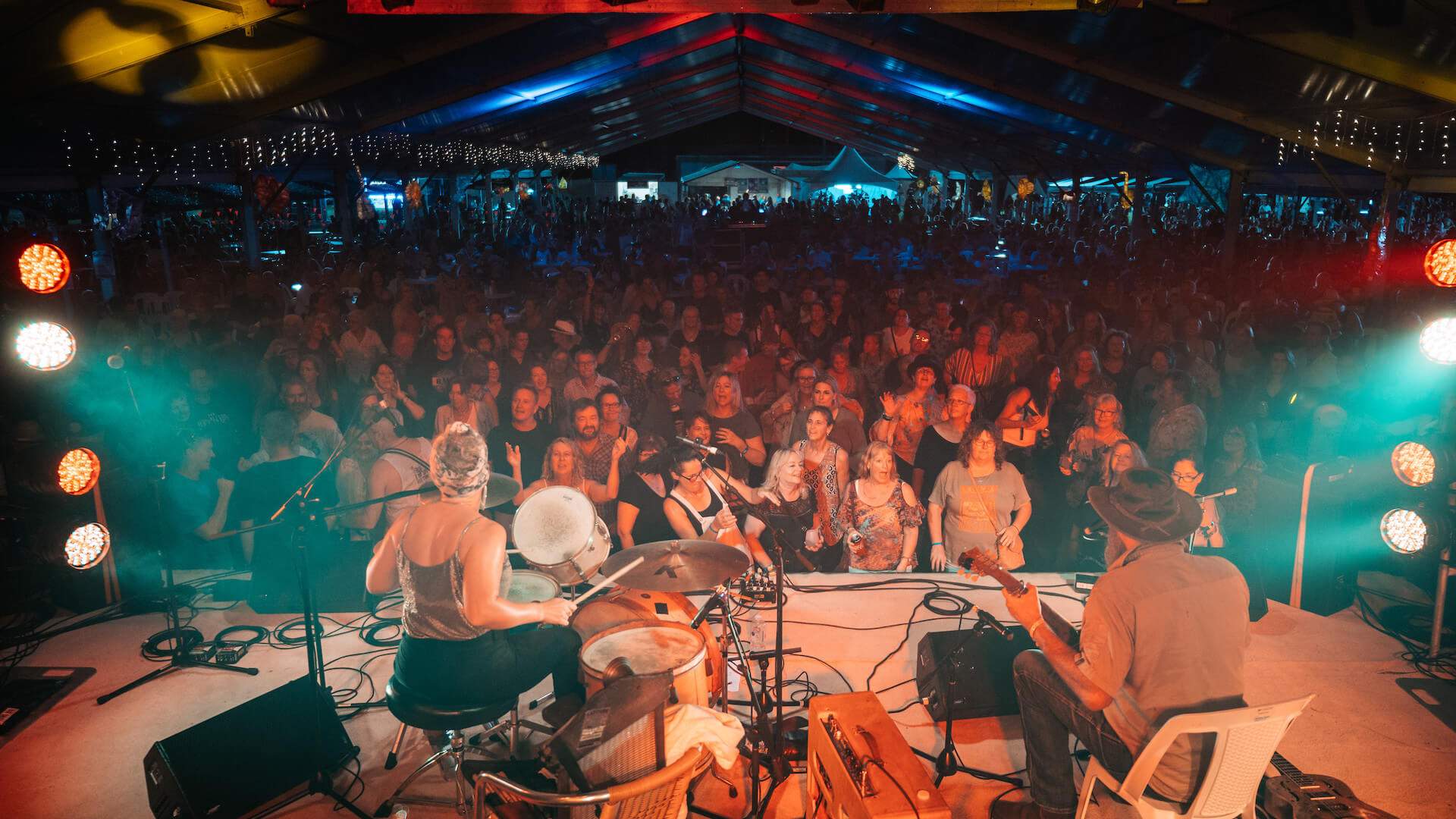 AGNES BLUES, ROOTS & ROCK FESTIVAL, 1770
The town of 1770, at the Great Barrier Reef's southernmost tip, will host the eighth Agnes Blues, Roots & Rocks Festival from Friday, February 17 till Sunday, February 19. The three days will be packed full of music (courtesy of over 30 bands, including headliner Busby Marou), stand-out food from local vendors and free-flowing bevs.
Discovering new music or soaking up your faves, dancing away your Queensland days — in a numerically named township — is a terrific way to live. You could be leaving with new skills as well, with a range of workshops run by performers. All this takes place on a stunning stretch of Queensland's coast — so be sure to spend a few extra days swimming and surfing in the area.
Agnes Blues, Roots & Rocks Festival, Friday, February 17 till Sunday, February 19, 2023
FESTIVAL OF OUTBACK OPERA, OUTBACK QUEENSLAND
Opera in the outback? Delightfully different. Outdoor concerts under star-filled skies, pop-up performances taking over main streets and panel discussions in local parks — these are the experiences that made the 2022 Festival of Outback Opera a huge success. And Opera Queensland is bringing it back for its third year from Friday, May 19 until Monday, May 22.
Forming part of this year's Queensland Music Trails, the festival will be running in the towns of Winton and Longreach, offering visitors the opportunity to interact with a diverse group of local and national artists all while experiencing some proper outback culture.
Festival of Outback Opera, Friday, May 19 till Monday, May 22, 2023
COOLY ROCKS ON FESTIVAL, GOLD COAST
From Wednesday, June 7 until Sunday, June 11, Coolangatta will go back in time with this old school rock 'n' roll, swing and rockabilly festival. Expect this coastal Queensland town to welcome all who are ready to rock out to classic tunes, appreciators of retro motors and countless hip-shaking groovers making moves towards the preliminary round of the Ultimate Elvis Tribute Artist Contest — with the winner heading straight to Memphis to compete in Elvis Week. It's a must-see part of the Cooly Rocks On Festival.
But that ain't all. The festival also includes a pin-up pageant celebrating the days of rockabilly fashion and beauty, a 1940s-themed Harvest Moon Swing Ball and a huge selection of vintage cars for the motoring enthusiasts to gawk at. Either come to dress up and join the festival-goers who attend religiously each and every year, or come as you are and watch on as fun-loving fanatics do their very own version of larping.
Cooly Rocks On Festival, Wednesday, June 7 till Sunday, June 11, 2023
BIRDSVILLE BIG RED BASH, OUTBACK QUEENSLAND
This music festival is kind of like an Australian version of Burning Man — but significantly more family friendly. People head to the Simpson Desert, dressed up in their brightest and wackiest costumes, to party along to the sweet sounds of Aussie music legends. This year, Icehouse is headlining, with Pete Murray, Human Nature and the Hoodoo Gurus taking to the big stage as well.
Hire an RV with your mates or bring your own camping gear along to the Birdsville Big Red Bash from Tuesday, July 4 till Thursday, July 6. Along with the stellar sounds, you can take part in a bunch of super quirky activities too. From a colourful drag race (a literal running race) along steep sand dunes to a fashion show for pooches, air guitar championship and camel rides, this is one fun-filled desert party.
Birdsville Big Red Bash, Tuesday, July 4 till Thursday, July 6, 2023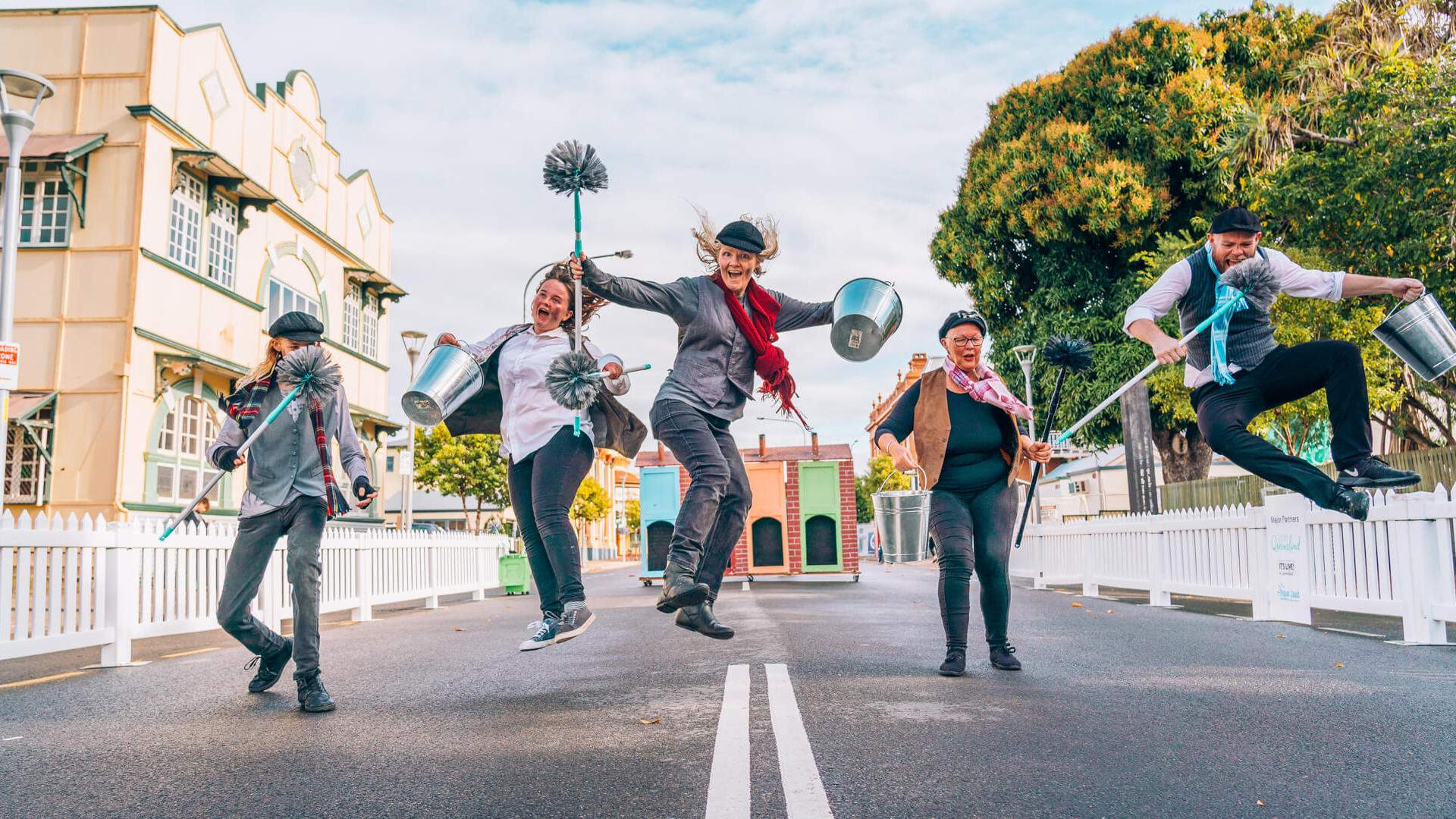 MARY POPPINS FESTIVAL, FRASER COAST
Each year, lovers of all things Mary Poppins descend upon Maryborough's Portside Precinct. Dressing up in their best Mary Poppins garb, they gather to celebrate Pamela Lyndon Travers — the author of the classic tale — who was born in the town. (We bet you didn't know that nugget of Australian trivia!)
The most hardcore attendees dress up in their very best outfits to take part in The Great Nanny Race (where competitors attempt to reach the finish line first with their baby doll still safely in its pram), the Chimney Sweep Challenge (a race to guide a balloon up a chimney before demonstration of the best chimney-sweep jump) and the Costume Competition. But, you don't need to go all in at the Mary Poppins Festival — many come to watch the beautifully bizarre activities and wander around this part of the Fraser Coast, enjoying sidewalk performers, pop-up art installations and great local grub. It's a whole lot of wholesome fun.
Mary Poppins Festival, Sunday, July 3, 2023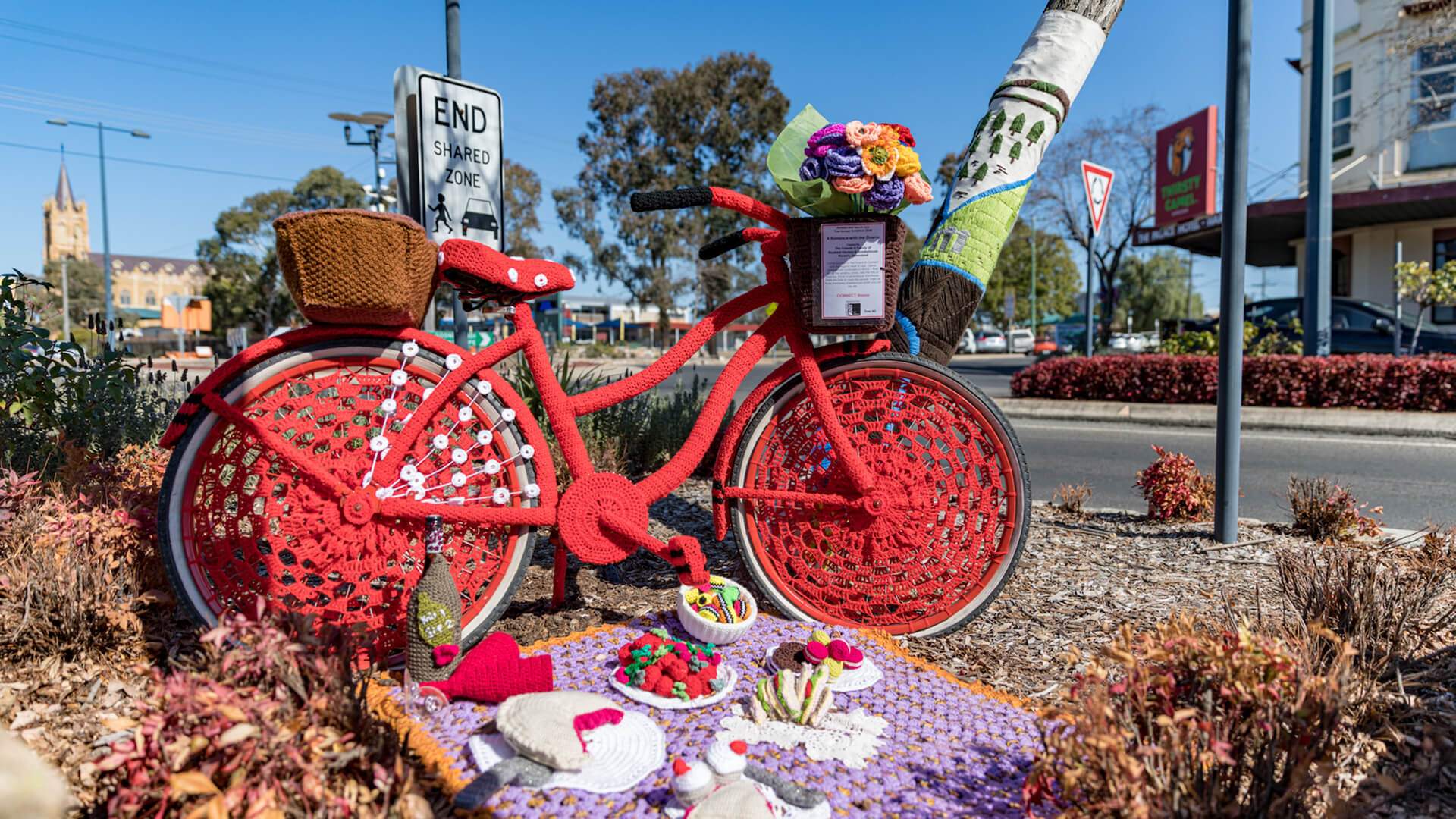 JUMPERS & JAZZ IN JULY, SOUTHERN QUEENSLAND COUNTRY
'Jumpers' on trees and jazz — who knew such an unlikely pairing could be so popular? Back in 2004, the Jumpers & Jazz in July festival was created in response to a streetscaping project by Warwick Art Gallery. The idea was simple: get the community together to enliven the wintery locale by knitting some jumpers to put on leafless trees and then play some jazz. And now? The festival is massive. From Thursday, July 20 to Sunday, July 30, the population of Warwick will almost quadruple in size as visitors descend to get in on the arty merriment.
And as it's grown, so has the lineup of events. There's the usual — trees in the town centre covered in brightly hued yarn and live jazz music performances all over town — but there are also art exhibitions, markets, workshops, a vintage car show and heaps of pop-up food and drink stalls. It's a really unique way to brighten up your winter.
Jumpers & Jazz in July, Thursday, July 20 till Sunday, July 30, 2023
ABBEY MEDIEVAL FESTIVAL, BRISBANE
Live your best A Knight's Tale fantasy at the 2023 Abbey Medieval Festival on Saturday, July 8 and Sunday, July 9. Yes, it is super geeky, but that's the fun of it all. Geeks are cool. Get on board. Join the club. Dress up in your finest ye-olde 'fits and go watch some jousting or shoot your shot in an archery competition.
As you explore the Abbeystowe grounds you may also happen across actors playing Vikings and Turkish oil wrestlers while a string of food stalls sling medieval-themed food — think venison pies and other delights. You can even rest up at The Stag Inn to refuel while you sip mead or cider.
Abbey Medieval Festival, Saturday, July 8 and Sunday, July 9, 2023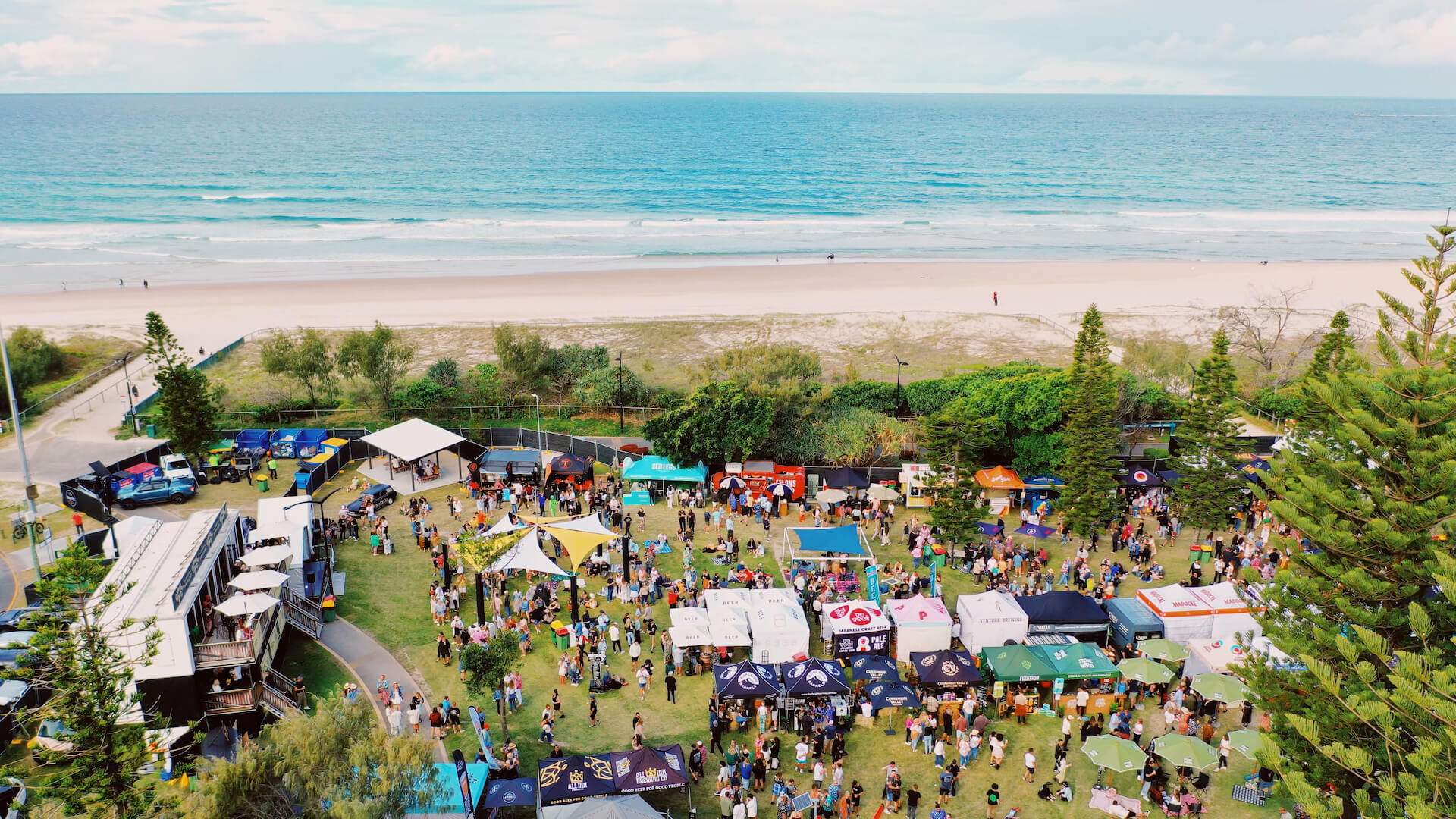 CRAFTED BEER & CIDER FESTIVAL, GOLD COAST
Beer and cider fans best get around the beachside Crafted Festival in September. While the exact dates are yet to be announced — keep your eyes peeled in the coming months — in 2022, more than 50 of Australia's top craft brewers landed on the Gold Coast's Broadbeach, with a whopping 250-plus sips on pour. (This lineup included wine, spirits and cocktails for those who needed a break from the hopsy bevs.)
If it's anything like last year, you'll be tasting all your favourite brews in the ocean air, with live music in your ears and stacks of local food stalls dishing out delicious bites to eat.
Crafted Beer & Cider Festival, August 2023

CAPRICON POP CULTURE CONVENTION, ROCKHAMPTON
Cosplayers, this one is for you. CapriCon Pop Culture Convention is a yearly event that celebrates comics, collectibles, anime, medieval larping, gaming and steampunk culture in Queensland's Rockhampton — and it's back for one day only on Saturday, September 2, 2023.
In years gone by, there have been Star Wars lightsaber classes, cartoon and manga drawing workshops and monumental LEGO competitions (for all ages). There are also awards for those with the most spectacular costumes — so come dressed to impress.
CapriCon Pop Culture Convention, Saturday, September 2, 2023
SWELL SCULPTURE FESTIVAL, GOLD COAST
You'll be hard pressed to find an Australian outdoor art exhibition in more breathtaking surrounds. From Friday, September 8 till Sunday, September 17, over 70 large-scale contemporary sculptures will pop up along the picturesque Currumbin Beach while several other parts of the Gold Coast host a series of art exhibits — a huge (and fantastically arty) undertaking.
But Queensland's biggest outdoor art festival isn't just about the artworks themselves. Throughout SWELL Sculpture Festival, there will be guided twilight walks around the installations, live music performances, comedy shows, masterclasses and talks. Be sure to stick around to get the full experience.
SWELL Sculpture Festival, Friday, September 8 till Sunday, 17 September, 2023

MITCHELL CREEK ROCK 'N' BLUES FEST, SUNSHINE COAST
This annual music festival in the Noosa Hinterland brings a wide range of Aussies together — that all have a common love for classic rock 'n' roll and blues. For three days and nights, over 140 local bands hit the stages to perform to excited crowds. But, it's super laidback, with visitors drinking and eating the day away at their campsites or hitting up pop-up markets and vintage car shows.
A diverse selection of food vendors are also at the Mitchell Creek Rock 'n' Blues Fest throughout the festival — from Friday, September 15 right up until the last tent packs up on Sunday, September 17. The event organisers are also known for making this festival — its amenities, stages and camping grounds — accessible for those with disabilities. They even have an area for those who come camping with their dogs — everyone's welcome at this party.
Mitchell Creek Rock 'n' Blues Fest, Friday, September 15 till Sunday, September 17, 2023
To explore more arts and culture events taking over Queensland in 2023, head to the website.
Top image: Ravel, Alejandro Propato's Permanent Sunrise at SWELL Sculpture Festival
Introducing Concrete Playground Trips
Book unique getaways and adventures dreamed up by our editors