TRAVEL & LEISURE
Environmental Protesters Are Expected to Shut Down Brisbane's CBD This Morning
The Extinction Rebellion Australia protest will disrupt peak-hour traffic and could continue until after lunch.
Protestors are taking to Brisbane's streets this morning, marching in the city to advocate for action on climate change. The latest rally organised by Extinction Rebellion Australia (ERA), it started outside Parliament House at 7am and is expected to congregate at 1 William Street between 8am–2pm.
While those two sites are virtually next to each other, it's anticipated that the event will have a considerable flow-on effect throughout the CBD and across to South Brisbane. As all Brisbanites know, if you block any part of the inner-city's roads, traffic tends to bank up throughout town.
At Parliament House, the protestors will present their demands. When the group moves to William Street, setting up outside the towering skyscraper that's home to many government departments, it'll settle in for a day of speeches, music and food. Since grabbing news headlines when a number of activists glued themselves to a crossing in the middle of Queen Street back in June to oppose the approval of Queensland's controversial Adani coal mine, ERA has been frequently staging events and roadblocks like these around the city.
Traffic-wise, both Queensland Police and Translink are advising anyone travelling into the CBD to expect disruptions and delays. At the time of writing, William Street is closed between Margaret Street and Alice Street, and only local traffic has been impacted so far.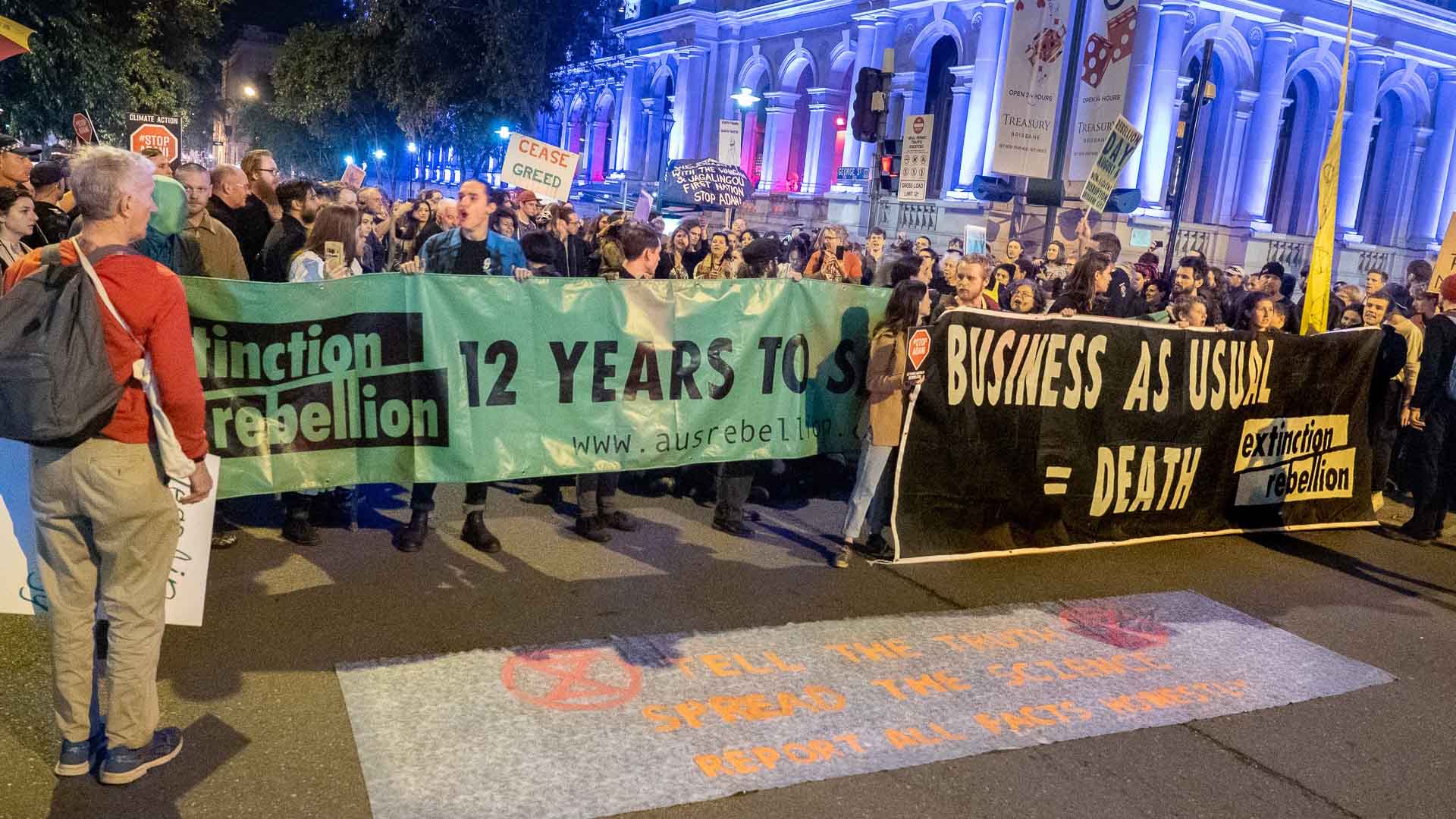 With its ongoing, non-violent climate protests, ERA is aiming to draw attention to the rapidly changing state of the planet's environment. "We accept that this disruption will affect peoples [sic] day to day lives as our Rebellion must happen to disrupt [...] a system that is accelerating the existential threat to all of earths species, including humans," the group advises in the Facebook post for today's event.
For public transport and traffic updates throughout the day, keep an eye Qld Traffic Metro and Translink's twitter feeds, as well as Brisbane City Council's Facebook page.
Images: Extinction Rebellion SEQ
Published on August 06, 2019 by Sarah Ward