TRAVEL & LEISURE
Five After-Work Activities to Add a Little More Joy Into Your Working Week
Beat the workday blues with sunset picnics, pub trivia and brew-fuelled yoga sessions.
Five After-Work Activities to Add a Little More Joy Into Your Working Week
Beat the workday blues with sunset picnics, pub trivia and brew-fuelled yoga sessions.
in partnership with

No doubt you're ready to a big, fat goodbye to 2020. We agree, it hasn't been the best year and, for many, it's changed up our day-to-days a lot. With a few months left till we can say sayonara, though, we're trying to make the most of the card that's been dealt to us. How? Baby steps, which we reckon starts with the workweek — however you define that these days. Whether you're back in the office or WFH, let's face it, making it to Friday feels like a bigger feat than ever right now. So, it's important to treat yourself along the way — and we reckon planning some top-notch, after-dark activities is a surefire way of doing so. To help you out, we've teamed up with Oporto to bring you a post-work activity for each working day. Go on, test them out and the weekend will roll around in no time.

MONDAY: CATCH UP WITH MATES OVER SOME KIDULT ACTIVITIES
Everyone knows Mondays are the hardest. They signify the end to the weekend — and you have a whole five days before the next one. So, understandably, you'll want to plan something epic after the clock strikes 5pm. Why not gather up some friends and catch up over a bevvy? All while indulging your inner big kid, no less. Brisbane has plenty of spots where you can combine your quaffing with some quality activities, from giant Jenga to bowling and arcade games. There's circus-themed bar Archie Brothers Cirque Electric if you're keen to race around on dodgem cars, shoot some hoops and go bowling. For arcade games, head to B. Lucky & Sons or retro-style arcade and board game bar Netherworld, both in Fortitude Valley. Or, do as American frat students do and challenge your mates to a spot of digital beer pong or join in a luminous darts session at Brisbane's neon-lit bar iPONG.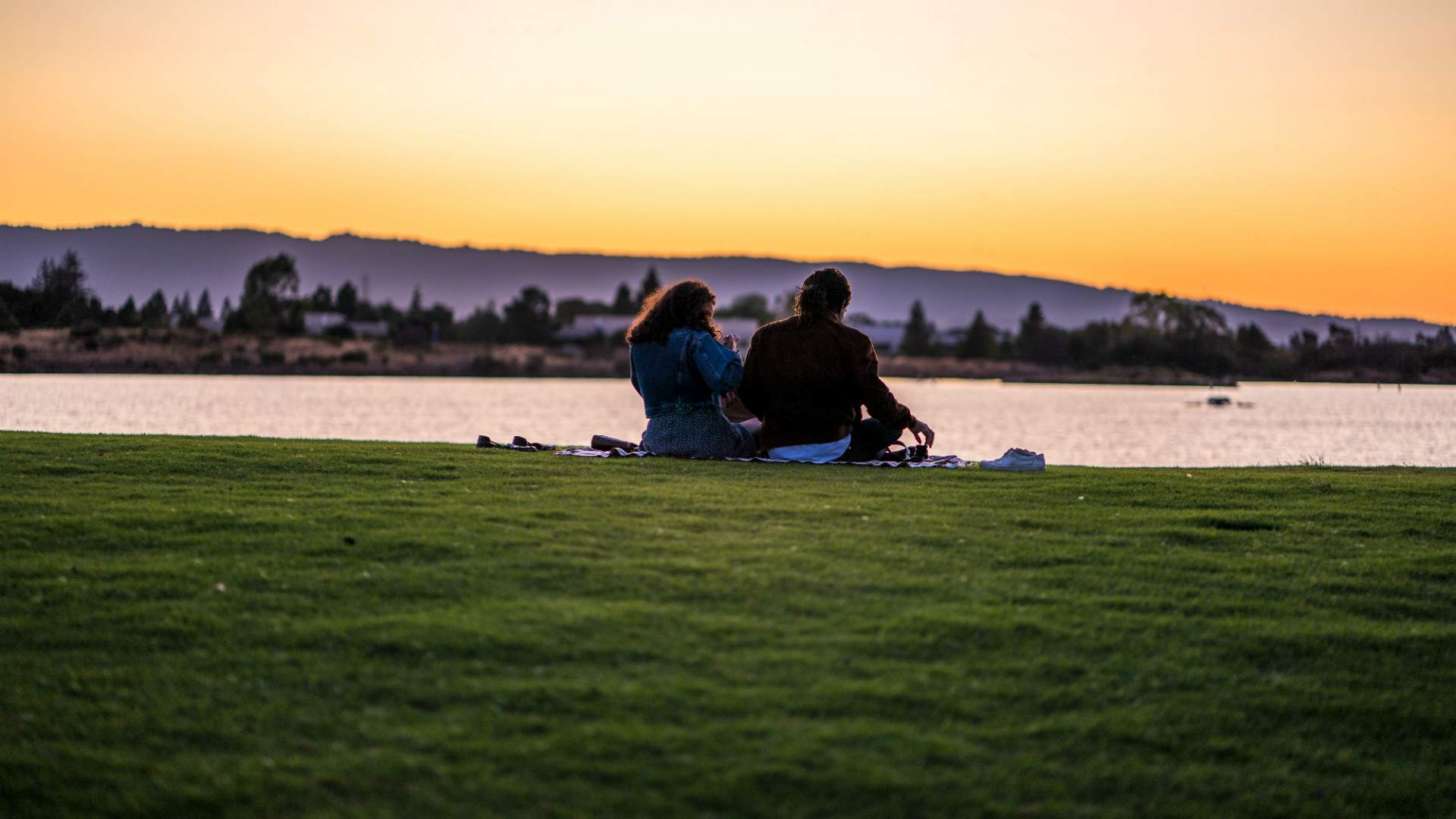 TUESDAY: HAVE A SUNSET PICNIC AND KICK BACK WITH A SNACK
Brisbanites, we're blessed with warm weather pretty much year-round, so being outside when the sun is shining is basically a rite of passage. Now that it's spring, it's time to roll out the picnic rug and kick back to a stunning sunset with your partner in crime, housemate or anyone you like, really. One top spot is Raby Bay, where you can soak up water views as you feast away, or even go in for a pre-feed dip. The bay is also a well-known spot for dog-walking, with a designated off-leash area, so you can bring Rover along for a jaunt. Or, if you're sans pooch, you can pat some of the good boys running past. Of course, you'll need food to make this affair an actual picnic. Nearby, you'll find Oporto, which has just released a new wrap menu. While there's a bunch of tasty wraps to choose from, we'd suggest the Bondi Rappa, which includes freshly grilled chicken breast fillets, lettuce, cheese, mayo and Oporto's legendary chilli sauce. You can thank us later.

WEDNESDAY: GET BENDY AT A BEER-FUELLED YOGA CLASS
It's Wednesday. You're half way there. Kudos. This calls for equal parts celebration and self-care, so make tracks to riverside brewery Felons for its weekly Beer Yoga. Yep, you'll be getting bendy while sipping brews and, frankly, it'll get you out of your mid-week slump. Classes take place from 5pm each week under the Story Bridge, where you'll be working up a sweat — and taking care of your thirst — for 45 minutes. You'll also be spoilt with one of the city's best vantage points, too. It's free to attend; however, these beer-fuelled yoga sessions are mighty popular, so you'll have to register for a spot and BYO mat.

THURSDAY: PUT YOUR KNOWLEDGE TO THE TEST AT PUB TRIVIA
If you're partial to a quiz night at your local, no doubt the global pandemic thew a spanner in the works. But now hospo venues are open once again, with many pubs bringing back their regular trivia nights. So, round up the crew, order a pint and a schnitty, and ready your pens. Fortitude Valley's The Wickham runs trivia every Thursday from 7pm in its leafy beer garden, so you can make it a regular thing — and bring your fur-baby along, too. Otherwise, The Triffid in Newstead lets you put your love for music to the test with its super-popular monthly Not Your Rider event, which occurs on the first Thursday of the month. Be warned, though, getting a spot at this Spicks and Specks-inspired IRL quiz show is not easy, so be sure to book well in advance.


FRIDAY: GET YOUR HANDS DIRTY IN A CHOCOLATE MAKING CLASS
You've made it and, no doubt, it feels glorious. To celebrate: chocolate. We're not saying stuff your face and be done with it — though we're not not saying it — but rather, why not learn how to make the sweet, decadent treat with your own two hands? Local chocolatier New Farm Confectionary runs a range of cocoa-filled workshops, from a quick 90-minute chocolate bar class to its four-hour intensive masterclass, as well as workshops on how to make caramel, marshmallow and honeycomb. But it's Friday, so we're guessing an hour-and-a-half choc class is enough. For $80, you'll be sipping sparkling wine while learning all the tricks of the trade. Don't worry, you get to take it home afterward, too.

Check out Oporto's full Rappa Range here, then make tracks to your closest store — or order online. 
Top image: Felons Brewing Co
Published on October 11, 2020 by Cordelia Williamson