TRAVEL & LEISURE
Five Parks Where You Can Enjoy an Impromptu Burger Picnic
No forward planning required.
in partnership with

Picture this: it's a bright, summery Brisbane day and you're stuck inside your office dreaming of soaking up some vitamin D. Sound familiar? Pack your SPF and hat, because we've compiled a list of parks perfect for a lunchtime siesta or a post-work picnic. The best part is they're all walking distance from takeaway outlets, so you can grab a burger-based feast on route and don't need to worry about prepping any salads. We've partnered with Betty's Burgers & Concrete Co. to bring you this list of five parks within walking distance to one of its restaurants, so you can have an impromptu burger picnic any day or night this week.

BRISBANE CITY BOTANIC GARDENS
Need a cool escape from your shopping trip at Queen Street Mall? Or from work at Queensland University of Technology? Well, pack something to sit on and look no further than the shady oasis of the Brisbane City Botanic Gardens. Meander along the Riverwalk and find refuge under the jacaranda trees to enjoy a handheld snack. The Botanic Gardens has a guaranteed blissfulness to it, providing a much-needed break from the hustle and bustle of the city. But before you set out, head to the Albert Street's Betty's Burgers, less than a ten-minute walk from the gardens.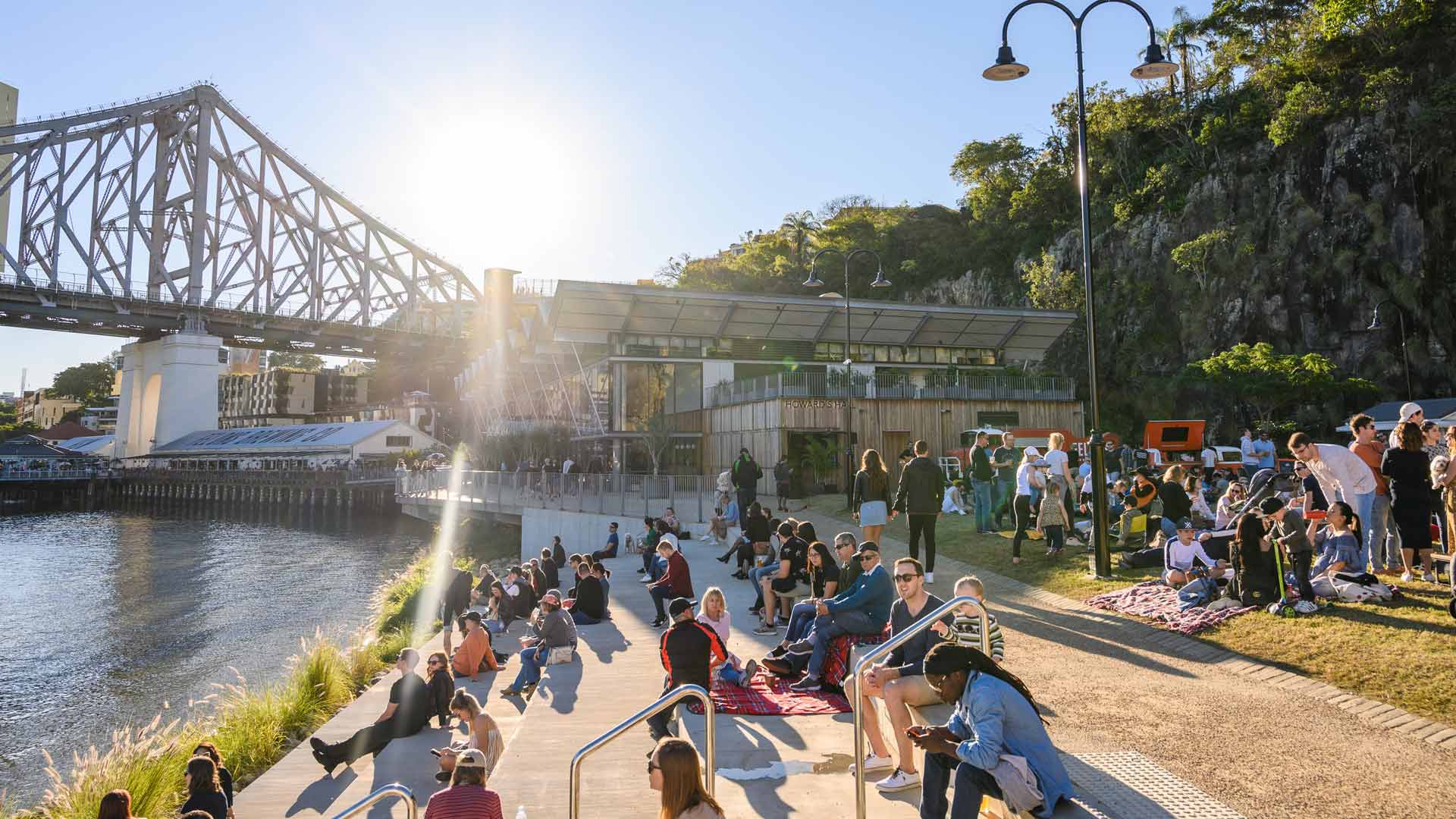 HOWARD SMITH WHARVES STEPS
With the best views of the Storey Bridge in Brisbane, Howard Smith Wharves is the place to be for prime sunset viewing. Meander down to the steps by the water after work and recharge. It's also an excellent option when you haven't planned a thing; there are plenty of eateries nearby to help cure those hunger pangs. After watching the sunset and taking some golden hour photos (you know you want to), order a snack from Betty's.

WATERFRONT PARK
Embrace the Newstead lifestyle and soak in the sunshine at one of the many waterfront parks in the area. Watch the active families go by on their bikes while you enjoy a takeaway burger from Betty's. If you have the kids in tow, set them up at the playground and relax at one of the sheltered picnic tables. If the impeccable views of the river aren't enough to entice you then surely the stellar walkway will. Finish up your picnic with a riverside stroll.

MARCHANT PARK
For a green space smack-bang in the middle of Chermside, you can't go past Marchant Park. With plenty of shade, it's the place to set up a picnic blanket and consider the afternoon sorted. Packed with heritage charm, the park isn't just a pretty picnic spot; the gates at the park entrance were established in 1924 in memory of First World War veterans, for example, and it's home to long-running Warehouse Cricket Club. Pass the time here by watching locals battle it out on the pitch, or hang around the dog park for maximum cuteness. Before you set off, visit Chermside Betty's to pick up lunch.

ROMA STREET PARKLANDS
Brisbane's best inner-city leafy oasis is the ideal spot for a Sunday afternoon barbecue, or a romantic stroll followed by a picnic on the hill. With 16 hectares of gardens, the parkland is filled with exciting trails from a misty fern gully to an oasis of designer gardens. The best part is, some parts of the parklands are BYO booze-friendly. Crack open a cold one, grab some takeaway and unwind after work. Keep an eye out for events over summer, too, as there's usually free live music and outdoor cinemas to book into when you want to make a night of it.

Find your nearest Betty's Burgers & Concrete Co, here. 
Published on December 09, 2020 by Neesha Sinnya