TRAVEL & LEISURE
Brisbane Is Now Home to Australia's First Licensed Axe-Throwing Joint
After launching in Newstead in 2018, Maniax has added craft beer to its menu.
When Maniax set up shop in Brisbane last year, it became the second hatchet-hurling space to open in the city in 2018, after West End's Lumber Punks. Given that the axe-throwing chain actually started the Australian trend by launching its original Sydney venue five years ago, it's usually ahead of the curve — and with its latest Brisbane addition, it's no longer playing catch-up.
While slinging sharp blades is typically a strictly alcohol-free affair at Maniax, its Newstead digs have become Australia's first licensed cleaver-chucking joint. The brand's Sydney and Melbourne spaces are still sans booze, but Brisbanites can now enjoy tipples from Green Beacon Brewing Co. and Newstead Brewing Co, with the Doggett Street spot flinging its support at the local breweries. It's also serving Adelaide Hills Apple Cider, should any axe-throwing punters feel like a break from beer.
If you thought that tossing weapons at a target sounded like a good way to blow off steam, and you feel the same about sinking a few craft brews, then combining the two might just be your idea of an ace night out. If you're understandably skeptical about the safety of mixing heavy cutting implements with intoxicating refreshments, there is a drink limit — each customer is only allowed three alcoholic beverages, and BYO is still prohibited.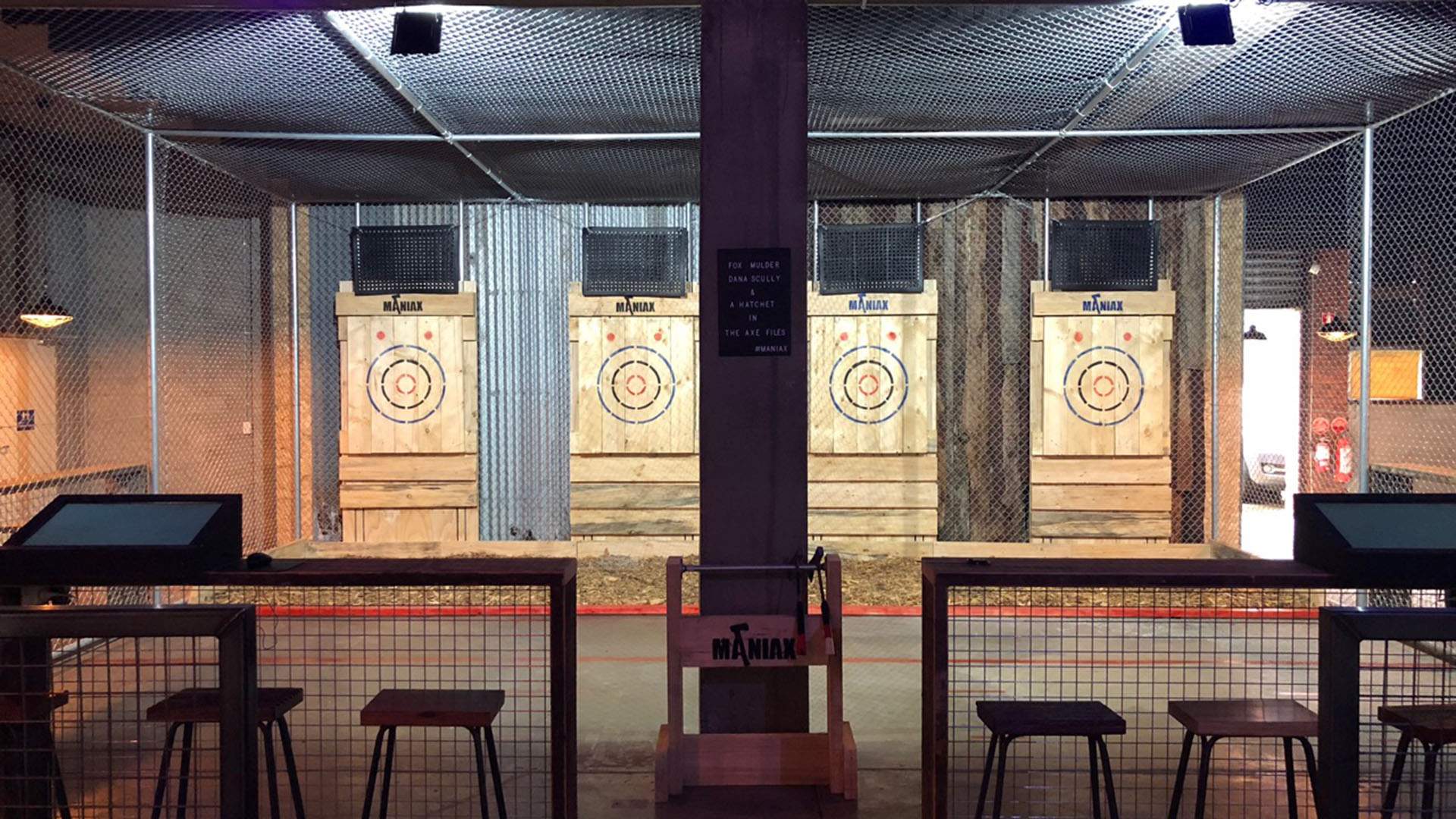 Whether or not you're pairing blade-hurtling activities with booze, Maniax offers both solo and small group sessions, axe-throwing events for larger parties, date night options (because the couple that hurls hatchets together stays together, clearly) and even a competitive league. The different events all run for at least two hours, but take place on different nights. Wednesdays are dedicated to league comps, every Friday evening is all about couples, while solo and small group sessions are held on Thursdays and Sundays.
Bookings for all of the above events are essential, but if you do want to stroll in and take part spontaneously, Maniax Brisbane also runs walk-in sessions five days a week.
As for how it all works, it's comparable to darts. Basically, you chuck axes at a board and try to hit a bullseye. Don't even know the first thing about picking up a hatchet? That's completely to be expected, with lessons included in every session, as well as in the league competition. Axe-throwing experts will also be on hand to help even when you think you've mastered the basics.
The venue also features safety barriers to protect everyone, and you can buy soft drinks, water and snacks like chips and chocolate bars onsite.
And if you suddenly become an axe-throwing fanatic, Maniax also has its own line of merchandise.
Find Maniax at 52a Doggett Street, Newstead. Visit the venue's website for further details and to make a booking.
Published on March 23, 2019 by Sarah Ward