TRAVEL & LEISURE
The Ten Most Unusual Swimming Holes to Try Around Brisbane
Don't stick to the rivers and the lakes that you're used to.
The Ten Most Unusual Swimming Holes to Try Around Brisbane
Don't stick to the rivers and the lakes that you're used to.
There are swimming holes, and then there are swimming holes — and yes, there is a difference between the two. In the first camp, you'll find all the standard haunts that those seeking a splashing good time rush to, aka the usual beaches and pools. These are great options of course, but in the second category lurks spots that are a little further off the beaten path, just waiting for the adventurous and the curious. They're the kind of places where you can soak up the benefits of tea trees, scramble over rocks to secret coastal pockets, and look out from waterfall caves — and we've listed the ten we think Brisbanites should put on their summer itinerary, stat.
FOR WAVES: CHAMPAGNE POOLS, FRASER ISLAND
As far as natural phenomena go, seaside pools are up there with the best of them. You get the benefits of a dip in the ocean and a place to wade about — and who could want more? Located between Waddy Point and Indian Head just up from 75 Mile beach, Fraser Island's Champagne Pools offer both, as well as the only place on the landmass that allows saltwater swimming. The real source of their attraction, though, is the sensation that gives them their name. Here, as the waves crash over the pools, the foam that remains fizzes, leaving bathers feeling like they're soaking in a splash of sparkling goodness.
FOR ADVENTURE: LOWER PORTALS, MT BARNEY
As many a cliche reminds us, the destination isn't the only source of fun to be found when venturing away from the usual haunts — the journey is just as important. Heading for a swim at Mt Barney's Lower Portals ticks both boxes, particularly for those keen for a hike and then a dip to cool off afterwards. To get to the gorge that keeps people trekking to Queensland's most impressive peak — after you've driven from Brisbane and through Beaudesert and Rathdowney, that is — you can choose to wade along a creek, or slither through a hole in a cave. Because we're adventurous sorts, we know which one we'll go for.
FOR SNORKELLING: SPIRAL BEACH, NEAR COOLANGATTA
If you're thinking about snorkelling in Queensland, you'll likely thinking about the Great Barrier Reef. But venturing up north isn't the kind of thing you can just do for the day, so thankfully the Tweed area boasts the southeast's best spot to do a mask and flippers — and even though Spiral Beach, just past Duranbah Beach near Coolangatta, is actually in NSW, us Sunshine Staters will still claim it. If you haven't heard of it before, that's because it really is the type of place considered a local secret. At high tide, you'll discover why: that's when the soft coral is visible, as is the brightly coloured marine life.
FOR HEALING: LAKE AINSWORTH, LENNOX HEAD
Don't shy away from the discoloured waters of Lake Ainsworth at Lennox Head — or its healing powers, either. As well as being a great place to paddle, kayak and canoe, the secluded, amber-stained spot is infused with the properties of the neighbouring tea trees, and is said to have rejuvenating benefits as a result. That's the reason that it was historically embraced by indigenous communities and branded a women's swimming hole for post-childbirth soothing. To enjoy its restorative powers, you'll need to head over the border and towards Ballina — this therapeutic freshwater swim is worth driving interstate for.
FOR THRILLS: FAIRY POOLS, NOOSA NATIONAL PARK
As the name suggests, there's something magical about the Sunshine Coast's Fairy Pools, which can be found in Noosa National Park at Noosa Heads. Being oceanside tidal spots, they're at their best when water levels are high, which is when you'll spy colourful fish, coral and sponges, and enjoy a vigorous blast from the lively waves that come crashing towards the shoreline. At times you might need to wade and splash through the energetic spray more than actually swim, but that's not always a bad thing. And, if slipping into the secluded pools by the sea isn't enough of a thrill, the trek there — which involves climbing down the rocky face of the headland, sans path or official walking track — should definitely help get your adrenaline pumping.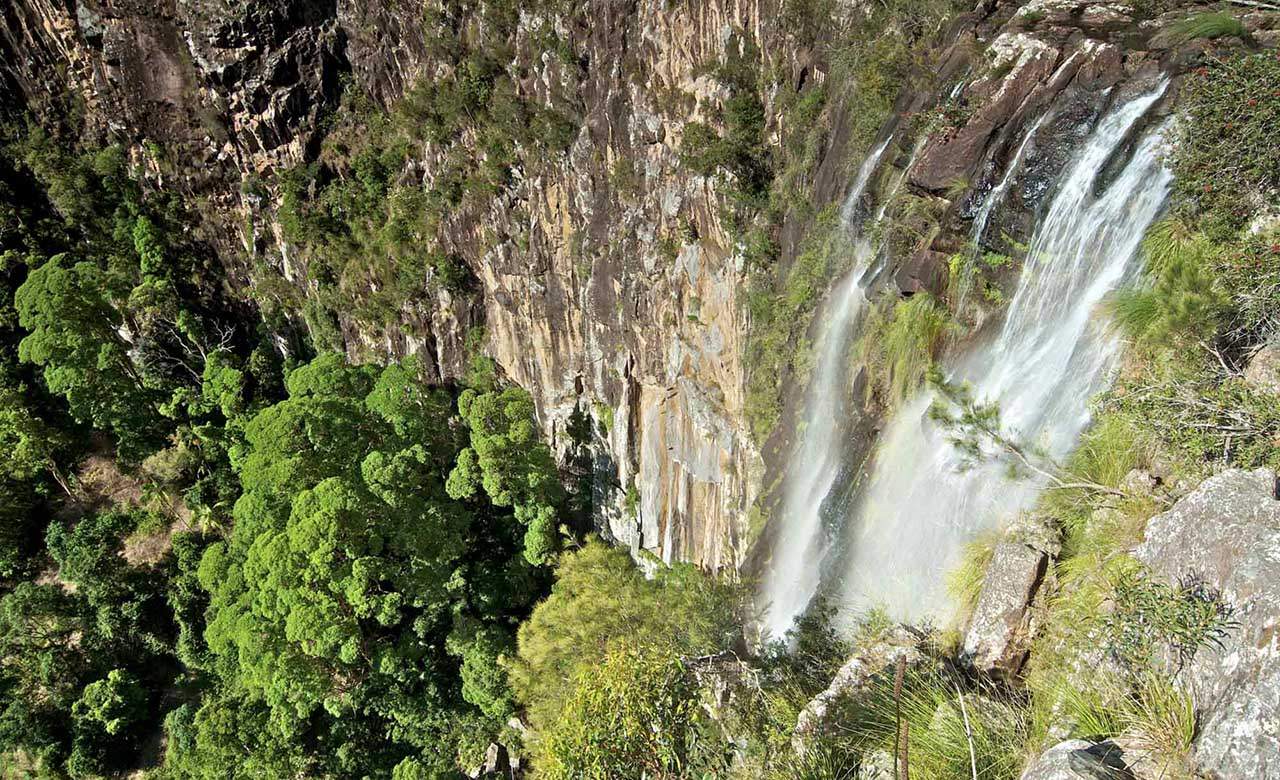 FOR VIEWS: MINYON FALLS, NIGHTCAP NATIONAL PARK
Imagine relaxing in a natural pool of water, springing from a source that doesn't just fall from the sky, but gushes down from above. Imagine looking up at 100 metres of rainforest cliff face glistening with streaming H20. At Minyon Falls in Nightcap National Park in the hinterland just outside of Byron Bay, there's no need to engage your brain's creative faculties to wonder what that might be like, because that's exactly what you'll find. While gazing out from the lookout above is the more popular pastime, the view from below is just as majestic — but be sure to check what the weather has been like lately before you make the trek, because this spot is at its best when the water is really flowing.
FOR SECLUSION: SERENITY FALLS, BUDERIM FOREST PARK
A place that's less than half an hour's drive from both the Sunshine Coast spot of Buderim and the coastline might not seem like it should be secluded — but bear with us. At Serenity Falls in Buderim Forest Park, it's a case of like name, like relaxed state of nature-induced bliss. Indeed, the watery wonderland in the midst of 45 hectares of rainforest feels like stepping into a world far removed from the beach and town nearby. Just make sure you time your trip to coincide with recent rainfalls, otherwise you'll be paddling in ponds rather than swimming in a rockpool.
FOR CAVE DWELLING: KILLEN FALLS, TINTENBAR
Everyone loves a waterfall you can walk behind, which already puts Killen Falls in Tintenbar in northern NSW on many a must-visit list. Here, just a short two hour drive from Brisbane, you can also swim in the mist of the waterfall-fed basin — but that's not all. For those keen on holing away in a rocky retreat, you can crawl into the crevice that lurks behind the cascading water and watch the stream of spray tumble down. And with the beach in such close proximity, it's not a tourist hotspot, which means there's more chilled-out cave and lagoon dwelling for you to enjoy.
FOR NUDITY: NORTH BELONGIL BEACH, NEAR BYRON
If you're a Queenslander fond of sunning yourself in your birthday suit, then you'd best hit the road. Nude bathing isn't actually legal in the Sunshine State, but North Belongil Beach near Byron Bay will let you indulge in the attireless pastime. Just look for Grays Lane about four kilometres north of the main Byron turnoff, then head down the road and towards the sand dunes. Note: you'll also be in the thick of a national park, which means you'll have to pay a daily visit fee — but $8 is a small price to pay for some sun, sea and sans-clothes freedom.
Published on December 21, 2018 by Sarah Ward