TRAVEL & LEISURE
The Best Online Stores for Christmas Gift Shopping
Easy peasy pressie shopping that means you don't have to set foot in a shopping centre.
It's getting to that time of year when the idea of putting some original thought into gifts can start to seem too noble a cause — especially when a Myer giftcard is just in arm's reach. But it doesn't have to be so difficult. Whether you've made a dent on your gift shopping list or not (because let's face it, you probably haven't), take note of these online stores perfect for uncommon and sure-to-delight Christmas gifts.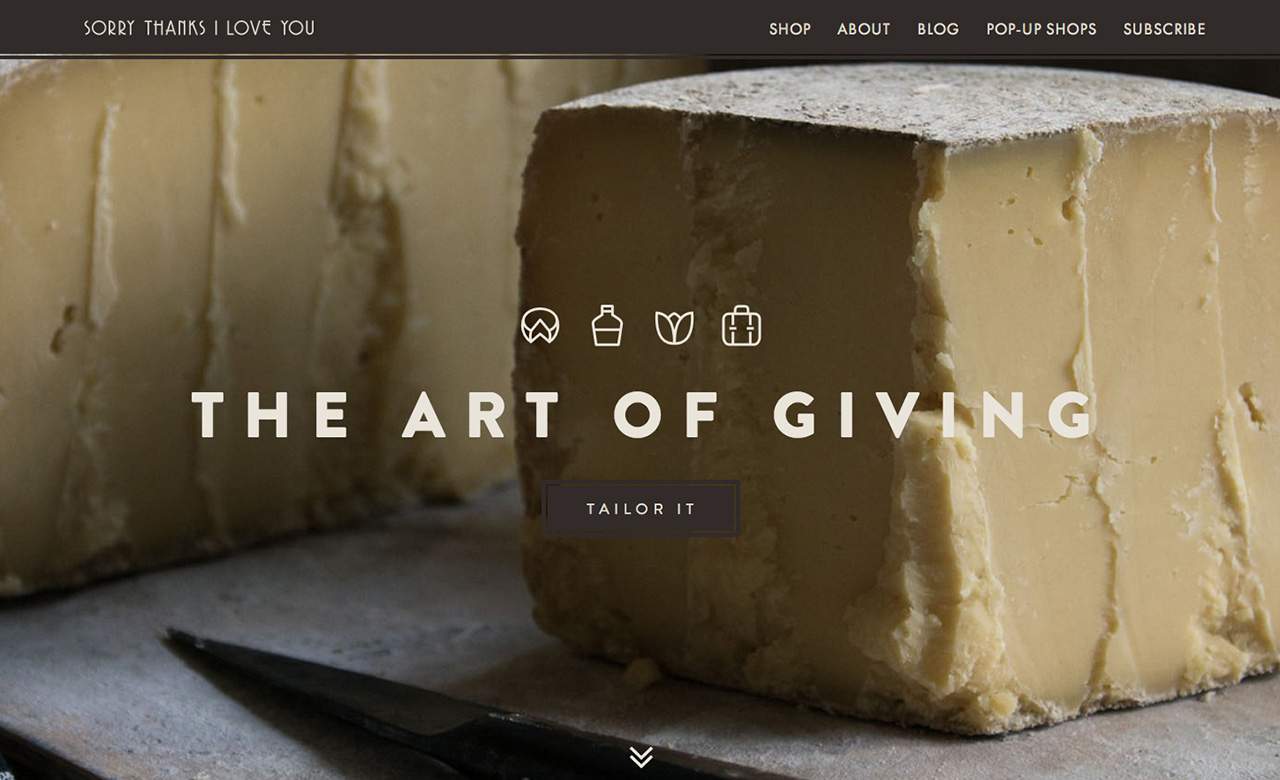 SORRY THANKS I LOVE YOU
Sorry Thanks I Love You is making gift-giving less torturous and more fun again with a quiz that helps you track down the ultimate gift. By asking a few questions ('What were they like a kid?' or 'What would they do with 24 hours in NYC?'), Sorry Thanks I Love You actually tailors their gift list to your loved one. It does help if your gift recipient is a fan of artisanal creature comforts as gourmet food and beverages, flowers and accessories are what Sorry Thanks I Love You does best.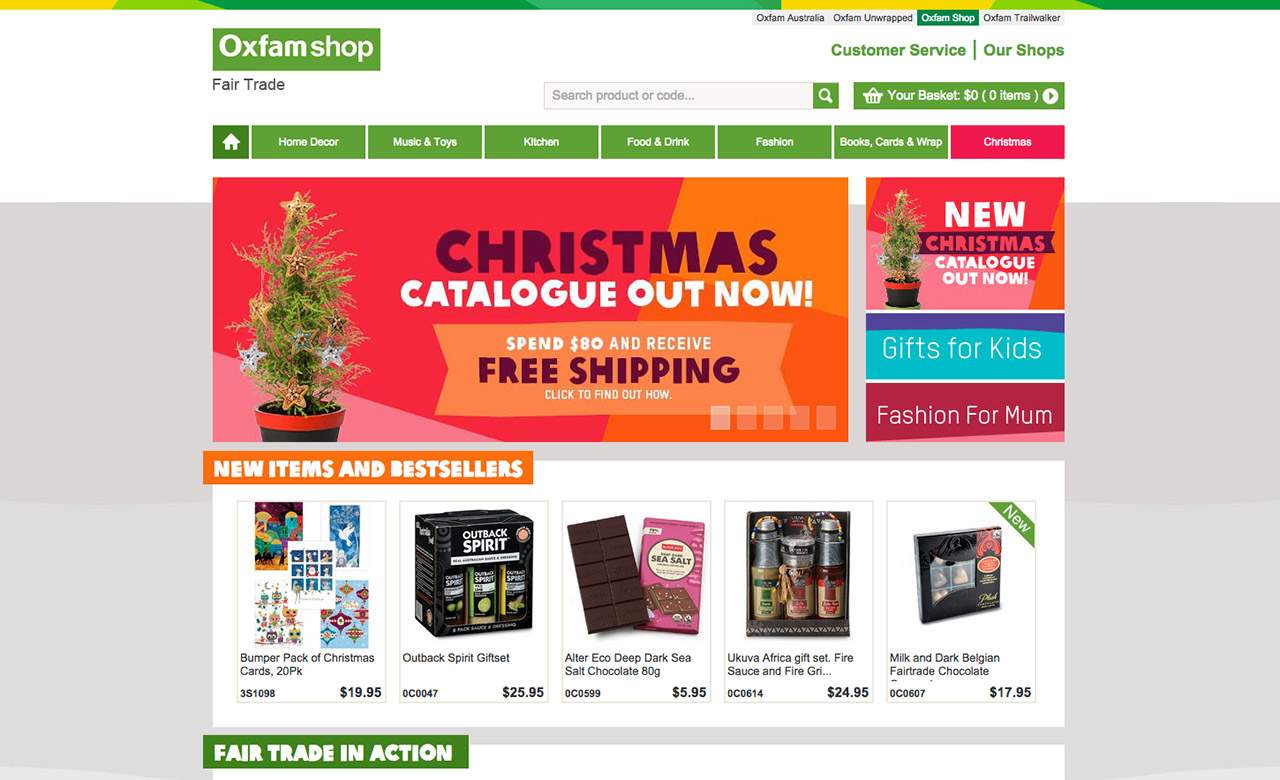 OXFAM SHOP
Regret purchases are virtually nonexistent at Oxfam's online shop, which features handmade, Fair Trade gifts crafted by skilled people from 136 producer groups in 38 different countries. Boasting a wide variety of homewares, fashion accessories and gourmet food and drink, Oxfam Shop has answered your Christmas gift shopping prayers with presents for your 96-year-old grandmother down to your two-year-old niece all neatly taken care of. And let's not forget how delicious fair trade chocolate can be.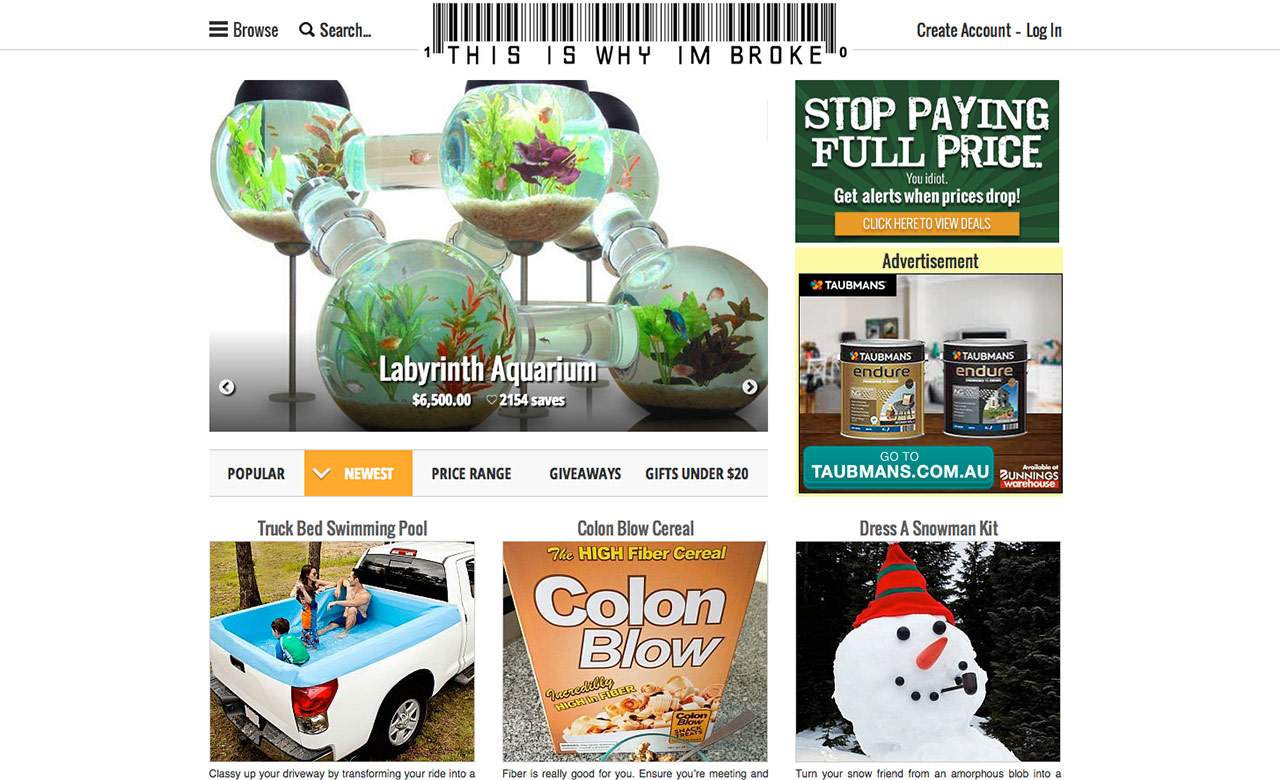 THIS IS WHY I'M BROKE
Collating the wackiest gifts from all corners of the internet, This Is Why I'm Broke will perplex and amaze you, or at least, make you laugh audibly at some of the downright ridiculous things on sale. With edge-only brownie pans, suit pajamas, crystal-clear canoes and countless other brilliant inventions, it does take a bit of trawling to find just the right gift, but once you start, there's no knowing when you'll stop. Don't blame us if you forget you're not shopping for yourself.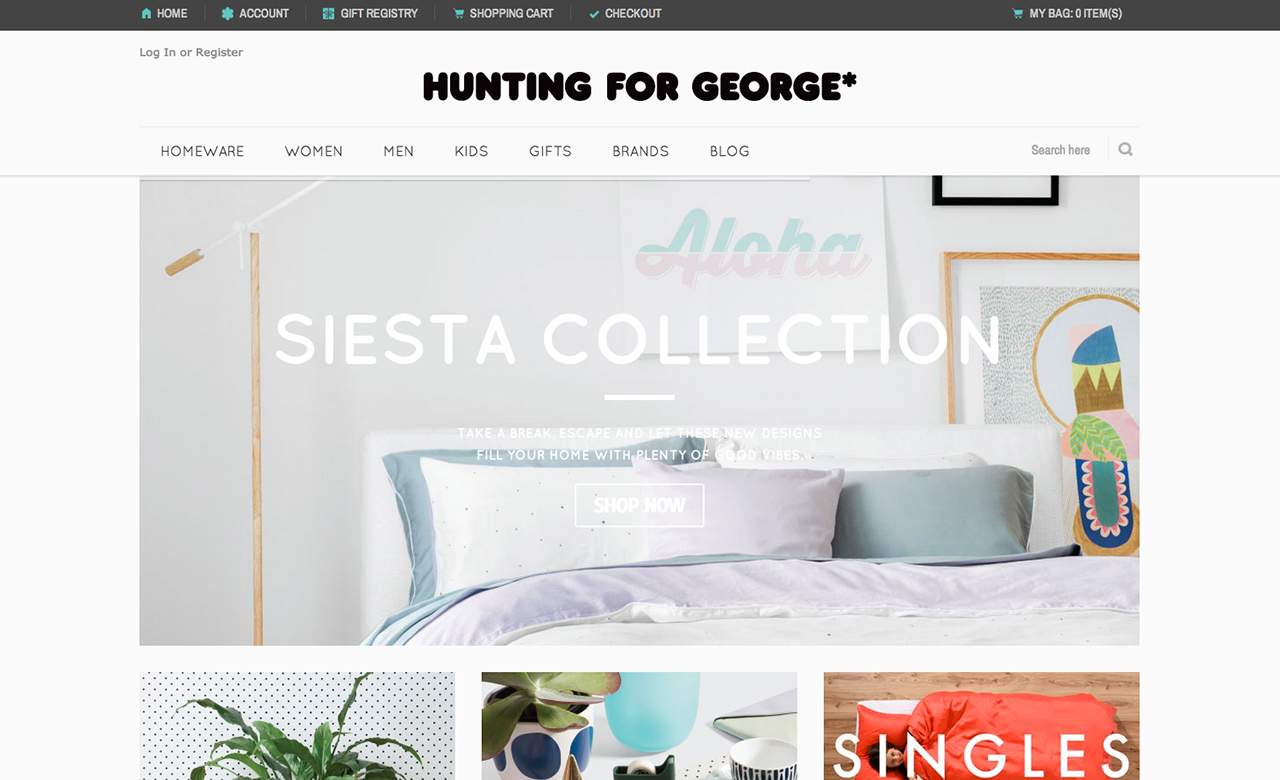 HUNTING FOR GEORGE
Hunting for George is the project of Melbourne-based sisters Jo Harris and Lucy Glade-Wright who hand-pick local and international pieces which accord with their own brand's emphasis on quality and originality. Featuring creatively curated gift guides and product descriptions that feel less like manufacturer dribble and more like a friend's recommendation, Hunting For George is gift hunting without the headache. It's the place to go for indoor/outdoor Milk & Sugar stools, pastel-splashed Pop & Scott plant pots and Iris Hantverk's old-school birchwood house essentials.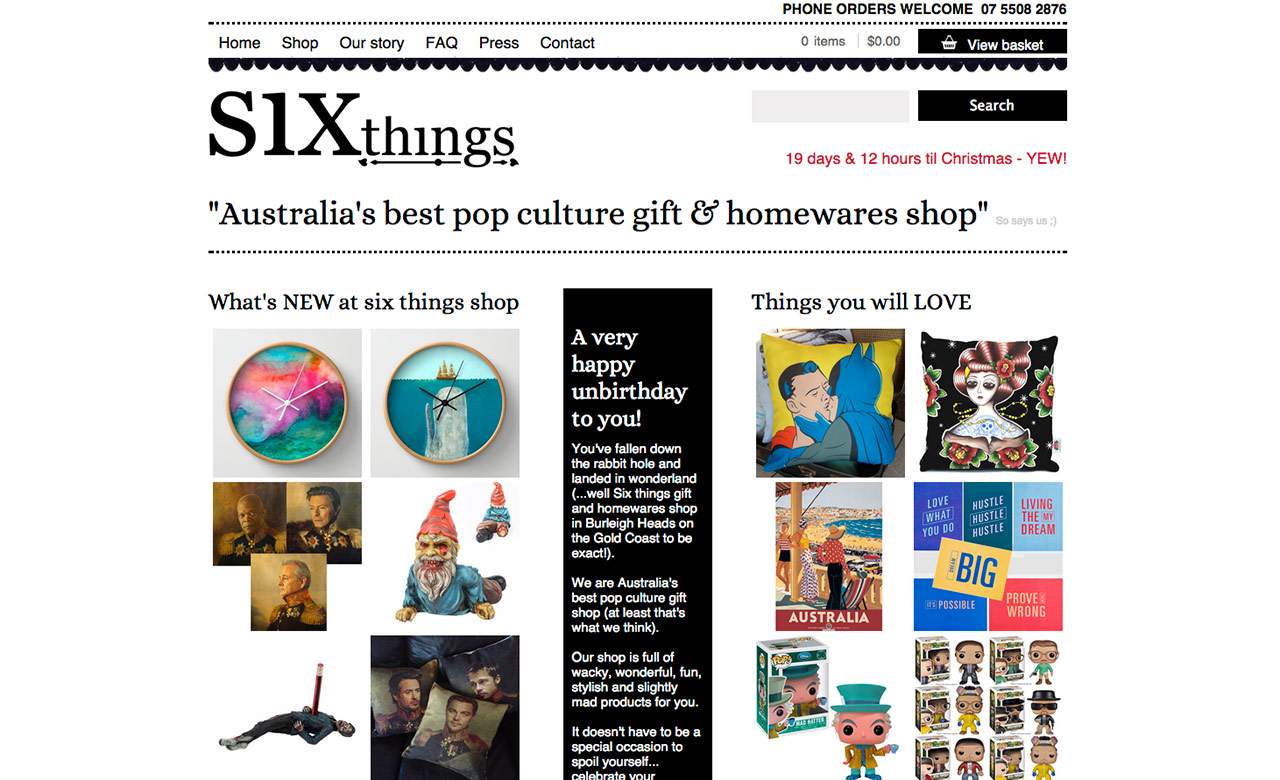 SIX THINGS
Following an Alice in Wonderland guiding light — "Why, sometimes I've believed as many as six impossible things before breakfast" — Six Things is the prime place to shop for gifts for the friend who can quote entire movies backwards. Founded by the Queensland-based designers at j6 design, Six Things allows you to shop by theme or by type and discover people-pleasing gifts like Tea-Rex mugs, ghetto car fresheners or Pulp Fiction/Sesame Street fusion cushion covers. Alternatively, slip into the rabbit hole and treat your friend (or even yourself) to a mystery blind date… with a book.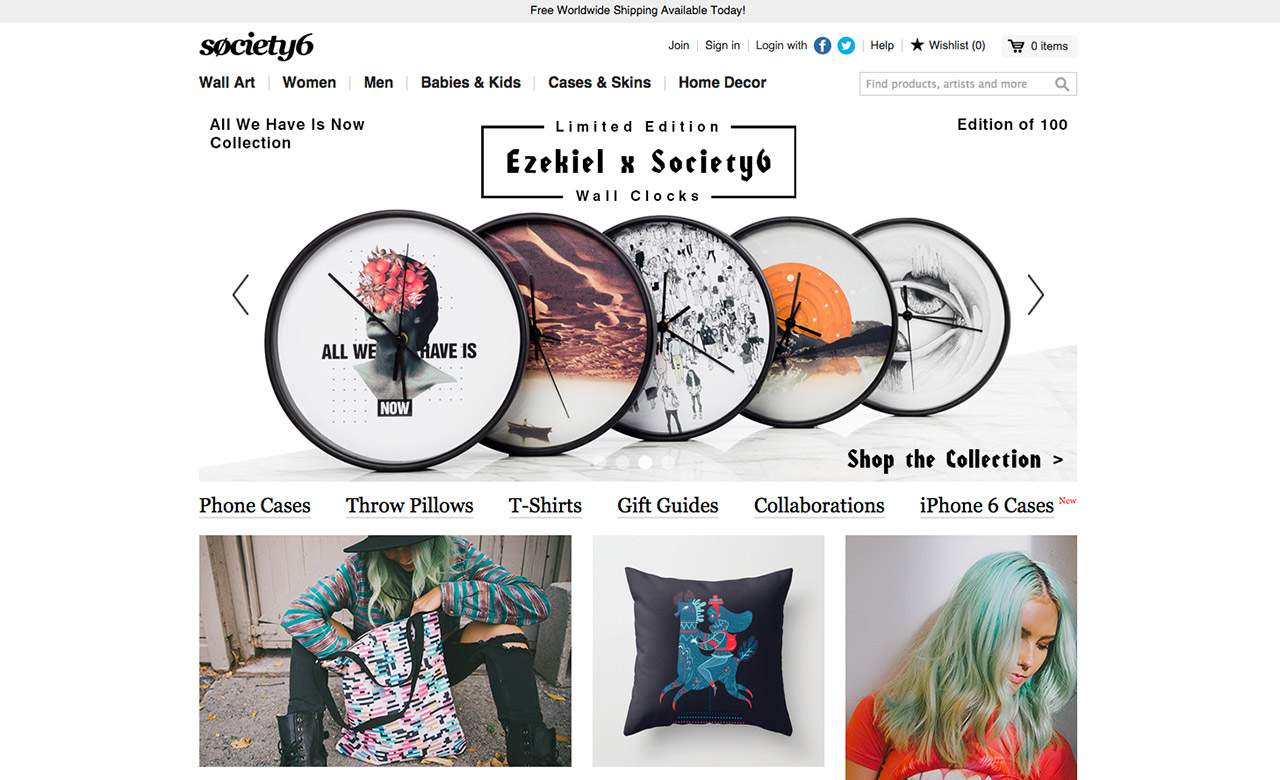 SOCIETY6
Founded by Justin Cooper, Lucas Tirigall-Caste and Justin Wills, Society6 is breathing new life into printed clothes, wall art and homewares. Shop for your gifts on Society6 if you think your partner's shower curtains need some refreshing, or if your best friend's wall clock is looking a bit drab. Society6 sources artwork from thousands of artists worldwide and allows artists to actually profit from sales without giving up their creative rights. A printed iPhone case never felt so morally good.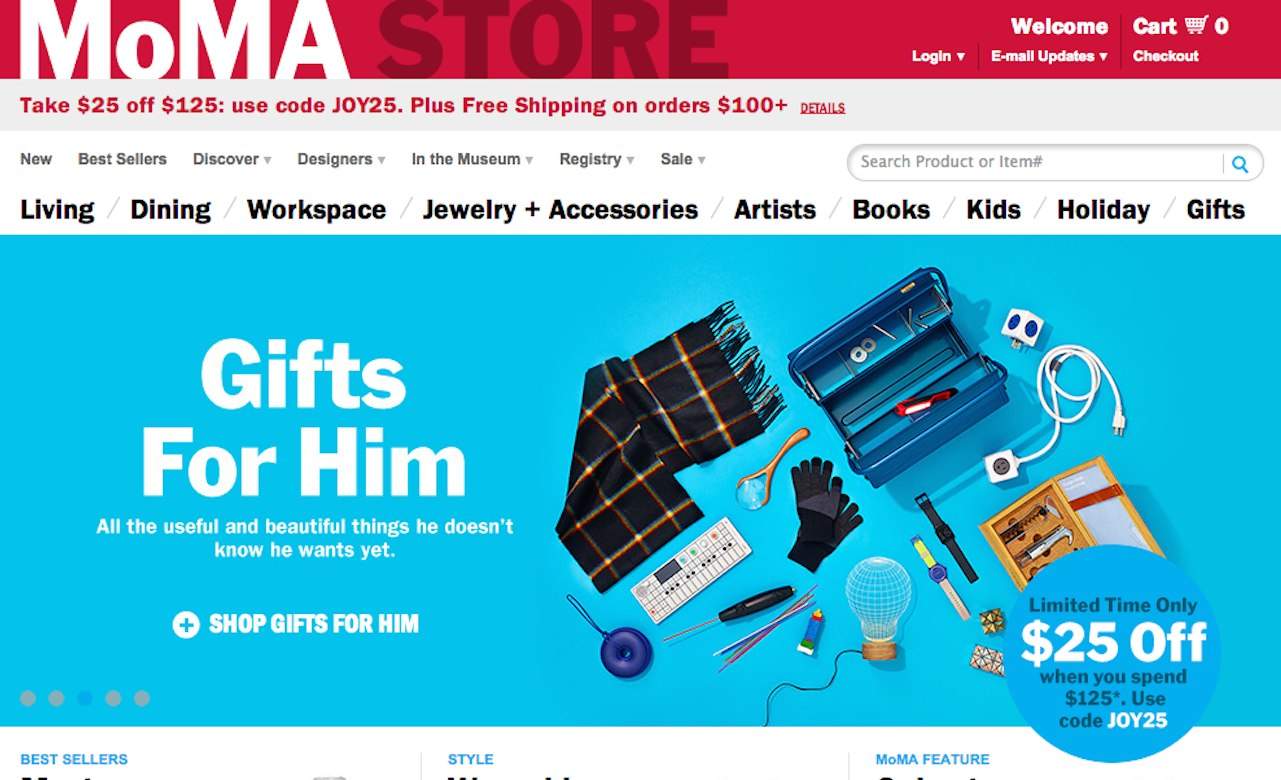 MOMA DESIGN STORE
The MoMA Design Store is a special place. One of New York City's most exciting galleries, it has a number of retail spaces where you can purchase all of the designy gifts you have ever wanted. And if you can't just fly over to New York for a shopping weekend anytime soon, they've got you covered with their comprehensive online store, which provides modest international shipping rates to Australia.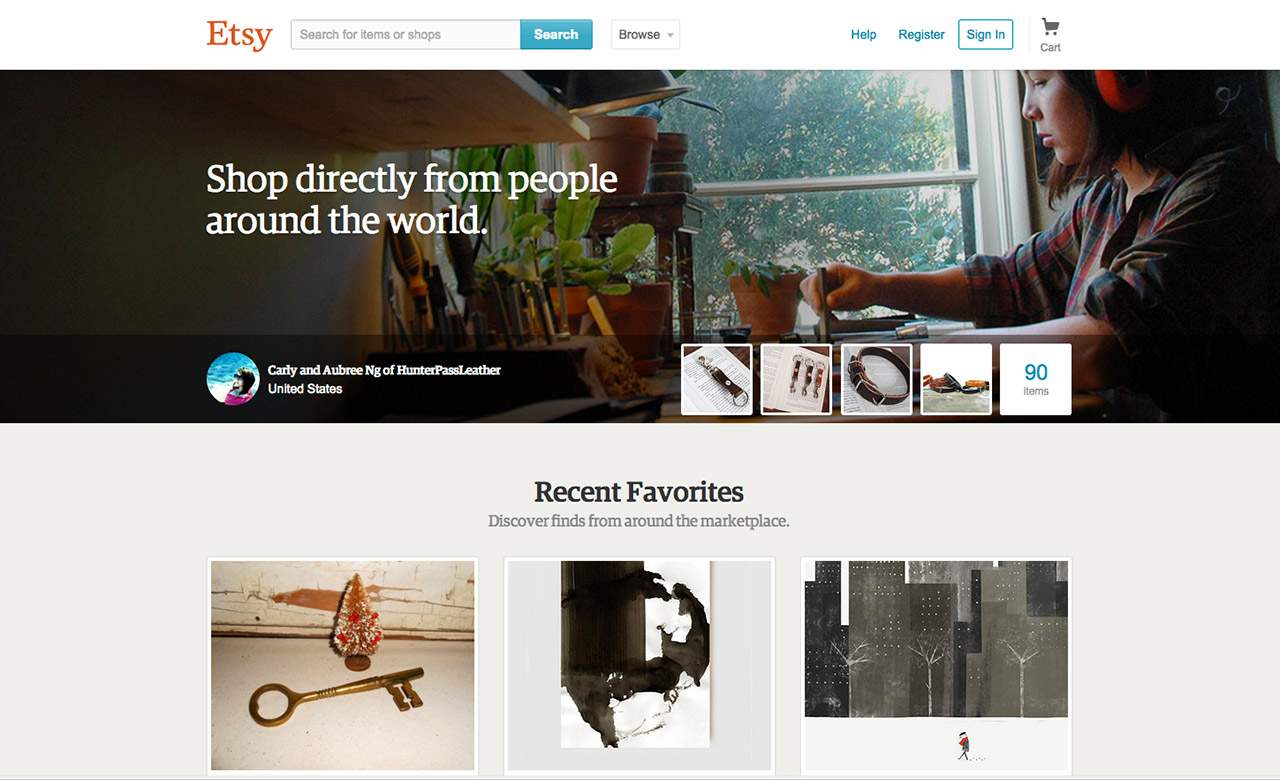 ETSY
Cutesy might be the first thing you think of when someone says Etsy, but there's no denying that Etsy is queen of the online boutique, hosting over 1 million online handcraft and vintage stores from all across the globe. If searching for the perfect gift among Etsy's online treasure trove is a bit daunting, we recommend eyeing the Etsy Design Award Nominees, a handpicked bunch of designers that stand a little taller than the rest.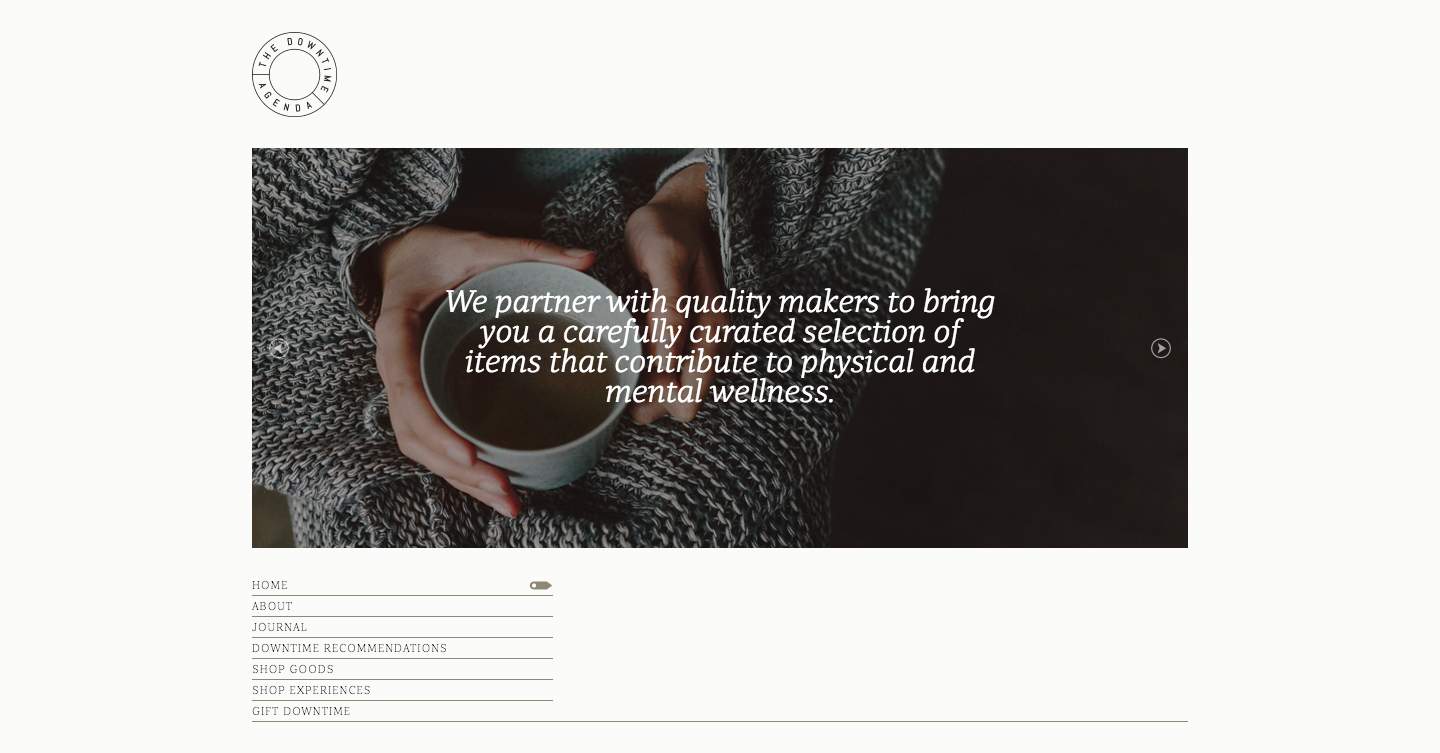 THE DOWNTIME AGENDA
Keeping true to this website's policy of absolute zen, your Christmas shopping for those who do their downtime right — from curling up with a scented candle to finding inner peace with earthy incense — is right here at the click of a button. With selections of gift packs for mothers, gardeners and blanket enthusiasts, the Downtime Agenda has all your 'chilling' needs covered.  If your zen friend is not so much the materialistic type, you can also buy 'experiences' such as yoga classes and 'blend your own gin' workshops.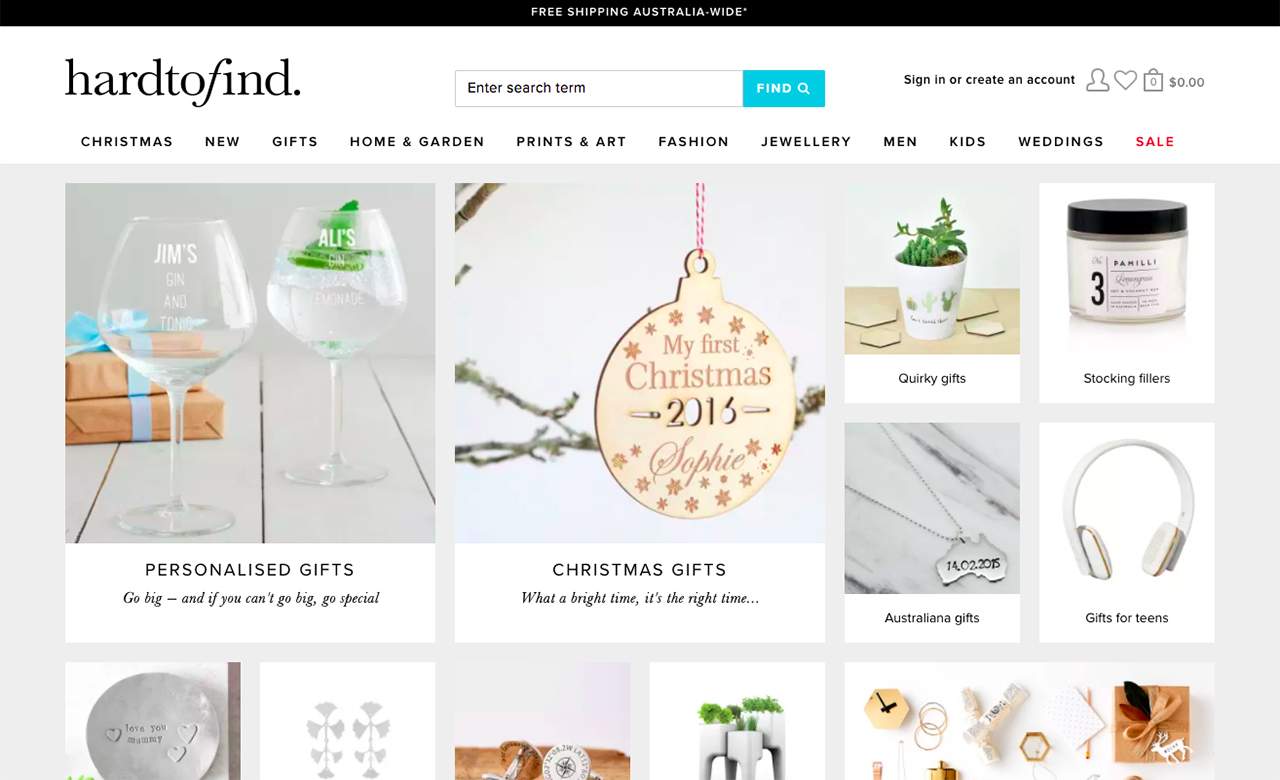 HARD TO FIND
This hidden Australian gem brings together all the best elements of gift shopping and makes them super easy to find, putting presents for Christmas, birthdays, friends, dads, grandmas and girlfriends together for a beautifully designed stroll through the online market. Hard To Find offers an array of treasures sourced from across Australia and around the world, with gifts from France, England and beyond sure to satisfy even the pickiest family member on Christmas morning.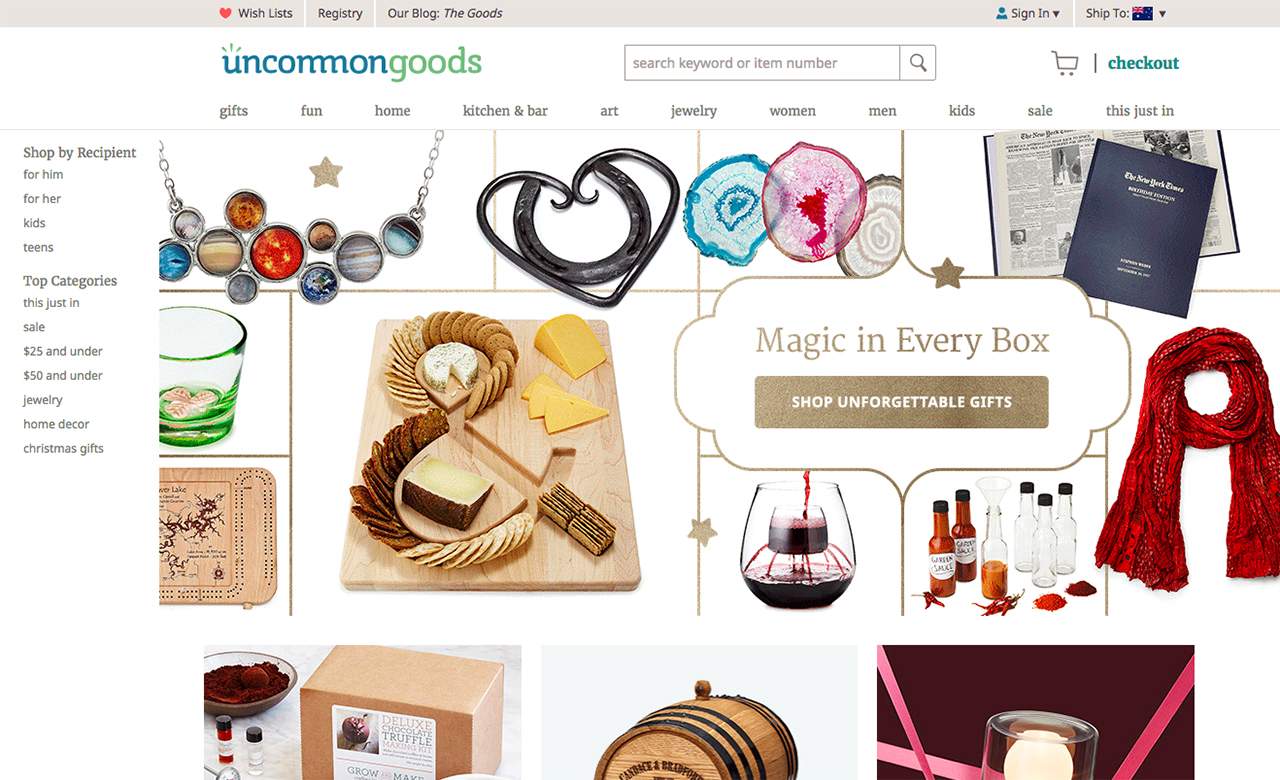 UNCOMMON GOODS
From a water bottle for your dog to personalised whiskey barrels, Uncommon Goods definitely delivers what it promises, alongside a host of more sophisticated, grandmother-approved gifts for the whole family Christmas. This website has a particular section for more fun and quirky gifts, along with a section entirely for all your festive needs, allowing you to choose personalised wares that suit everybody's individual style.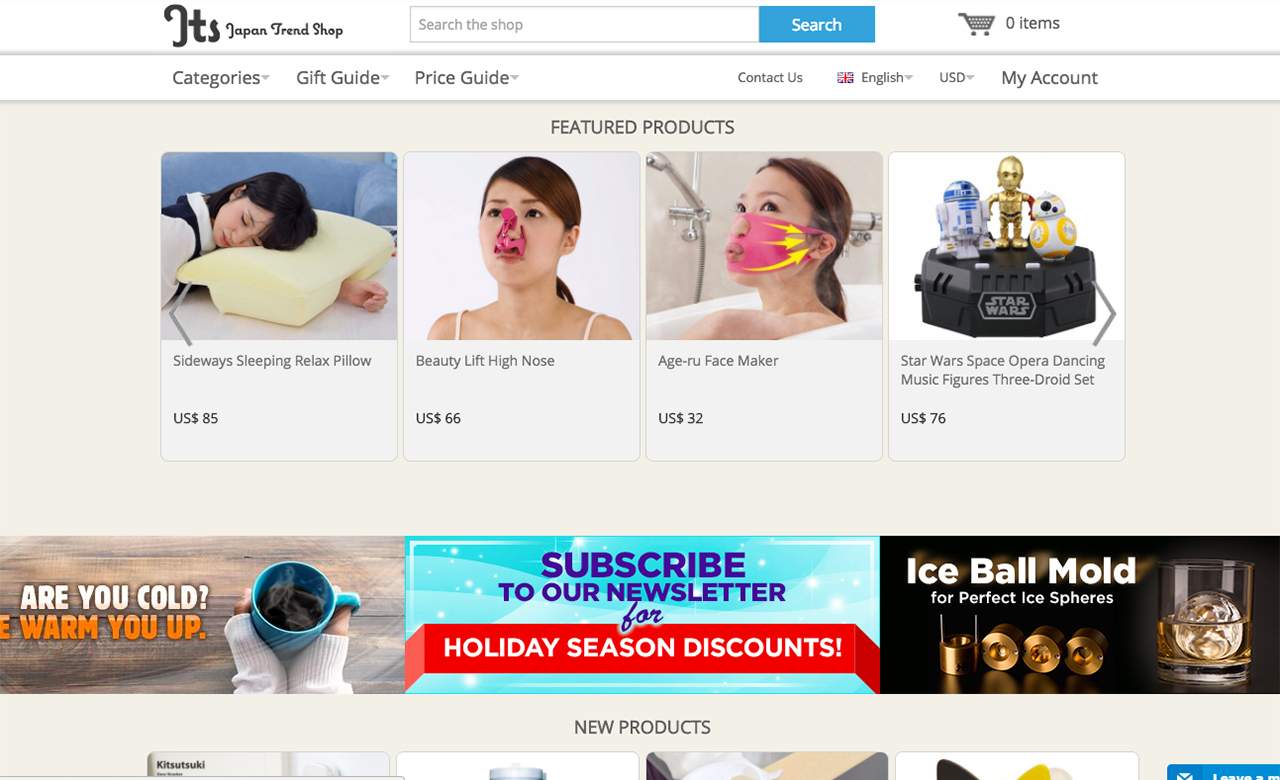 JAPAN TREND SHOP
Have you ever woken up in the morning, looked in the mirror, and realised you absolutely can't go without a Panasonic Beauty Ion Effector? Neither have we, but you can buy one at the Japan Trend Shop — if you can believe it. With a range of beauty wears including USB-heated leggings and boiled egg-shaped headbands, this kitsch online emporium really does stock whatever you can imagine.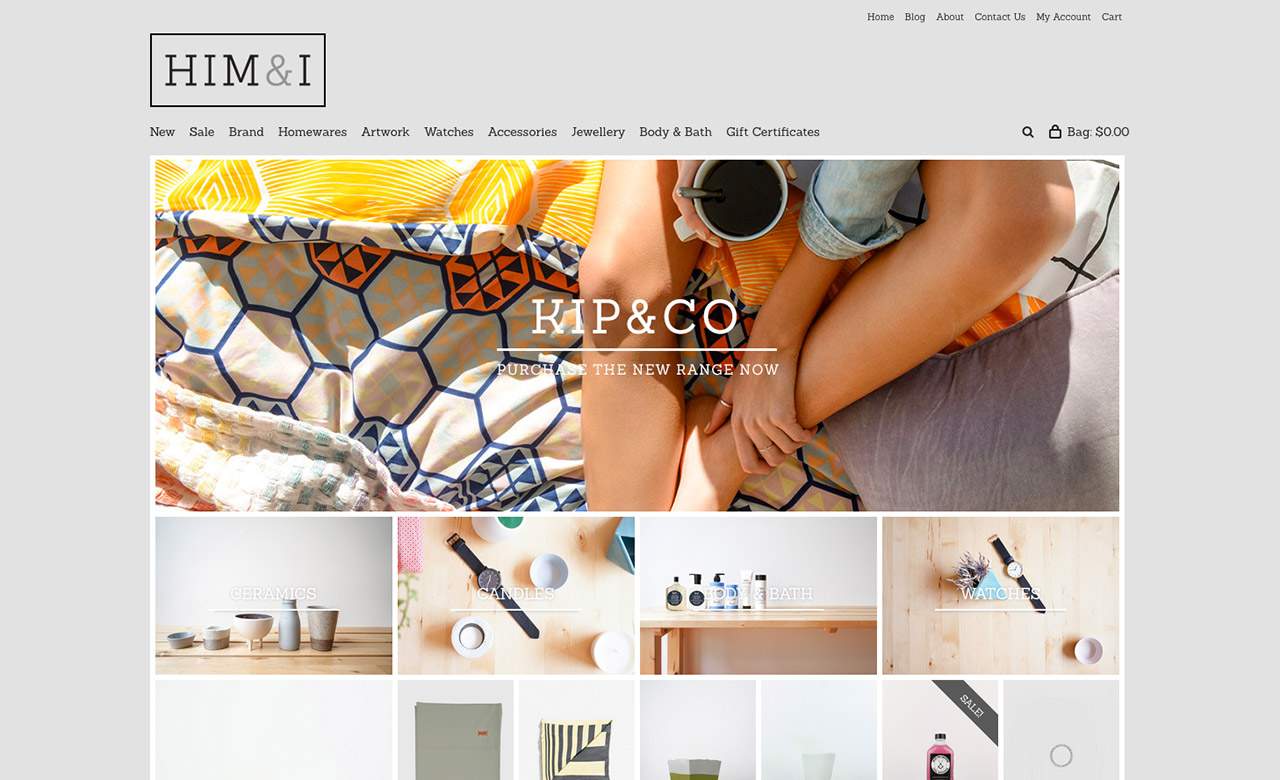 HIM & 1
Specialising in all that is fine and functional across household goods, art and body care products, Him & I is a wholesome Australian online store that houses the current obsessions of site creators Kara and Josh. From boldly coloured bedding by Kip & Co and sophisticated watches by The Horse to simple tableware by Made in Japan and earthy art designs by Kristina Krogh, Him&I is a feast of gift ideas by brands definitely not seen at your nearest Westfield.
By Katie Davern, Eden Faithfull and Matthew Abotomey.
Top image: Basil Bangs, available at Hunting for George.
Published on December 04, 2016 by Katie Davern