TRAVEL & LEISURE
You Can Now Hire a Water Bike to Pedal Your Way Along the Brisbane River
The stable vessels float on the water, and feature a mounted seat and pedals on top — and they're now available to rent in Brisbane.
Brisbane is a river city, and there's plenty that you can do to make the most of that fact. You can picnic by the water, hang out at a riverside precinct, sink beers at a riverside brewery and head to an overwater bar. You can also cycle along the waterside, go for a stroll on the riverwalk, hop in a kayak and catch a CityCat. Thanks to Riverlife Brisbane Outdoor Adventure Centre's newest addition to its lineup, you can also pedal a water bike across and along the river, too. Yes, on the water — not merely next to it while soaking in the view.
If you're new to the whole water bike concept, here's how they work: they're stable vessels that float on the water, and feature a mounted seat and pedals on top. You move your legs and the bike moves. Yes, it's that simple. Also, riding a water bike means that you can hop along the river without getting wet.
Riverlife has introduced the new watercrafts to Brisbane just in time for summer, with the bikes available to hire from its Kangaroo Point location. You have two choices, too: book one out yourself for a 30-minute session from Wednesday–Sunday, which'll cost you $39, or enquire about private guided group bookings.
For those keen to start cycling on the river around Kangaroo Point, South Bank and the CBD, your water bike hire includes access to the bike, of course, as well as a personal flotation device (in case you do manage to fall into the water), sunscreen and a safety briefing by Riverlife's staff. You can also use the facility's showers and change rooms.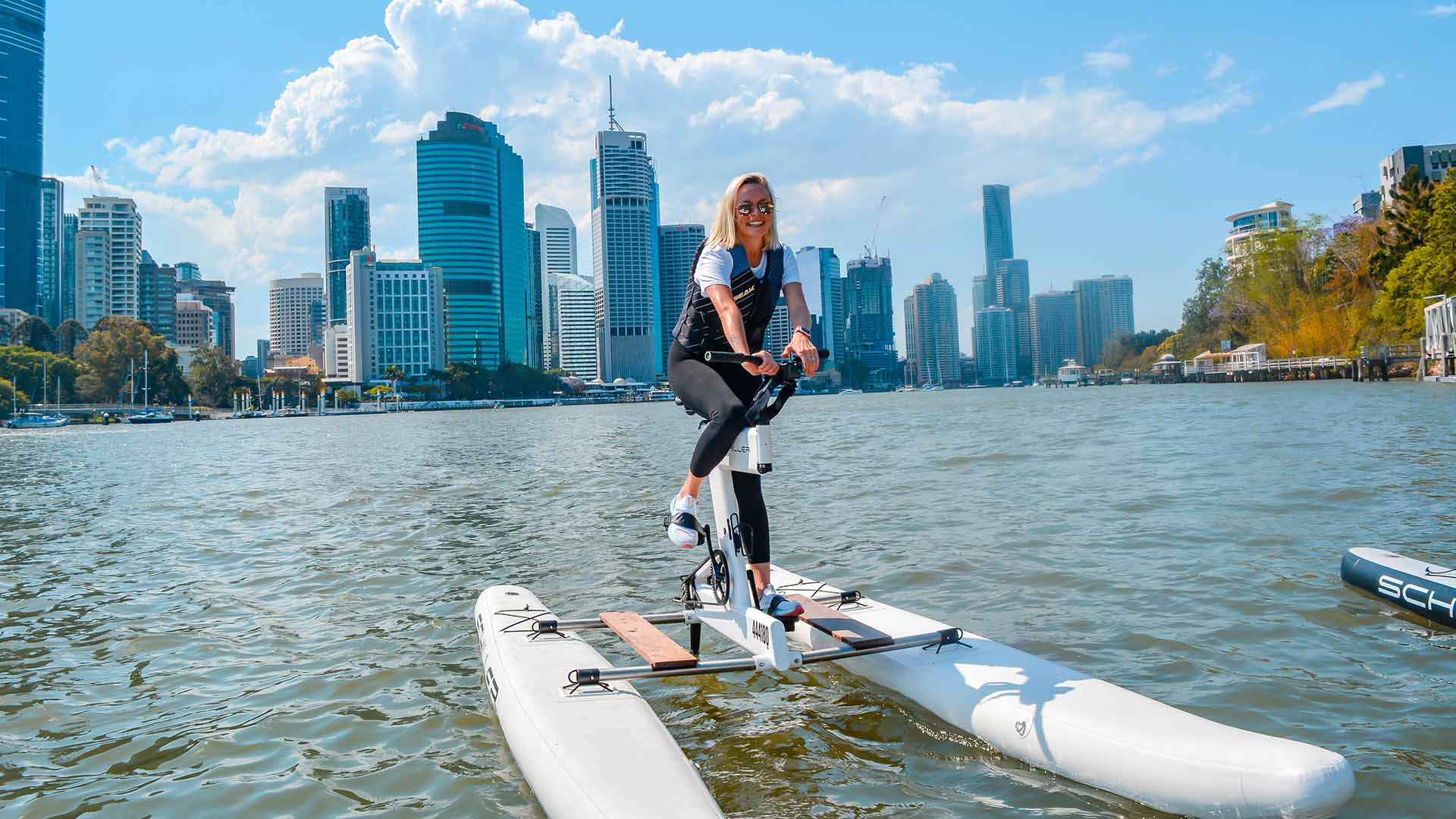 Unsurprisingly given Brisbane's sunny climate, the Kangaroo Point spot predicts that the water bikes will have a heap of fans. "We've been delivering amazing kayaking experiences on the Brisbane River for over 15 years," said owner John Sharpe. "These new water bikes are a unique new offering which allows us to showcase the incredible Brisbane river and city to visitors and locals. We're expecting it to be our most popular experience this summer."
For more information about Riverlife's water bikes — or to make a booking — head to the company's website.
Published on November 20, 2020 by Sarah Ward