Ten of Australia's Newest — and Most Unique — Travel Experiences to Inspire Your Next Domestic Holiday
Perfect for exploring the country when you don't have enough annual leave to head overseas. 
Australians are exceedingly lucky when it comes to travelling domestically. Aussie shores are home to an eclectic mix of bushland, pristine coastline, rainforests, turquoise waters and white sand beaches, along with biodiversity that is hard to beat the world over. And the list of things you can do in your own backyard only continues to grow every year.
Here, we've puled together ten of the country's newest (and most) exciting travel experiences. Whether it be a luxurious cross-country train ride, a trip dedicated to dipping into coastal thermal baths or an art gallery farm stay in rural New South Wales, this list has something for every kind of explorer. Perfect for exploring the country when you don't have enough annual leave to head overseas.
CONQUER THIS EPIC ISLAND WALKING TRAIL
This newly opened mountain bushwalk trail on North Stradbroke Island was designed and constructed by the Quandamooka people, the island's traditional owners. At just over two kilometres long, the Mount Vane walking track boasts 360-degree views of Moreton Bay and Quandamooka country. It also links into two existing walks within Naree Budjong Djara National Park, making a ten-kilometre network of trails.
Along the interconnected trails, walkers can now nab a view from the top of one of Straddie's highest peaks, trek half a day down to Karboora (the Deep Silent Pool, which is also known as Blue Lake) and find other high spots with scenic vantages — including sweeping over 18 Mile Swamp and over to the Gold Coast. For those keen to stay a few nights, new beachside cabins, eco-tents, glamping and safari tents are coming to this scenic spot in June.
HAVE A WEEKEND RETREAT AT NSW'S MOST LUXE FARM STAY
Located a three-hour drive south of Sydney, the town of Braidwood is now home to the renovated Mona Farm, a 124-acre country estate and your new excuse for an out-of-town holiday. The property is part luxury farm stay, part-nature retreat and part-art gallery, all wrapped into one. Mona Farm's six historic farmhouses have been revamped by Australian heavyweights such as Surry Hills' architect Louise Nettleton, Brisbane artist Sally Anderson and German kinetic sculptor Frank Bauer.
Beyond the accommodation, over 20 Australian and international sculptors have been installed throughout the gardens and grounds, giving the natural surrounds a modern appeal. It really is a working farm, too, with Scottish Highland cattle, English Wiltshire Horn sheep, Wessex saddleback pigs and Clydesdale horses all sharing the land — plus platypus, long-necked turtles and rainbow trout sharing the lake.

STAY ON THIS INSANE ISLAND RESORT IN THE WHITSUNDAYS
After a huge $100 million redevelopment, Daydream Island Resort last month finally reopened after being devastated by Cyclone Debbie back in March 2018. The only resort on Daydream Island in the Whitsundays, it features a 200-metre living reef, three restaurants, a poolside bar and an outdoor cinema to boot. Crystal clear turquoise waters surrounding every corner of this tiny oasis. And the massive, newly landscaped pool wraps throughout the resort's tropical gardens and coral beaches, offering views of the Great Barrier Reef beyond.
At resort's living reef, guests can learn from local marine biologists while helping to feed baby stingrays and exploring the new underwater observatory that includes over 100 species. While you're in the region, don't miss the chance to do a bit of exploring and check out the nearby Whitehaven Beach, which is listed as one of the best beaches in the world. Those keen to explore the Whitsundays further can book snorkelling, helicopter tours, sailing, jet-skiing and island-hopping experiences through the resort.

CHECK OUT FOR A NIGHT SURROUNDED BY WINE IN THE HEART OF THE BAROSSA
The Barossa Valley's rolling winery-filled countryside has scored a sleek new addition in The Villas, a secluded luxury retreat championing environmentally responsible architecture. Two thoughtfully designed structures have made their home in the quaint town of Marananga, an hour's drive from Adelaide. The work of Sydney firm Stephen Sainsbury Architects, the villas are constructed using a minimal impact and environmentally sustainable system called 'Ecoshelta', which has been used to build off-the-grid retreats across NSW and Tasmania. All topped off with views across the one-hectare of private property (yours to explore) filled with sugar gums, eucalypts and — often — 'roos.
This retreat is also a prime basecamp for any winery hopping adventures, perched within walking distance of no less than five local cellar doors, not to mention the famed Seppeltsfield Road Distillers. With more than 150 wineries in the region, you certainly won't be short a good glass of plonk.

ZOOM DOWN A ZIP LINE AT THE BIG PINEAPPLE
As part of a $150 million redevelopment, the space around The Big Pineapple is looking a little different. As well as viewing the giant tropical fruit, you're now able zoom down a 120-metre zipline and complete five high ropes courses. TreeTop Challenge's new course — which opened in March— features 120 activities across eight acres, including a two-kilometre stretch of high ropes and 12 ziplines and flying foxes, including that massive 120-metre one. All up, it takes around half a day to complete.
Eventually, it'll form part of an 'adventure precinct', which will include a water park, an on-site glamping site, a new craft brewery and a major distillery.

SPEND A NIGHT AT AUSTRALIA'S ONLY 'URBAN RESORT'
Fortitude Valley has just welcomed its next addition: The Calile Hotel. Two years in the making, the seven-storey, 175-room spot is calling itself 'Australia's first urban resort'. Yes, that means that going for a splash in the central pool, lazing around in cabanas or on a sun lounge, and eating on the hotel's outdoor deck are all on the agenda. So is hanging out at the spa, which is also open to the general public.
The white brick design, by architects Richards and Spence, certainly highlights the tropical side of things. Think open-air spaces and breezeways, natural ventilation and plants aplenty. Inside the rooms, guests will find oak furniture, cork floors and sisal matting in the bathrooms, day beds for afternoon naps, linen robes and a mini bar stocked from local suppliers. The Calile also featuring nine suites and two premier suites, complete with poolside and terrace-style balconies as well as two private rooftop terraces — for when you're feeling like splashing some cash around.

STAY IN A HARRY POTTER-THEMED HOTEL SUITE
Grandiose Melbourne institution The Hotel Windsor has transformed one of its 180 heritage rooms into a wizarding wonderland — complete with pieces inspired by the Harry Potter franchise. Think wands, prints and tonnes of official merchandise, along with many magical limited-edition items.
Guests of the suites — which have also been decked out with Hogwarts-appropriate vintage trunks, leather furniture and plush rugs — have exclusive access to all of it. The suite's launch corresponds with the current season of Harry Potter and the Cursed Child at the Princess Theatre — located just down the block from the Windsor — and it will remain open for bookings until December 31, 2019. This means that the magical world of Harry Potter doesn't have to end post-show, but will just keep on going back at your hotel room.
COMPLETE THIS BUCKET LIST-WORTHY RAIL JOURNEY
If a long trip on a locomotive holds romantic, old-world notions for you, then you'll want to hop on one of the luxury Great Southern Rail trips, which will embark on its maiden journey from Adelaide to Brisbane in December this year. Passengers departing from Adelaide will stop at the Grampians National Park, then hop off again at Canberra, and also enjoy the northern New South Wales coast on their way to Queensland. For those boarding in Brisbane, dining by the beach in northern NSW awaits, as does a day in the Hunter Valley and Newcastle, plus some time at the Twelve Apostles.
The company already operates two long-distance train treks, The Ghan (which runs from Adelaide to Darwin) and and the Indian Pacific (which journeys from Sydney to Perth), but this limited-edition journey will run only 16 trips between December 3, 2019 and January 30, 2020. It doesn't come cheap — starting at $1649 per person — but that price does include your food and wine onboard, any dining that takes place off the train, and all of the off-locomotive experiences across the multi-night trip. You can book now.

STAY IN A SECLUDED DOME IN THE BUSH
If a luxury getaway is on the cards in your near future, NSW has a stunning new outback accommodation option to add to your wish-list. Set on a 9000-acre, third generation beef and sheep property near Warialda in the state's north (about seven hours from Sydney and five from Brisbane), the newly launched Faraway Domes promises a luxury secluded escape, with the added bonus of a minimal carbon footprint thanks to an off-grid power supply.
Designed to be able to create its own natural heating and cooling, the self-contained geodesic dome structure fits two and is kitted out in style. A surrounding elevated deck (complete with an outdoor bath) takes full advantage of those sweeping rural views. When you're not living it up in your gorgeous temporary home, you'll find plenty nearby to keep you entertained — Macintyre Falls, Copeton Dam, Cranky Rock Nature Reserve and the Ceramic Break Sculpture Park are located all within an hour's drive of the dome.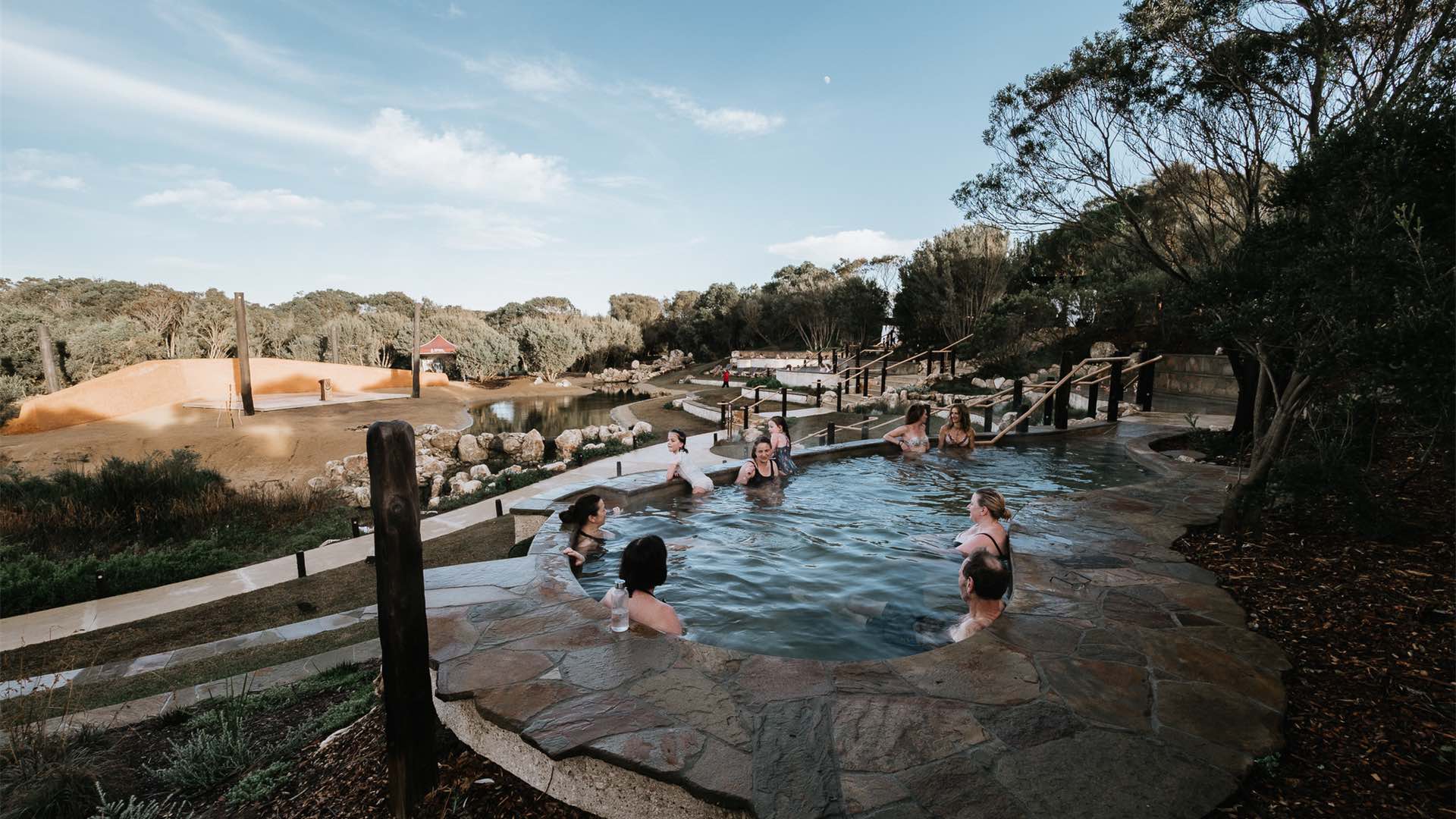 TREAT YOURSELF AT AUSTRALIA'S FIRST ICE CAVE
Melburnians — and Australians — now have even more of a reason to head down the Mornington Peninsula for a pampering session, as the acclaimed Peninsula Hot Springs has recently unveiled some swish new facilities as part of a $13 million upgrade. The award-winning wellness destination now has two cold plunge pools and seven new hot spring pools, an impressive outdoor Bath House Amphitheatre and underwater stages.
The Hot Springs is also delving into cryotherapy for the first time with a new 'ice and fire' experience — which is worth the trip in itself. This will allow bathers to switch between hot and cold therapy — the hot being two new 30-person saunas, and the cold being a new (and Australian-first) ice cave and a 'deep freeze' treatment room, which is kept at a cool 25 degrees below freezing. Thermally heated glasshouses and an underground mushroom cave are also in the works.
Concrete Playground Trips
Book unique getaways and adventures dreamed up by our editors