Stay of the Week: Woodland Cabin at Logan Brae Retreats
A plunge pool perched above a sweeping vista, wildlife wandering freely, luxe furnishings and expert styling: everything is special here.
In Stay of the Week, we explore some of the world's best and most unique accommodations — giving you a little inspiration for your next trip. In this instalment, we take you to the Woodland Cabin, one of three luxe lodgings at Logan Brae Retreats in the Blue Mountains. With room for only two, any one of the cabins is an ideal getaway for when you need space, solitude and something a little fancy.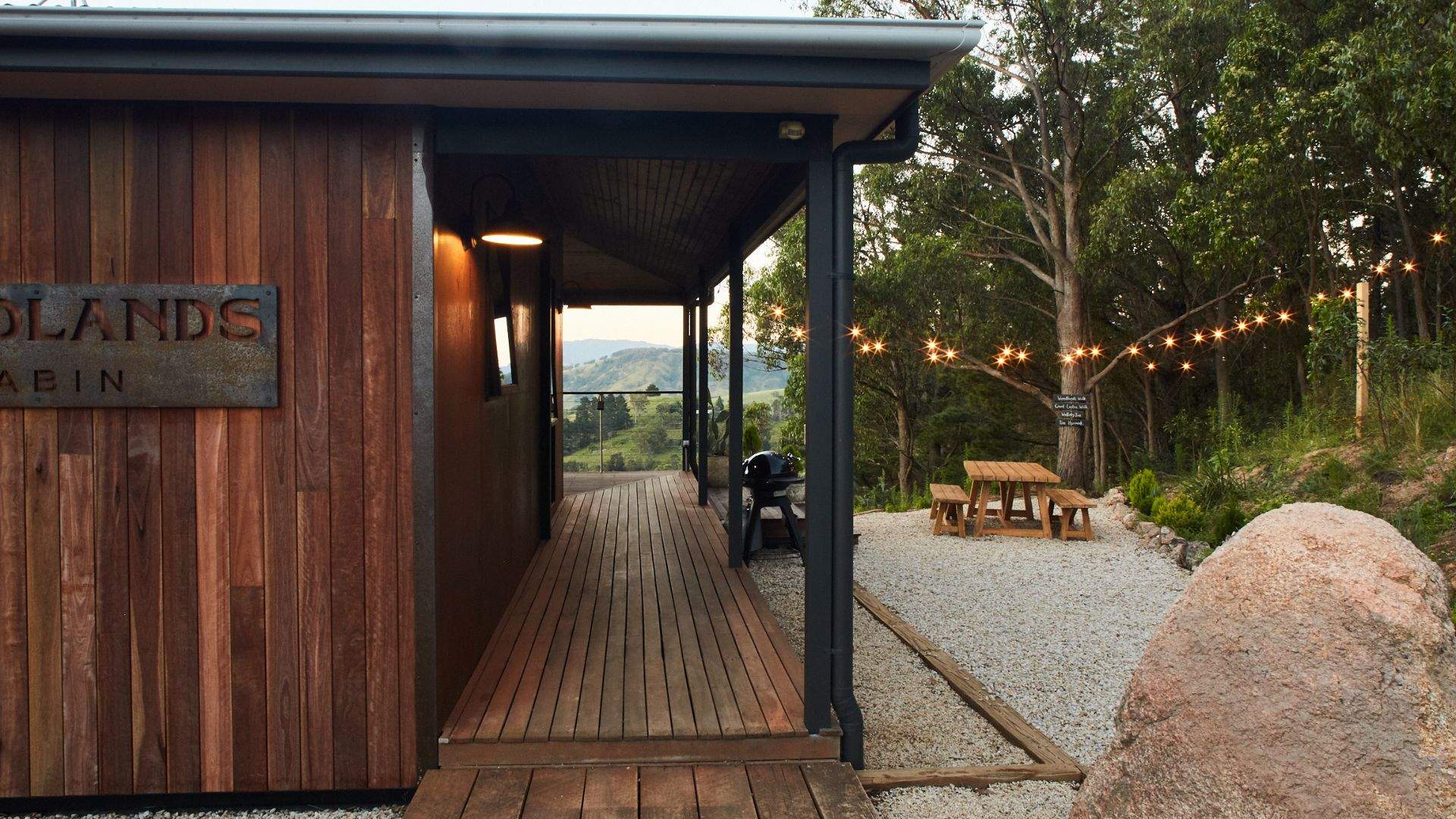 WHAT'S SO SPECIAL?
The magical quality of this escape starts well before check in. If you're heading here from Sydney, you'll start your journey by winding your way through Hazelbrook, Wentworth Falls and Blackheath (stopping off for deli provisions and vino, so there's no need to interrupt your imminent immersion in nature) before you're welcomed by expansive views across Megalong Valley.
Once you pull into the gravel driveway and make your way up to the Woodland Cabin, you'll immediately be consumed by calm. Warmly hued festoon lights, wildlife wandering freely, a round plunge pool perched alongside your deck, a vista to rival most: everything is special here.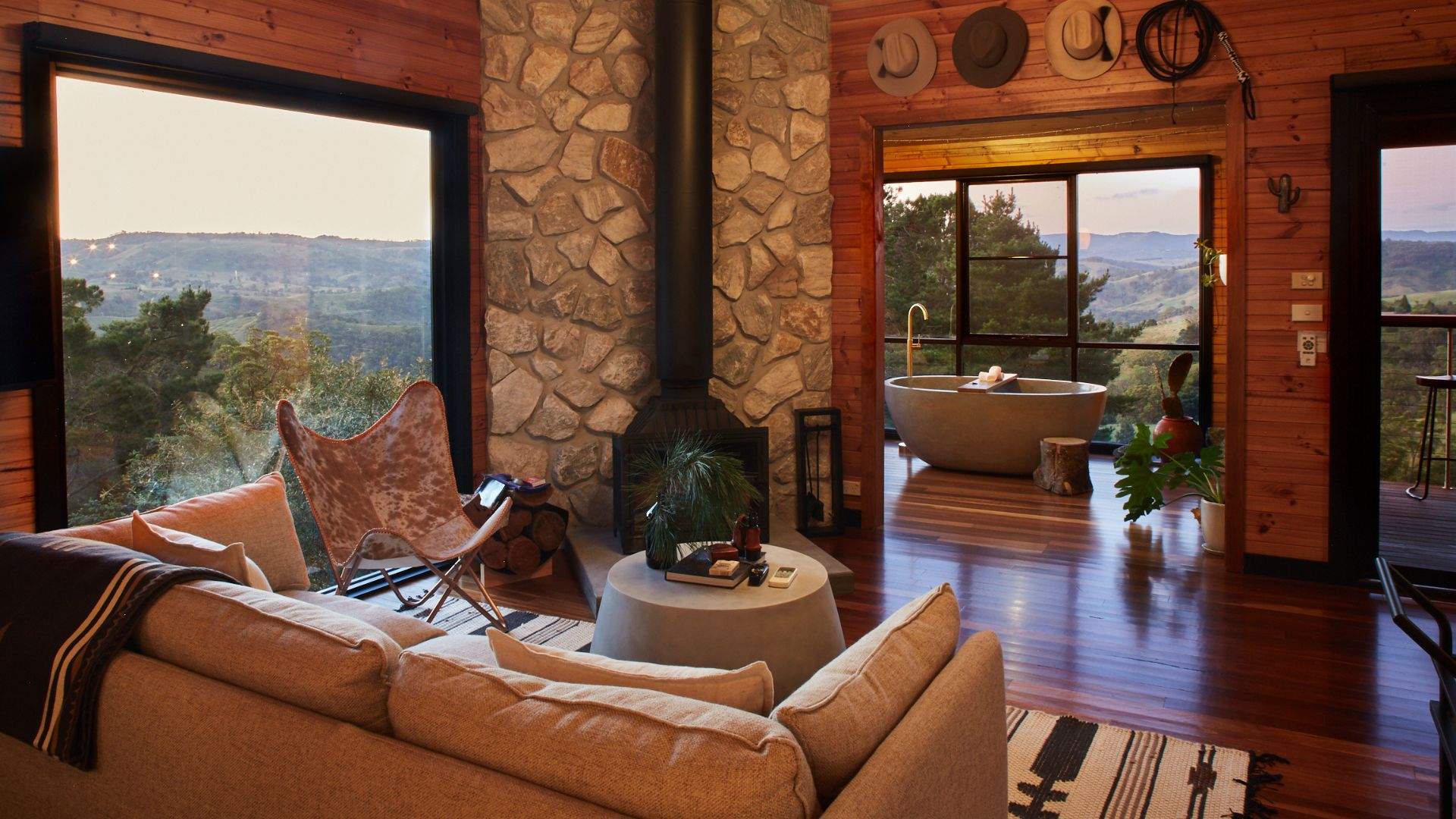 THE SPACE
Although there's only room for a pair at the Woodland Cabin, the lofty open-plan design, towering windows and pared-back earthy palette delivers a space that's anything but small. You'll arrive to an already-built fire in the hearth with logs aplenty stacked alongside — all you need to do is strike the match.
There's a deep stone tub to soak in, which when married with that view makes for a deliciously spent afternoon. And in the bathroom? A wide double shower, stone-topped vanity and gold fixtures, a lineup of lush products from Apotheke, plus style-heavy towels and robes adding a transportive touch of luxe.
Outside, deck chairs beckon you for a morning coffee, as does a breakfast bar and outdoor dining set. While the deep plunge pool ensures you can beat any country heat.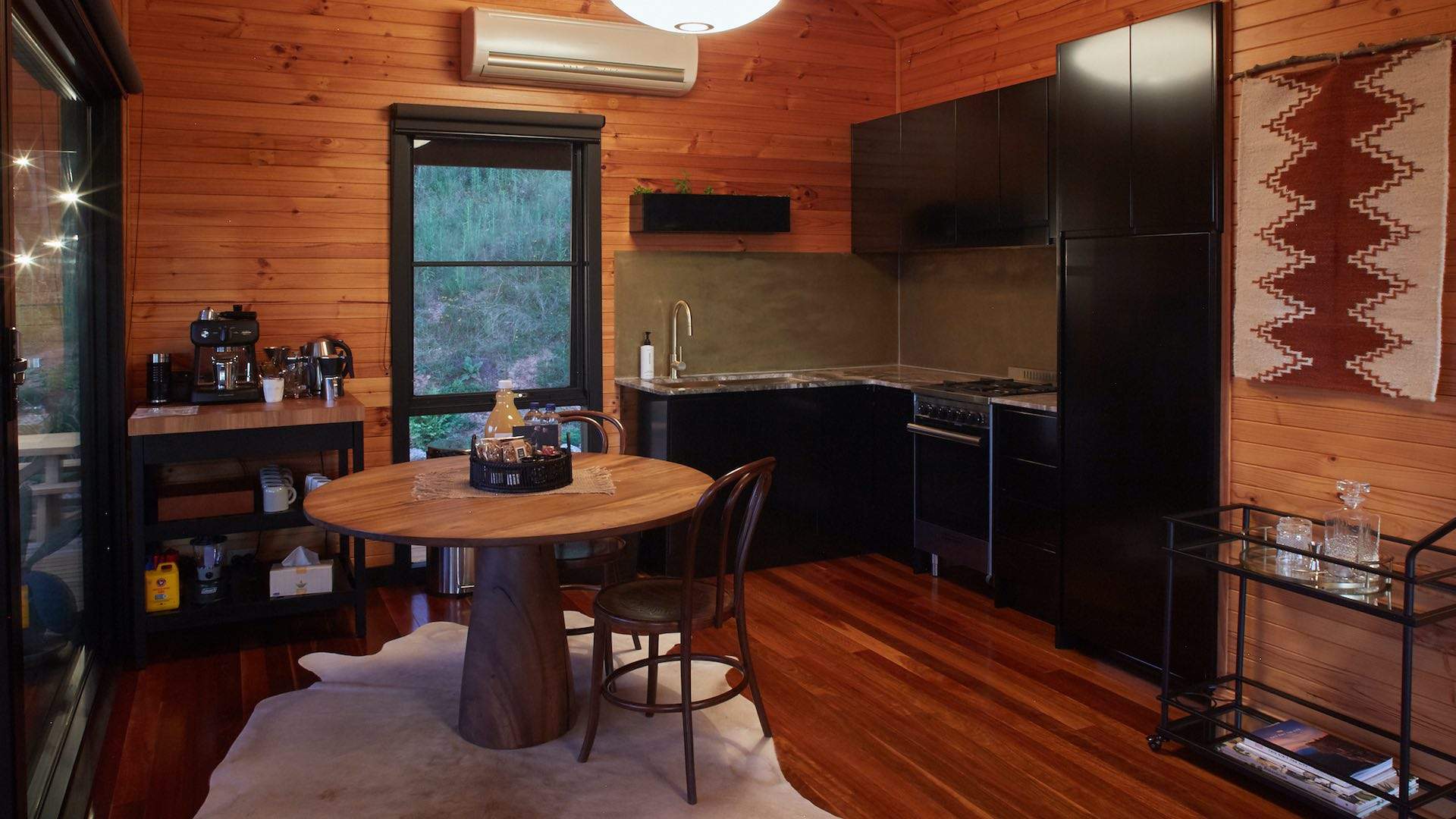 FOOD AND DRINK
As a delightful touch to start your trip, a basket of snacks, vino, chocolate and light breakfast supplies waits on the dining table for you. Then, in the kitchen, you've got all the essentials. An oven, gas stove and nice wide sink join all the usual suspects (fridge, microwave, toaster, pots and pans); and you've covered for both olive oil and salt and pepper.
Caffeine a pre-requisite? You've got a dedicated coffee bench, you lucky thing. Espresso machine? Tick. Plunger? Tick. Percolator? Tick. You can even make your own drip coffee. There's freshly ground beans, milk — cow only, so BYOM(ilk) if you're an almond or oat drinker — plus a 12-strong selection of teas.
If you don't want to cook, you can get catering from Lavender Hill Graze. There's breakfast boxes, barbecue and salad packs and grazing platters ideal for by the pool. You can even have a picnic basket (complete with bubbles and rug) delivered to your doorstep.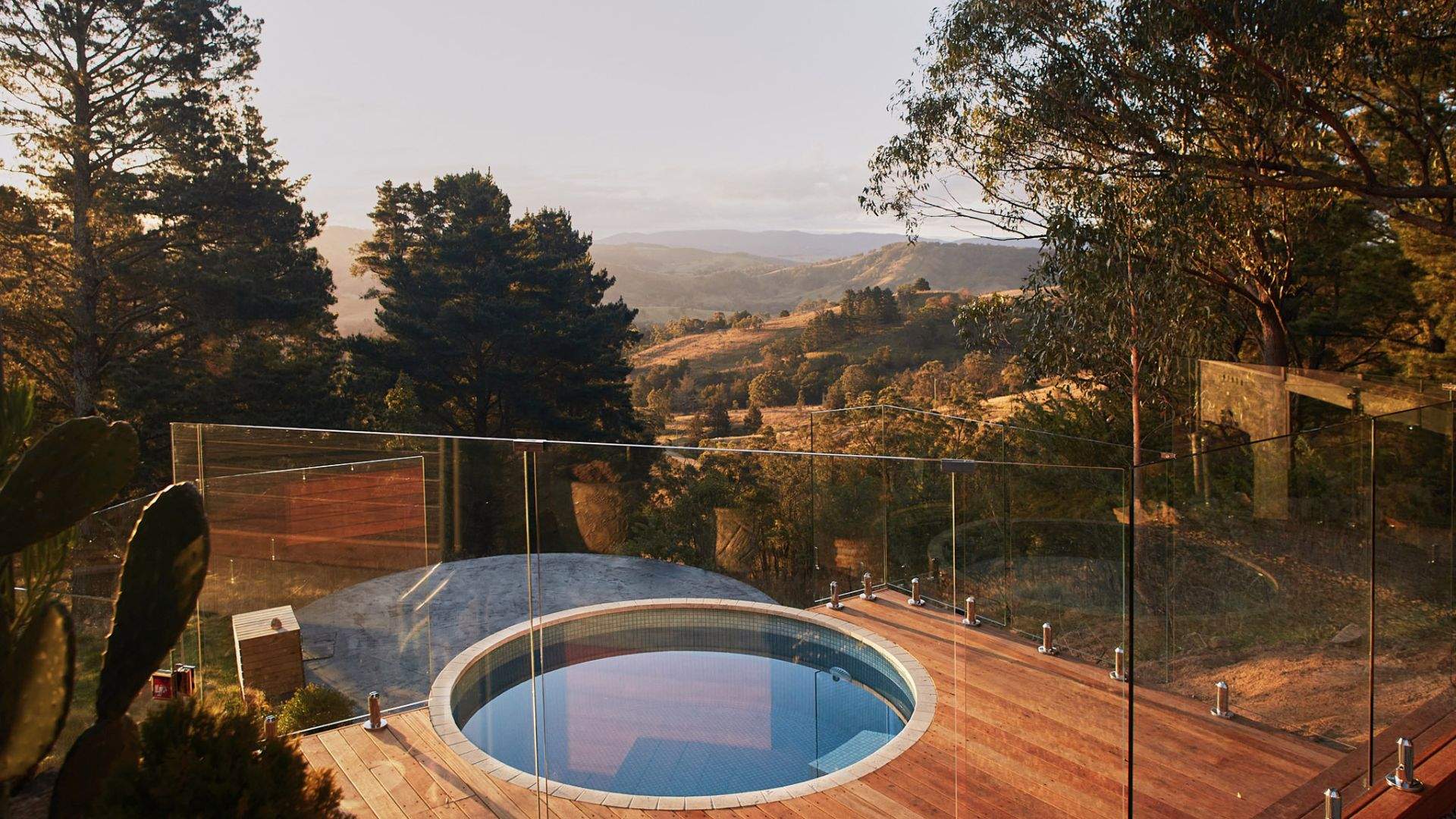 THE LOCAL AREA
The Blue Mountains is a classic choice for a Sydneysider's weekender. And it's with good reason. There are hikes up to world-class views and secluded waterholes, buzzy breweries and cosy restaurants — all surrounded by that fresh clean country air. Nearby your lodging are farmers markets (in Blackheath on the second Sunday of the month), Euro-inspired saunas and the option to explore the area atop a horse.
And if you want to stay close, stroll to the staggering cactus plant or stick to the private Woodlands Walk for a top-notch spot to take in the sunset. Got a book? Head to the tree hammock and while away your time suspended among the trees.

THE EXTRAS
Beyond the fact that this spot is clearly a winner, the family-run stay boasts delightfully personal touches too. Take the props adorning the walls: hats fit for seasoned bushmen and a whip. You two holidaymakers can stage a shoot, ensuring you have more than happy memories when you leave. There's a set of vintage binoculars for spotting faraway critters and all the deets for you to organise an in-room spa treatment. You can even organise flowers on arrival, from the locally loved micro flower farm Floral by Nature. It's just about time you booked a stay, dear reader.
Feeling inspired to book a truly unique getaway? Head to Concrete Playground Trips to explore a range of holidays curated by our editorial team. We've teamed up with all the best providers of flights, stays and experiences to bring you a series of unforgettable trips in destinations all over the world.
Concrete Playground Trips
Book unique getaways and adventures dreamed up by our editors