Ten Stunning Onsens in the Forest to Visit on Your Next Trip to Japan
The authors of 'Onsen in Japan' have found the most secluded spots for naked bathing in the country.
There are baths, and then there are baths. And, we're sorry to say, your questionably clean five-foot bath with a view into your neighbour's backyard just isn't going to cut it after you've been exposed to the beauty of Japan's many bathing houses — no matter how many 'winter forest'-scented candles you burn.
The ritual of visiting an onsen is one that's intrinsic to Japanese culture. As well as the healing and meditative qualities of the baths, it's pretty special to be able to sink into a hot body of water (naked, of course) with nothing but a view of a snowy Mount Fuji to distract you. People have been bathing naked in the natural hot springs of Japan since way back, and while it's basically second nature for its inhabitants, tourists are welcome to jump on board (as long as you can respect and adhere to their customs).
There are over 2000 onsen in Japan, and Steve Wilde and Michelle Mackintosh visited a whole heap of them as 'research' for their new book, Onsen of Japan. While they've collected handy information about 140 onsen across the country, we've pulled out ten of the more secluded, snow-surrounded, totally idyllic spots that you should pencil in for your next trip to Japan.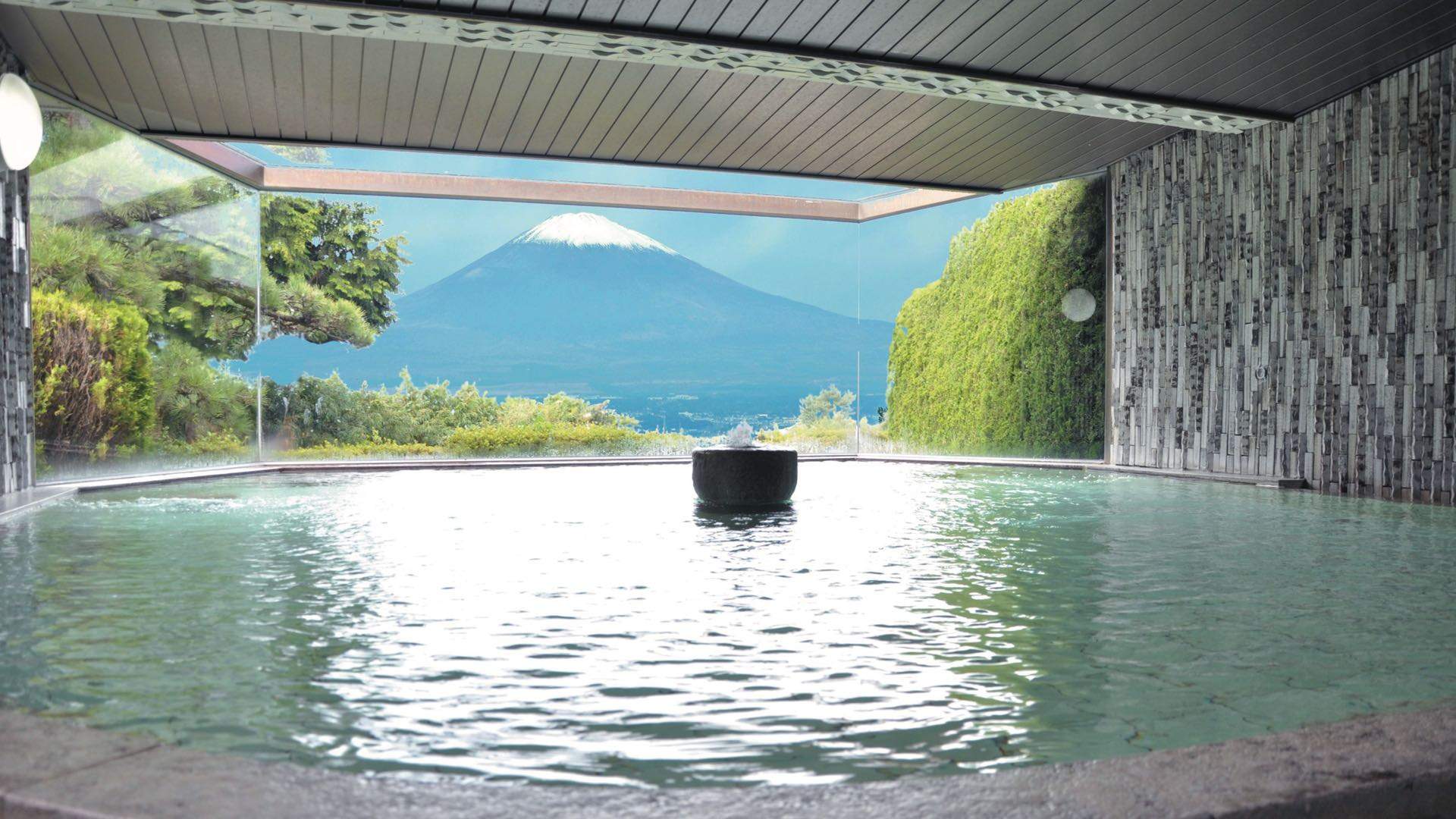 GOTENBASHI ONSEN KAIKAN, GOTEMBA
Day or night and in any season, Gotemba offers you a knockout view of Mount Fuji that you don't have to shell out the big yen for. At around one‑and‑a‑half hours from Toyko, Gotemba makes for an excellent day trip. A shuttle bus from Gotemba Station will whisk you to an onsen where, for a rock‑bottom price, you can get the full Fuji‑san view that would cost a bomb at a ryokan or designer hotel.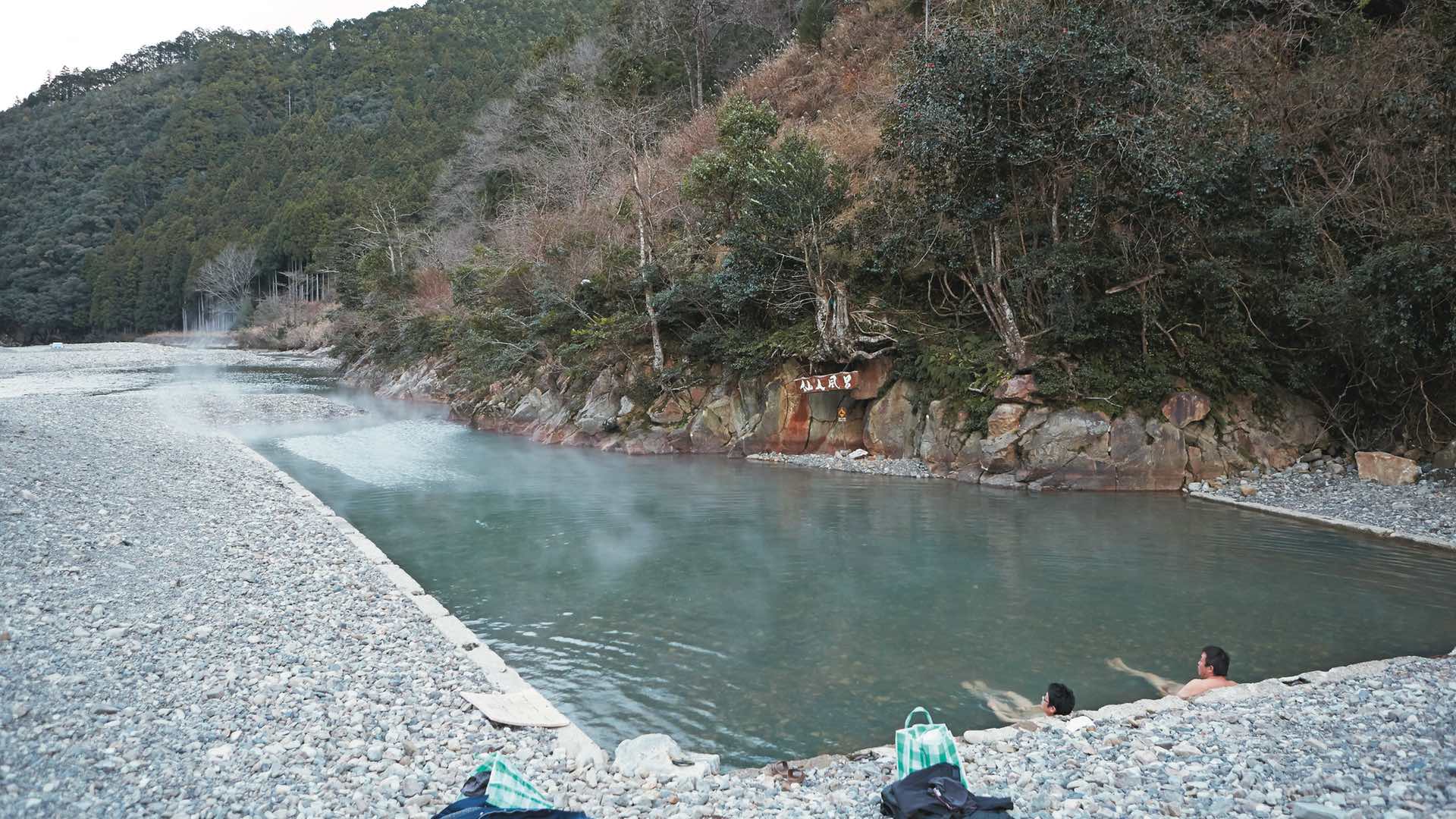 KAWAYU ONSEN, WAKAYAMA
One of the three onsen to make up the Hongu onsen-kyo area, Kawayu stands alone due to its popular Oto-gawa River bathing. Deep in the forest, this remote, majestic river bath was discovered in the mid-1600s when a local was tipped off to its existence by an enigmatic stranger. Fast forward hundreds of years later to a township that now has actual roads and hotels, but somehow manages to maintain its reputation as an esoteric and remote haven.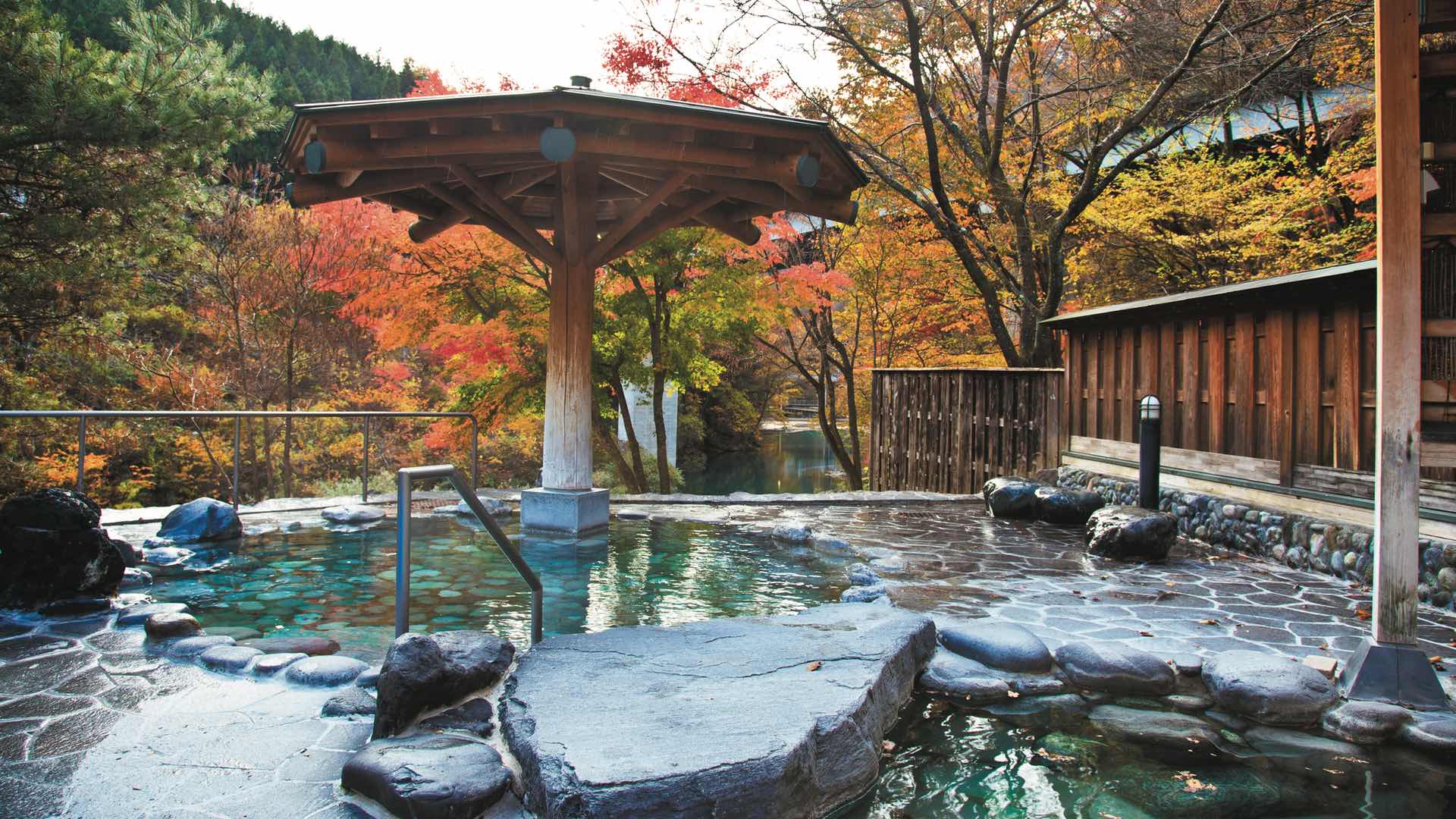 SHIMA TAMURA, SHIMA ONSEN
Founded in 1563, Shima Tamura is a ryokan experience that shows you just how the Japanese have elevated hospitality into the realm of an art form. The building itself is beautiful, with a traditional and inviting wood–entrance and sliding doorway under a thatched peaked triangle roof that looks almost like it has grown organically from the mountain slopes around it.
Shima Tamura features an outdoor bath by a waterfall and seven hot-spring baths nestled in the forest; if you've dreamed of an onsen girded by foliage, hidden from the world and touched with the scent of forested glades with woodland creatures flitting among the cypress, Shima Tamura exists to make your dreams a reality.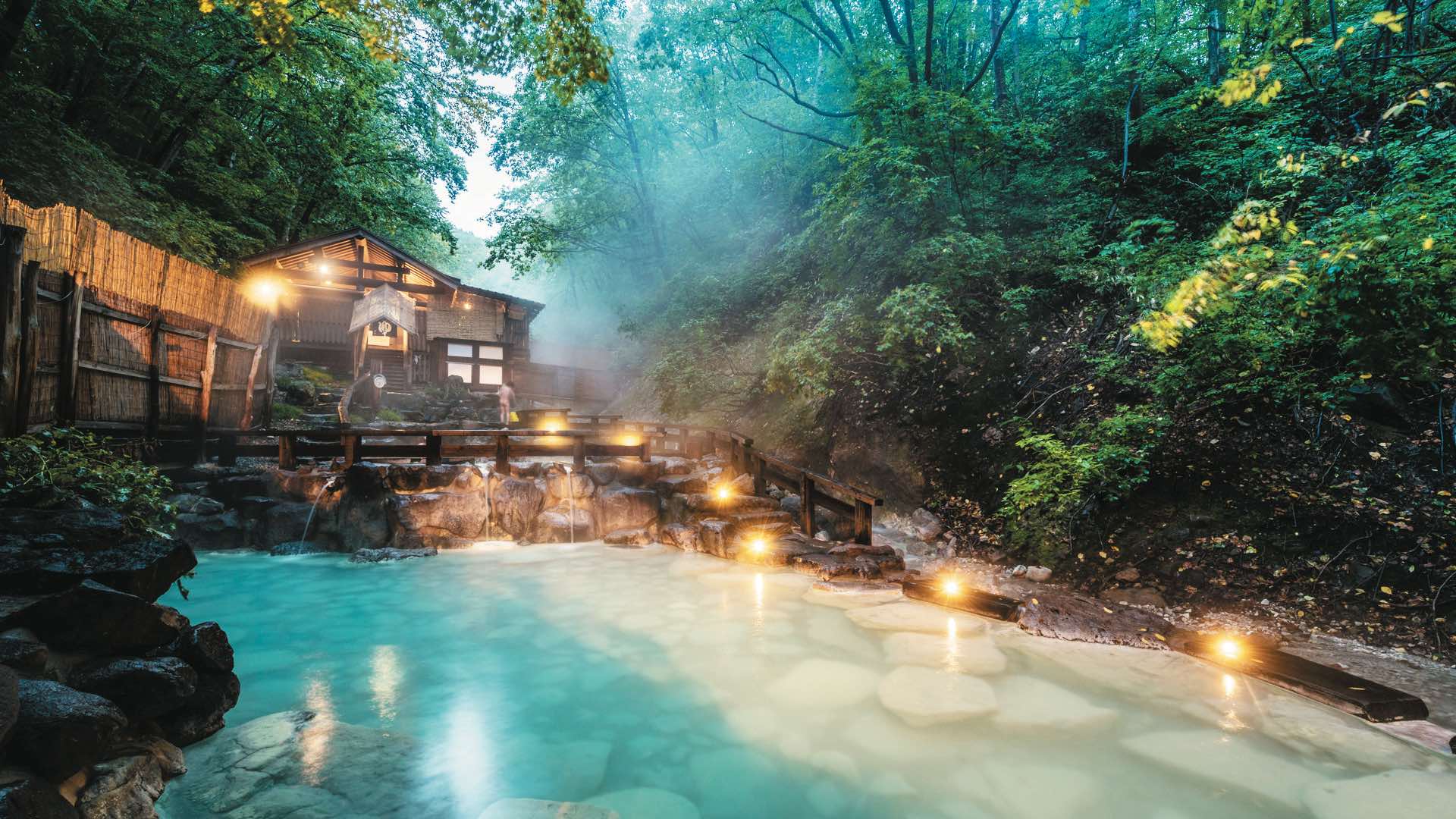 ZAO ONSEN, YAMAGATA
In winter, Zao Onsen (a 40-minute bus ride from Yamagata station) is one of Japan's top ski resorts and the trees become pudgy with snow, so much so that they are known as 'ice monsters', snow-smothered conifers that take on the appearance of a crowd of glacial goblins that huddle together on the mountains as if plotting to take over civilisation (don't worry, they're way too cold to bother). In other seasons, the abundance of nature, greenery and the changing hues of the foliage make Zao popular with lovers of the great outdoors.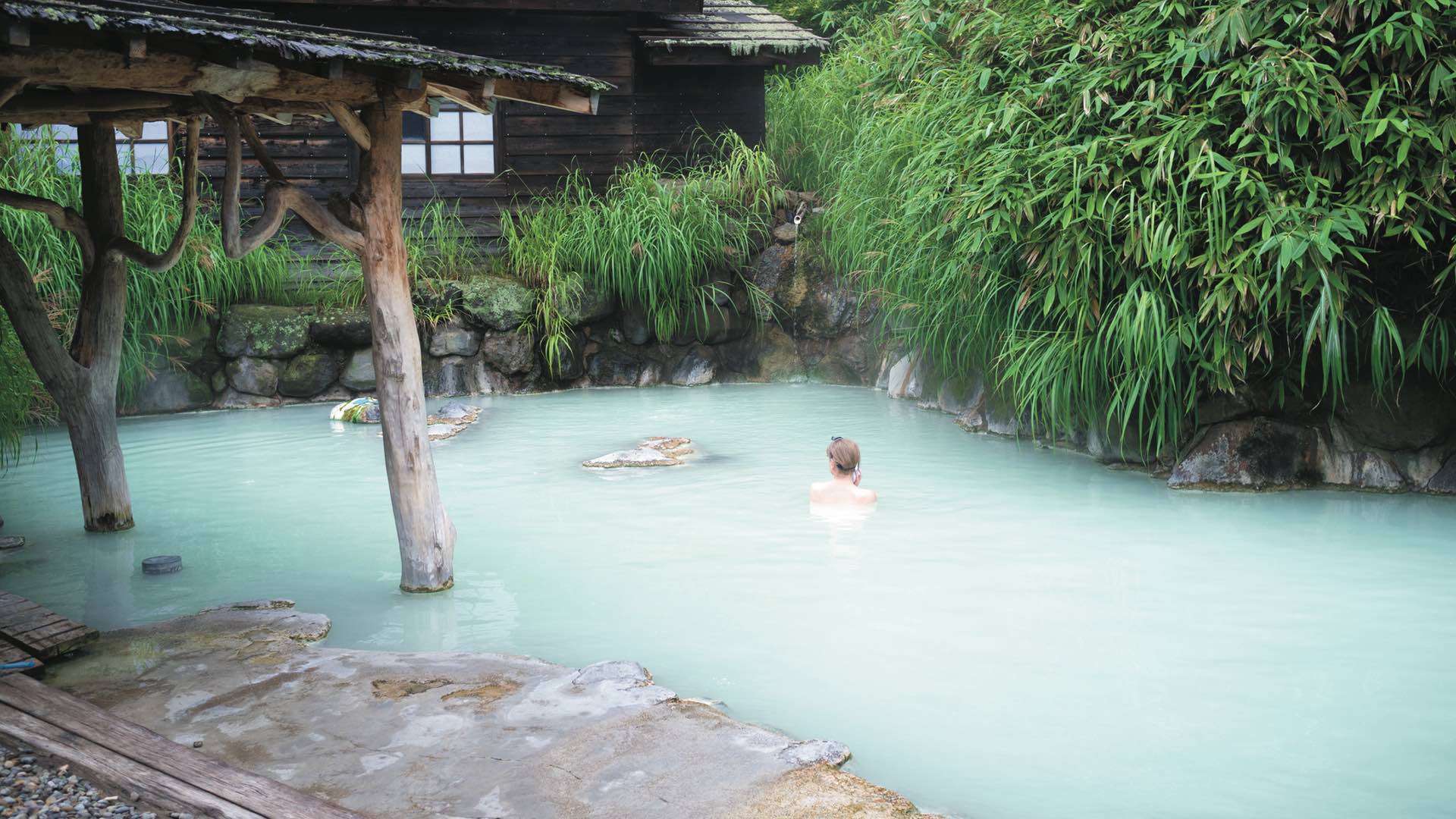 TSURUNOYU, NYUTO ONSEN
A fairytale onsen village hidden beneath low-lying clouds among mountains thick with beech trees, Nyuto Onsen is famous throughout Japan, and the seven hidden onsen all have something magical to offer.
Catch the onsen bus (it has a model onsen bath on the roof) that ferries you around to each different hot spring. We've featured Tsurunoyu, Taenoyu and Kuroyu, but everything here is something special. Ogama Onsen is housed in a picturesque old wooden building that was once a school. Ganiba Onsen dates back to 1846 and has a beautiful outdoor unisex bath hidden in a beech forest.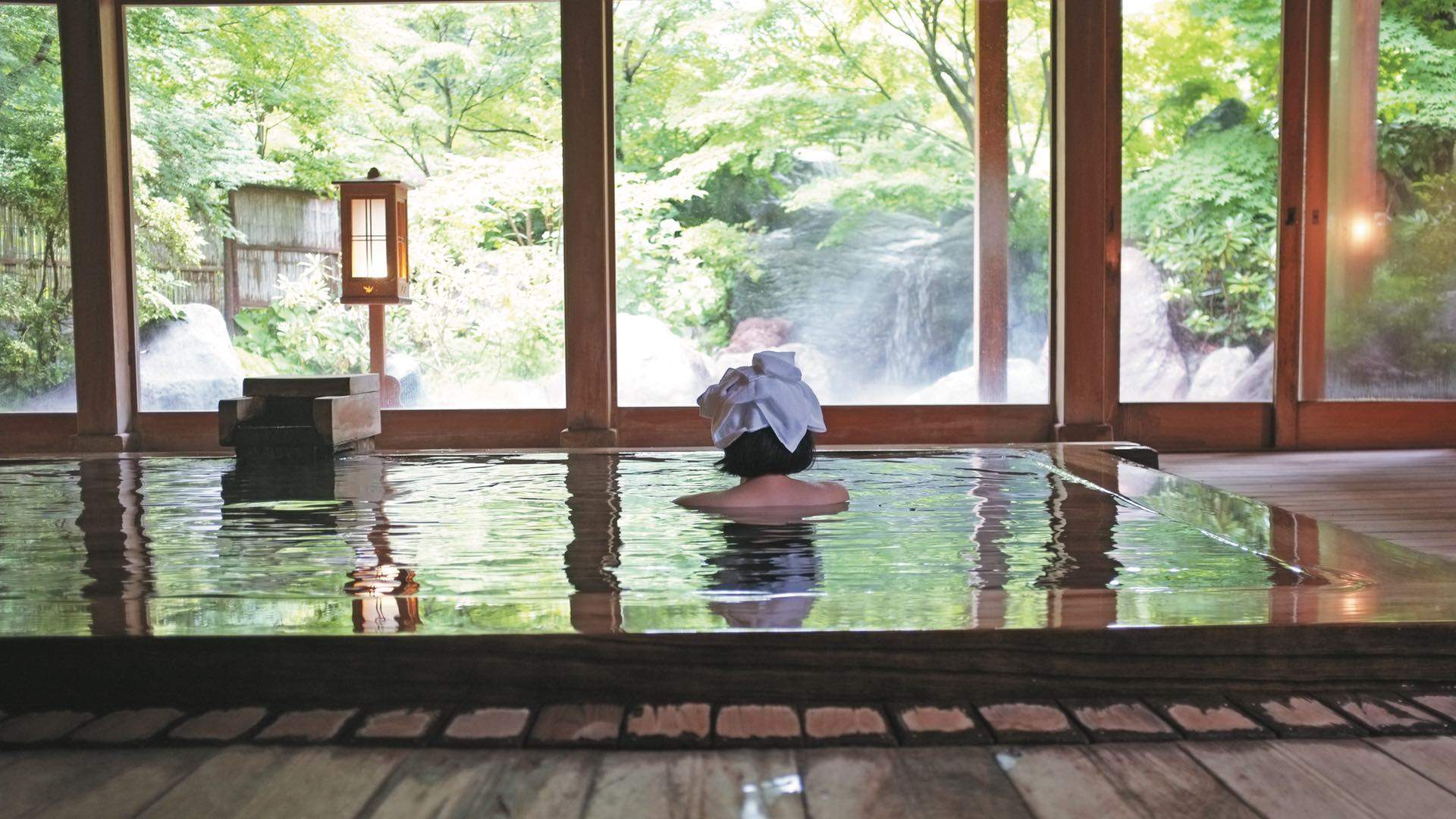 HOSHI ONSEN CHOJUKAN, MINAKAMI
Hidden in the depths of the Joshinetsu Kogen National Park, Hoshi's dreamily beautiful building with a stunning dark wooden exterior accented by flecks of green foliage, flowers, leaves or snow, will transport you to simpler, quieter times. Inside you'll find winding corridors with low ceilings showing faded photographs of times gone by, taxidermied local fauna and small mementos of the building's past – all in glass cases.
The 140-year-old Hoshi is a Meiji-period onsen featuring six baths of equal size under an awe-inspiring vaulted wooden ceiling. The architecture echoes the waiting rooms and stations of the railway boom of the 19th century and its beauty has earned it status as a protected 'cultural property'.
MANZA PRINCE HOTEL, MANZA ONSEN
With more than a hint of the Overlook Hotel in Stanley Kubrick's horror flick The Shining, the Manza Prince, set along an alpine ridge, is a sprawling hotel that has acquired the well-deserved description of 'grand' over the years. The world surrounding the Manza Prince is a snow-dressed highland in winter (skiers flock here), an ocean of rusty gold in autumn, and intense greenery in spring and summer. Like the lord of the peaks, the Manza Prince perches serenely among the clouds surveying all before it. The hotel has a memorable bathhouse alongside its labyrinthine corridors and abundant rooms, and they happily throw their doors open to day visitors.

TAKARAGAWA ONSEN, MINAKAMI
Takaragawa means 'treasure river'. Legend has it that the Yamato-dynasty prince Takeru fell ill on his journey east and a hawk led him to this hidden spring where he was miraculously healed. Today you can heal your metaphysical wounds in this hidden forest retreat.
Sheltered in deep, wooded groves, Takaragawa's outdoor mixed baths are perched on the banks of the Takara River and encompassed by hewn rock, weathered wood, stone monoliths and a vista of charming traditional Japanese buildings.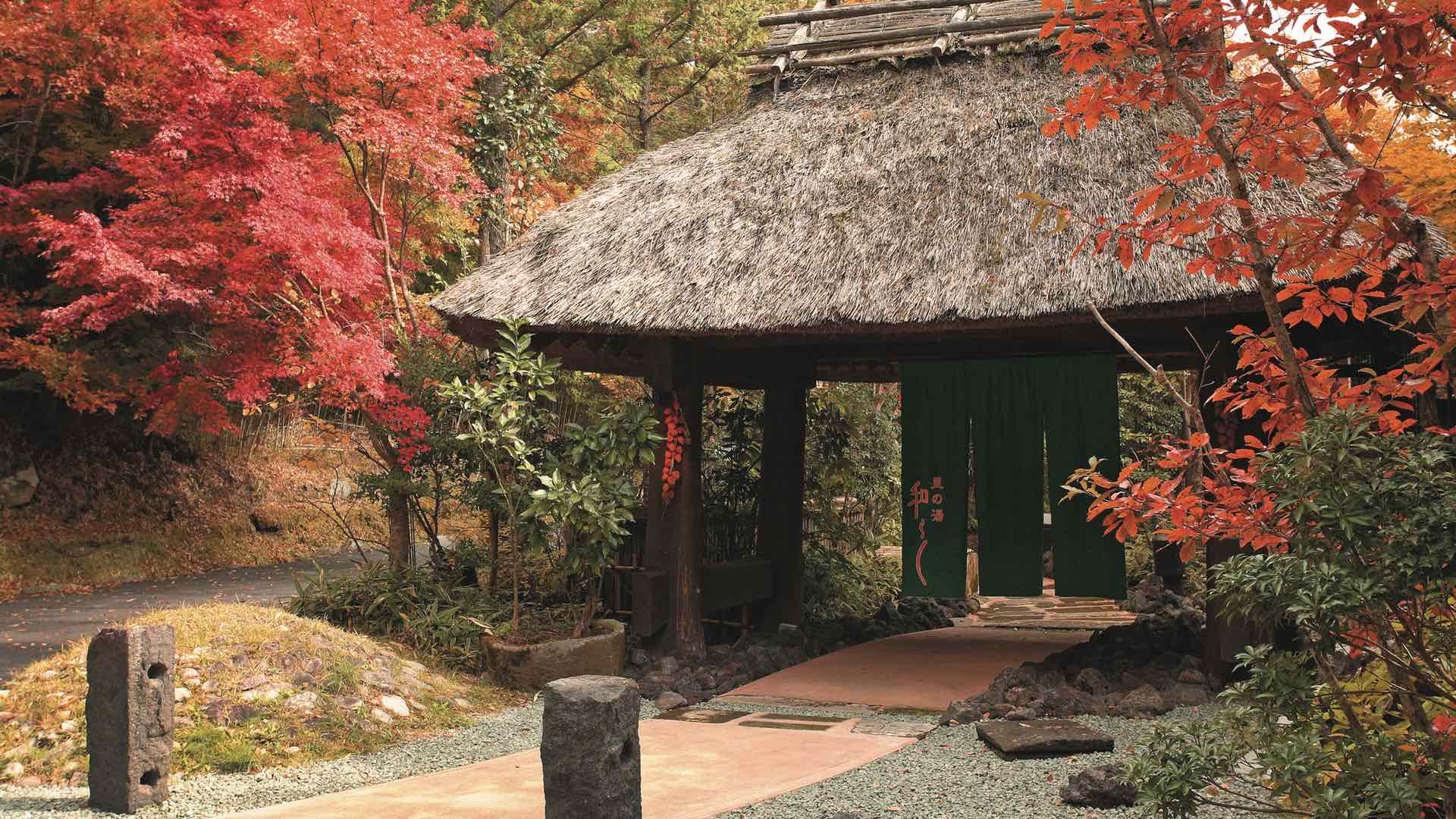 SATONOYU-WARAKU, KUROKAWA ONSEN
Kurokawa Onsen is Kyushu's heart, a 300-year-old onsen town, lost in the mountains, barely touched by modern life and channeling the true spirit of the Edo era. Twenty-four inns line the Chikugo River, housed on winding lanes with small bridges, narrow pathways, moss covered stones and lazily spinning waterwheels. It's here you'll find the onsen, as most of these ryokan open their doors to day bathers. Many of the inns have private baths for an extra cost, giving you choices usually reserved for ryokan guests.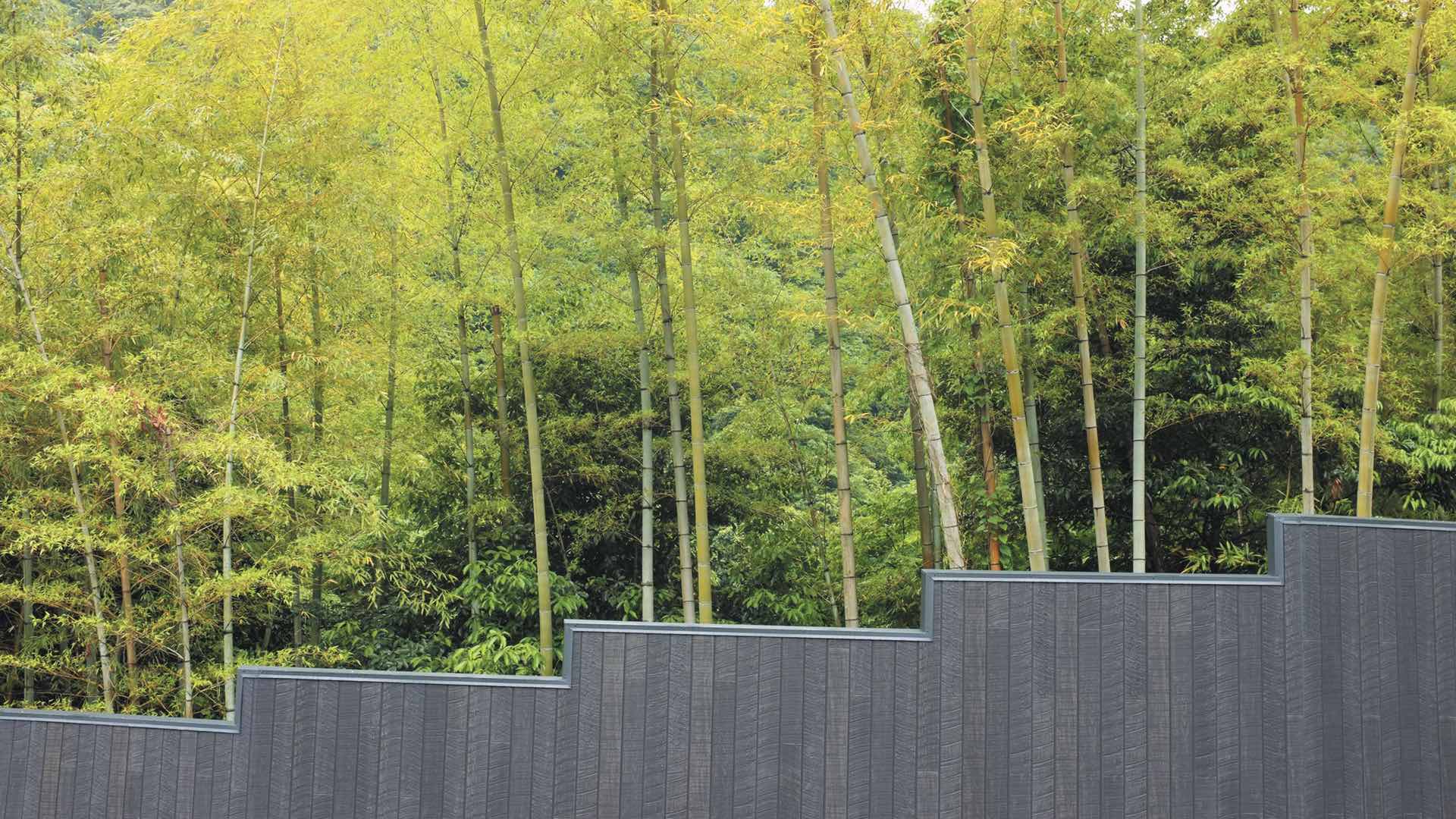 HAKONE YURYO, HAKONE
The free shuttle bus from Hakone‑Yumoto Station takes you on a steep winding ride into the mountains, delivering you to this contemporary, ultra‑stylish onsen nestled among some of Hakone's most beautiful mountainside foliage. This is the perfect city day escape, a bath in a forest, surrounded by Japanese nature at its finest.
The range and quality of the outdoor baths is excellent, the pinnacle being the cypress bath that extends out over the forested glade. The many spacious rock baths are perfect for lying back and gazing at trees towering into the sky while you listen to insects as they lazily drone by. Solo baths give you your own space, and well‑spaced‑out benches allow you to kick back and be nude in nature.

This is an edited extract from Onsen Of Japan by Steve Wide and Michelle Mackintosh published by Hardie Grant Travel, RRP $29.99. The book is available in stores nationally and online. 
Concrete Playground Trips
Book unique getaways and adventures dreamed up by our editors