TRAVEL & LEISURE
The Best Places for Stargazing Around Australia
From city observatories to outback hideaways, you'll want to look up here.
Humans have made a pastime of staring up at the night sky for as long as history can tell us. Unfortunately, the amount of excess light that our big cities leak into the sky makes for pretty poor stargazing conditions on an average night in the inner city. With that in mind, we've scoped out the spots all around Australia where it's still possible to use one's telescope for its intended purpose. Stargazing, that is — not trying to peek at what your neighbours keep behind their curtains.
So, find the closest stargazing spot (or book a flight ASAP) and take part in this time-honoured tradition.


SYDNEY OBSERVATORY, SYDNEY, NEW SOUTH WALES
In terms of physical proximity to the night sky, Sydney Observatory is a pretty good starting point. One of the highest points overlooking Sydney Harbour, its building houses three telescopes — including the oldest working telescope in Australia, which was acquired for the 1874 transit of Venus. The other two are a 42-centimetre computer-controlled lens and, for those of you who prefer gazing at the star closest to us, a telescope that lets you look at the sun.
While night and day tours are on hold at the moment due to COVID-19, the Observatory is currently free to visit and open daily 10am–5pm. This is definitely the first step for every would-be Galileo.

WIRUNA, BLUE MOUNTAINS, NEW SOUTH WALES
Wiruna is the Astronomical Society of NSW's best kept secret — if you go to its website, you'll see what we mean. Located on the outskirts of Wollemi National Park in the Blue Mountains, Wiruna is basically 107 acres of astronomy Christmas. Starry season's greetings, sky-lovers.
The ASNSW holds a number of stargazing sessions on weekends throughout the year, and encourages amateurs and old hands alike to come and use the incredible array of equipment they've got stashed up there. The easiest way to get involved is to become a member of the ASNSW — it's just $52 per year, or $26 for students, and allows you to visit the site with the group or on your own once you're accredited.

WARRUMBUNGLE NATIONAL PARK, COONABARABRAN, NEW SOUTH WALES
Warrumbungle National Park is a proper hike (read: a five or six hour drive from Sydney), but it's also a proper dark sky site. The National Parks and Wildlife Service has dedicated funds to limiting light pollution in and around the park and, with these measures in place, Warrumbungle joins the likes of Death Valley National Park in the US and Galloway Forest Park in Scotland as an official dark sky park — that is, one of the top places on the planet to revel in galactic goings-on.
Warrumbungle does have its own observatory, but scientists and astronomers have the run of the place after sundown. Amateur astronomy in Warrumbungle is best performed the old-fashioned way, with the humble eyeball (and optional pince-nez).

LEON MOW DARK SKY SITE, HEATHCOTE, VICTORIA
Located just 1.5 hours drive north of Melbourne, the town of Heathcote boasts some incredibly beautiful skies — and heaps of bush walks, reserves and national parks from which to see it at night. If you take your astronomy very seriously, you can head to Heathcote's Leon Mow Dark Sky Site. The country estate is available for use by Astronomical Society of Victoria members at any time, and they're even welcomed to camp out overnight.
Membership will set you back $75 a year or, for non-members, the site is open to the public for free during annual events and meet-ups (just check the website for details). You can BYO telescope or binoculars, or just gaze up — there's plenty of beauty to be seen by the naked eye.

TWELVE APOSTLES, GREAT OCEAN ROAD, VICTORIA
The breathtaking views to be had on any trip along the Great Ocean Road are hard to beat. But we bet you haven't considered taking this trip after dark. Turns out that the routes along these many rock formations offer a stunning view at night, too. This is especially true at the road's all-star site, the Twelve Apostles.
On a clear night, the stargazing is truly awe-inspiring. It won't be the view of these golden cliffs and crumbling pillars that you're used to seeing in photos, but it offers something else all together — and that a lot of people haven't seen. Look up, listen to the lapping waves and enjoy the rare peace and quiet here.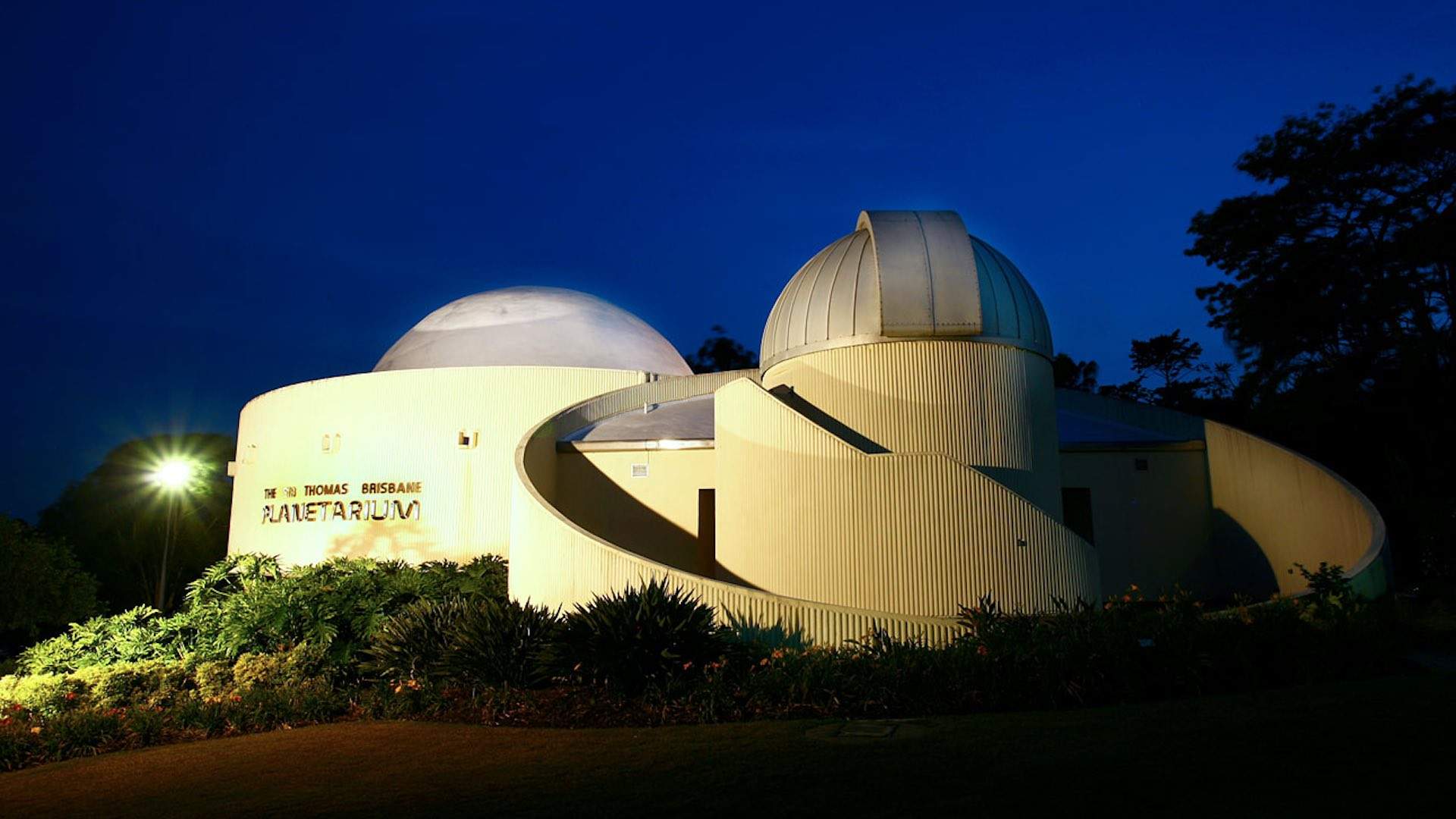 SIR THOMAS BRISBANE PLANETARIUM, MT COOT-THA, QUEENSLAND
Named after the soldier and astronomer who gave Brisbane its name, the Sir Thomas Brisbane Planetarium has been a favourite school tour spot since 1978. If you're a Queenslander, you've definitely been — and it's definitely worth another visit, even if you're well out of class. But unlike school, staring into space here is not only acceptable, it's mandatory.
The 12.5-metre-diameter Cosmic Skydome is the main attraction, under which you'll lean back and send your eyes skywards as informative films tell of black holes, the dark universe, moons and cosmic collisions. Once you've toured the stars, return to earth with a walk through the surrounding Mt Coot-tha Botanic Gardens.

THE JUMP-UP DARK SKY SANCTUARY, WINTON, QUEENSLAND
The sleepy town of Winton in northwest Queensland is perhaps the number-one stargazing destination in all of Australia — as of April 2019, the town received Australia's first international certification for a Dark Sky Sanctuary. There are only 14 certified sites worldwide, so it's a particularly impressive win for Aussie shores.
The sanctuary is set within the Australian Age of Dinosaurs Museum at its Jump-Up facility, which is free and open all year round. Here, you can view the spirals of the Milky Way and Orion Arm, as well as the collapse of nebulas and the birth of new stars. Bring along a telescope, binoculars and a picnic — you'll want to stick around for a while.

CHARLEVILLE COSMOS CENTRE, CHARLEVILLE, QUEENSLAND
The tiny town of Charleville — situated a two-and-a-half-hour flight from Brisbane — is home to one of the few observatories where you can stargaze both day and night. When the sun is up, you can attend a range of astronomy tours at the Cosmos Centre, including the sun viewing, which uses a special telescope to let you gaze directly at the surface of our planet's closest star.
At night, experiences range from $45 for an Aboriginal night sky story session, up to $130 for personal astronomy tours. Check out clusters, planets, nebulae and, on a good night, the Milky Way. Inside the centre, there are heaps of tours and events going on each day, plus some seriously impressive equipment to boot.
Published on March 18, 2021 by Marissa Ciampi