The Six Best Acai Bowls in Brisbane
The acai craze is creeping up the coast and has made its mark on menus around Brisbane.
Ah-sigh-ee. The pronunciation literally spells out one's reaction to eating this superfood — one that has well and truly captivated the good people down the GC and is successfully infiltrating the Brisbane-ian daily diet. First there is the 'Ah' moment when you take your first cooling mouthful, just when you think you're about to melt into the ground, then the 'sigh' where you savour the flavours bouncing around inside your mouth (eyeball rolls also often occur). It's finally followed by the 'ee' moment — immense satisfaction knowing you still have a whole bowl or smoothie to consume as you dive back in.
Here are the best that Brisbane has to offer when it comes to sweet, deliciously filling and dangerously addictive acai bowls.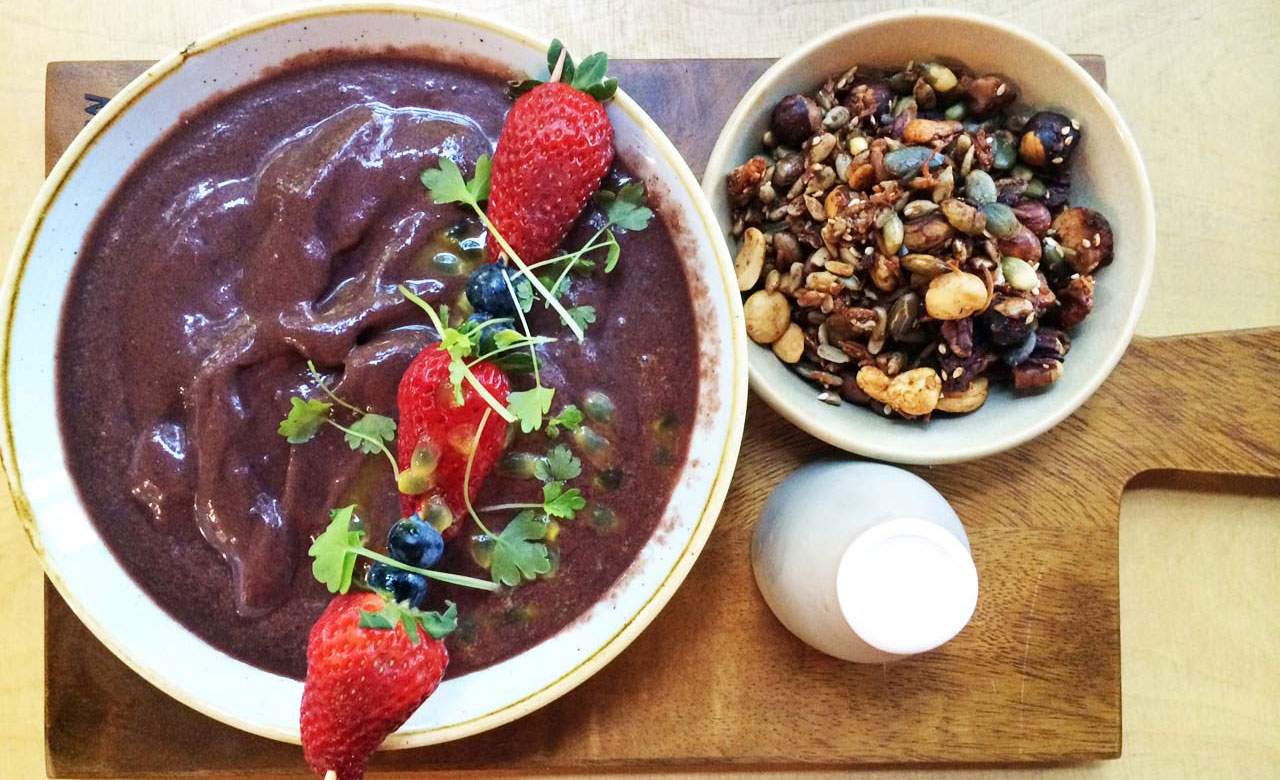 First thing's first: Sol's BYOB (build your own bowl) really is tough to top. Served on a beautiful wooden board with a side of house-made granola, Coyo in a mini milk jug and a pretty-as-a-picture fresh fruit skewer, it's a feast for the eyes just as much as it is for the stomach. The acai itself is spot on, balancing the natural tang of the berry with the creaminess of frozen banana, while the house-toasted granola brimming with smoky-sweet crunchy seeds and nuts adds a crazy delicious crunch enhanced only by a generous dollop of Coyo on top. It'll bowl you over.
Shop 6/826 Ann St, Fortitude Valley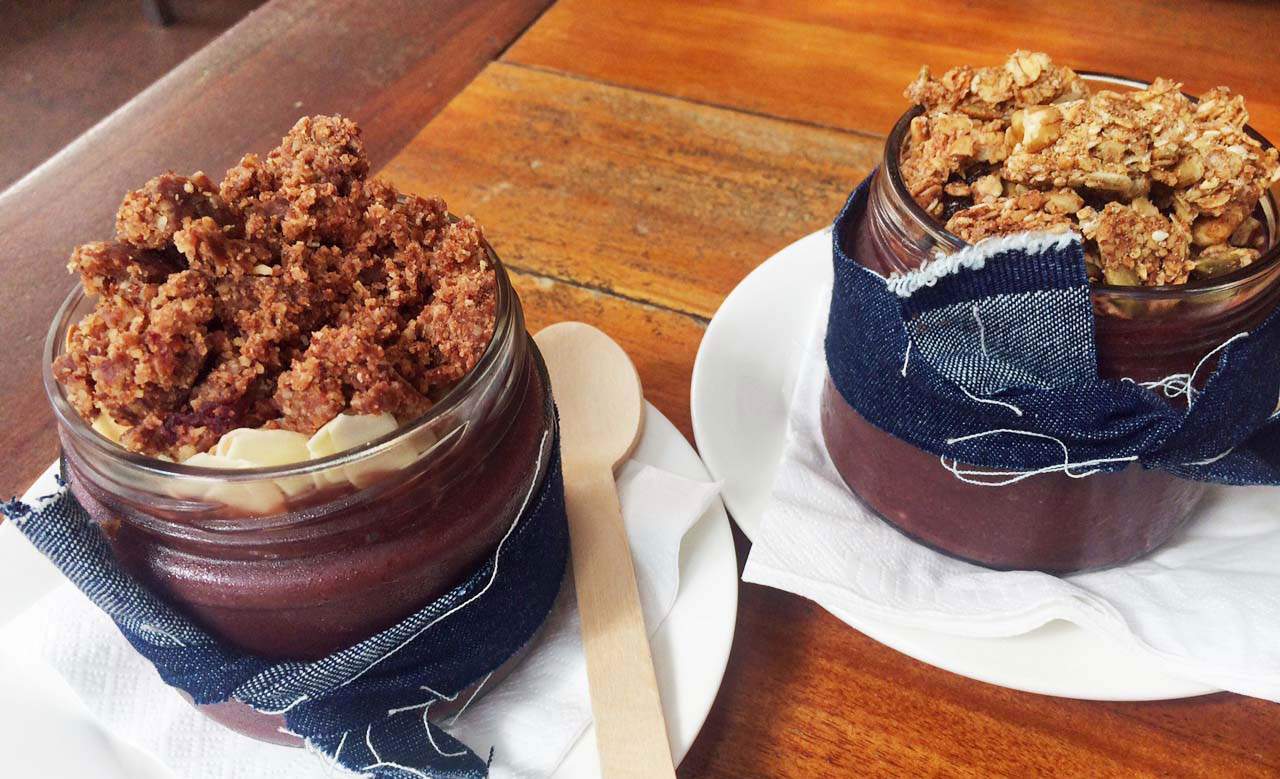 It may come as a surprise but boutique fashion-cafe Denim Co. in South Bank has one of the best acai bowls going round. With a serious dose of acai (thank goodness, because after serious sampling one can tell when places are stingy on the good stuff), the bowl (or rather, hipster jar complete with denim bow embellishment) is both rich in colour and flavour. Tangy and refreshing, it comes finished with Irrewarra granola on top (or accommodatingly switched for a crumbled cranberry bliss ball and slivered almonds). A pure winner in every sense.
Shop 9a Little Stanley Street, South Bank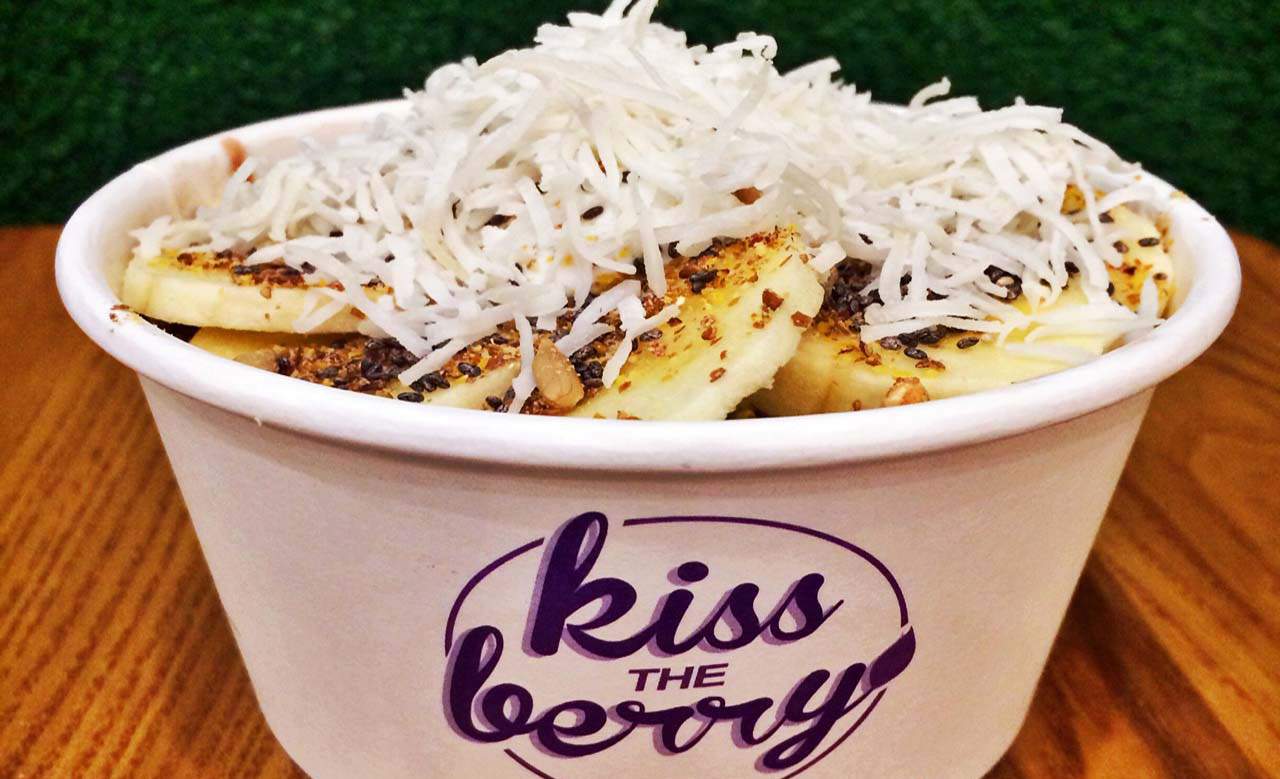 If you're an acai connoisseur then there really is no going past Kiss the Berry. Whether it's their ever-popular KTB Original Bowl (acai, banana, strawberries and apple juice topped with more banana and strawberries and chia seeds), their Berry Good Low Sugar Bowl (acai, banana and filtered spring water topped with banana, LSA, chia seeds, coconut and yoghurt) or their blend of the month that tickles your acai fancy, these girls know their superfood. Pro tip: ask for Kiss the Berry's own granola and Coyo as add-ons. Just do it and thank us later.
Shop 1, 99 Creek Street, Brisbane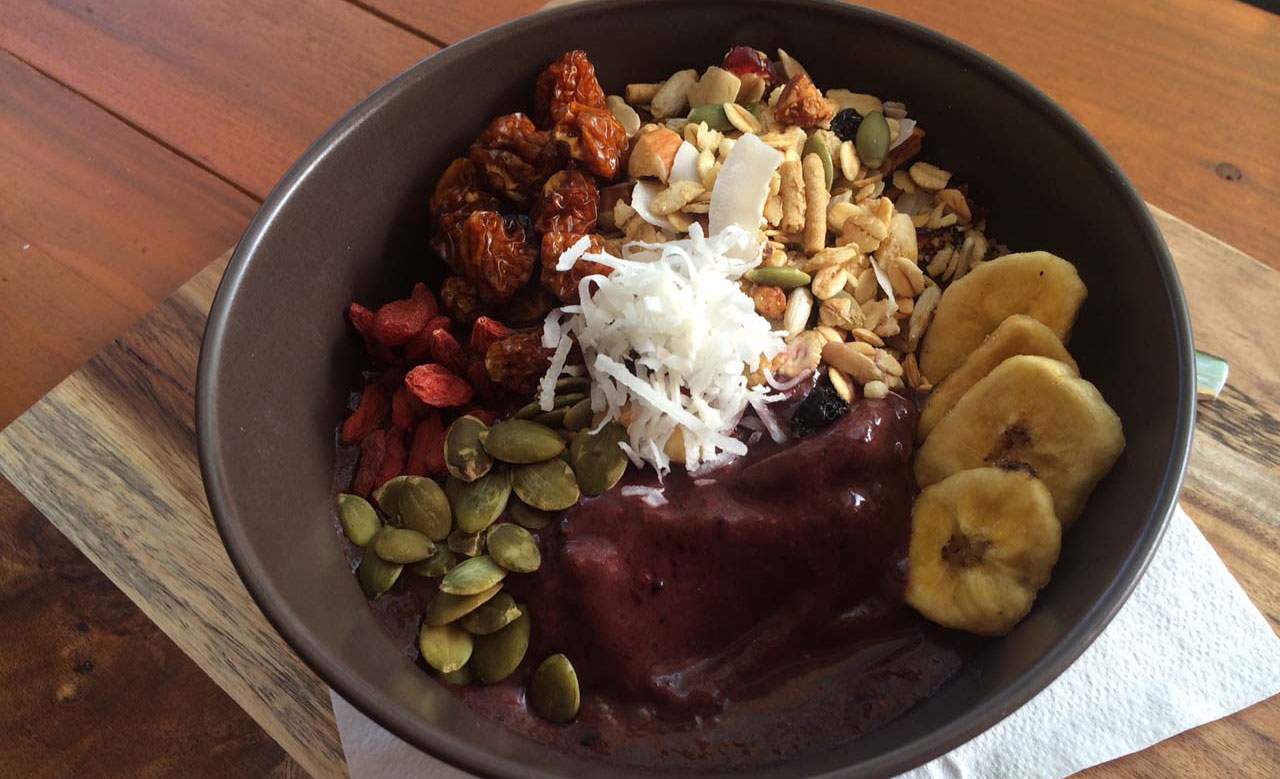 When seeking an acai bowl that will keep the monster at the door for several hours after consumption, look no further than Blurred Coffee Lounge. A supercharged berry hit, it's a large bowl filled to the brim with an organic Amazonia Co. acai/strawberry/blueberry/raspberry blend, laden with golden toasted granola, plump inca berries (hello taste sensation!), gojis, crunchy dried banana and shredded coconut. It's a zesty, fruity, refreshing take on the acai, and we're fans.
Shop 3 / 27 Lamington Street, New Farm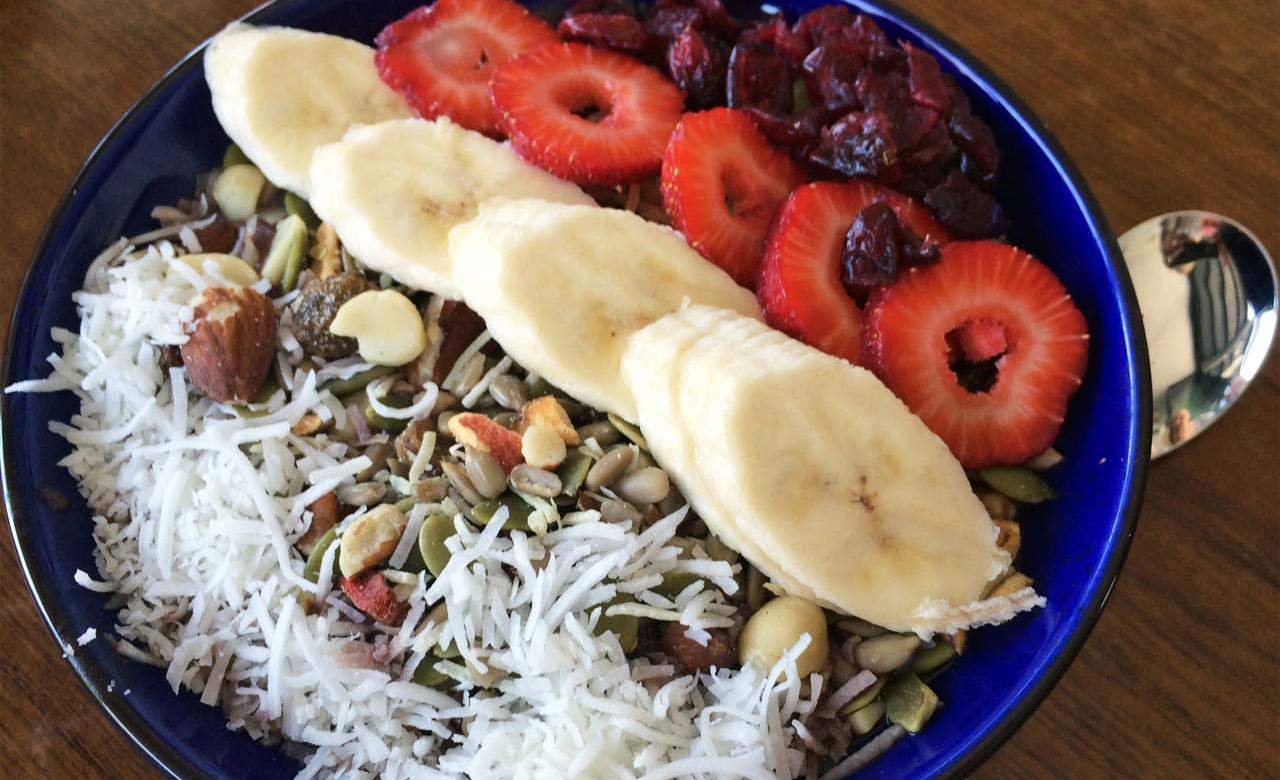 Staying in the Venzin Group family, Picnic's acai bowl is slightly more mild in terms of the intense acai berry flavour but equally as delectable. Blended with banana, it's assembled with even rows of honey toasted Byron Bay Macadamia Muesli, shredded coconut, cranberries, strawberry rounds and fresh banana. The always-beaming team will also customise it for you with paleo granola if regular isn't your thing. Perfectly enjoyed on a hot day by the giant bay window.
12 Martha Street, Coorparoo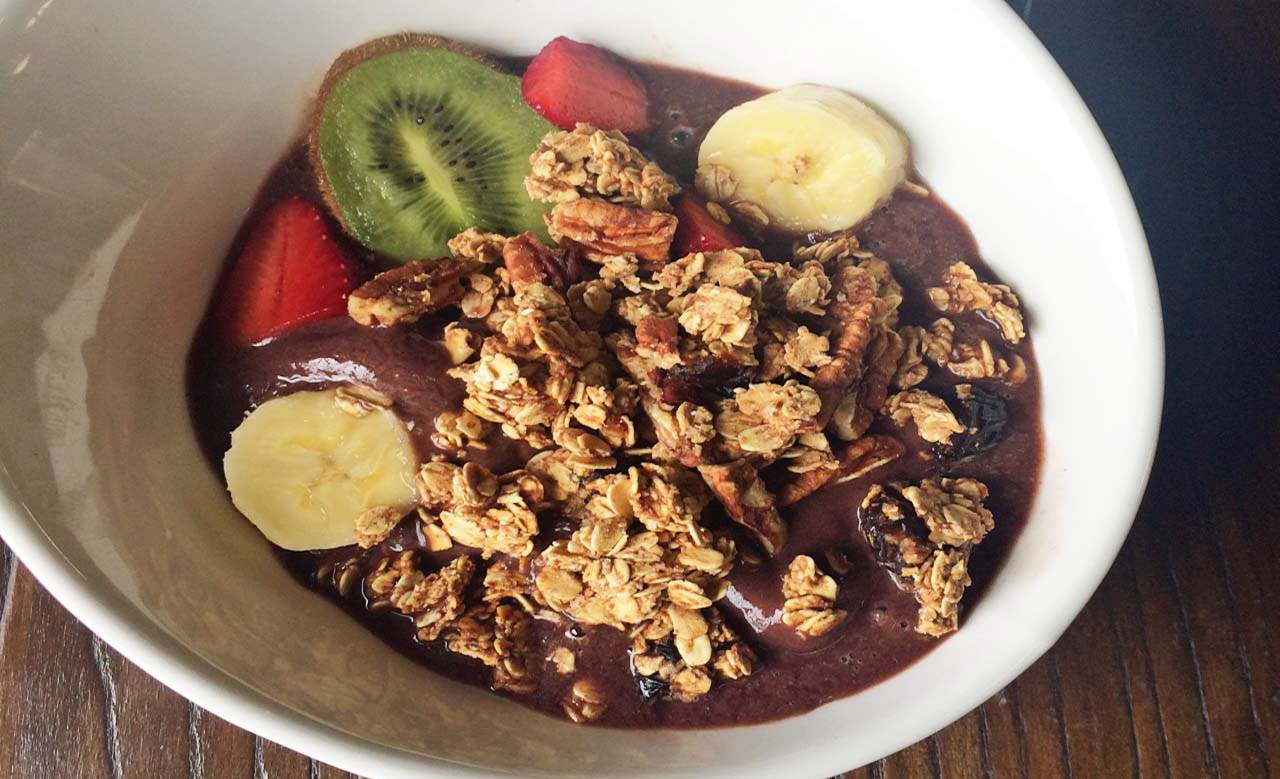 The team at this raw food and smoothie bar sticks to the traditional combination and uses Amazonia Co. acai blitzed with bananas and a touch of juice. Topped with the usual delicious combination of nutty granola clusters and fresh fruit, it is on the runnier side (to be fair it was a humid morning), but it really doesn't matter, as these bowls are easy to swiftly devour. And if you're a granola fan, definitely ask for double the quantity. It's pretty damn tasty.
85 Commercial Road, Teneriffe

Photography by Mimi Hyll.
Published on November 30, 2014 by Mimi Hyll