TRAVEL & LEISURE
A Local's Guide to Visiting Melbourne
Get your advice from a local and explore every corner (and coffee) of Melbourne, from Brunswick to Balaclava and back again.
It's all well and good to poke fun at what's wrong with Melbourne. Its shitty weather, the lack of beaches and the fact that no one thinks it's a priority to have a rail link to the airport (sorry about that one). You will have to bring an umbrella, pack a jacket as well as well as your sunglasses and ride an expensive bus into the city, but you will not be disappointed. Melbourne is so much more than bad weather, and once you get past the trams and laneways, you'll see a side to the city that isn't — and can't possibly be — translated through tourism ads.
Because perfect weather is overrated anyway, maybe I can coax you away from your golden circle for a trip down south. Once you work out the transport system, the city's grid is easy to navigate and you can work your way northside to southside, east to west. To ensure you won't waste time sipping bad coffee in sleepy suburbs, let this guide be your compass. Explore all the diverse pockets of the city, from Brunswick to Balaclava and back again.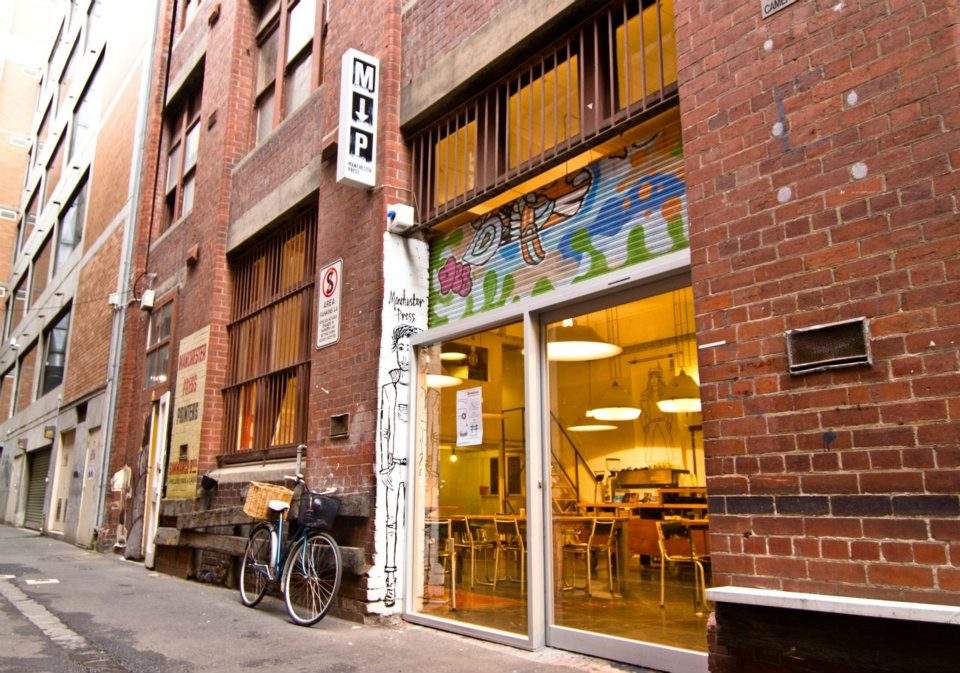 CITY: CBD, Docklands, Southbank
Devoid of any notable landmarks, the CBD is subtle and charming. Little Bourke Street houses a cluster of serious coffee — get a takeaway from Patricia (standing room only) or walk a few blocks up to Brother Baba Budan and Manchester Press. Keep going and you'll hit Chinatown, where Shanghai Village is where you gotta go for copious amounts of dumplings (it's also BYO). If you want fine dining (or just clean cutlery), join the queue at Chin Chin or order tapas at the newly-reopened Bomba.
Some of the city's best breakfasts can be found at Cumulus Inc. and The Grain Store, and for sweet treats your ice cream go-to is Spring Street Grocer and the signature salted caramel crepe from Creperie Le Triskel. See what exhibition is showing at the Ian Potter Centre, and make sure you head out to Southbank to check out open-air arts space and bar, Testing Grounds.
We're all about the rooftop bars, with some of the best being at Rooftop Bar in Curtin House and Goldilocks, which is a smaller, cosier alternative. Weather permitting, the Queen Victoria Night Market is always busting during summer, and literally no one can turn down a drink under a bridge right on the Yarra at Ponyfish Island when the weather's warm.
Go to: Flinders Lane, Little Bourke Street (Chinatown), Cathedral Arcade
See: Ian Potter Centre, Queen Victoria Market, Testing Grounds
Eat: Shanghai Village, Chin Chin, Bomba, The Grain Store, Cumulus Inc., Spring St Grocer, Creperie Le Triskel
Coffee: Manchester Press, Brother Baba Budan, Patricia
Something Stronger: Goldilocks, Ponyfish Island, Shebeen, Rooftop Bar, Trunk, Mesa Verde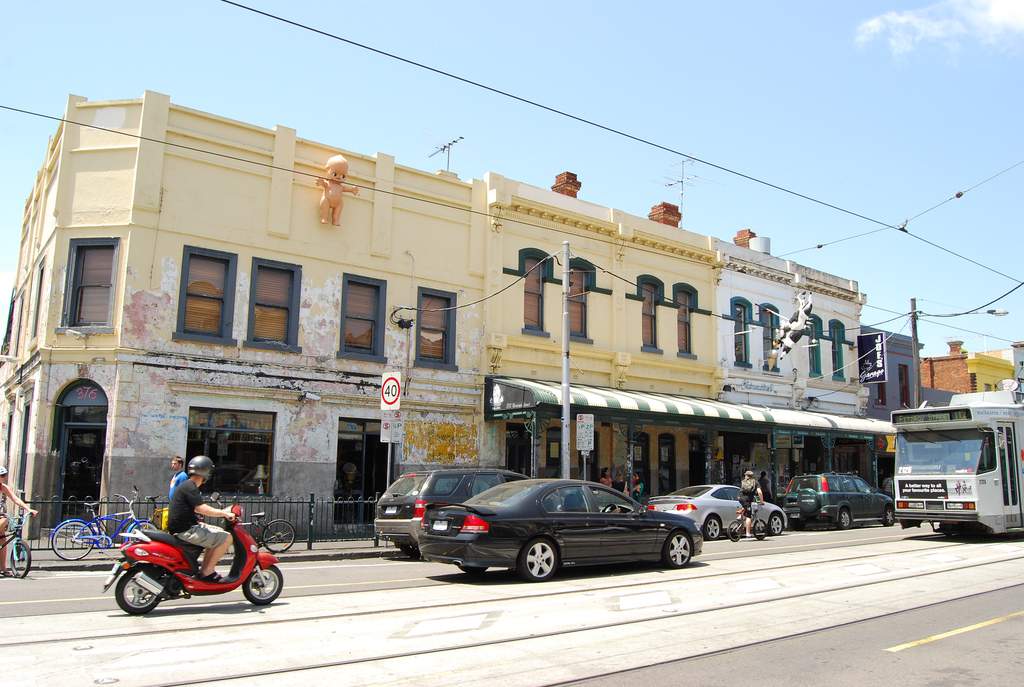 NORTH: Fitzroy, Collingwood, Carlton, North Melbourne, Abbotsford
Just a quick tram ride out of the CBD and you'll hit the inner north. Aside from the bearded men and creative not-so-sub culture, this pocket of the city is also known for its high-grade cafes, pop up food vans and ridiculously successful restaurants. Lately, the only place you want to open a restaurant is Smith Street, Fitzroy — where you can slurp noodles at Shop Ramen, down a famous Huxtaburger or get to Rockwell and Sons for Fried Chicken Wednesdays.
Further over on Brunswick Street you'll find the cult of Vegie Bar, and be sure to make a trip to De Clieu or Everday Coffee for a killer brew. Over in North Melbourne, Auction Rooms has unanimously been voted Melbourne's best brunch and Beatrix's cakes are worth travelling for. Get one of the best views of the city from Naked in the Sky, sip the city's best cocktails at the Everleigh or make a night of it with live music at Brunswick's Howler.
On a weekend, grab a coffee and stroll around the Rose Street Artists' Market or, if it's hot, join the rest of the northsiders heading to Edinburgh Gardens for a picnic and beers. Don't miss a visit to Abbotsford Convent and their Shadow Electric Cinema on summer nights.
Go to: Smith Street, Brunswick Street, Gertrude Street, Sydney Road
See: Edinburgh Gardens, Abbotsford Convent, Rose Street Artists Market, Juddy Roller
Eat: Auction Rooms, Beatrix, Huxtaburger, Neighbourhood Wine, Rockwell & Sons, Vegie Bar, Shop Ramen
Coffee: Everyday Coffee, Storm in a Teacup, De Clieu, Cafe Rosamond
Something Stronger: Naked In The Sky, The Everleigh, Rum Diary, Howler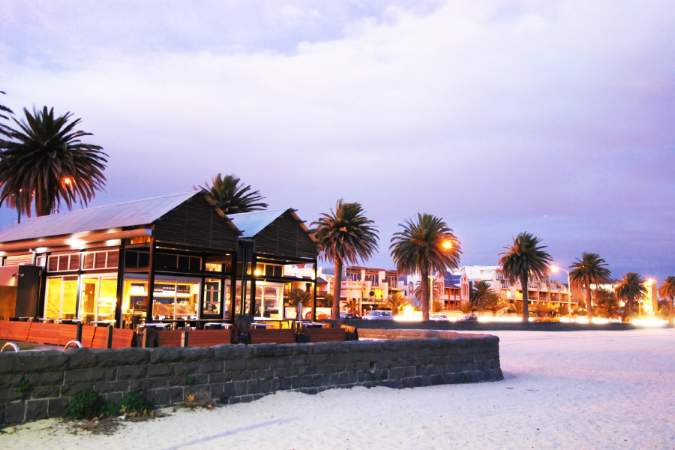 SOUTH: South Melbourne, St. Kilda, Balaclava
Crossing south of the river is a whole different ball game. Here, palm trees replace terrace houses and the asphalt horizon becomes the sea — yes, the sea. Get the best view of the bay from Captain Baxter's lush rooftop at St. Kilda Sea Baths or over a more casual burger at NSHRY up at Albert Park.
Head up to Balaclava's Carlisle Street for some rooftop pho and rice paper rolls at Uncle, tacos at Si Senor or a drink at The Local Taphouse. Tucked behind a Coles carpark you'll also find Monk Bodhi Dharma serving their own roast and sustainable vegetarian and vegan fare. Also a must-visit is Melbourne institution St Ali and the South Melbourne Market, where you have to line up for a South Melbourne dim sim and fresh Turkish gozleme from Koy.
Go to: Coventry Street, Carlisle Street
See: South Melbourne Market, St. Kilda Sea Baths
Eat: Uncle, Koy, NSHRY, Si Senor, Hannah
Coffee: Monk Bodhi Dharma, Giddiup, St. Ali, Clement
Something Stronger: Newmarket Hotel, Captain Baxter, The Local Taphouse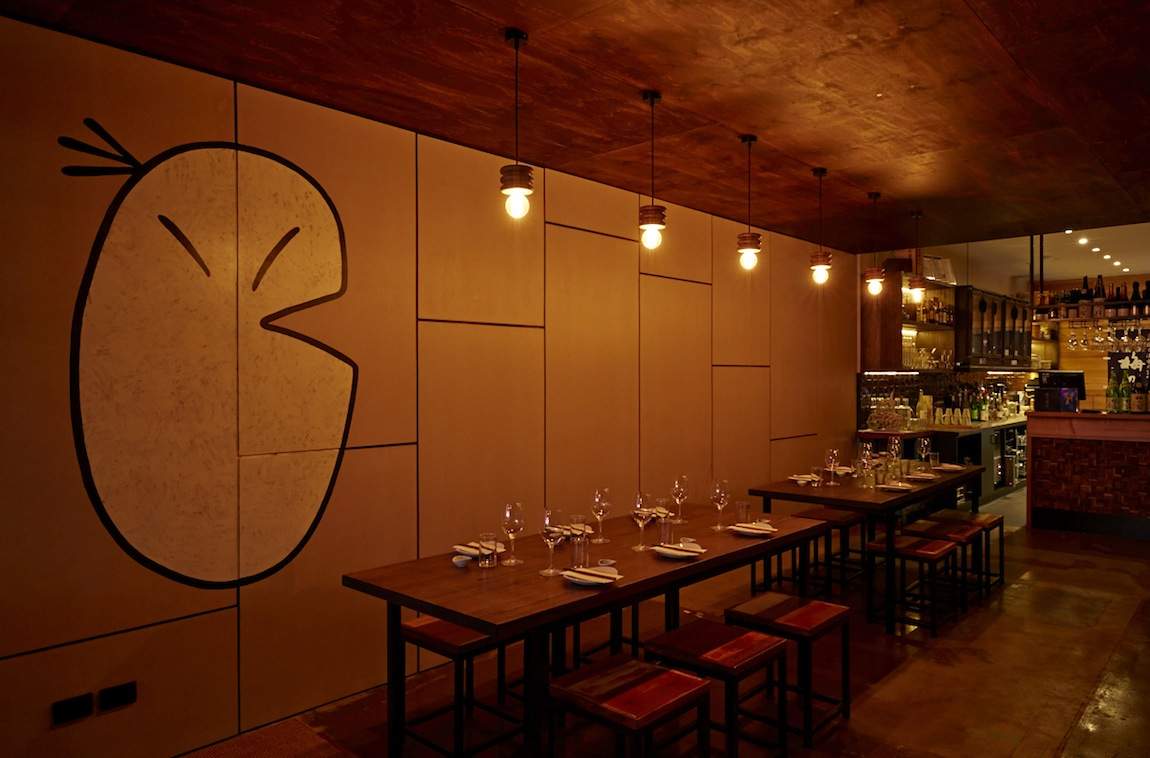 EAST: Richmond, South Yarra, Windsor, Prahran
Leafy and tailored, the east is the ying to the north's yang — and Chapel Street is the vein that pumps blood its suburbs. From South Yarra's boutiques to the Windsor-end bars, you can go Vietnamese at Saigon Sally, Mexican at Fonda or Japanese at Mr. Miyagi. Drink impeccable cocktails at The Woods of Windsor or something with house-infused bacon vodka at Sweetwater Inn.
Richmond links the inner north with the east, and Church Street is home to top brunch at Top Paddock and I Love Pho on Victoria Street is the closest you'll get to Vietnam without crossing borders. And, disappear from the city with a stroll in the Royal Botanic Gardens or in the gardens at Como House, where you'll also be able to have a very lovely Devonshire tea at The Stables.
Go to: Chapel Street, Victoria Street, Swan Street, Greville Street, Church Street
See: Royal Botanic Gardens, Como House
Eat: I Love Pho, Fonda, Saigon Sally, Touchwood, The Stables, Meatmother, Mr. Miyagi, Top Paddock
Coffee: Little Big Sugar Salt, Pillar of Salt, Dukes Coffee Roasters
Something Stronger: The Woods of Windsor, Sweetwater Inn, Borsch, Vodka & Tears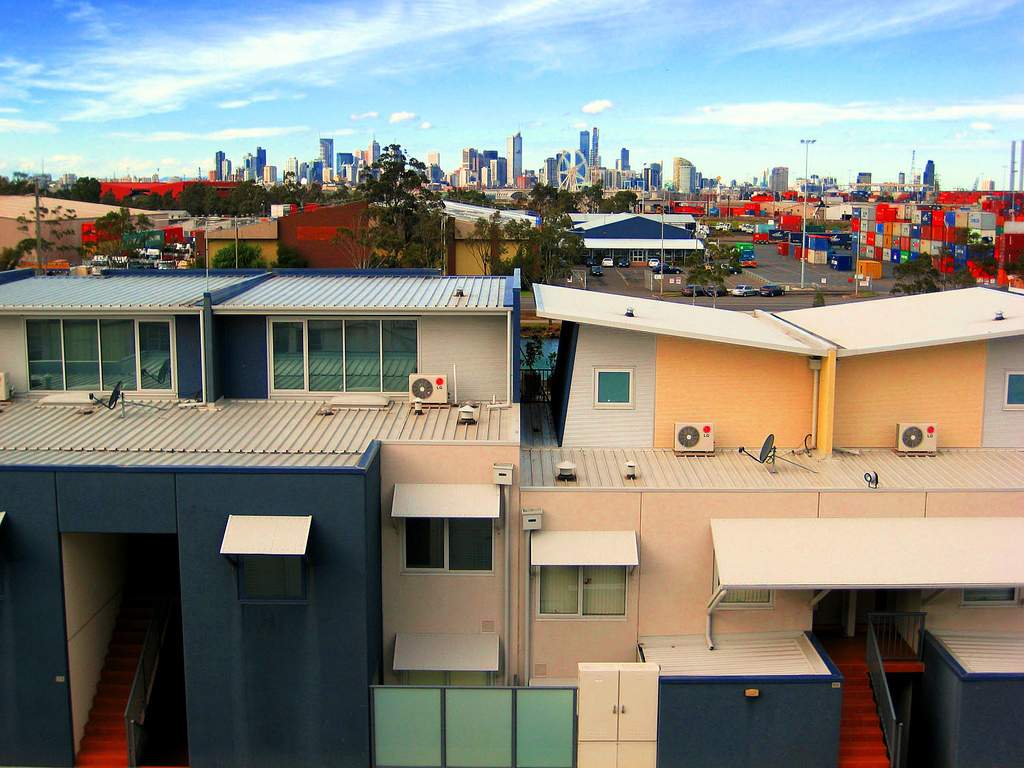 WEST: Kensington, Footscray, Flemington
Traditionally the west isn't a destination for tourists or even for locals who reside on the opposing side of the city. While it isn't renowned for fine dining and sleek bars, the west is rich in culture and has managed to maintain a sense of local community. Take the train out just two stops to Footscray, where you can lose yourself in the multilingual chatterings and exotic ingredients at Footscray Market. Between Footscray and neighbouring Seddon, you'll find some of the best (and cheapest) African food, as well as well-known cafes such as Common Galaxia and West 48.
Also easily accessible by train is one of Melbourne's best-kept brunch secrets, The Premises, and the best laksa in town at Laksa King. It's a side to the city not usually seen, but the burgeoning food and arts scene is sure to put the west on the map. As the locals say, the westside is the bestside.
Go to: Macaulay Road, Victoria Street (Seddon)
See: Footscray Market, Footscray Community Arts Centre
Eat: The Premises, Laksa King, West 48, African Taste, Union Food & Wine
Coffee: The Rusty Fox, Guerilla Espresso, Common Galaxia
Something Stronger: White Rabbit Records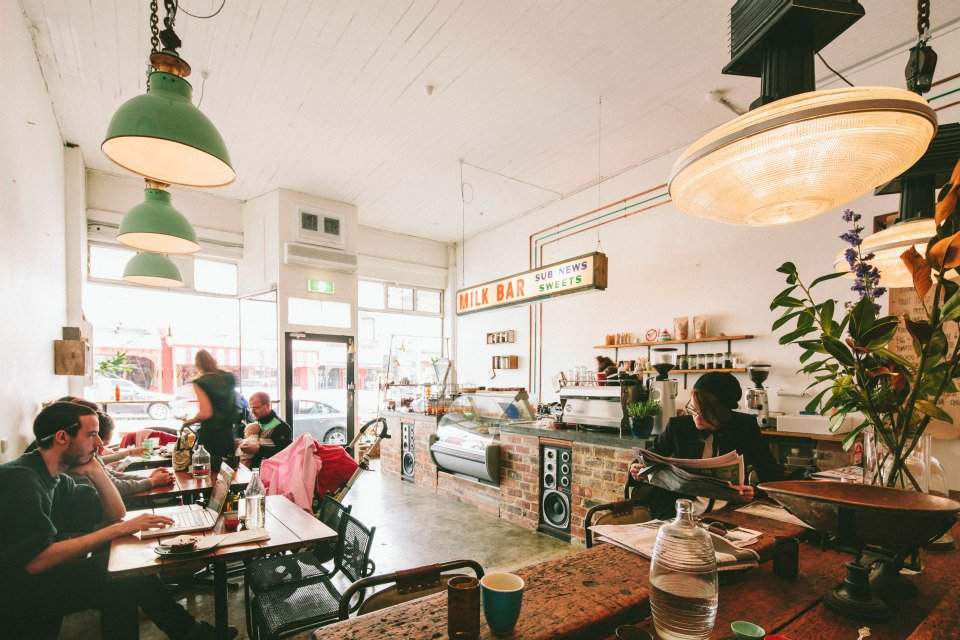 Other helpful hints
You will have to buy a myki card to use public transport — they cost $3 and you load up money on it. More information here.
Download the PTV Journey Planner app (super useful).
Look at CP Melbourne's bar and restaurant directory for more eating and drinking.
Images thanks to Farbenfrohe Wunderwelt, Manchester Press, Nicolas Boullosa, NSHRY, Fernando de Sousa & Shantanu Starick from Pixel Trade
Published on November 07, 2013 by Lauren Vadnjal