Airbnb Has Recreated the 'Bluey' House in Brisbane If You'd Like to Spend a Night in the Hit Series
The homegrown animated hit comes to life — and you can stay in this IRL replica of the Heeler family home for $20 a night.
Maybe your nieces and nephews got you onto it, or the other kids in your life. Perhaps you just like all-ages-friendly animation, especially when it's an Australian series about a family of blue heelers. Or, you might've become a convert at one of the hugely popular Bluey live gigs that've been touring the country. Whichever fits, and whether you're a big Bluey fan even without kids in tow or you've always wondered why adults love it as well, Airbnb is bringing the homegrown show to life. As the accommodation platform has done with other pop culture favourites overseas — such as Carrie's Sex and the City apartment and the house from Home Alone — it's putting a replica of the Bluey house in Brisbane up for rent.
Two adults and two kids will be able to spend two nights in a home that recreates the Heeler family's abode — but IRL rather than in cute pixels, obviously. Given that the show was created in Queensland, is produced in Queensland and uses Brisbane as inspiration for its on-screen setting, there was clearly only one city that could host this screen-to-reality experience.
The Bluey house marks the first-ever Australian location in Airbnb's Only On Airbnb program — aka the part of the platform that lists all those pop culture-themed spots and offers up the type of experiences that money couldn't buy elsewhere. So this time, Aussies don't need to feel envious of their overseas pals. You do have to be ready to spend a couple days immersed in all things Bluey, though.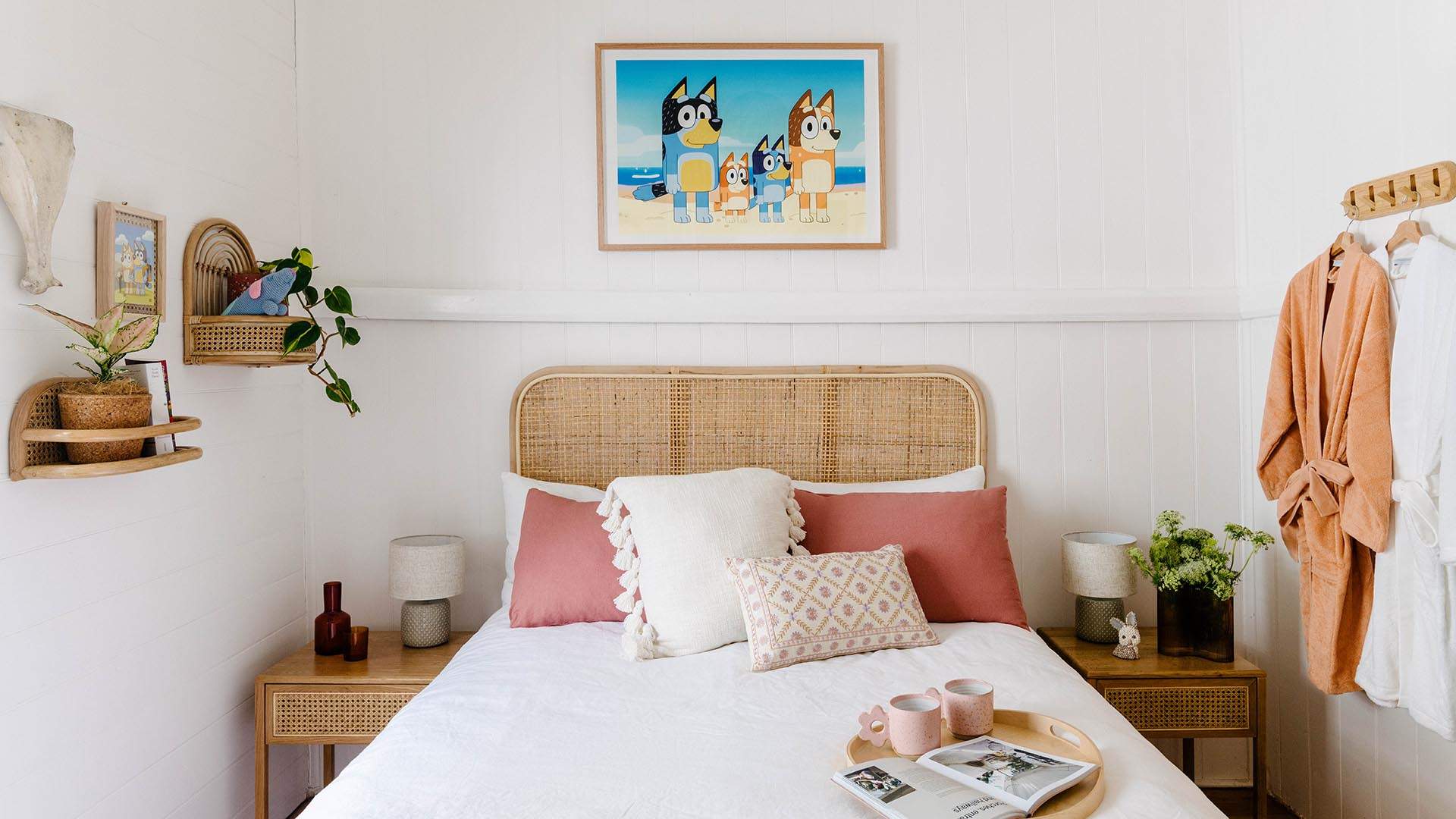 Here's what's on offer: a stay in the house, which is located in suburban Brisbane, between Friday, February 18–Sunday, February 20 for $20 a night; a behind-the-scenes tour of Ludo Studio, where Bluey is created; Chinese takeaway to eat in the backyard; a cake-decorating afternoon, focusing on the show's famous duck cake; and a puppet-making craft session that's all about Bob Bilby. That, and all the work that's been done to make the house look like where Bluey's eponymous six-year-old dog, mum Chilli, dad Bandit and little sister Bingo live.
Those decorating touches include the red letterbox, bone-shaped chimney and recognisable bay window, plus other design features — and toys, of course  — inside in the rooms and outside in the backyard for kids.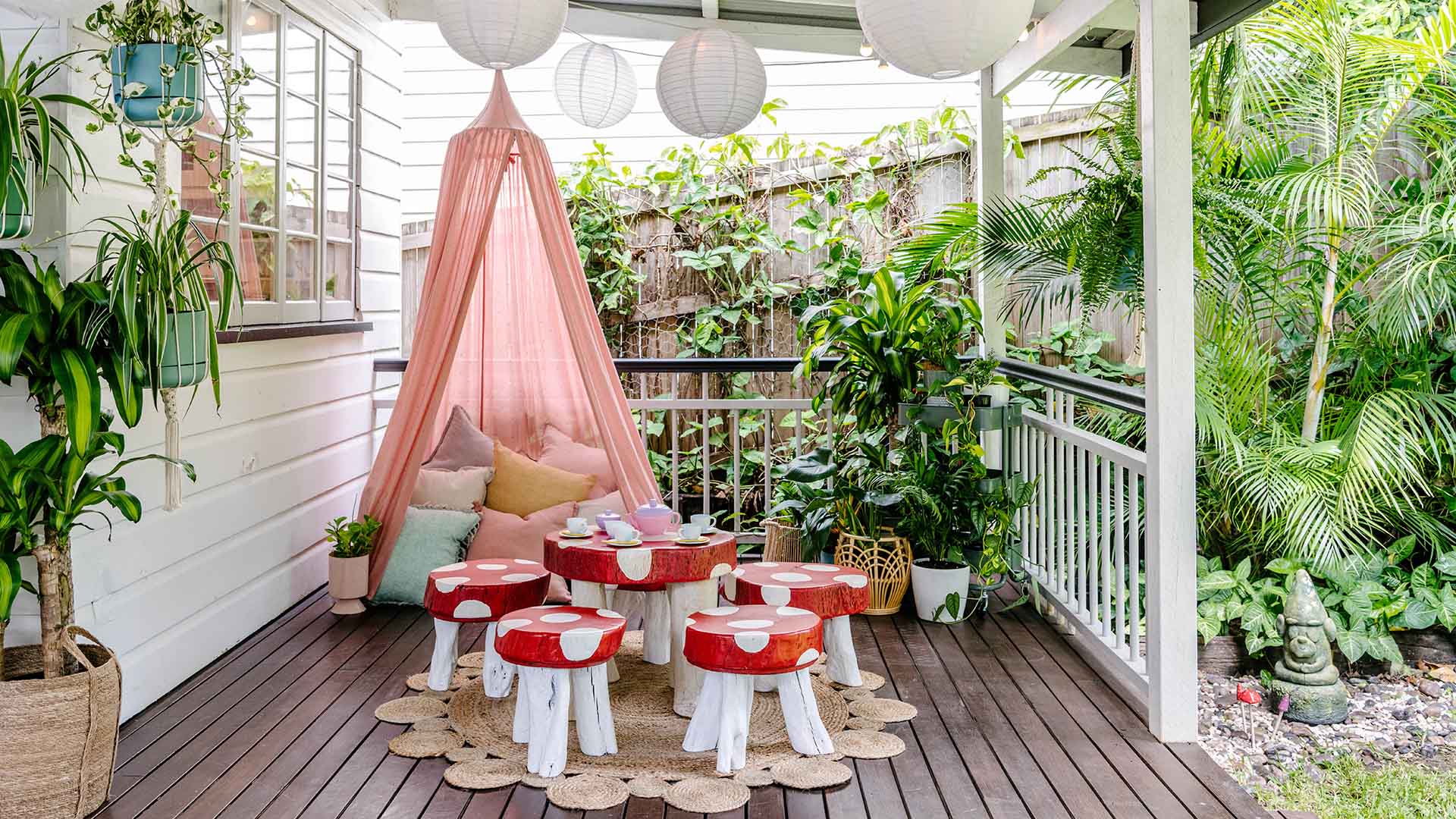 If you're keen — and you've got some young relatives to take along with you — you'll need to apply to book at 7am AEST / 8am AEDT on Tuesday, February 15. You'll also need to have a verified Airbnb profile, a history of positive reviews and be aged over 18. Also, no pets are allowed, even while you're celebrating cartoon canines.
For more information about Airbnb's Bluey house in Brisbane, or to apply to book at 7am AEST / 8am AEDT on Tuesday, February 15, head to the Airbnb website.
FYI, this story includes some affiliate links. These don't influence any of our recommendations or content, but they may make us a small commission. For more info, see Concrete Playground's editorial policy.
Image: Hannah Puechmarin.
Concrete Playground Trips
Book unique getaways and adventures dreamed up by our editors