ARTS & ENTERTAINMENT
Choose Your Own Whitsundays Adventure
Four itineraries for the high flyer, adventurer, sea baby or person of leisure.
This article is sponsored by our partners, Wotif.com.
If you've been thinking that tropical island holidays are all lazing on the sand and drinking cocktails by the pool, think again. Sure, you can make them an excuse to read every book in the Game of Thrones series or catch up on the 200 hours of sleep deprivation that you've clocked up over the past year, but it doesn't have to be that way.
Even if you've been to the Whitsundays before, there's never a shortage of adventures to be had: from taking to the skies on a scenic flight to sailing on an old-school ship to spending a night sleeping under the stars on the Great Barrier Reef. Choose your own adventure.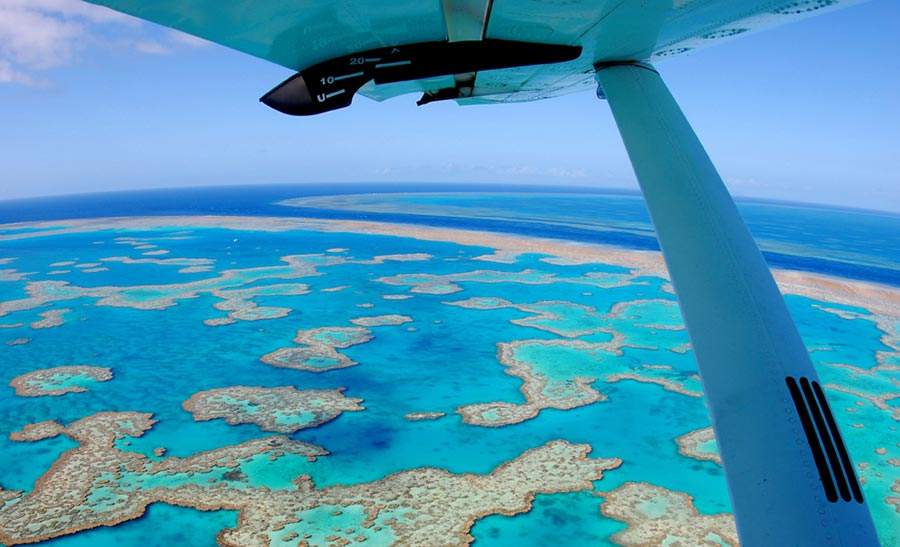 Once you've seen the Great Barrier Reef from underwater, from the deck of a boat and from the land, there's only one way left to the see it, really — from the sky. A scenic seaplane flight carries you soaring into the air, treating you to 60 solid minutes of bird's eye views. Sights that will make you 'ooh' and 'aah' like it's New Year's Eve all over again include the swirling sands of Hill Inlet, which look a bit like Impressionist artworks created by some enormous Druidic paintbrush; Bait Reef's magical stepping stones; and Hardy Lagoon, the most photographed spot in the entire Great Barrier Reef National Park (and there's some mean competition!). But they're just the starting gun; the itinerary includes a sizeable list of other gobsmacking spots: Shute Harbour, Daydream Island, Hayman Island, Hook Island, the Molle Group of Islands, Whitsunday Island and the Whitsunday Passage.
What's more, it's not all macroscopic panoramas. At various points, the seaplane descends to 500 feet, giving you the chance to partake in some turtle and ray spotting. Between June and October, you're highly likely to see humpbacks, too. And for some added excitement, the pilot makes a touch-and-go water landing at the reef. Scenic flights carry between four and ten people each and depart from Airlie Beach.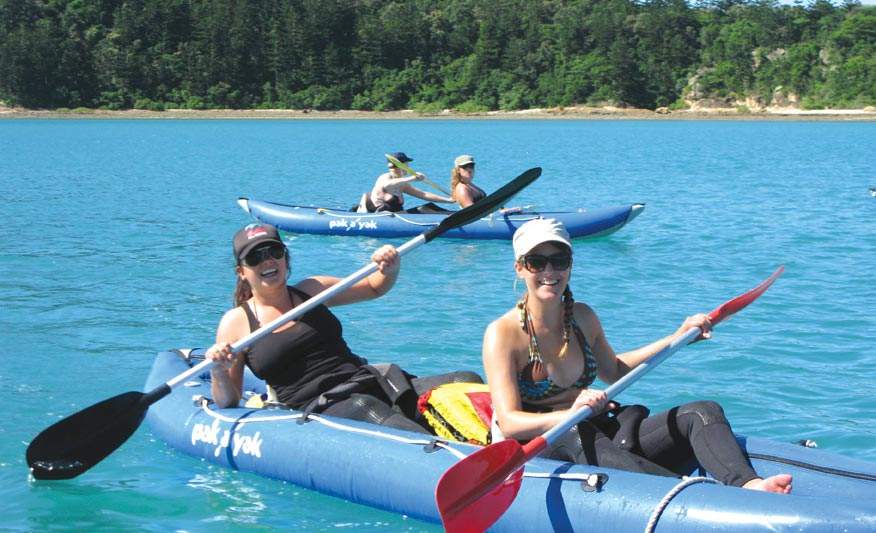 Here's the choose your own adventure option for indecisive types and commitment-phobes: the all-rounder. Why settle for one activity when you can take on the whole kit and caboodle? During this three-day extravaganza, you get to sail, snorkel, scuba dive, kayak and bush walk.
Here's how it works: for 72 hours or so, you live aboard the Summertime, a beautiful, traditional-style sailing vessel built in 1947, complete with rustic timber square rigging. But the good news is you don't have to do any traditional living — if you don't want to. You can get as olde worlde and Sailor Jerry-ish as you like, but you'll still have the option of jumping into a freshwater hot Jacuzzi, turning on the air conditioning and dissolving in front of a DVD whenever you feel to. Nine luxurious berths make up the accommodation.
The same goes for the action-packed itinerary. As the Summertime carries you from one secluded cove or silky-sanded beach to another, you can get involved in as many or as few activities as you like. Some travellers jump at every chance while others opt to spend every ounce of their precious energy moving between the Jacuzzi and the deck. It's up to you.

If you still haven't recovered from reading Treasure Island, Robinson Crusoe or perhaps Life of Pi, this one's for you. Pack your list of 'top-five-items-I'd-take-with-me-to-a-desert-island' and turn your long-cherished childhood survival fantasy into a reality. Given that the Great Barrier Reef is heritage listed, not to mention one of the world's natural wonders, you can't just go around sleeping on any old coral bed of your choosing; in fact, there's only one place on the reef where you're able to catch some shut-eye, and this adventure — dubbed Reefsleep — is it.
A high-speed luxury vessel transports you for an 11am arrival. You spend the day doing as you please — be it swimming, grabbing a massage, snorkelling, diving, catching a heli-scenic flight or checking out the local underwater viewing chamber. Then, at 3pm, the ship splits the scene, leaving you, your fellow adventurers and the crew all on your lonesome. The only guests you can expect are some turtles who drop by at dusk for a seaweed feast.
A maximum of 12 overnighters is permitted at any one time and accommodation is in the form of good ol' Aussie swag — available in single or double sizes. Food is included in the deal.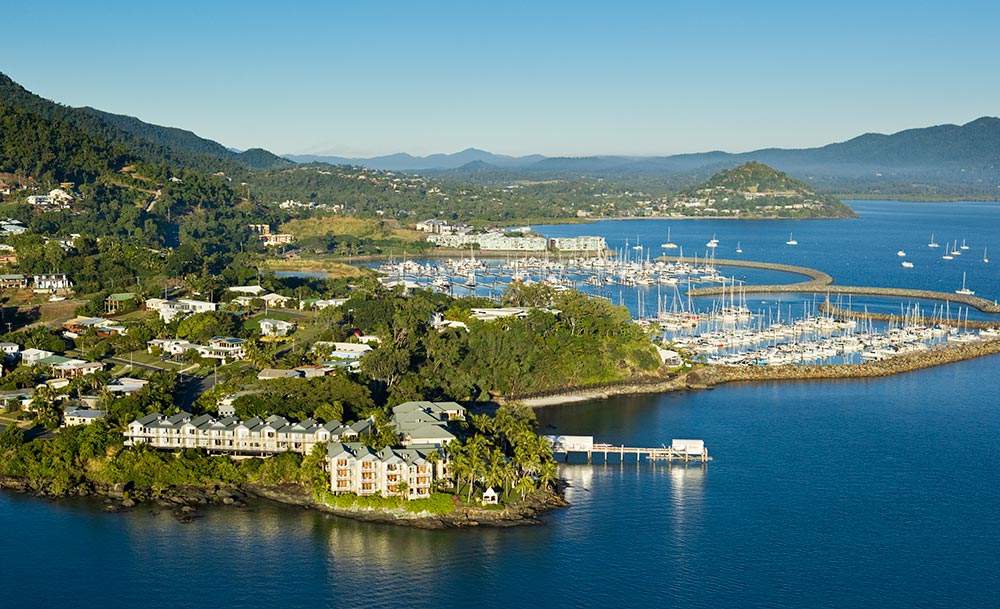 Do you have an aversion to strict timetables and pre-planned activities?  Island hopping is the way to go. With this pass, you can travel The Whitsundays at your own pace and according to your own itinerary. It gives you access to high-speed vessels that spend all day travelling between Daydream Island and Long Island, dropping off and picking up guests at their whim.
Between the two islands, pretty much any tropical activity is on the cards. While the time away sunbaking and swimming or get deep with a dose of snorkelling or scuba diving. Alternatively, stay terrestrial with long beach strolls, rainforest walks or a round or two on Daydream Island's 19-hole mini golf course. There's also a variety of restaurants, cafes and cocktail bars.
The Whitsunday Island Hopper boats leave from Abel Point Marina throughout the day. You're advised to take your toothbrush and credit card with you, just in case you miss the last ride back and wind up island-bound for the night.

Book your Whitsundays escape now via Wotif.com.
Published on June 18, 2014 by Jasmine Crittenden