In winter, Marysville is a sea of red. It's like the damp, cool air is keeping autumn's leaves — which have already fallen from the trees — alight and burning until spring comes along, when new ones will be ready to take their place. The sentiment is a lot like Marysville itself. This one-street country town was left with nothing after it was devastated by the Black Saturday bushfires of 2009; everything was charred black, and only now has it regained its full colour.
Marysville has all but been reborn, just like the leaves in springtime. With homes rebuilt, storefronts repaired and new buildings erected — including a massive new commercial hotel, which takes up most of the frontage on Murchison Street — the little country town has life again. And winter is the perfect time to appreciate it.
Bereft of much else but good wine and nature, Marysville is the place to spend that weekend away from the city (and your computer) that you've been talking about; doing all those classic, wholesome activities you associate with a cosy winter weekend in the country. The air is cold and a little damp, the kind that tastes like the trees it comes from and freshens you from the inside out. There's plenty of opportunity for walking, drinking and eating, or just reading from the comfort of your hotel room — all the sort of stuff that will make you feel like you've had a soul massage before returning to work on Monday. Best part is, it's less than two hours drive from the city.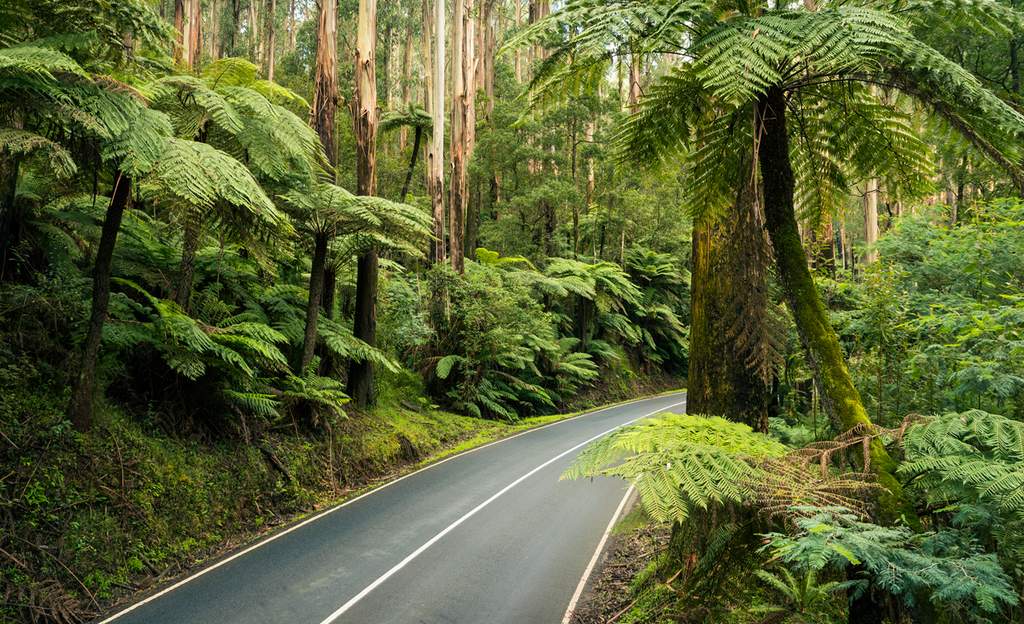 SEE AND DO
One of the best things you'll see in Marysville presents itself before you even get there. If you follow the Maroondah Highway through the Yarra Valley (stops for wine optional, but recommended) and past Healesville, you'll find yourself driving through the lush, dense forest of the Black Spur. This winding road is completely surrounded by crazy tall mountain ash and a lush buffer of ferns. It's really beautiful and it can be hard to keep your eyes on the road, so pull over at one of the overtaking lanes if you need a few minutes to take it all in, and do your Instagramming outside of the car.
Once in Marysville, it won't take you that long to scope out the main drag. But we recommend getting off it and disappearing into the depths of the surrounding forest. The Tree Fern Gully Trail is one of the best walks you can do; almost immediately you feel isolated as the dirt track winds from the town down to Steavenson Falls. It's not a necessarily easy walk — there are a few hills and it takes about an hour each way — but it's just what your inhibited winter soul needs: fresh air and enjoyable exercise. And if you want to visit at night, you can drive straight to the falls carpark and walk down to the viewing platform. It's lit up until midnight.
For something a bit more fantastical, take a walk through Bruno's Art and Sculpture Garden. The work of Bruno Torfs in enclosed within a somewhat magical garden, and will probably take you back to a time of looking for fairies in the bottom of the garden and tearily watching The Secret Garden. The whole garden was destroyed in the 2009 fires, and local legend Bruno has painstakingly recreated all his work from scratch. There's a $10 entry fee on weekends.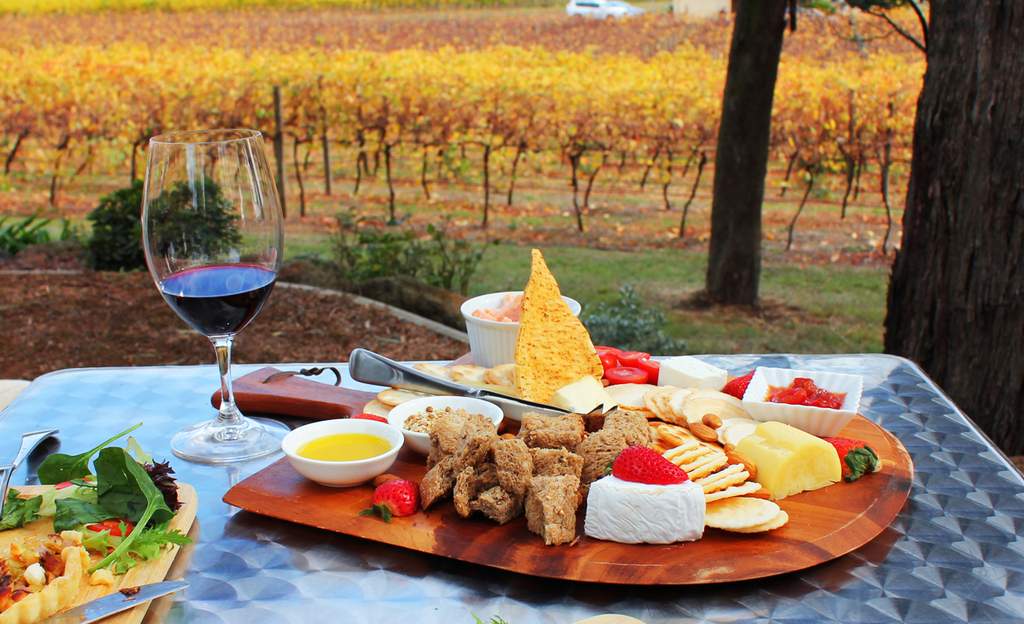 EAT AND DRINK
Being so close to the Yarra Valley, it makes sense that the Marysville area is prime for growing grapes and making wine. In neighbouring Buxton, Buxton Ridge Winery's cellar door is worth a visit. Lorna Gelbert and her son Michael run the family-owned winery, and will give you a taste of their best drops. They'll even make you up a cheese platter to eat outside on the terrace with a glass of your choice. We recommend the rose or the Shiraz.
Whether you've been for a walk or have simply tired yourself out tasting wine, there will no doubt come a time on your Marysville weekend that you'll want to take refuge indoors, with cake. There aren't any trendy cafes here (and you won't get a Small Batch coffee, sorry!), but at Fraga's Cafe, you will be able to get a mean piece of banoffee pie. And really, that's all you need.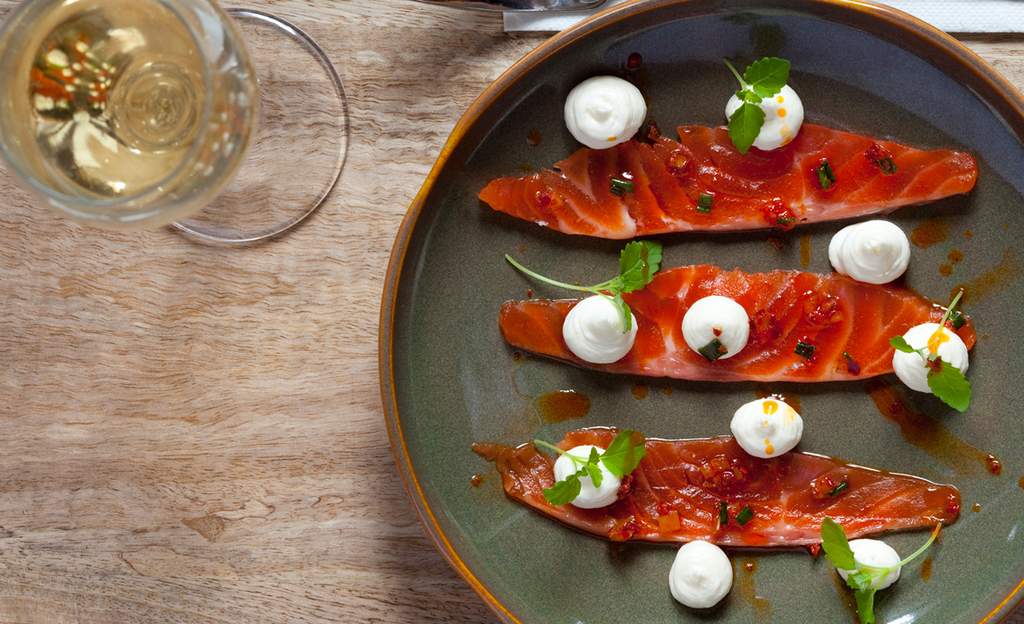 But the brand new jewel in Marysville's culinary crown is Radius Bar & Eatery, which is adjoined to the new Vibe hotel. All the locals are talking about it (many have already visited multiple times), and on a Saturday night — despite my scepticism about the size of the restaurant in a tiny little town — the place is basically full.
Nearly all produce is sourced from within a 100km radius, which explains why locals are so keen to get behind it — by supporting the restaurant, they're supporting their own businesses, and that of their friends. Everything on the menu specifies how far it's travelled to get to the restaurant; the feta-stuffed zucchini flowers use zucchinis from Flowerdale (96km away) and the chicken liver parfait gets its comes from Mansfield (98km). The idea here is to choose your meat and the sides to go with it, and it's the 12-hour roasted lamb shoulder that you really should order. The lamb is pulled and tossed with green olives and eggplant, which makes it rich and decadent, and altogether perfect for a winter meal with a bottle of red. The dish would easily feed three people (which is good value at $28), and you'd only need a few sides — maybe the woodfired barbecue corn and the shaved baby fennel salad. A no-brainer if you're in the area.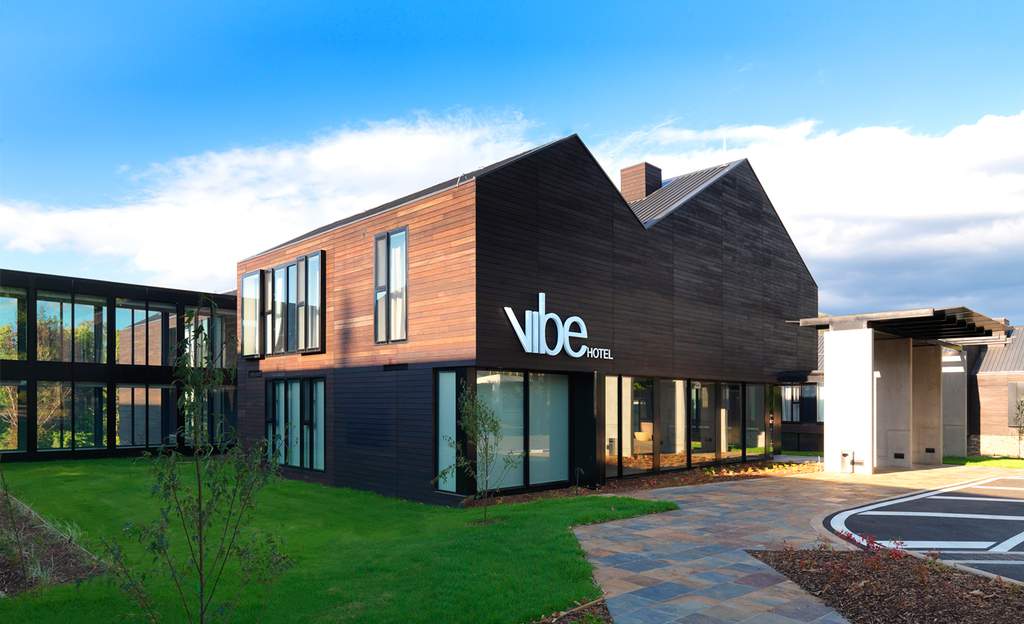 STAY
At last count, an Airbnb search returned only two property results in Marysville. These might be very viable options (if you can nab your preferred weekend in advance), but you'll have much better odds at getting a room at the brand new Vibe Hotel. That's because, by Marysville standards, it's massive — with 101 rooms, it seems like it's been built to house every person who could possibly be in town on any given night. There's a gym, spa, sauna and (for the adventurous) an outdoor pool, so even on cold nights, you'll have multiple ways to keep warm. Ideal for one-nighters where you want the fresh-sheet feel of a hotel, and a buffet breakfast in the morning.
CP stayed as a guest of Vibe Hotel Marysville.
Published on July 22, 2015 by Lauren Vadnjal