TRAVEL & LEISURE
Ten Places You Can Day-Trip to Within 150 Kilometres of Brisbane
Head out of town for coastal walks along the beach, glow worms and scenic sights aplenty.
When the COVID-19 pandemic spread to Australia, both national and state borders began closing, and stay-at-home restrictions were implemented, the world suddenly started to feel a whole lot smaller. Hopping on a plane for a holiday was, and still is, off limits — and, for the past few months, even stepping beyond our own backyards has been forbidden.
As part of Queensland's next easing of coronavirus limits, Brisbanites will soon be able to venture a little further afield. From 11.59pm on Friday, May 15, day trips within 150 kilometres of your primary residence are back on the cards. And, for most locals, they're the best kinds of getaways. If you've lived in Brisbane for more than a few months, plenty of your memories will likely involve hopping in the car, driving to the beach or mountains for a mighty fine day out, then heading home that night exhausted but happy.
Here are ten places where you can do just that — all within 150 kilometres of Brisbane.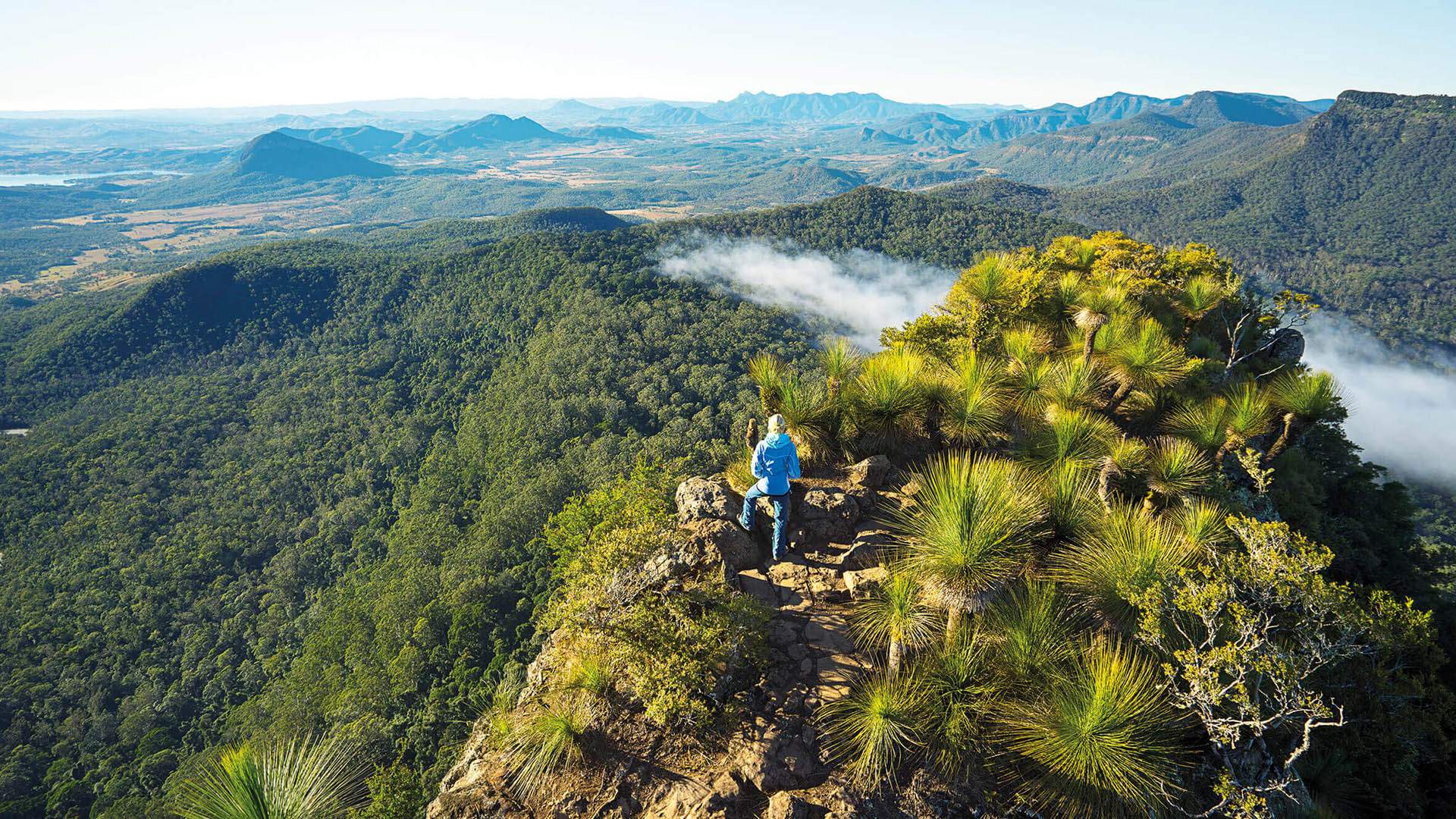 SCENIC RIM
Tucked between Brisbane, the Gold Coast and Ipswich, and sprawling around the towns of Beaudesert and Boonah, the Scenic Rim region is home to scenic sights, mountains and plenty of other reasons to head outdoors. If you're keen on a walk — either of the leisurely or more challenging kind — then you'll find both short and lengthier treks in the Mt Barney, Moogerah Peaks and Main Range national parks. The area is also perfect for an extremely crucial part of every day trip: driving. Sitting in the car, winding around the roads and soaking in the gorgeous scenery is what venturing to the Scenic Rim is all about. Add a detour to Canungra to your visit, too, with the spot originally starting out as a timber town in the 1800s. And, if you make a stop at Canungra Creek, if you're lucky you might spot a platypus.

TOOWOOMBA
For years, Toowoomba was hardly at the top of any Brisbanite's must-visit list. Over the last decade or so, though, it's done a complete 360. The town has embraced the fact it's beautiful, it's also a viable tourist hotspot, and it's home to some of the richest people in Queensland who don't mind putting a bit of coin back into the place. With Toowoomba particularly known for its gardens and flowers, be sure to check out all the parks in the area — with Laurel Bank, Queens Park and Picnic Point the top three. At the latter, you'll score views out over the Great Dividing Range and the Lockyer Valley, too. Or, if you fancy looking back in time, the town also boasts a selection of impressive heritage walks.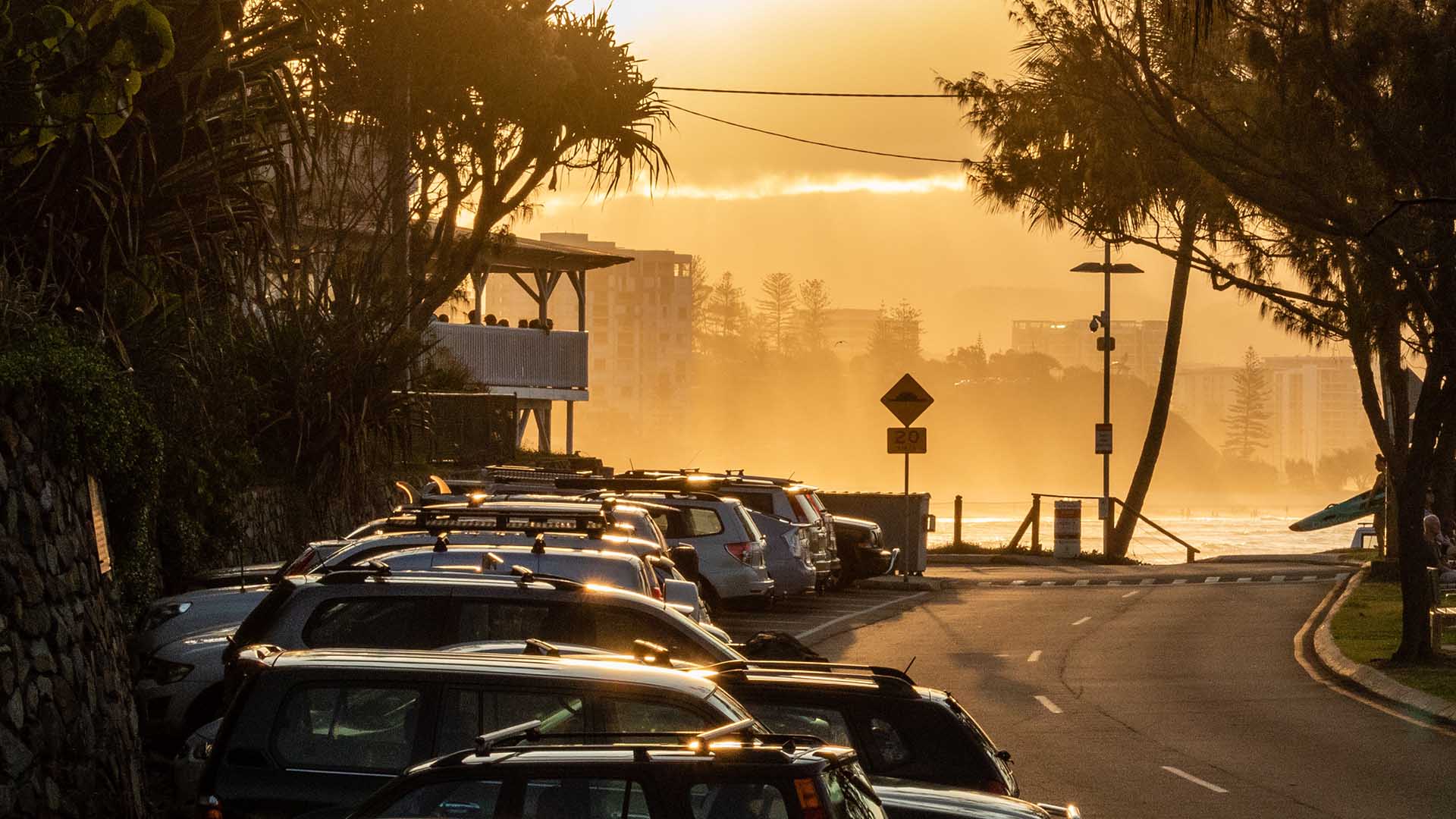 COOLANGATTA
Crossing the border between Queensland and New South Wales is currently restricted to certain circumstances — well, heading out of the state is fine, but limits apply when you want to come back. You can still enjoy everything Coolangatta has to offer, though, including one of the nicest stretches of beach along the Gold Coast. Splash, sunbathe, surf or play around on the sand. If you're feeling extra adventurous and the conditions are right, swim your way around the headland to Rainbow Bay. Fancy a sweet treat? There's a Gelato Messina by the shore, too. Or, you can simply feel the ocean breeze while you walk along the coastline, whether you start at Kirra and end at Greenmount or vice versa. Spotting a whale or two isn't uncommon while you stroll, either.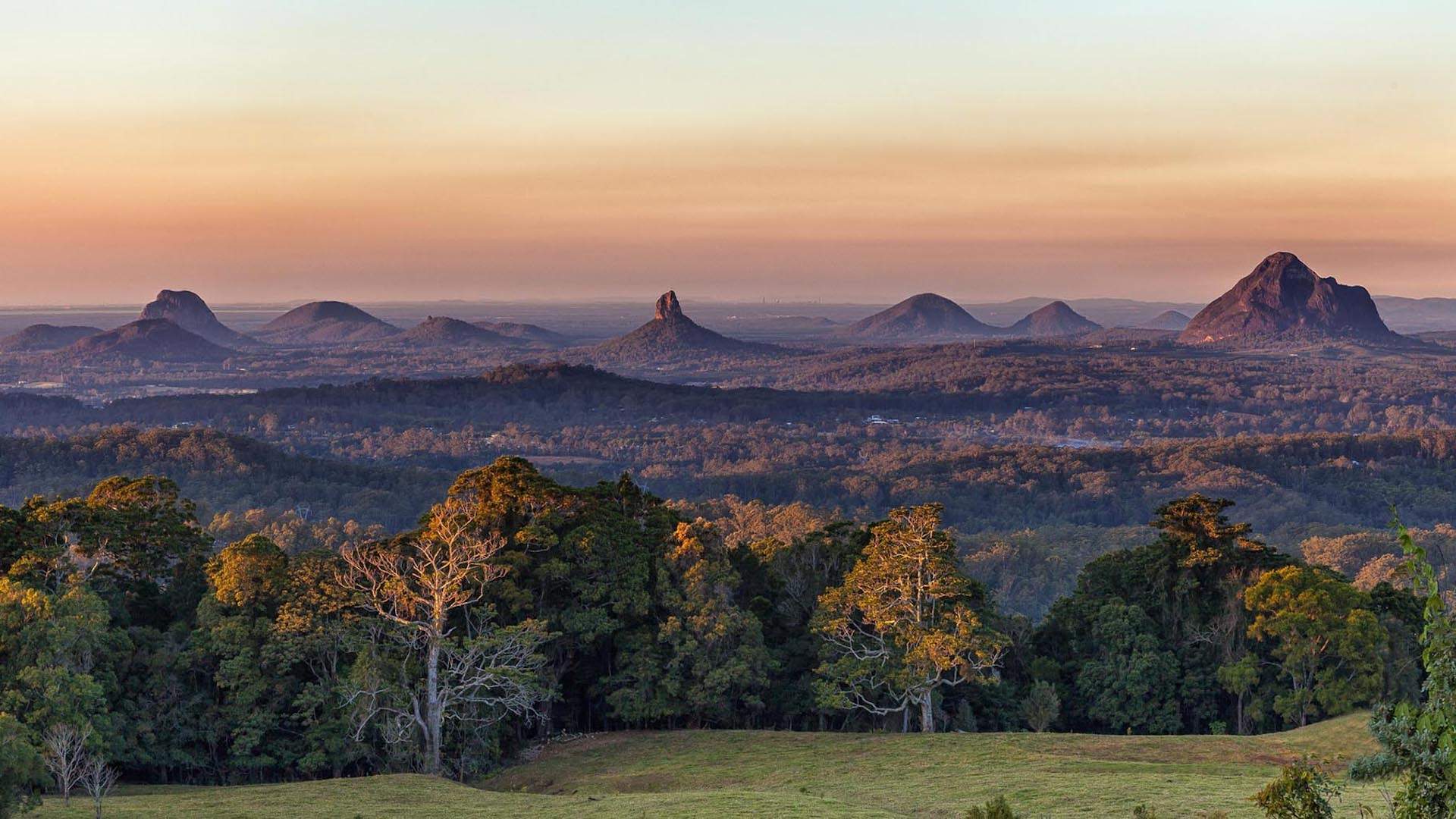 MALENY
Perched at 436 metres above sea level, Maleny offers magnificent views of the Glasshouse Mountains, as anyone who has ever ventured to the Sunshine Coast hinterland spot knows. Since the 80s, it has also been a magnet for artists, craftspeople, writers and musicians, who all find inspiration in the dreamy landscapes. And, it's peppered with creeks, falls, gardens, reserves, dams and other natural highlights — which means that there's never a shortage of things to do. Our tip: stop by the 55-hectare Mary Cairncross Scenic Reserve, where you can take in a rainforest walk, spot birds and peer out over the landscape. Also, its Mountain View Cafe is open for takeaways.

TAMBORINE MOUNTAIN
A word of warning: Tamborine Mountain, which is 530 metres above sea level, is noticeably cooler than in Brisbane. That means that packing a scarf is recommended, especially as the weather gradually starts to pick up a chill across southeast Queensland (well, get frostier than the state's usual balmy climes, at least). Of course, there's another excellent way to keep warm while you're visiting this picturesque spot. When you're surrounded by walks, waterfalls and gardens, you naturally want to make the most of every trail, patch of greenery and stunning sight. Check out glow worm caves, venture along the famous skywalk, soak in the sounds and sights of falling water, and pick between a hefty array of hiking trails. Bring a picnic with you, and you can enjoy a lunch with view, too.

NOOSA
Every southeast Queenslander has heard someone wax lyrical about their last trip to Noosa. Most southeast Queenslanders have been guilty of doing the gushing, too. The Sunshine Coast may be filled with coastal towns and suburbs perfect for short and long visits, but there's just something about the region around the Noosa River and Noosa National Park that continues to lure visitors in. Perhaps it's the siren's song that is Hastings Street, with its strip of shops and cafes located just a stone's throw from the beach (and no, we're not exaggerating). Perhaps it's North Shore's sand dunes and bushland, or the sleepy feel on the other side of the river. Perhaps its the fact that you could spend the day hopping between surfing, fishing in a boat while pottering along the water, then spotting pods of dolphins or whales — all just 138 kilometres north of Brisbane.

SPRINGBROOK NATIONAL PARK
Going beachy is one way to have a wet and wild day trip in the driving vicinity of Brisbane. Another: visiting Springbrook National Park. You won't actually get your feet damp; however you'll remain perfectly happy about it. Revelling in the great outdoors, you'll be distracted by the many rainforest-set walking tracks and lookouts, and by feasting on the picnic you thought to bring along, not to mention waiting until dark to spy a peek at glow worms. If you want a splash of H2O, however, the rock bridge, plunging waterfall and arched cave that comprises the Natural Arch is the place to head to. You can't swim there, but you can marvel at its crisp air and overall coolness.

MONTVILLE
Sometimes, the best thing about a day trip is the change of scenery. When you've just spent months and months at home, barely venturing outside, that's particularly true. And while there's so much to do and see at Montville that the landscape is just one highlight, those mountainous sights really are something to behold ­— and offer something vastly different from Brisbane as well. When you're not soaking in the view, wandering along the main gallery, shop and cafe-filled strip is recommended. The pace: leisurely, especially when you're strolling up the hill. To make a real day of it, go the long way round to get there, stop by Kondalilla Falls for a refreshing dip on the way into town, then drop into one of the vineyards on your way home. Yes, you do need wine as a souvenir.

LAKE WIVENHOE
If your only experience with Wivenhoe Dam is hearing about its levels in times of drought and restrictions, then prepare to visit somewhere both peaceful and practical. The water reserve one hour northwest of Brisbane is the kind of spot you can easily spend a day in doing little but relaxing — ie the ideal way to while away part of a weekend. Swim or potter around in your non-fuel-powered boat (if you happen to know someone who has one), fish (though you'll need a permit), or simply laze around in the fresh air. Don't forget to bring a stock of food that you can grill on the barbecue, too, to complete what we have to call a damn good outdoor experience.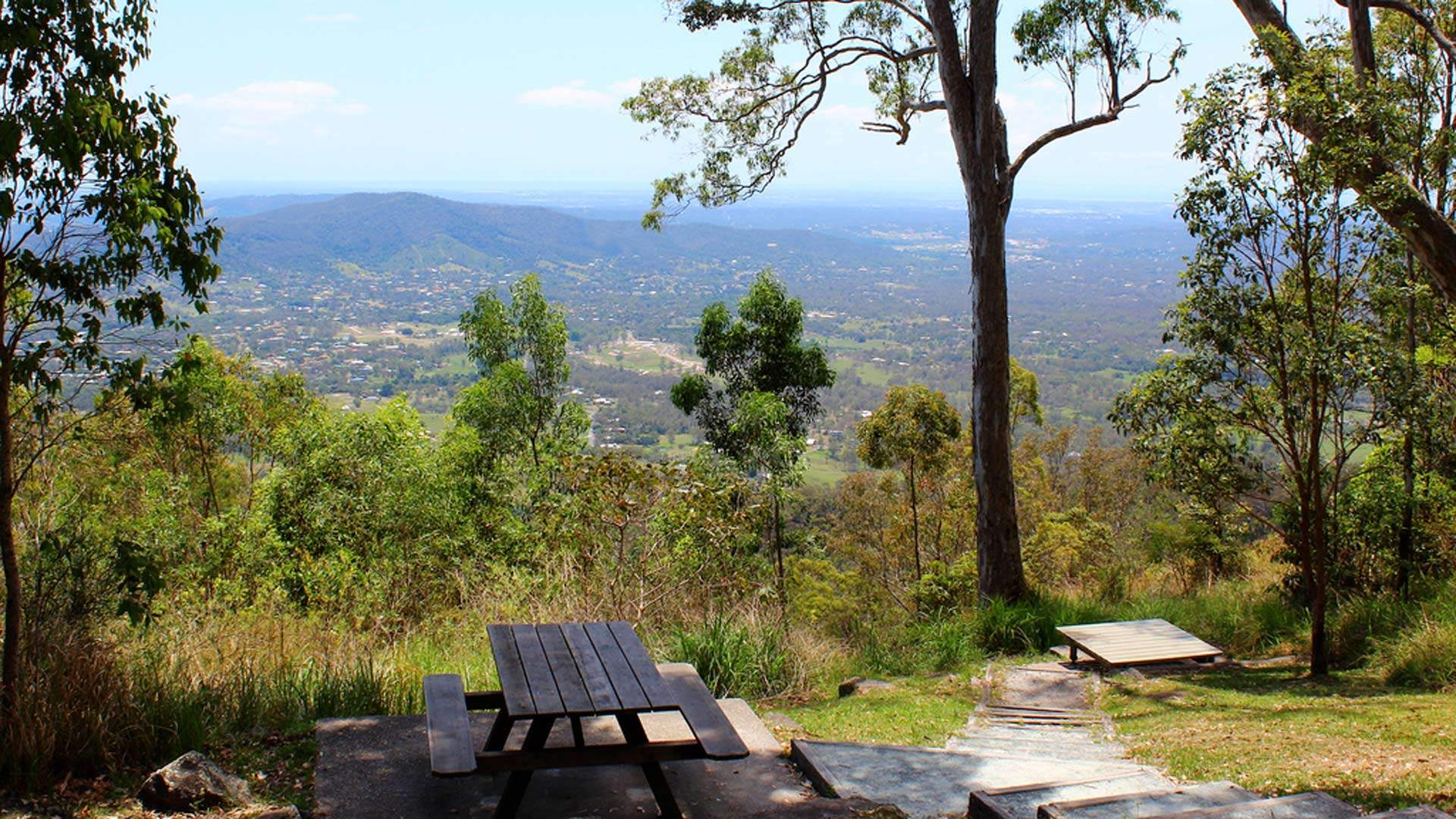 MOUNT NEBO
If you don't feel like driving too far, but you still want to venture away from home — and you desperately need a shot of fresh air to take you out of your isolation stupor — then journey to Mount Nebo. This super-cute village lies just 45 minutes' drive west of Brisbane, at the southern end of the d'Aguilar Range. On the way, stop at Samford for brekkie at The Flying Nun Cafe, where you can pick up a takeaway snack and some caffeine. Then, when you hit the actual Mount Nebo, put one foot in front of the other on  a rainforest walk, such as the one-kilometre Pitta Circuit or the eight-kilometre adventure taking in Jollys Lookout.

Top image: Flickr
Published on May 13, 2020 by Concrete Playground