TRAVEL & LEISURE
What to Eat, Drink, See and Do on a Weekend in Queensland's Capricorn Region
Camp with camels, wander through ancient caves and fill your esky at local diners.
in partnership with

From magnificent caves to luxurious private islands, regional Queensland has plenty to offer for your next road trip. And the best part about taking a drive around the state is dropping into local cafes, restaurants, pubs and shops to fill up your boot with produce from the region. In the spirit of supporting local businesses en route, we've teamed up with Canadian Club and Empty Esky to bring you a list of must-visit locations in the Capricorn region, including in Rockhampton and Yeppoon. Read on to find a few of our favourites and create your own epic itinerary, too.
Some of the places mentioned below may still be closed due to COVID-19 restrictions. Please check websites before making any plans.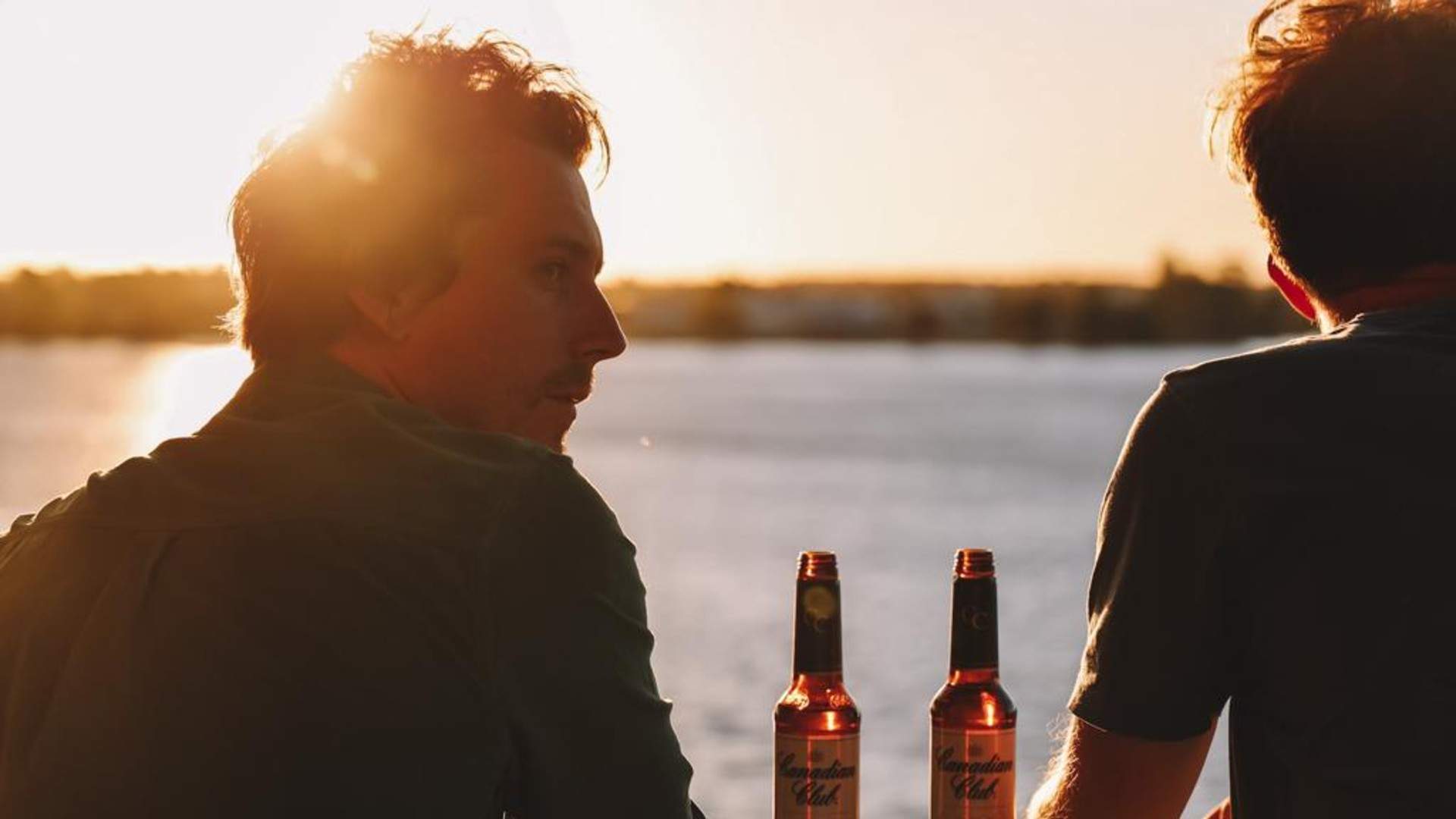 EAT AND DRINK
If you're starting in Yeppoon, the first place on your list should be Flour. Its oven-to-table approach has made the place a household name. Its menu is adapted seasonally with a few fan favourites sticking around all year, like its Farmhouse Brekky with angus flank steak, maple chilli bacon, mushrooms, poached eggs and grilled tomatoes on ciabatta.
For a good quality brunch, Whisk on Yeppoon's James Street has absolutely mastered the mid-morning meal. It has an extensive dine-in and takeaway menu, so you can take your eggs benny burger to the beach ten minutes' away if you choose. Menu favourites include the aforementioned benny burger, Nutella-loaded doughnut fries and a smoky maple bacon hot dog. It has a menu for furry friends too.
For dinner, pop into Keppel Bay Sailing Club. What started out as a community of passionate sailors and volunteers has evolved into five venues that cater for everyone. At the Clubhouse you'll find seafood dishes, pasta, burgers and salads, as well as refreshing Canadian Club and Dry on tap. Our picks are the crumbed prawns and its range of charcoal brioche bun burgers.
Venture inland for high tea with a modern twist at Riverston Tea Rooms in Rockhampton. Located in an old-style building, the venue has traditional tea rooms offering both scones and sandwiches, as well as a diverse breakfast and lunch selection. Not to mention an incredible selection of baked goods available from the cabinet, from gluten free orange almond cake to baklava torte.
See out your evenings at the riverside The Criterion Hotel Motel in Rockhampton. The Hotel is known for its sensational steak, great selection of beverages (including Canadian Club) and central location on the Fitzroy River. Dine in knowing that you're joining the likes of Queen Elizabeth II, the English cricket team and Rod Laver, who've all eaten dinner here over the years.

DO
Explore the backdrop of Rockhampton in the glorious Mount Archer National Park. Situated just over nine kilometres east of Rockhampton, the park covers 4250 hectares of open forest and woodland communities, where you can find everything from eucalyptus-filled rainforests to spectacular views of the Fitzroy River from the Nurim Circuit Elevated Boardwalk. Keep an eye out for birdlife — black cockatoos and owls call the park home.
For a magnificent natural wonder that will have you seriously impressed, head to the Capricorn Caves. Located 23 kilometres north of Rockhampton, the caves make for an easy day trip from the town and there are a range of tours on offer. The most popular is the 45-minute Cathedral Cave Tour, which covers ancient geological history, cave acoustics and crosses a suspension bridge. The tour is $30 for adults or you can grab a family pass for $75. The more adventurous among us should try the Capricorn Explorer ($50) and Adventurer tours ($65) that will have you exploring secret vaults and hidden passages, guided by headlamp only.
If a tropical escape is more your vibe, then you can't go past a stay at Great Keppel Island. The somewhat hidden island paradise is just 15 kilometres off the coast from Yeppoon. The island offers a range of activities including snorkelling and kayaking. Billy and his team at Keppel Water Sports will have you exploring all day, with a bunch of options for the whole crew.
When you're after a more chilled day out, follow the advice of the Empty Esky team and seek out this lagoon in the centre of Yeppoon. It's the perfect place to cool off from the harsh Queensland heat. There's a 2500-square-metre lagoon pool, a children's play area, a lap pool and a swim-up infinity edge with views out to Great Keppel Island. Entry is free and you can swim in peace knowing the pool is patrolled daily, including during public holidays.
For a truly Queensland tourist experience, cuddle up with Australia's favourite furry friend at Cooberrie Park Wildlife Sanctuary. If koalas aren't really your style you can have a go at holding a crocodile or parrot. Situated in Yeppoon, the sanctuary boasts more than 300 animals, 25 acres, barbecue facilities and a swimming pool. Keep an eye out on the website for COVID-19 restrictions if you're keen to get up close to the animals.

STAY
When it's elegance and heritage that you crave, you can't go past Hotel Denison in Rockhampton. Built in 1886, the boutique hotel is brimming with history. Offering 18 luxury suites, the hotel has managed to maintain its heritage-listed appearance while still remaining modern. A ten-minute walk will take you to the CBD's range of restaurants and mall strip, making it the perfect place to stay when you're exploring Australia's Beef Capital.
Or, consider Capricorn Camel Camp, just east of Rockhampton. It is guaranteed to make your friends seriously jealous. You'll get to camp close to the camels and enjoy the option of a sunset camel ride on the private property. Plus, the camp is also home to alpacas, calves and goats. It's a bring-your-own gear kind of experience and it'll set you back just $25 per night for two guests.
For something a little more luxurious, there's beach-style accommodation surrounded by palm trees at Yeppoon Surfside Motel. The motel is a favourite of the Empty Esky crew and it has a range of sleeping options and each self-contained room has an ensuite, air-conditioning, cooking facilities, free wifi and queen-size beds. Opt-in for the ultimate holiday experience of having brekkie delivered to your room. Rooms here start at $155 per night.
For a unique and memorable experience, why not stay at Pumpkin Island? Situated 14 kilometres from the coast of Yeppoon, the tiny private oasis is a blissful retreat and an opportunity to unwind and connect with nature. Accommodation options include five eco-friendly self-catering cottages or two beach bungalows, starting from $306 — and your days are filled with snorkelling, kayaking, or lounging around on the long stretches of white sand.

For more road trip inspiration, check out these guides from Canadian Club and Empty Esky. 
Top image: Pumpkin Island via Tourism and Events Queensland
Published on February 10, 2021 by Neesha Sinnya